Second Photo of Treo 800w: side shot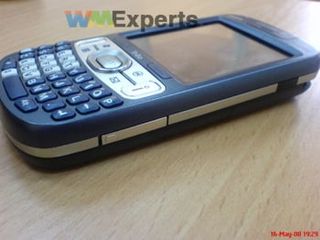 Well, thanks to miracle worker Shadowmite (check his site here), probably the most feared person by Palm right now, we have yet another shot of the upcoming Treo 800w (see here for earlier picture as well as a black PS job)
Thankfully, this one shows how thin/thick it is (we're leaning with thin-ish ourselves).
Other things to note:
IR port
MSM-6800 chipset (reported here earlier)
101.53mb of free RAM (after OS) that's a lot if true
WM 6.1 (5.2.1944)
ARM1136 processor
WiFi confirmed
Rubberized feel to device (new)
Dedicated Wifi button on top (new)
This one I'm not putting on my blog, but I still would like credit if you crosspost this to a blog... Thanks to those that have mentioned the proper credits in the past!

also I'll mention the prototype at least appears to be msm6800 chipset. and wifi is now confirmed as well.

Thats pretty thin. Not the thinnest, but not disappointingly thick either. Is that about 16 mm?
Is that an IR port on the side there?
Surur

looks like an IR slot at the top right..any news on the ringer switch?

Its a prototype so this next info should be taken with some salt:
OS 5.2.1944
ARM1136
mem 101.53

Thanks Shadowmite, I've seen a few people suggest on various blogs that those pictures are of a protype a couple of versions ago and the final one looks significant different.
Know anything about this?

is that a micro/mini sd slot or regular?

OS 5.2.1944
Maybe I'm missing something but isn't this thing supposed to run WM, not POS?

Maybe I'm missing something but isn't this thing supposed to run WM, not POS?
No, the information is correct as is (at least for that particular unit). The OS reported on my 6800 is "CE OS 5.2.1629."

looks like an IR slot at the top right..any news on the ringer switch?
I really hope they keep the ringer switch - its one of my favorite things on my 700w

Thanks Shadowmite, I've seen a few people suggest on various blogs that those pictures are of a protype a couple of versions ago and the final one looks significant different.
Know anything about this?
I really can't say, I speculate that it's most likely pretty close to the final design however if not the final itself.

what kind of memory card slot does it have?

is it out on the market now? shadowmite's pic seems to be real. it looks like a centro but in different color. do you happen to know who's going to the the carrie for this model?

Thanks shadowmite...:thumbsup: http://www.wmexperts.com/articles/second_photo_of_800wdepth_shot.html

hopefully ATT is one of the carriers for this unit.

Shadow -- merged this thread and broke the link you had posted to your site. sorry about that. New link is:http://discussion.treocentral.com/showthread.php?t=164889

hopefully ATT is one of the carriers for this unit.
They won't be of this model as it's CDMA ;) Although there have been rumours of a simultaneous release of both CDMA and GSM models, but the GSM carrier mentioned was Vodafone.

I wonder how the hard OK, start, etc. keys work? You dont see a "crease" or whatever. Are they touch sensitive? The touch sensitive keys on my Lenovo IdeaPad work like s**t. I hope they are mechanical some how.

I wonder how the hard OK, start, etc. keys work? You dont see a "crease" or whatever. Are they touch sensitive? The touch sensitive keys on my Lenovo IdeaPad work like s**t. I hope they are mechanical some how.
The look like the Centro's: mechanical.
They are flush with the device and recess when pressed. I'm okay with the design as if gives the device a very low profile overall.
I'm just psyched about a dedicated email and calendar key as I find those to be imperative on such a device.

I have never touched a Centro, so thanks. Its to small for me. I picture my niece using one. I hope the 800 isnt too small for my electricians fingers.I'm just psyched about a dedicated email and calendar key as I find those to be imperative on such a device.
I agree. I love the extra keys.

Well the stats look good. If they can just get the stinking thing to sync properly we might be in business.

I am extremely excited for this device, when I look at my 700wx and then this picture it looks like a huge difference in thickness.. Plus, with all of the high end specs this thing is going to do everything I could want out of a smartphone - including full html email that retains font, tons of storage, and even GPS! Another thing... I've always wanted a black treo! I can't believe how much people are bashing it at Treonauts... These pictures are not professional, redone images like those they show of the 750 and Blackberry bold. I can't wait to hold it... I'm sure that when Andrew does over at Treonauts he will be impressed..

I like these images actually. Someone posted about having a glossy black finish on the other thread, to match with other phones... I really hope not, I hate glossy black, too many fingerprints.
Wifi button and that much RAM is awesome. I don't need the IR port, and doubt many do, but its nice.
I'm still unsure about a square screen for WM, not sure how the programs will work with it. (My q9c is the only WM device I've used.)
Ringer switch is a necessity though, its sorely missed on the q9c. As long as the GPS can work independently of cell signal I'm interested, though I'm not sure about a WM Pro device (I've heard WM Pro isn't all that good at one-handed use like WM standard is, and isn't quite as good at memory management.) Still, I'll be watching closely.

I like these images actually. Someone posted about having a glossy black finish on the other thread, to match with other phones... I really hope not, I hate glossy black, too many fingerprints.
Wifi button and that much RAM is awesome. I don't need the IR port, and doubt many do, but its nice.
I'm still unsure about a square screen for WM, not sure how the programs will work with it. (My q9c is the only WM device I've used.)
Ringer switch is a necessity though, its sorely missed on the q9c. As long as the GPS can work independently of cell signal I'm interested, though I'm not sure about a WM Pro device (I've heard WM Pro isn't all that good at one-handed use like WM standard is, and isn't quite as good at memory management.) Still, I'll be watching closely.
Square screen is no problem, the 320x320 res would be the only reason reason for concern with software compatability and I am not.
WM Pro is 10x the OS standard/smartphone is IMO. I use my 700wx one handed all day. 6.0 professional is a memory hog but as you said there is plenty of memory to spare.
-Rob

Square screen is no problem, the 320x320 res would be the only reason reason for concern with software compatability and I am not.
WM Pro is 10x the OS standard/smartphone is IMO. I use my 700wx one handed all day. 6.0 professional is a memory hog but as you said there is plenty of memory to spare.
-Rob
Anybody have a run down on the known specs for sure? I was going to get a curve tell i seen this. hmmm... got me thinking now.

Looks great! Even if thats not the final version I'm sure the final version will be just as good. I've never seen a bad looking treo. Cant wait!!!

Anybody have a run down on the known specs for sure? I was going to get a curve tell i seen this. hmmm... got me thinking now.
lol, you might find those specs in this thread:800w: Updated Specs and features

damn i hope this comes out soon and is half of what we think its gonna be

Square screen is no problem, the 320x320 res would be the only reason reason for concern with software compatability and I am not.
WM Pro is 10x the OS standard/smartphone is IMO. I use my 700wx one handed all day. 6.0 professional is a memory hog but as you said there is plenty of memory to spare.
-Rob
I used to think the Pro OS was vastly superior to the Standard OS, but now that my BJII has been my primary workhorse for the past 2 months, I haven't sacrificed much in terms of useability, and in some cases, it has improved. I still do think Pro is better, and I can't wait to get another QWERTYbar WM6.1 Pro device with a flush screen.

I hope esn changing is the 'same' as the novatels.. since both of them use MSM6800... (but would need to open up the diag port/status port/GPS port first)
It is strange that the WM is still version 5 and not 6..? otherwise we can import it into the 700wx rom cooking project

It is strange that the WM is still version 5 and not 6..? otherwise we can import it into the 700wx rom cooking project
It's not WM5, it's WM6.1.

It's not WM5, it's WM6.1.
ok. (I guess WM has very confusing version numbering..OS 5.2.1944) or maybe its just non-upgraded prototype
From:http://discussion.treocentral.com/showthread.php?t=163988
has anyone been able to get these files:
libModemUpdater.dll
ModemUpdater.exe
NPRG6800B.hex
amss.mbn
amsshd.mbn
partition.mbn
02.PRI
sprint_60611.prl
maybe it would help ebag333 with his 700wx WM6?

Mal;
Are you at liberty to state the source of your confirnmed info regarding the top-mounted wi-fi switch/button on the 800w? So far, we've only seen shots of the 800w from the front and the right side (showing the IR window & card door). Nothing yet of the left side, bottom connector, rear body or top panel.
So has Palm decided to go with both the traditional Treo ring/vibrate switch up top as well as a wi-fi toggle?
Any word yet if the 2.5mm headphone jack is still present or has it been replaced by 3.5mm or did they dump it entirely to go entirely Bluetooth?

I just want to say Verizon better have a black one, like in the picture. That thing looks killer! Im in for a non-camera unit as soon as they come out (to VZW).
As for all the 'stuff' it will have, Im sure it will be more than we have now. If they miss a few things or they dont work how we all think they should, who cares, still moving forward. Im under the impression all the PDA companies are working on something bigger than "does it have this and that". When it comes out, everyone will be like: holy :censored: :censored: man, I gotta have that!!!!!! Dont ask me what it will be, Im just a moron with a cool phone.

Mal;
Are you at liberty to state the source of your confirnmed info regarding the top-mounted wi-fi switch/button on the 800w?
Sorry, I can't :o But I'm sure we'll all know in the next few weeks/months, lol.
So has Palm decided to go with both the traditional Treo ring/vibrate switch up top as well as a wi-fi toggle?
Yup. One is a switch, the other a button.
I don't know if the button is assignable, but I wouldn't doubt it. I'm not sure what I'm going to use more often Wifi or GPS, but it'd be cool to attach GPS to that button.
Guess I'm gotta get in touch with the developer of AEButton Plus so we can add that one to his app--then that button can have 4 functions, lol.
Any word yet if the 2.5mm headphone jack is still present or has it been replaced by 3.5mm or did they dump it entirely to go entirely Bluetooth?
Word is going to be disappointing for many:
Dumped entirely for BT.
Well, almost entirely. Like current HTC devices there will be a micro-USB-to-3.5mm headphone adapter included.
Seems like only iPhone and RIM are the last holdouts for built-in 3.5. With the iPhone, since there is no a2dp it's understandable. RIM though is certainly bucking the trend.
Personally, I'm generally okay without the 3.5mm and prefer a2dp, but I can see the argument from both sides.
Also, the leaked images are not the final design. That's not to suggest there is some major overhaul, but there will be refinements as they still have to dress it up (right now it's like a car without bumpers & trim).

Sorry, I can't :o But I'm sure we'll all know in the next few weeks/months, lol.
Yup. One is a switch, the other a button.
I don't know if the button is assignable, but I wouldn't doubt it. I'm not sure what I'm going to use more often Wifi or GPS, but it'd be cool to attach GPS to that button.
Guess I'm gotta get in touch with the developer of AEButton Plus so we can add that one to his app--then that button can have 4 functions, lol.
Word is going to be disappointing for many:
Dumped entirely for BT.
Well, almost entirely. Like current HTC devices there will be a micro-USB-to-3.5mm headphone adapter included.
Seems like only iPhone and RIM are the last holdouts for built-in 3.5. With the iPhone, since there is no a2dp it's understandable. RIM though is certainly bucking the trend.
Personally, I'm generally okay without the 3.5mm and prefer a2dp, but I can see the argument from both sides.
Also, the leaked images are not the final design. That's not to suggest there is some major overhaul, but there will be refinements as they still have to dress it up (right now it's like a car without bumpers & trim).
Thanks for all the info!

Ditto. Mal, thanks for the updates/clarifications. I think that it's definitely safe to say that the major specs of the 800w are determined & looking good and we just need to hang in there a bit longer until the small details materialize.
One beef I still have though: I don't know if I'd call the current smartphone industry trendsetters RIM & Apple "holdouts" in regards to the 3.5mm headphone jack. BT A2DP is sort of a doubled-edged sword for most folks and a real love or hate affair for others (myself included). I think that RIM & Apple both feel that the pros & flexibility of the old school 3.5mm jack outweigh the negatives. More so than anything else, this is something I wish Palm would relent on. In particular, the Centro could have a LOT more appeal to the younger hipster crowd with a stereo headphone jack but that's not an argument for the 800w forum...
Two final questions:
Any idea of the 800w is dual OS architecture-friendly? That is, are we possibly looking at the basis for several future handsets (ala 700w/wx/p shared hardware)? The 800w innards would serve (screen resolution & size aside) as a reasonably compelling platform for a debut Nova device in '09.
Finally, any word on who Palm's ODM is for the 800w? HTC, presumably but Asus did the most recent WM Treo (500) so anything is possible.

I think that it's definitely safe to say that the major specs of the 800w are determined & looking good and we just need to hang in there a bit longer until the small details materialize.
There are small details too...a couple of interesting tid bits that have not been shared yet. Nothing huge, but cool little things...:p
I think that RIM & Apple both feel that the pros & flexibility of the old school 3.5mm jack outweigh the negatives. More so than anything else, this is something I wish Palm would relent on. In particular, the Centro could have a LOT more appeal to the younger hipster crowd with a stereo headphone jack but that's not an argument for the 800w forum...
True. All else being equal, I'd prefer to have a 3.5mm jack than not.
Two final questions:
Any idea of the 800w is dual OS architecture-friendly? That is, are we possibly looking at the basis for several future handsets (ala 700w/wx/p shared hardware)? The 800w innards would serve (screen resolution & size aside) as a reasonably compelling platform for a debut Nova device in '09.
Nooo idea. Heck, I don't even think Bono knows that :o All I know about "Nova" is what has been in the press already.
Finally, any word on who Palm's ODM is for the 800w? HTC, presumably but Asus did the most recent WM Treo (500) so anything is possible.
Palm is the ODM for the 800w, I'm assuming--that is they designed it in-house (much like the Centro). They farmed out the 500v as an attempt to bridge the Euro low-end market, so they did a quicky with Asus. But for their main devices, those are done by Palm and then manufactured by a 3rd party.
Who the device OEM is for the 800w, I do not know. Probably either HTC or Inventec (who did the Centro).

i just would like to say that i do not understand what the big problem with the 800w. Everyone is ranting and raving on how ugly it is and blah blah. Me personally i think it looks professional. I guess everyone has a different opinion on what professional looks like. And another thing is a lot of ppl say it looks too much like the centro phone .... and im thinking..is that a bad thing?? Just a thought

i just would like to say that i do not understand what the big problem with the 800w. Everyone is ranting and raving on how ugly it is and blah blah. Me personally i think it looks professional. I guess everyone has a different opinion on what professional looks like. And another thing is a lot of ppl say it looks too much like the centro phone .... and im thinking..is that a bad thing?? Just a thought
Have you seen the 850 pics? Sounds like you havent...

One beef I still have though: I don't know if I'd call the current smartphone industry trendsetters RIM & Apple "holdouts" in regards to the 3.5mm headphone jack. BT A2DP is sort of a doubled-edged sword for most folks and a real love or hate affair for others (myself included). I think that RIM & Apple both feel that the pros & flexibility of the old school 3.5mm jack outweigh the negatives. More so than anything else, this is something I wish Palm would relent on. In particular, the Centro could have a LOT more appeal to the younger hipster crowd with a stereo headphone jack but that's not an argument for the 800w forum...
Not only that, but until A2DP headphones can match the quality of my Etymotic ER-4P headphones, (and I don't count the ridiculous looking ety8 headphones) then I won't be using them. Its a shame too, because wireless headphones would be so much more convenient.
Windows Central Newsletter
Get the best of Windows Central in in your inbox, every day!
Thank you for signing up to Windows Central. You will receive a verification email shortly.
There was a problem. Please refresh the page and try again.