Check out Intel's 'Project Alloy' VR headset powered by Microsoft Holographic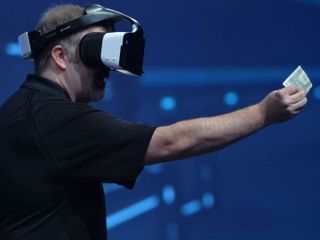 Intel has introduced "Project Alloy," it's upcoming wireless virtual reality headset, with a trailer that shows the company's vision for a "merged reality" experience. As we previously reported, Microsoft is teaming up with Intel to provide support for its Microsoft Holographic shell for Project Alloy. It will be added to all Windows 10 mainstream PCs in a 2017 update.
Intel revealed the features of the headset in a blog post
Go untethered: Operate without pesky cords dangling from your VR headset connecting to the computer. The computing power is located in the Alloy Head-Mounted Device (HMD), which allows the user to experience VR untethered. That means you can "cut the VR cord," allowing a free range of motion with 6 degrees-of-freedom across a large space. This, combined with collision detection and avoidance, enables the user to utilize physical movement to explore a virtual space.
Immersive experience: Through merged reality, see your hands, see your friends … see the wall you are about to run into. Using Intel RealSense technology, not only can you see these elements from the real world, but you can use your hands to interact with elements of your virtual world, merging realities.
No external sensors: Alloy's merged reality is made possible by Intel RealSense cameras attached to the headset and is not dependent on setting up any external sensors or cameras around the room.
Intel plans on open sourcing the Project Alloy hardware in the second half of 2017, which will allow hardware makers to create devices that use its design, along with Microsoft Holographic. Company CEO Brian Krzanich also wrote a post on Medium about Intel's ultimate vision of a "merged reality" for experiencing VR software:
Windows Central Newsletter
Get the best of Windows Central in in your inbox, every day!
When your car doesn't have collision detection but your VR headset does.

The big question for me is the FOV

Stabreeze's StarVR. If only they could fit 210 degree FOV in Riddick's goggles.

Based on the video the device is not like HoloLens with it's kind of unique way of image forming, so the FOV here should be OK or at least comparable with current VR headsets (read 90-110).

Havent u heard of microsoft researcher's solution to narrow FOV:sparselight AR and sparselight VR

wake me up in 2017 when Apple, Google and Samsung are running away with the VR + AR market

Samsung and Google have been doing VR for a while, it's not like Microsoft or Intel were leading and fell asleep on this one

@Ricardo Dawkins, most likely you'll just be left to hibernate indefinitely :P.

A lot of hype in that ad. If they release the normal VR headset with the same plastic looking characters you find in most games, people will be disappointed. They are claiming they can make everything look true to life.

Just out of curiosity, who owns the mechanical rights for Jessica Rabbit?

Ewwwww Posted via the Windows Central App for Android

Marvin Acme. But he's dead. Doc Brown killed him. But don't worry, Super Mario killed him back.

"The computing power is located in the Alloy Head-Mounted Device (HMD)" | Ok, so it's pointless for anything more than short, simple "experiences".

What if no one would come to open the car door? Would that guy stay in the car all night?

He will take off the headset and go to bed.
Windows Central Newsletter
Thank you for signing up to Windows Central. You will receive a verification email shortly.
There was a problem. Please refresh the page and try again.