Microsoft Holographic to be part of big Windows 10 update in 2017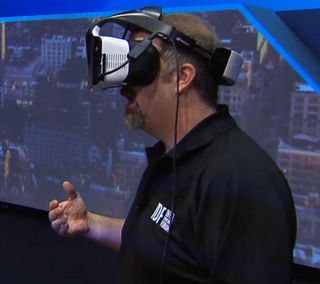 The Microsoft Holographic shell will be part of a major Windows 10 update in 2017, allowing mainstream PCs with the OS to run 2D and 3D apps at the same time on head-mounted displays.
Microsoft's Windows and Devices head Terry Myerson made this announcement today as part of the keynote for Intel's IGF conference. He stated that Microsoft Holographic will be able to be used even on small and low-power PCs running Windows 10 when the update is released. Myerson showed a video demo showing Holographic during the keynote, and later said that same demo ran on an small Intel NUC PC with Skylake processor and Iris integrated graphics. Hardware specs for Windows 10 PCs running Microsoft Holographic will be announced in December 2016 as part of the company's WinHEC conference in China.
Microsoft and Intel also announced that Holographic will also be supported by "Project Alloy", Intel's upcoming virtual reality headset. The wire-free all-in-one device does away with typical game controllers and uses your head to interact with the VR environment instead. The headset is currently in development and Intel plans to release Project Alloy as an open source project in the second half of 2017. This will allow any hardware company to create their own VR device based on Alloy, while also using Microsoft Holographic as its software.
Windows Central Newsletter
Get the best of Windows Central in in your inbox, every day!
Windows 10 Mobile Anniversary Update now available. Thank me latwr after installing.

I guess this is the start.

Who saw intel's new all-in-one vr?its strictly for windows holographic platform...guess wintel is trying to 'out google' quadroid

Dont underrate power of pc....google's daydream is DOA.just like ALLO and DUO

Despite all the hype these things are way too impractical to have any traction beyond the geek userbase, not to mention the price.

I guess you haven't heard that the Israeli army purchased a few HoloLenses for training their troops. And don't get me started on what the applications are in the aerospace, medical, automobile, and construction businesses.

And this is how Xbox One (not Scorpio) will support VR.

Dont underrate power of pc....google's daydream is DOA.just like ALLO and DUO

True.....with intel's new project alloy vr technology,i wont be surprised to see an untethered low-end xbox vr.while project scorpio takes the high-end place

Just watched the video.. but wow... doesn't it seem much more simple and quicker to book a trip, add it to your calendar, and get info on it using a keyboard, mouse, and monitor?

These are just basic samples of what could be done. But as technology progresses and AR headsets and projected displays get less bulky and take on a variety of form-factors, it's not hard to imagine how OEMs could use this framework to provide HUD driving AR, i.e. highlighting speed limit signs, or presenting 3D warnings of adverse road conditions around the next bend, or just simply 3D driving directions, lane guidance directly on the road surface, etc. And combining these ideas, perhaps having a to-do list projected into your living space (or in a vehicle in a non-intrusive manner while not in motion).

Those are great ideas for sure, but yes they need to get waaaaaaaaaay less bulky.. to the point of not having to wear anything on your head (think Star Wars), because the general public is not going to want to wear any kind of contraption on their head in their own home, much less out in public. I mean let's face it... Google couldn't even get the masses to wear something as solically acceptable as "glasses" on their head.

How about the promised focus on mobile? Or was it just rumors.

Apparently you missed the release of Windows 10 Mobile Anniversary Update earlier today? As for what is coming, maybe, just maybe Microsoft doesn't want to show their hand just yet. They already said not this year. Many times. So don't expect anything this year. But I'm still with all of you... I really hope they bring it next year!

In general I agree with your sentiment, but we had heard that the next big update in early 2017 would be mobile focused, and 2017 would be the year of mobile. As we all know, you can't focus on lots of things, or you're not focused on anything. Certainly Microsoft needs to keep advancing Holo tech (and desktop OS, IoT, Band, etc.), so if that's all that this is, great. But I hope 2017 is still the year that Microsoft shows that they are serious about mobile and that the majority of their development effort is working on mobile now and that their business strategy is around driving mobile adoption in 2017.

This is one announcement centered around a specific event. And nowhere did they say that's all that's coming.

Alloy sounds exactly like the VR helmet I would want to buy. This is great news!

Not to mention that this will be an open-source reference design, the number of OEMs making headsets will surely skyrocket and provide more options from a quality / price point of view.

All the major OEMs except Oculus will support Windows Holographic platform which will become the industry standard.

But then you are tethered to your PC. AR/VR makes more sense when it is mobile. This is cool as a computer gaming accessory, but won't be the mainstream VR platform. Posted via the Windows Central App for Android

Actually, the design of the Intel device is wireless. Yes, it'll still require a PC, but you won't be tethered like other VR solutions. Btw, both the Oculus Rift and HTC Vive are tethered.
Windows Central Newsletter
Thank you for signing up to Windows Central. You will receive a verification email shortly.
There was a problem. Please refresh the page and try again.