Service Alert - Windows Phone Store glitch asking for app re-purchases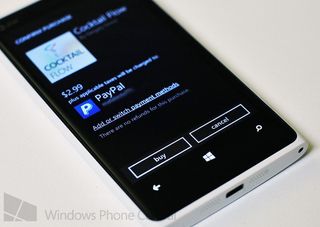 Currently there seems to be a bug in the Windows Phone Store that causes previously purchased apps to not appear so on your account. As a result, if you try to re-download an app that you bought in the past, the Store will try to re-charge you for it. We were able to verify this on various phones of ours, someone with a different Microsoft account and it's even popping up in comments.
The glitch is sporadic too as sometimes we are able to get a previously purchased app (or game) with no issue. Ironically, Xbox games do not suffer from this anomaly, just everything else in the Store. We have heard that Microsoft is doing some backend changes and we bet this has something to do with that. As of now there is no service message from Redmond (opens in new tab) about this situation, so our advice is to wait it out as we hope it's very temporary. [Note: Do not attempt to re-purchase as you will be charged again]
Update: it appears to be regional as our George Ponder is not having problems.
If you're exhibiting this behavior, let us know in comments.
Daniel Rubino is the Editor-in-chief of Windows Central, head reviewer, podcast co-host, and analyst. He has been here covering Microsoft since 2007 when this site was called WMExperts (and later Windows Phone Central). His interests include Windows, Microsoft Surface, laptops, next-gen computing, and for some reason, watches. Before all this tech stuff, he worked on a Ph.D. in linguistics and ran the projectors at movie theaters, which has done absolutely nothing for his career.
I downloaded my wpcentral AP again this morning and had no issues to report.

This just started within the last hour or two...

Glad I got all my apps redownloaded last night. xbox live is having some problems too i can't access my cloud saves

Xbox Live on the Xbox 360 is also giving Errors about that some content is not available :S
What's Up?

Yeah, Netflix just kicked me out, lol... <shakes fist at Microsoft>

I'm guessing this bug occurs with more apps than just "Cocktail Flow." Because that app was a free download for the Mix'11 event, but if you ever had to reinstall the app... you had to pay for it to get the full version again.

It's different than other apps that were free for a limited time because you had to put in a code inside the Cocktail Flow app to unlock the full version.

I paid for the app before that event, so I dunno for sure. If you paid for it straight up (as well as any other apps you're having trouble with), then this is a different issue.

having problems redownloading apps since i factory reset-ted my phone... including WPC's app...
i guess it's regional... and that includes my country...

Yeah I just got my 920 a few hours ago and I've been having this issue. Glad to see its not just me

Tried to redownload Final Fantasy but still not showing up as owned. Try again in the morning.

Bring back the good old days of paying for software, downloading an installer file, and installing it. What was so wrong with that?

So many bugs with wp8. Who was in charge of making it this time?

Stop trolling. The store having issues would be a backend problem, not an issue with the WP8 OS.

Also can you provide proof that this not also affecting users who are on WP 7.x?

He's not actually trolling. Look up the definition.

I bought all my apps back & at&t refunded all the charges. I've never had a problem with them,...

Not happened in my region from phone. Try pc later

tried to download a few apps just within the hour and now i know why. thanks!

Just to chime in...it seems my Xbox Live services are down.

I had the problem on my 920, but it can be solved by going to your purchase history in your windows phone web page and pushing the apps to the phone. It is actually a very efficient way to move apps during an upgrade.

Just when I thought this launch couldn't get any worse.

I'm having some intermittent issues but my wife isn't having problems on the 900.

Yep. Just got a white Lumia 920 today and noticed this problem on two of my aps to reinstall. Palm Springs CA here.

I did repurchase my copy of SuperTube, but held off on Outsiders and Outsiders Extras.

Happened to me... I just picked up my 920 this afternoon and was reloading apps. Unfortunately I didn't know it was a system glitch. I paid for about 4-5 apps. I hope this will be corrected on my bill!!


@hb2p Might be best to seek resolution with the app vender?

I just got off the phone w/ AT&T. They gave me a credit that more than covered the cost of the apps. No hassle from them at all. Thank you AT&T!!

Show that white Lumia 920 one more time before I get my yellow 920, and I will go crazy.

I read that, before WinP8's release, this may happen and if one continues with purchase, one is not actually billed for the purchase. Windows Market is tracking past purchases and not billing purchases.

Wow, this explains why my Wife almost purchased an app she had already bought. When she exited and searched for it again it was fine though.
This also might explain why the Purchase History on WindowsPhone.com is showing all kind of odd results (missing apps, some apps that you didn't purchase for that phone show up, etc).


i have the same issue with windowsphone.com the site is not functional :( my purchase history goes only 40-50 back and i use a WP7 since may-june 2011 so over 350 apps are hidden now that i downloaded... thats a shame, this issue is lasting already two months

When I checked windowsphone.com last week my WP7 apps were all showing. Then after upgrading to WP8 the apps no longer show up bast 40 or so apps. Something is mesed up.

a month ago this happened to me also on my wp7 device i had over 350 apps installed, before the website update this was about 20 pages, now i click only once onda the "show more" apps and i have like you say only the last 40 apps. Thats a serious bug and its Microsofts fault!

I had this issue on my Lumia 710 too. Actually you just click Buy and then it'll find out you have purchased before and just let you reinstall without charging you.

Wpcentral app gone. Damn. Will have to buy it again.

Lucky I have most of my apps good to go

In this picture they're using PayPal to pay for apps? is this possible on WP7? Or is that a WP8/Wallet feature?


Not 100% certain, but I believe it is WP8 wallet feature

The horror if one would loose it's purchase list, I bought a LOT of apps through the years.

It looks like Xbox Music won't sign in either - I just factory reset my phone and it won't link to the account.

Anyone think with all the WP8 problems recently this is an excuse for updating the backend without admitting they had a problem?

I can do less and less each time I enter the marketplace. It won't let me search or view screenshots... And I live in the Netherlands

I had problems with multiple apps where it would go back and forth and sometimes it would try and charge me and other times it would not. I did notice that the majority of the apps I had problems with were ones that I got during a period when the app was free for a limited time and it seems to be trying to charge me now....but it is really strange

WPCentral app shows up in my downloads section but it won't update. It starts but then goes to the "attention required' message. I have rebooted my L900 to see if it solves the problem and no cigar.

All the same problems here. Lumia 800, windows 7.5

It won't show all the apps I purchased on the website. The app "Outsider" wants me to repurchase. I sent an email to MS.

If you send an email to MS you are talking to a wall. I tried it over 10 times with different bugs and no one helped me so far. Nobody has an definition about any of the bugs. I discovered an bug with email servers when sending email from one character code region to another, the email would show up as "asian" symbols instead of letters. Like crypted. mS had no respond to that, they only said it must be due to the different server encryption. But as an user thats not my problem its MS's problem :( their answer was like "its not our fault" but clearly it is their service.

I did have this problem 2 months before. I lost all my apps for about 2 months ... I wish it will be faster for you all to get them back to you.

Canada here using a 920. It's still trying to charge me again for the wpcentral and supertube apps. Seems to have started last night as I was able to re-download other apps before about 11pm eastern.

Same in Europe. It shows me for the wpcentral app that i have to pay it... I hope this getting fixed. This is Microsoft :( not an beginner software company

Happened today with a music purchase Nokia lumia 900

Have this problem too. A bunch of my games and apps can't be re-downloaded without purchasing them again. Some of them are Angry Birds, Fruit Ninja, Bejeweled LIVE, Note Plus, Board Express Pro etc. Hope it gets fixed soon as I got my Lumia 920 today and want to finish the switch from my L800. :-/

yup. I got this problem too. And as the article says it doesn't affect games, I can tell you here and now that all my games were equally as affected.

OMG I updated Twabbit and Microsoft emailed me with a purchase confirmation message! >_

I had to re purchase this WP central again!!! What gives!!! :-(


The whole Xbox service is screwed up. You do not want to know how pissed off I am with all the recent bugs I've encountered, including Zune music unrecognized after migration to Xbox Music. Let alone all the file synchronizations between my Windows 8 machines via cloud. Today, I found out the recent purchases of Xbox Video contents, including my Season 5 subscription of Fringe TV series, is unable to sync from my Windows 8 machines to the phone. After chatting with a representative, they said this is a Xbox DRM problem and they are aware of it but do not have a fix what so ever. This is poorly maintained and executed by Microsoft and they need to be held responsible for this. Just as bad as the iPhone Maps roll out. What a screw up this is!

I am having the issue on my Nokia Lumia 920. A couple of apps I bought showed up ok as downloaded via MS's new "list of purchased apps". Some things didn't appear in that list so those things as well as it seems apps/games you downloaded for free that normally cost (free for a day) showed up as not purchased. Like "Tweet It!" or whatever.....it was free for a day so I bought it. When I restored my apps it wouldn't let me...claimed I had to buy it so I passed it up.

Same issue here. I am curious as to how and when this will be fixed. I received my nice shiny yellow lumia in the mail on Friday afternoon from AT&T. Started the process on Saturday morning of migrating from my trusty 1.3 original focus, bought on day one last time around.
When I went to windowsphone.com there was only one screen of about 14 apps listed and I had over 100 apps and games installed on my focus. I went ahead and installed those ones. I've installed some of the others manually, but the rest i'll be leaving to see what happens over the next few days. Making a list of them all from my Focus and searching the app store was way too time consuming so I have to hope that MS will fix this problem quickly.
It will be interesting to see how they handle the fact that I have reinstalled some of them manually now. I'm really surprised that this has not been fixed already, although new customers are their priority and this won't be affecting them I guess.

Here from Singapore and can't update my WPCentral app, it goes to attention needed when it is 50% downloaded. Lumia 710 here

Just happened to me about 5 minutes ago.

WP Central is asking me to repurchase it. Bummer.

I think it only happens with apps that you downloaded during a free-promo like WPCentral app. Apps that I bought could be reinstalled with no problem but apps I downloaded that were free for a time like WPCentral and Cowlick! has to be bought.

I think the same. But get it free for a few days should be like bought if the app is paid before and after that free offer. Thats a microsoft bug. They deleted our purchase history, i see only 40 last apps purchased only on windowsphone.com instead of 400 that i downloaded.

I'm still having this problem. It is very frustrating to not be able to use all the apps I've purchased over the past 2 years because of this bug. I hope Microsoft fixes this soon and refunds me for the app I re-purchased by accident.

Has anyone gotten anywhere with this?

I haven't...just pinged at Windows Phone Support. It's getting ridiculous now... I give it 24 more hours and if nothing, I'm raising hell on the site...

I made some headway with Windows Phone Support, they said it is something that they are aware of and are working on, and in the meantime had me repurchase any apps which they then refunded. I bought Garming Streetpilot again and they refunded it after purchase. They said I should hear back from them in 3-5 days. If they can't resolve the issue what I am hoping they will do is give me a credit (e.g. a code like you get from Bing Rewards) for the $100ish dollars I spent on apps so I can rebuy them. Anything else is unnacceptable. This is more of a slap in the face to their strongest fans than the Xbox Video debacle or the 7.8 upgrade.

I've just tried to re-download my purchased apps on 8X, problem still issued. Daniel, you should write more about it.

Mine is working correctly, having no problems :S

Swapped out my 920 earlier today. Same issue as everyone else. Trying to make me pay again for all of Liquid Daffodil's apps. Plus purchase history on my account is missing a lot of my apps.

Happened to me with gMaps Pro. Purchased the original and then the developer published a new version. Got the new one while it was free for a short time. It is not gone from my purchase history (original there but says it's no longer available).
Since background updating of Latitude is not working I don't want to pay AGAIN for a broken app! :(

Its happening on my 920 yesterday and it is a mix of games and apps. It is not just limited to ones I purchased during a free trial as I purchased the WP Central app and others at the full price.

Seems to be problems with apps that were "on sale" or discounted. I'm having the issue with Weather Smiles. It was offered on 16Sep as a free download. It doesn't show in my purchase history.

I am having the problem with "cut the rope" I bought it on the 13th of november.
Darn it :(
Oh btw, I am in Australia.

Here is what they have told me http://msicc.net/?p=3024

MSicc on your Microsoft billing page you can see all your purchases since opening your account. You just can't download them :'(

Yesterday (Wednesday 11/21) I was able to talk with a Microsoft support representative that not only refunded the apps I re-purchased but told me the issue is known and will be fixed on Monday 11/26.

It's Monday and I still cannot re-download my purchased apps. Darn you Microsoft!

Problem still here in India.

Well, its Monday 11/26 and I still can't download my apps :( has anyone heard anything else?

The problem is solved. Its working back normally.
Place: India

It's happening on my Samsung Focus 2 still.

This started happening to me today after a hard reset of my HTC 8X SORT IT OUT MS FFS!
Windows Central Newsletter
Thank you for signing up to Windows Central. You will receive a verification email shortly.
There was a problem. Please refresh the page and try again.