Seven things to know about the Microsoft Lumia 640 and Lumia 640 XL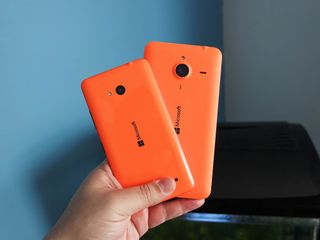 Some quick pointers on Microsoft's newest Lumias
The Microsoft Lumia 640 and Lumia 640 XL are Microsoft's latest devices to hit the market and both have the makings of being popular successors to the Lumia 635 and Lumia 1320 respectively. They're well priced, have decent hardware specs for the position in the market and that same great Windows Phone experience you get on phones that cost twice as much.
So, if you just picked one up, or you're thinking hard about it, here's seven things you need to know.
The Lumia 640 and 640 XL have 1GB of RAM
This is important for a number of reasons, not least app support. While better than ever, there are still some apps out there in the Windows Phone Store that just don't support devices with 512MB of RAM. Both new 640 phones have 1GB, so it isn't an issue. Windows Phone is still a slick experience on 512MB devices, but in this case more is definitely better.
For all that was good about the Lumia 635, it remained hampered throughout its life (until recently, at least) by this RAM restriction. Microsoft seems to have eliminated 512MB devices from its new range, and that's good news for everyone.
Windows Phone 8.1 Update 2 on-board
As yet unseen on existing Windows Phones, Update 2 is the very latest version of Microsoft's mobile OS. It comes loaded up alongside Lumia Denim on the Lumia 640 and 640 XL.
While a lot of the changes are under the hood, there are some forward facing features we get to experience. Such as the new look Settings menu and ability to pin specific settings to the Start screen, a refreshed way to manage app permissions, some visual tweaks and perhaps most exciting of all, support for Bluetooth keyboards.
Everything you need to know about Windows Phone 8.1 Update 2
LTE and dual-SIM to choose from
The Lumia 630 had an LTE sibling, the Lumia 635. Same phone, different name. This naming confusion isn't a part of the Lumia 640 experience, as the variants have the same name. But, there's still an option to have both with LTE and an option to have then in dual-SIM form that also have LTE. Which is pretty incredible for the price point these phones are hitting.
Microsoft sells its phones in a wide variety of global markets, but not all of them want the same from their phone. The LTE versions are a little more expensive, but not vastly, and it's good to know that there's something for (mostly) everyone.
The Lumia 640 and 640 XL take a microSIM
Something that's important to know if you're buying your Lumia 640 or 640 XL to use with an existing SIM. If you currently have a nanoSIM in your phone, you'll need to use an adaptor.
But it's handy to know also if you're buying a new SIM separately to go with it. No-one likes having the wrong sized SIM card.
The battery is removable
The battery in the Lumia 640 is a decent size as it is at 2500mAh, likewise with the 3000mAh in the Lumia 640 XL. But, both also have the added bonus of being removable. You shouldn't face too much trouble getting through even a relatively strenuous day, but it's handy for some to know that you can swap it out at any time.
With the XL in particular, Microsoft is pushing as a great device for business, and in that kind of arena a battery that can churn on all day is important.
One year of Office 365 included for free
Microsoft has branched out its free Office 365 offer to encompass its 2 latest Lumia phones as well as the large number of small tablets out there. With the Lumia 640 and 640 XL you can claim one free year of Office 365 to use on your phone, a tablet and a PC or Mac. You also get 1TB of OneDrive included and a bundle of Skype calling minutes as well.
To claim it you'll need to download an app from the Windows Phone Store. Follow the link below for everything you need to know.
How to claim your Office 365 subscription on the Lumia 640
Glance Screen
Glance Screen is one of those things that you don't miss until you don't have it anymore. Or that you looked at on other phones, longingly, wishing you had it on yours. The good news is that the Lumia 640 and 640 XL both come with Glance Screen for the display along with the floating clock and notification indicators.
Some of the highest end Lumia phones don't have Glance Screen. The Lumia 640 phones do. And that's just great.
So, those are just some quick need to know facts on the Lumia 640 and Lumia 640 XL. For more check out the links below.
Lumia 640 - Everything you need to know
Lumia 640 XL - Everything you need to know
Windows Central Newsletter
Get the best of Windows Central in in your inbox, every day!
Managing Editor - Tech, Reviews
Richard Devine is a Managing Editor at Windows Central with over a decade of experience. A former Project Manager and long-term tech addict, he joined Mobile Nations in 2011 and has been found on Android Central and iMore as well as Windows Central. Currently, you'll find him steering the site's coverage of all manner of PC hardware and reviews. Find him on Mastodon at mstdn.social/@richdevine
1.They're awesome
2.They're awesome
3.The...

A lot of awesomeness. The best at that price range. Just personally don't like the Microsoft logo, though. :/

The reason that Microsoft logo or the title Microsoft doesn't feel right is that the word "Microsoft" itself is long as compared to the Nokia logo or title which goes well with the same sounding "Lumia" title.
Also when it comes to logo there's the windows' four squares included in it too contrary to the Nokia logo.

NO-KI-A LU-MI-A MI-CRO-SOFT problems?

It's hard to tell whether you're agreeing with me or not.

According to Finnish (which is the correct way to say "Lumia"), it would be Lu-mi-a.

Are you purchasing a smartphone or a logo?

Agreed. Why they didn't go for "Lumia" as the main branding is rather puzzling; it worked wonders having Xbox rather than Microsoft Xbox.

Lumia on the front Microsoft on the back is what they should have done

pretty funny you don't like the logo you have it as your avatar

And it's even more funny you mock at someone's comment because of his avatar. That logo simply doesn't look good on a phone, okay?

I'm waiting for the LTE version in India... :(
Damn you MS

same here brother!!! I don't know whats wrong in launching LTE version in India. Not gonna buy a shitty dual-sim model :'(

Exactly the reason I am not buying Lumia 640 !

Dont worry, I'm sure they'll change their minds on how to brand them several times before its over.

Yes indeed, did anybody hear any updates on release dates in the US? The T-mobile website still says soon for the 640....I really want the 640XL though so I'm hoping the Microsoft store carries them soon!!! So I can buy unlocked!!!

Yes it's a shame T-Mobile will only carry the 5 inch one and not the XL which is without a doubt superior with those cameras not that 8 megapixels is bad. Posted via the Windows Central App for Android

My L730 doesn't have glance feature... "Jealous" :(

And the specs are same I.e the Lumia 730 and 640 have same specs and still the 730 doesn't have glance

Specs are not the problem. Cause the 930 also doesn't have glance.

It's about screen memory, which the 730 doesn't have.

Oled display doesn't support glance... Ex- both 730 & 930

Lumia 1010. Oled display. Glance supported.

Other way around, IPS LCD screens don't support glance, OLED does because OLEDs can power on individual pixels rather than the entire backlight. Posted via the Windows Central App for Android

Lumia 920 has glance and LCD screen.

Glance has nothing to do with OLED screens, because the Lumia 820 has OLED and glance screen.

Lumia 820 and 1020 say you're wrong ;)
(I own both, & use Glance all the time)

730 is actually better than 640 in a lot of aspect..compare both in gsmarena..you will know

If 720 with 512 mb ram could have such effective glance screen, why cant 930 and 730/735 .? MSoft must explain .. this is so weird ...

Nokia created the 930 and 730/735 lol. Why Microsoft has to explain?

Even I'm jealous with a 930 on my hands. :/

Mine are 532 and 830. Both have glance.

Still one of the best Windows Phones ever released IMO. Love the design and the lack of compromises (aside from 512MB of RAM)

Agreed, even today the 620 is great value for money aside from that 512. Neat little device, and available in more than just the handful of colours they offer these days.

The only thing I would change in my 620 would be better battery and 1GB RAM. Other than that I wouldn't change anything.

3.8 screen wow! thought would be bigger, yeah battery to small 1300 , like 2000 need these days

No,even with the 512 MB of RAM it's still the best in the universe..and will be the best for the next 1000 years!...wtf ppl?

The 640xl is only the best phone to buy these days aside from the 830, 930 and 1520. Hope they do well.

Its far from the best phone you can buy.

The 830, 930 and 1520 are the best and top of the line windows phones. And right under the 640xl slots nicely. So yeah it is one of the best.

If we want to get technical, the One M8 is the highest end Windows Phone in every area but camera.

I didn't count the m8 since it is not really relevant lol and it isn't really the highest of high end considering the fact that the 930/1520 are both comparable to it aside from a minute 800 vs 801 processor difference which makes little difference in windows phone

If that's your logic then there hasn't been a relevant high end windows phone since the 920. No other phone has done anywhere near as well as the 920 has on the high end. If we are using normal person logic, the one m8 has been touted for its very good display and phenomenal speakers as well as a build quality that is on par with the likes of the iPhone. Even if you are not a fan of HTC you can't just dismiss it with a wave of a hand.

On the windows phone side the m8 is irrelevant. Nobody outside the US can buy it presently which makes it irrelevant to them. On top of that, even in the US nobody is really buying the phone because they don't want it. The 1520 in America has been on one carrier for over a year and a half and is just now being retired likely sold more than the m8 windows on there carriers. Nobody except HTC fans tout the m8 windows as the mascot for windows. It's usually the Lumia 930 and 1520...sure it has a nice build quality but aside from that it is irrelevant to most people.

1520 can't be included as you can't buy it

Of course you can. Not officially but guess what, you can buy them by a third seller and the like so yes you can buy the 1520 and arguably the current flagship is the One M8 regarding processing power although the 801 chip is a slight boost from the 801. But not from the camera. Posted via the Windows Central App for Android

I didn't count the m8 since it is not really relevant lol

6.7 mp is better than 8 mp interms of dark situation.

Image resolution has nothing to do with sensor sensitivity imo

Yes because the 6.7mp camera you're talking works on pureview technology & its lens is made by Carl zeiss(high quality) compared to 8mp on other phones.

That also has zero bearing.
What IS important is that the 735 has an F1.9 aperture, vs the 2.2 (or F2.4?) on the 640 series.
Bigger aperture = more light to the sensor = better low light photos.

That makes no sense.
It's about the aperture and of course larger pixels in the individual amount of pixel. 8 megapixels is arguably better than 6.7 Posted via the Windows Central App for Android

Miss the add text feature in Glance screen

Lumia 830 vs Lumia 640xl which is the best??

830 has wireless charging... That's a must for me.... Love my wireless desk charger :)

640xl any day worth every penny.

The 830 is by far the better device, but also more expensive. On the 830 you get a better and curved screen with better sunlight readability and color reproduction, better viewing angles with high brightness mode (which the 640(xl) doesn't have), more microphones, HAAC mics, better (active) noise cancellation, WAAAAAAAAAAAY better camera with OIS, wireless charging, better build quality with metal accents, dolby digital recording, more built-in memory and quite a lot more quality due to more high quality components overall (like better audio output for headphones). Sure, if you just look at the CPU and screen, the 640xl looks interesting.. but it misses a lot of nice unique features that the 735 and 830 offer and those (at least in Europe) are worth their money vs a 640. People are too used to Android and iOS where besides basic specs there's nothing else offered. Lumia's have always been different in that they offer more and special features with their HAAC mics and OIS camera's with unique sensors and lenzes. The curved glass and the sunlight readability features with ClearBlack+brightness modes and the likes is something you won't find in low-end devices like a 640 or Androids. Not even in high-end devices until recently. I was tempted to go for a 640 too, but there's more to a device than just the CPU and screen pixels. People forget that a little too often. You won't notice that if you just blindly rush for the specs, but seeing the 735 next to a 640 really shows that the 640 is a low budget device. Sure the 640 is a good low budget device, great to compete with Android devices as it joins the low-price spec war there, but currently the 735 is the same price here and then the 640 isn't an option vs a 735 or 830 because the 735 and 830 offer so much more value outside of the CPU and screen pixels. So far the camera samples haven't been very impressive either on the 640/640xl. The added megapixels isn't appearing to save the camera's and just be another step in the spec war. The 6.7mp from the 735 beats them both (unless you really need those extra pixels for something) and the 10mp from the 830 makes the 640(xl) just look like an embarassment. Much like it does to other devices really when you consider it's price.

Dysje your comment Is longer than the article

Dear dysje, I was going for a 640 but after reading your post, I made some internet research and now I'm buying a 830. I agree that it's worth to pay around 50€ more for a little older phone, if you balance what you get for it. Thank you a lot for taking some time to write here, it really helped me!!

The Lumia 830 is more premium and has OIS (this is why it is pureview while the 640 XL is not) not to mention a camera shutter and less important, the lens in the 830 is a 6 element one while the 640 XL probably has the traditional 5 element one (since MS didn't mention anything about 6 element lens in the 640 duo).

One thing to consider is 830 has nano sim, ok if its your only device or if you are getting a new contract. I have sim only deal and dont want to tie in to new contract. Bought 830 for wife but I need to stick with mixro som phones for ease of swapping handsets. Plus I am not overly keen on design of 830 personally. As others have said, O will miss wireless charging. NFC is the must have option for me.

You can get adapter to use nano sim in a micro sim device.

Yes I got one from amazon to try, they're a bit dodgy and I got it stuck in my 820 because they don't hold the sim very securely unfortunately. So I am avoiding that thanks.

I dont think it was a good idea to use the same name for the dual sim and lte option. It makes searching for a (e.g. Lte duals sim) type much harder because search results are dirthered with the other types.

Then we will have options to choose among the different types.

So by your judgement having the same phone, but lte VARIANT(see, variant, not other phone) deserves another name? I can see your point, we have to filter from 640, 640 lte, 640 ds, 640 ds lte. But in my opinion, thinking about the masses, not about us who spend time on blogs, forums and such, this naming is better. A regular when goes to shopping, knows directly from the name what is different. Plus, this way MS is reducing a little the range of numbers needed for naming devices. From the oposing point, the old nokia fashion of naming devices was too confusing for masses because 1.the range was too big (5xx-15xx) 2.phones carried a different name for no real reason. Regular consumer would have asked whats added on 735 compared with 730 thinking of big changes, and would have discovered that only lte is added.

Which is best Lumia 730 or Lumia 640

You mean the 730 or the 640 xl❔
That's a tough one

It was a simple one Lumia640xl.

730 wins with the screen and there is NFC , 5 mpxl front cam

to be more precise than my first comment: all LTE-versions of the 640 and 640XL sport NFC, not the 3G-versions!

i have 640xl 3g and it supports NFC aswell

Both 640 variants have NFC. Amoled is feeling a bit old, although I do appreciates its calues

It's your choice really, the specs are the same but the 640 has glance screen and it comes with a year of Office. The 730 has wireless charging and I think NFC and also a better front cam

And a better rear camera... less pixels, better images. The 735 weighs less, is thinner and has a much better design. The 735 has wireless charging (730 does not), and the amoled screen from the 730 next to the 640(xl) really shows that you're dealing with a cheaper device with the 640(xl), the screen on the 735 is lightyears ahead of the 640(xl). Don't forget the curved glass on the 735. The 735 also supports rich recording with it's HAAC mics. Just has one less mic than the 830/930. Doesn't have the dolby licence though. The 735 does come with active noise cancellation too. 640(xl) does not have all these features. Up to you if those are important. To me personally, they made me decide to not get the 640 and get a 735 instead. For some reason, people in 2015 still think that more megapixels means better camera. Not in this case. The 8mp cam on the 640 and the 13mp on the 640xl are pretty low end sensors. Currently the 640 is the same price as the 735 in many places. The 730/735 feels way more premium too. The 640xl is actually more expensive. When I first read about the 640 being released, I said Yay! I wanted it to replace my 925... Now, I've learned of all the things I'd have to miss out on with the 640, now I say: no thanks. It's a huge step back from a 925, besides the battery that is.

Though I knew about all these specs of 730, hearing from so many other users, It makes me a proud owner of my Lumia Superman.. Interestingly the first one who appreciated the phone is also a 925 user when I got 730 from Nokia Priority.. :)

I'd rather choose 735 pal :D

definitely getting one of these devices, as a holdover until a flagship launches. I am thinking the 640, plus a 32GB SD card, wallet case, and a USB Qi adapter... should be a very decent device.

My Lumia 620 has NFC . HAHA!

the lte versions- yes. non-lte versions, no.

Nfc is there in both,No pureview tho but you get Lumia Camera 5 which is pretty neat.

Man I need a replacement for my 1520 like last year ...still nothing. Wont downgrade as it seems that's all ms has ......are budget phones. And I get it there easier to sell but for me coming from a 1520 I can't see my self downgrading

Our 1520 is still the top dog out of all the smartphones to date.

I hear you, it is nice to see other phablet sizes though, windows 10 is far less buggier on it than the rest of previews on other phones

I only want to know the prices for me... probably through amazon. wonder if that will ever happen. I want a Microsoft phone, not a Nokia branded phone and 535 and 640 would be the only choice, so I want to see the prices of 640 and see if I get or not one of these nice phones. I don't know anymore how much I can pay for phones I guess so I want a cheap one. but 640/XL is tempting

In gdr2 u can double tap nav. Bar to lock. No need to use lock button.

There is option in setting of navigation bar to lock phone when double tapping blank space of it

Microsoft must release a true successor for Lumia 720

just add a dedicated camera button and support glance screen for sake!

It is called lumia 730/735

And a true flagship successor for Lumia 920!

Is the 1TB of OneDrive permanent? Or for one year?

It's for one year only... After that you have to pay for it.

Posting this with Windows 10 technical preview on my 920 :). Still buggy and all my credit has gone down the drain because of data bug. But it looks beautiful and idk about hamburgers, I can reach them. Looking forward to the next build where hopefully data bug is fixed.
Until then, reverting back to 8.1.
I would keep 10 but I cant afford to spend £10 per day to deal with data bug

U should have saved 50 pounds and bought a Lumia 435 from the UK MS store (costs exactly 50 pounds with free delivery, it was pretty quick to arrive) to try the W10 TP on. Also, when u buy a Lumia from MS store, u get a 10 pound discount on some accessories, got a power bank (Nokia DC-19 i think) that already costs 20 pounds for 10 pounds,pretty nice.

I admit, coming from an iphone 5, have been pleasantly surprised by my new Lumia 640 LTE. The only let down is the lack of features in some applications.

Nice to see you moved from the isheep philosophy!

I take it that the 640 doesn't support qi charging?

How much onboard storage does it have? I didn't see this.

I bought the XL dual sim 3G version .. It's amazing device .

I registered the 1 year Office 365 pass and it suggested the 1TB space was for 1 year only. I wonder what happens to the additional data I add when my subscription is up?

your files will stay there, if you go above free user limit 30gb+ or whatever you got. you won't be able to upload your files but you will be able to open and download them. which means you can't edit them either since you can't upload more files (I don't know that, and no way to find it out for me) but your files will not get deleted or anything, and you can upload until you renew your 365 year.

Your files will get deleted after a certain time but you get warnings

Love the phone but damn MS! Why did u make it a regular micro sim and not a Nano. I hate using adapters!

Not everyone uses nano sim

Most flagship phones are using nano SIM now. Even Samsung has gone nano SIM in their S6, the Galaxy Note 4 was still using micro SIM.

The 640 has 8GB onboard storage but I've installed a 64GB SDXC micro SD card.

How do I stop the damn data connection!??

Settings > Mobile+Data and then switch data off. I've added a on/off toggle to the notification bar.

Using windows 10, I presume. No, you can't turn it off. It's a bug.

Glance screen is basically a permanent low lit clock on the screen when it is locked. It stops the need to press the power button to check the time.

It's a low res monochrome version of your lock screen, with all shades of grey represented strictly in black and white dots. It still draws power so that the screen can be updated with new info, so that it can keep accurate time, and in order that the display still works. It does it all with minimal resources and keeps the screen dim too. It's great for seeing immediately if you've got new messages without turning the screen on or have to enter your passcode. The Glance screen only appears in response to a trigger from the light sensor and then it goes completely black after a few seconds. This means you can take the phone out of your pocket, see the information, and then put the phone away and allow it to return to its lowest power state without touching a button. If you've got your phone on your desk, you can achieve the same thing by just quickly passing your hand over the phone to create that dark-to-light moment.

Which is best Lumia 730 or Lumia 640xl ????

Waiting for a Carl Zeiss pure view phone from Microsoft which will arrive only at windows 10 gets officially released

Waiting for a Carl Zeiss pure view phone from Microsoft which will arrive only at windows 10 gets officially released

I think it's one of the best phones the have created. :) nice combination of hardware

8 GB is a killer for me I just never got into the SD card but might be a time to try one, does it have wireless charging built-in? ​

There is no wireless charging built in. I'm not sure about the XL version.

They are hitting no several markets, but the chosen few!!?

I have a question...
So the lumia 735 didnt get dynamic flash? While microsoft lumia have a dynamic flash? There is no difference interms of hardware into this devices but lumia 640 has a higher MP compare to 735..
What the hell??

Why have they still not came up with a Lumia logo? It's always felt like the word "Lumia" is still a code name, strange.

Its a perfect phone on its price point in my opinion. Specs are also good and screen size of the 640 at 5" is awesome. It suits ppl who are not comfortable with phablets and who thinks 4.7 might be too small.

I believe this is my next phone! :)

Strength comparison 640-730/735-640XL

I'm getting the xl and the upcoming keyboard to use for an uber light note taking setup. Very excited.

Anyone know if Verizon will carry the xl?

Off opic: My Lumia 930 can not get Update 2 even through Windows Insider.

Idk, is this a worthy upgrade from the 635? I'm always on budget, and this is just the 730 on with better ram and lacking in few areas. This or the supposedly 'better' one?

Hang on, aren't windows phone supposed to come with built-in office?
Thus negating the need for a sub whereas android and iphone users would need a sub?
Or have they gone down the blanket route where everyone needs a sub regardless of platform? Some what confused now lol...

What I need to know, it's the availability in amazon or expansys-USA, or another site.

Why always Snapdragon 400? Why not 600? (Not expecting an 800 in Lumia 640 XL, as its a budget phone, but 600 could have been perfect)

I agree but for the hardware in there a 400 is perfectly adequate.

Even for L640XL? Have you tried it? My friend who uses an Android (Xiaomi Mi3) say that it will be obsolete within 6 months due to 3 year old S4 chip...

On an Android phone it would likely be horrible. I've used a S400 on both the 735 and 830 and it works just nicely. Sure it isn't spectacular but these are more or less low-mid range devices. An S600 would be nice but then there's more cost and likely less battery life.

Do the 640 and 640xl have motion data like the 635?

No NFC. strange as rumours indicate MS working on payment service.

They both have NFC, check out the microsoft store info..

To much microsoft branding: Logo on the backside, name on the backside, name on the front top and logo at the front bottom. Just a recognizable logo would be so much more sexier.

I don't use glance. Find it drains my battery...

The 635 is a successor to the 1320.... yeah, that numbering scheme isn't confusing. Stephen Elop needs to go!

The 635 isn't a successor to the 1320. The 640XL is though. Barely anyone knows about the 1320 anyway so no harm in changing the numbering. Males perfect sense.

I miss Glance Screen alot on my L820 ever since a sensor failed on the phone, the same sensor blacks the screen on call but re-illuminate the screen after call. I have to press the power button twice, to get to End Call screen. Bit of a pain.

So much info is requested on this site, when using the microsoft websites would answer all questions posed. The main thing that these two phones don't have, and I will miss, is wireless charging.

Will these support the Hey Cortana feature where it is available? Don't tou have to have either the 600 or 800 processors?

640 variants cannot support Hey Cortana. I think that the minimum processors is 800 as you have said, certainly only a flagship feature.

Definitely looking at picking up this device unlocked to use. A lot better priced positioned than what the L830was at the time.

I'm thinking very seriously of getting this when its available and I'm off my 2-year contract (sometime this summer). One thing that's very important to me is the microSD slot. It takes up to 64 GB I think. I'm sure you can put music, pictures and the like on it, but can you also store apps there and run apps from off of the microSD card?

It takes up to 128mb card!

Awesome for a burner-type phone I guess, but otherwise pretty meh.


Never understood the excitement about glance

Snore. I can read that on their spec sheet.

+1 for a large removable battery.

Isn't the Glance Screen limited on the XL? I can customize what goes on my 520 but isn't the XL fixed with just date & time?

Glance screen on 640 had time and basic notification data only.

Ok, number 5: battery is removable! How??? I'm trying to do that for more than an hour and no chance in succeeding! Please help, anyone! Thank

Does Lumia 640 (5inch) have a "wide viewing angle" display features?

Bought a Lumia 640 as a serving phone. Glance screen support is not fully integrated. Doesn't show appointment day date as it does on my Lumia 820. 1.2 quad core slower than 1.5 dual core... noticeably! Frames dropped. Overall quality of device is good.. and it's not fair to expect it to be as good as my 820. Overall I am fairly pleased with the device though

I got the 640 Xl LTE version. its a very nice device. my Nokia Lumia 920 died, so had to get a new one since my gf daughter broke my old HTC Titan(my back up phone) So i was lucky that i somehow got the LTE version in orange for the same price as the 3g version, so i do not complain. Compared to my 920 it is faster open apps, multitasking etc. The quadcore work really great on WP, so i can not complain, it all run butter smooth. especially the cam is alot faster. And yes it have NFC. One thing that is a bit anoying is the glance screen. It dont work as good as in my old 920. cant get weather there and other stuff, i hope MS make a fix for that soon.

I just got the new Lumia 640 XL and i put it to Windows 10 build 10149 immediately. After 1 day experience i see that the battery is jump from 100% to 20% in just haft a day. Hope that the next build will better

@buuduy the build is becoming stabler that's all under way to being fixed.

Does this phone have an LED indicator? I don't want to keep the glance screen on, and I want the LED to light up when I have notifications.

I'm Using Microsoft 640 XL . I Have a problem in true caller id.. As everyone posted The same problem.As caller id toggle off without any permission. Need solution for it

Using 640, greatly impressed by performance, battery. Best value @80 (att version)!

I have a lumia 640 lte. When I remove the back the battery falls out. Is that supposed to happen?

Any 1 know where can i order yellow 640 LTE back cover(case)???

My Lumia 640 XL Lte phone prixomity sensor is not working properly. it will working only when i press the sensor and its working at that time only. so any one know to solve this issue?

Thanks, have bought a new Lumia 604xl but am missing the game 🎮 I love in the store. That's dream soccer. What's happening?
Windows Central Newsletter
Thank you for signing up to Windows Central. You will receive a verification email shortly.
There was a problem. Please refresh the page and try again.