Share files between Windows Phones and other hardware with JoikuShare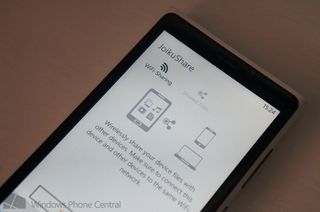 Should you use your Windows Phone and wish to transfer files between the device and a laptop, tablet or even SmartTV over Wi-Fi, you'll want to check out JoikuShare (www.joiku.com/joikushare). The app has just been released for Windows Phone and enables the transfer of said files to extend functionality from the phone to other devices available, and vice-versa.
Those who utilise JoikuShare are also able to receive and send files through the web browser, which makes it rather convenient for those who wish to have quick access. Friends can also see and access files you wish to provide to the big, bad world. No additional cables or software is required as everything is transferred using dark magic (also referred to as "technology").
Multiple devices can be connected to over WiFi, which allows parallel sharing across the network. QR codes are also featured for quick access. Getting started is rather straightforward, simply fire up the app on a Windows Phone, connect to a Wi-Fi network and select "Start WiFi-Share". Files you wish to share access to can be chosen under the "Shared Files" view.
Other hardware on the same network can then use web browsers to load the shared link, or use the provided QR code. Media and files that have been selected for sharing are then accessible. It's worth noting that administrators can access, manage and download all phone files, while friends are restricted to viewing and downloading of said content. Here's a quick video that explains the basic functionality (the app is also available on Android):
We're sure many will find an app with this type of functionality useful. The interface is simple and the app isn't cluttered with areas and views that aren't required. You can download JoikyShare from the Windows Phone Store for $0.99 (listed for Windows Phone 8 only and no trial is available). Thanks, adnokr5, for the tip!
Rich Edmonds is Senior Editor of PC hardware at Windows Central, covering everything related to PC components and NAS. He's been involved in technology for more than a decade and knows a thing or two about the magic inside a PC chassis. You can follow him over on Twitter at @RichEdmonds.
Then there's always SkyDrive...... Just saying.

I know, and it works on all devices too.

Then you gotta upload and use your data cap and then the other person has to download and use their data cap. The upload and the download are both slower than a direct wifi link and have to happen sequentially, more than doubling the required time for the transfer.

Someone needs to make a solution to tie Windows Phone's tap to send with Android's and make them cross-compatible. Right now tap to send for files is needlessly fragmented. Right now the only thing you can count on working between different makes is URLs and contacts.

Seen as you need WiFi for this you might as well use SkyDrive - it's not limited to data usage only. Plus at least you have that choice and the other person could be iOS, Windows, Mac, Linux...not just Android. But yes, NFC sharing across devices would be nice.

Some networks, like mine at work, block access to SkyDrive.

That's rediculous. Why would they do that? Do they also block access to Cloud?

Another cloud file sharing service. This almost as exciting as seeing another brand new chat service being launched with a chat app to boot. Unless it does something that Skydrive does not do, I will have to pass.

Ridiculous or not, they do it. They also block Bing and Yahoo. Again, I don't know why. Facebook, Twitter, etc are also blocked, although that is easier to understand.

our company has our own "cloud" and are worried some high security departments will upload files accidentally to outside sources so skydrive/box/dropbox/drive are all blocked

hey i don't like it either, but when those department's employees get patted down for security we have to make there isn't a hole to dig through on the network

Why would networks block SkyDrive, they WANT overage fees.

Yeah but some stuff you just don't want third parties having access to. You know, like the NSA. People cannot be trusted not to look at your pictures documents and private data... I like having this option, and I've got tons of SkyDrive storage available.

LOL, if it's on any form, and I mean ANY FORM of electronic memory 'they' have had, will have, and most likely already do have that information. The moment you put it into your electronic device it is very pssoble that it is known to someone else. What ever you can imagine being possible in 50 years for the general public is available now to those privileged. Make no mistake that knowledge is the most powerful asset one can possess.

I'm well aware of what is possible. Which is why you shouldn't make it easier for the thieves to get to your data. But if you think everything you do is open to scrutiny and there's nothing you can do about it, you might want to go back to snail mail...oh wait the PO takes pictures of every piece of mail they process...you're right we're screwed.

Only if you let them, by transfering files unencrypted over the Internet, using "free" cloud services, or using Android devices. If you transfer files from PC to PC or phone over a LAN "they" don't have access to it. Also, do not install apps that require access to anything on your WP you don't want.

Epic indeed! Now run, dark magic is coming!

Too bad its not an exploit for tethering

Downloaded installed looks cool doesn't work wtf refund haha

Doesn't work?
Which smartphone are you using?

Isn't there a Microsoft app that does this in the store?


This probably uses ad-hoc wireless which makes it illegal in (amongst others) the US..


Ad-hoc is illegal in the US? Da faq? I've had it on my PSP 3000 for years.

Under FCC regulations any device manufactured after 2011 is not allowed to use ad-hoc wireless connections

Link? If I'm not mistaken, that only applies to when you are on your carrier's connection, not your home/office WiFi.

Worked better on Symbian. Would like to see JoikuSpot jump over to WP as well.

Why do you need Joikuspot, wp8 have internet sharing build in.

I use Send to WP7 from Dave Amenta.

Yeah, that's one of my bread and butter apps.

Skydrives easier and FREE

Preferred"Dukto" app on Symbian for sharing over WiFi. Hope developer make one available for WP. Regarding this JoikuShare, I've been using the JoikuSpot on Symbian and loving it, but for this JoikuShare it does not seems to run smoothly. Unable to choose file/photos.

This worked for a few times and later it failed to show any photo on my Lumia 1020 device. When I contacted Joiku Share they asked me to reinstall it which I did and could not succeed again.
Windows Central Newsletter
Get the best of Windows Central in in your inbox, every day!
Thank you for signing up to Windows Central. You will receive a verification email shortly.
There was a problem. Please refresh the page and try again.