Share photos of your 'baby' with Microsoft to win a Lumia 735 (UK only)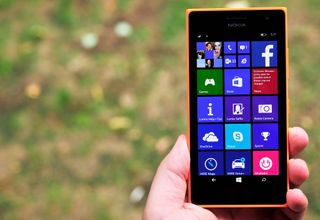 Should you still want to get your hands on the Lumia 735, Microsoft may have a perfect opportunity open for you (if you reside in the UK). The company is running a promotion where you can win the Windows Phone by sending in photos of your 'baby'.
While there's certainly room for you to select just what you wish to capture, there's only one way to enter. Simply attach a photo of whatever you've selected as your baby and tweet the image with the hashtag #LumiaConversationsUK.
The closing date is midnight on Monday 19th, January 2015, and as mentioned already, this competition is only open for those in the UK.
Source: Microsoft
Windows Central Newsletter
Get the best of Windows Central in in your inbox, every day!
Rich Edmonds was formerly a Senior Editor of PC hardware at Windows Central, covering everything related to PC components and NAS. He's been involved in technology for more than a decade and knows a thing or two about the magic inside a PC chassis. You can follow him on Twitter at @RichEdmonds.
Great fun, would enter but don't use twitter. Never mind.

UK only?? Wish Microsoft would do these sort of competitions in thr US once in a while...

Yeah poor US no rewards there at all........ Ow wait haha

Muricans are so ungrateful

Damn, we are one selfish lot. God loves US though. That's why we are head and shoulders above the rest.

Americans. So arrogant and oblivious of the rest of the world. Had a friend from Swaziland who went to study in America. Everybody believed him when he joked about living in the bush with a pet lion and cheetah

O yes, we are so oblivious of the rest of the world, arrogant, fat and lazy.... can't remember the rest of the insults you idiots use for us. Get over it, you're just jealous you're not American.

Why would anyone be jealous of you being an American?

You must be quite a freakshow in real life ;)

Aren't Americans, technically, mainly relatives of folks who originally moved across the pond, from the UK? So not really jealous, as you are really British....

Well, not really. The DNA doesn't make peoples. What does is culture, language, etc. For example, we all arise from Africa, unless you believe in the Nazi's scheme of things. So, to say the American are British, is to say British are African, just not that easy. You can't be technical in identifying nations. Not anymore.
B. Love, Ph.D.

Never said fat or lazy, and I don't think I would be jealous of not being an American

Nathan, your ok. I just like to make inflammatory remarks about anyone's country because it really fires people up. Lol. Heck, I'm not even fat, I just said I was to add flames. Don't worry about this.

Really..?? There are the Chinese and Russians too..!!

not sure if sarcasm or not

Not sure who's commenting to who anymore. Well, I am American. I am arrogant, but only care about the rest of the world, only in so much as to ensure we can crush any competition. Which we can, and do.

Guys, you need to learn Ian Too's 1st law: Other people's patriotism is boring.

Tis not a law. America first, leave no third world country (U.K., France, etc.) behind, is a law. Lol....here come the comments...

Haha no in the app its impossible after a few comments to see whom responds to whom.

To say that..I think you are a complete ass..

Is this Windows Political Central.....thought not :/

Nor did I but it's mostly US of A versus the others..

Just playing aman2901, patriotic jabs is the best mechanism to get people fired up.

As was I. I'm only 16. As all the grown ups say, "I know nothing of the real world". A whole lot of balderdash if you ask me

You will learn more. At 16, depending on your circumstances, you probably got a good foundation. So, balderdash it is.

Was earlier your name by any chance was 'Peg Leg'....?

Nope. Only ever been Nathan De Meyer1

Am asking 'Permanently Banned'..

Yes. You and I had patriotic fun once. You and I buried the hatchet.

Sure you can do that and have fun but sometimes it goes overboard and then we see comments not at all related to the article..So my big American friend control..!! :P:P

We just have to change the back cover for wireless charging, don't we?

Still 17 yrs old
So no baby now :P :D

Lol.... Am 21 so I cant even have baby...+1

Morons, take a picture of your pacifier, ya wee kids.

Go lion king on that shot.

That's a funny image, holden the wee lion up in the air... Then "accidentally" drop him.

Did you read the article? Going by your comment you didn't, tut tut.

Great! Good for Microsoft for showing some positive marketing action! About time they did this kind of thing:) credit when due..

And if you don't have a baby?

And if you do have a baby but don't have twitter?

Just borrow your neighbour's baby :D

Can I borrow your baby S!r?

Read the thread. It can be a photo of anything, your car for example.

Sorry but I've to say this:
Before making a competition like this, MS needs to fix all issues and bugs with its devices, selling more affected phones won't help us.
I'm talking about RANDOM REBOOTING ISSUE, which affects some 830 and 730\5 devices.
I planned to get an 830 this week, but know I'll stick with my 720 :)

Is the 720 awesome in the hand? Just asking. I've held most Lumia's, but never a 720....

Hey dude..no problems with ma 730 feels so good in hand...no rebooting issues...lightweight...good battery backup...superb display and an amazing carl ziess cam... !! Ma frndz are really amazed by it's display! And the phone is fast also..

Open forums and read, you'll notice that there's alot of people who have issues

Yes 720 looks awesome especially in rad and white

720 os the phone every iphone lover likes it.

It is. Thin, light, 4.3" feels right and looks really good

Hala I just bought the 830. A truly amazing device. Haven't experienced any of that Random Rebooting Issue. So don't be afraid to upgrade. :)

Marhba, how're you doing?
+ your 830 is it RM-885?

I'm an American I live the Brits more. Help me cross the pond

Do like the Cubans do, get yerself an inner tube, some patches, let God do the rest.

Damn it and here I was joyously dancing around stage on Maury after he showed me the DNA tests and said the kid wasn't mine.

That there is funny, real funny.

Shame we have to enter via Twitter....

UK only,,??
think ill pass..

Microsoft Portugal is doing a similar contest but around new year selfies. So these contests may not be as regional as that. Posted via the Windows Central App for Android

No Microsoft actions here, that I know of. More adds though these days

Closing date 19th Jan? My baby due on 18th... come on wife, PUSH!

Waiting for the pic of a Hydroponic Weed Farm.

Can I do it if I have a UK address to send it to even if I don't live there?

What if i don't have one and i am just a kid myself?
Windows Central Newsletter
Thank you for signing up to Windows Central. You will receive a verification email shortly.
There was a problem. Please refresh the page and try again.