Show the world how much you Do with official Windows 10 shirts from Microsoft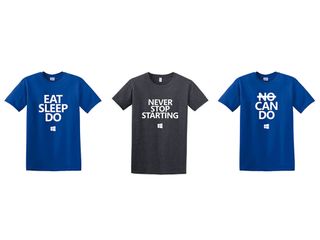 It looks like Microsoft is ramping up its marketing efforts for Windows 10 with some new shirts all about doing. If you head over to the Microsoft Store now, you can pick up some official shirts bearing all sorts of slogans incorporating the word "Do," lining up with similar marketing around Windows 10.
There are a wide variety of shirts available with messages ranging from "I Do" to "Eat Sleep Do." And if the whole idea of doing things isn't your cup of tea, there's also a design showing off the different Windows logo styles that Microsoft has gone through, along designs showing off a simple power switch icon and more.
So, if you're feeling like sporting some Microsoft swag to go along with your shiny new OS, you can hit up the Windows Store from the link below to start browsing. As a bonus, the shirts aren't that expensive, with some offered for as little at $7, while others top out at just over $10. And while you're looking at Windows 10 swag, also be sure to check out Windows Central's latest creation, the Windows Central Ninja Cat T-Rex t-shirt.
Update: As pointed out in the comments, it seems that several of the $7 shirts are unfortunately bulk order only. However, several of the other shirts priced at $10.36 are available for single orders.
Purchase official Windows 10 shirts from the Microsoft Store
Via: WinBeta
Windows Central Newsletter
Get the best of Windows Central in in your inbox, every day!
Dan Thorp-Lancaster is the former Editor-in-Chief of Windows Central. He began working with Windows Central, Android Central, and iMore as a news writer in 2014 and is obsessed with tech of all sorts. You can follow Dan on Twitter @DthorpL and Instagram @heyitsdtl.
The geek part of me would love to wear these t-shirts, but I dunno if I'd be brave enough to wear them in public.

You really need to stop worrying so much about what people think of you if you can't wear the clothes you want.

Someone is self-conscious....

Just do it! Don't let your dreams be dreams!

Do it, Do it,Do it, Do it,Do it, Do it,Do it, Do it,Do it, Do it,Do it, Do it,Do it, Do it,Do it, Do it,Do it, Do it,Do it, Do it,Do it, Do it,Do it, Do it,Do it, Do it,Do it, Do it,

Now it's catch 22, you either give in to peer pressure and be weak sauce, or chicken out on buying it because of public reaction, and be weak sauce. Good one community. Make your own decision and ignore what people are telling you to actively do. You can just wear it around the house as lounge wear, if you really want to buy it :) you can also completely ignore my opinion too.

The website is not allowing me to log in, seems to be a specfic site of microsoft website that you cant log in with a standard MS account

You have to create a separate account

I actually ordered a few shirts a few days ago. Had to create an account with them. Btw, all four shirts I ordered were put on backorder, except one. Microsoft never fails me with its backorders. Even in apparel.

I prefer the middle shirt. Hope it's available too outside US.

Yeah they are $7 because you have to order in bulk according to their descriptions. "BULK ORDER ONLY. MINIMUM ORDER OF 48 PIECES. Made from soft 4.5-ounce, 100% ring spun cotton. Screened artwork full front. Sizes:SM-3X"​

Boo. Thanks for pointing that out. I've updated the article to note that the $7 shirts are bulk order only. Though the $10.36 shirts all seem to be available for single orders.

Much better than stupid ninja cat shirts. Applause.

You must be fun at parties.

I prefer the Office series...

These would go great with my running for office shirt! I love that we finally have awesome Microsoft swag to rival the likes of the ifruit minions.

I have a running for office shirt too, along with some other free swag I received at a conference.

So I was trying to buy a T-shirt and this happens: Subtotal: $13, Shipping: $129,84, Taxes: 0$, Total: $143,50 .. am I from Narnia in Europe :D ? (There was a scene in Slovenia used in Narnia) come on :D

You can buy Lumia 640 in this price

Sure. I'll do some advertising if I can score a surface pro 3 discount.

A BSOD one would be hilarious.

Already exists lo lhttp://test.errorwear.com/wp-content/uploads/2014/09/bsod-win8zoom.jpg

Balls. I want the Can Do shirt.

Me too! That and the /*no*/ one.

Hello , my friends told me, that they updated their Amigas and commodore with Windows 10. I would like to do the same with my electronic PC, but I'm not sure how the USB port looks like. My PC manufacturer is Texas Instruments and the keyboard has only a numpad. Can anyone help me ?

I really hope this is a joke.

PC means Pocket Calculator, right ?

My friend gave me a disc and said, that's the best windows for my PC : "Enterprise edition 10" . I like the photo on the front side, it's captain Kirk and his crew.

Which acoustic coupler should i use for the activation of windows ?

Oh no. You need bacon to install Windows 10. Lots of bacon.

Yes they have it, I love that Cortana shirt!

I ordered three of them! I will order the T-Rex one in a couple of weeks if it is still available.

I'm not sure on the bulk order issue. I Ordered most of the 7.00 shirts and never got a only bulk order message. It does say in the description that you can order in bulk but it does not seem to be required on any 7.00 shirt just an option. I may have missed something but It seems every shirt on the page can be single ordered.

They also have a water bottle.and caps and lanyards and mugs

I want all three of them but I'm in Pakistan. :(

Same. I want the middle one so bad!

This is fantastic, because it is fun. I love the 'Word up' and 'I simply Excel' tops.

I'm good with my free Insider shirt.

I would never wear this in public... except maybe for the gym! That would be pretty sweet.

$74 shipping?, no thanks!

Yep I'm going with the Windows10 backpack you can check that out at the Windows company store , just Bing it, that's where all the Windows10 logo gear it at , and yes Your welcome.

Cost to ship to Canada from this store is absolutely insane, nothing to see here keep on moving people.

I would go with the Windows central instead. 74 dollar ship to australia is insane indeed

I'm an MS fan, have 3 PCs and 3 WP's. But while Win10 works well on my phones, my excitement for my PCs was unfounded: it was an absolute train wreck on my first PC. I had to "do," as MS is so fond of saying, so I rolled it back after a week to Win7. I wish I had chutzpah like MS, who by the way gave me zero help - the technician couldn't help me, and the "escalation" was more like "black hole." An absolutely pitiful, disgraceful experience. But that's just me.

I bought 13 shirts in 3 different colors...now let's see how long its going to take for them to arrive. There's quite a selection but hopefully after this order arrive if I like the quality I will order some more with different colors and Styles...

I want that windows 10 pocket knife!

I'd love an MS t-shirt but I wouldn't be caught dead wearing something like that. Why don't they have better looking t-shirts. Those are ugly. A nice golfer with small "eat, sleep, do" text at the back towards the collar and the windows logo at the front breast pocket area.

No, even the bulk order only shirts can be bought in quantities of one.

Lol! If i wear that in india people will think that i am an OS fag or microsoft is Paying me to advertise them or i am an useless employee roaming around insted of working. Plus the words on shirt has a lot of double meanings if you know what i mean!

I love Windows and Microsoft - but I'm not wearing an advertisment. Thats the kind of thing the Apple sheep do.

Can we get this in the UK?

gotta make up for the price of free windows 10 somewhere!!

Good deals, but shipping cost is 100%. Thanks, but no thanks! :@

It's interesting that people will actually pay to be a walking billboard for some company. If it's a clothing company, I'll reluctantly wear their branding around. If it's a car company, I'm sort of forced to have their branding on my car. I don't know if that makes me a hypocrite or not, but I'll be damned if I'm going to pay good money to advertise for Microsoft.

Should be given to all who betatested active.

It would be nice but I'm not paying $81 postage to Australia for 2 tshirts worth $20

Thx Microsoft by the way where is the Microsoft Band in Australia after all that time USA shame on you

Things are tough all over. The Lumina 640XL isn't available on all carriers here in America. I'm on T-Mobile and I still can't get it.

I'm sacred even hearing windows 10...made my laptop crab after updating

"Never Stop Starting." I want this one. :D

I'll wear to gym lol, are they coming to Australia?

I know these are Windows 10 shirts, but will anyone who doesn't already know it's a Windows 10 shirt know it's a Windows 10 shirt? Why not at least one that simpy mentions Windows 10 ? Also, why not give a certain number of these away for free?

I have eat sleep do shirt, from MS singapore

I want that also, but about 7 to 11 dollars T-shirts available that store + 146 dollars for shipment to Estonia, well think that it is too much, paying only for a shipment so much

Win 10 is not reliable yet!

I'm sorry, but those are incredibly lame.

I love the "I Excel" and "Word up" shirts. Although, I know if I wear them all my friends that are Apple fan girls would be in my face about it.

$16 order, with $70 shipping to the UK D: how does it cost that much?! they have some nice stuff but shipping a t-shirt and a lanyard should no way cost that much :(
Windows Central Newsletter
Thank you for signing up to Windows Central. You will receive a verification email shortly.
There was a problem. Please refresh the page and try again.