Sight and Say, a simple app for learning words for Windows 10 PC and Mobile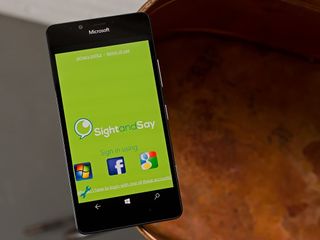 Sight and Say is an educational app that is available for both Windows 10 PC and Mobile devices. The app is described as a tool for organizing and practicing sight words, the Windows 10 app offers you the ability to create, manage and practice speed development using flash cards.
While many educational apps approach their subject matter with games and colorful animations, Sight and Say takes on a more conservative approach and relies on parental guidance and interaction. Neither of which is a bad thing.
Sight and Say isn't going to appeal to everyone and could use a little fine-tuning, but overall if you are looking for a tool to help with your child's speech development, it is worth consideration.
Sight and Say comes loaded with a list of Dolch Sight Words for pre-primer ages. For those not familiar, Dolch Sight Words is a collection of the most commonly used words in children's books. The list was compiled in the late 1930's by Dr. Edward William Dolch with the belief is that once a child knows these words, it will make reading much easier and allow the child to focus on the remaining words.
When you first launch Sight and Say, you will be required to log into the app with your Microsoft, Facebook or Google account. This will allow you to transfer your child's progress through the lessons between devices. From there you will be sent to a page that will enable you to create a profile for each of the children using the app. Tapping on a child's icon will pull up options to view the child's profile or begin a practice session.
A hamburger menu will sit in the upper left corner that serves as a navigational menu and offer access to the app's settings. Along with having the option to go to the app's Children's page you can go to the Word List and Voices pages.
The Word List will provide you access to Sight and Say's categories of words where you can choose your language (English, French, German, Hebrew or Spanish), import word lists, add words and view the pre-loaded lists. The Voices page will also provide you an option to choose your language along with the option to listen to pre-recorded words and record words in your own voice.
Using the app to practice words isn't overly complicated but probably needs a parent's hand to get things started. When you tap on the practice option from the Children's page, a pop-up menu will appear with several playback options. The "start" button is hidden from view and you will need to scroll down the list to reveal it.
Once a practice session begins, the screen fades to black and letters for the Dolch words appear and are vocalized to create the word. Your child can sound out each letter and complete the words with the voice recording. The app will keep track of each session and the words practiced.
Nice Concept, Simple Execution
While I liked the overall concept of Sight and Say, there is a need for a little fine-tuning. I often ran into application errors while running the app on my Lumia 950 and there were noticeable layout issues present. Menu words would run off the screen and a few graphic overlaps were present. I didn't run into these issues while running Sight and Say from a PC, so I suspect it is simply a resolution error created while transitioning the app from the larger PC screen to the smaller Windows Phone screen.
None of the issues I ran into with Sight and Say were deal breakers, but you will need a little patience until you get used to the app's navigation and quirkiness. It is a very simple app with very few bells and whistles. Even the flash card sequence is relatively uneventful, yet educational. Sight and Say is one of those educational Windows 10 apps that does a good job of what it is designed to do without a lot of distraction.
Overall, Sight and Say does a good job of teaching your children the Dolch Sight Words. If all holds true with Dr. Dolch's theory on sight words, learning these words should help with your child's reading comprehension skills. Sight and Say has a seven-day trial version available with the full version running $4.99. The Dolch Word List is provided with additional lists available through in-app purchase.
Download Sight and Say for Windows 10 PC and Mobile (opens in new tab)
Windows Central Newsletter
Get the best of Windows Central in in your inbox, every day!
George is the Reviews Editor at Windows Central, concentrating on Windows 10 PC and Mobile apps. He's been a supporter of the platform since the days of Windows CE and uses his current Windows 10 Mobile phone daily to keep up with life and enjoy a game during down time.
Windows 10 phone. Enna launch aakane

Appo warrenty cutt aaville

Maybe march! It pretty much depends on the stability of coming insider builds!

It's raining apps in 2016!!!

Can you stop typing this sentence under every article?

No, please. I'm enjoying it.:P

Well, hold an umbrella! ;)

I hope it will rain for the whole year then!

Meanwhile Microsoft is busy raining apps on other platforms instead of their own.

You mean more like drizzling. Posted via the Windows Central App for Android on my Frost Nexus 6P

Thanks for publishing this article. Very interested in using this with our students.

I've done a very similar app designed for learning foreign languages. It's named Vokabel and it's free and have several different type of games. Currently no Windows 10 app (it's in progress, I hope to finish it this month) but the existing 8.1 version works fine on tablets and computers.

Downloading and will give it a try

Very nice app. Love the simplicity of buying more words. Have been scouring the store for something simple like this for my mom who can speak and understand English, but can't read. Most learning programs have too much going on for her and silly games. This is perfect. Will buy for sure.

When memrise gonna published app for WP

Thanks for the review! I'm the founder of Brainiation and the creator of Sight and Say, and I'm glad I finally figured out why I got a bump in downloads on January 1st. Your theory about Windows Mobile was absolutely correct. It's a universal Windows app, so it runs on Windows mobile, but we need to do some tuning on the interface to improve the layout on smaller devices. Also, we figured out a bug that was occuring for every user that logged on (a problem with trying to launch the "getting started" help video for new users). The fix for that is already in the Windows store, so anyone that has already downloaded the app should get the update. We also got several requests for adding support for new languages to the app. Based on those requests, we added the alphabets for Arabic, Chinese (Zhuyin), Vietnamese, and Italian. You described our approach perfectly. I have a young daughter (18 months old tomorrow), and I've discovered I'm a complete Luddite when it comes to toys that require batteries. We don't plop her in front of the tv, and she won't be getting a tablet or other mobile device for years. I wanted to create an application that would help me organize the words she was working on and track her progress, but that I would feel good about using with her. Support for mobile will also allow us to practice with her on the go. Hopefully this approach will appeal to others as well, particularly educators (like Michael Bromley above). We have a HUGE list of other apps and features we plan on adding; Sight and Say is just our first foray into the app development wilderness. Thanks again for the review! David Cater CEO, Brainiation Inc.

Also, I have an important correction to add. Once you have purchased the app, you can add any words you want for free, and organize them into lists of words. You can even record your own voice for free. The only item you would have to purchase after that are additional professional recordings of the words. Right now I have a relationship with three voice artists that provided the recordings for the English, Spanish and Hebrew words. If you want recordings from those voice artists, those are available for approximately 10 cents per word. But our goal was definitely to make the app extremely usable after you purchased it. David Cater CEO, Brainiation Inc.
Windows Central Newsletter
Thank you for signing up to Windows Central. You will receive a verification email shortly.
There was a problem. Please refresh the page and try again.