Simply Weather brings minimalism to a whole new level for Windows Phone 8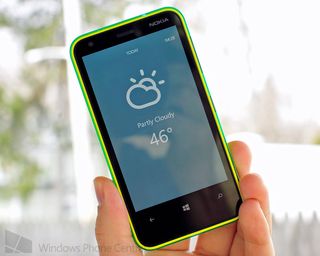 If there is one thing we know of our audience it's that you embrace minimalist design ethic especially that of the Metro UI school of Microsoft. Indeed, this is one of the selling points of Windows Phone with its focus on design language, even for third-party apps.
Simply Weather is a new, free weather app for Windows Phone 8 and while it doesn't pack a lot in features, it does look very sharp and we expect many of you to swoon over it due to its unique design. It's somewhat reminiscent of Haze for iOS, though it's clearly not a copycat.
Peep our video hands on and screenshots after the break...
The app has a very sparse main screen where it reveals with very minimal detail the current conditions. This is represented by a single, flat weather icon and the current temperature. The background color, in a subtle manner, reflects those current conditions as well, so our "Partly Cloudy" shows a greyish blue whereas a Clear/Sunny forecast will warrant a more blue/green color scheme.
The next interesting aspect comes by swiping from the left edge of your screen where you are shown the forecast for the next five-days. Once again, only a simple flat icon and the day's high/low are shown, keeping things as clean as possible. Likewise, swiping down from the top of the display will reveal a few settings, including Celsius/Fahrenheit and whether or not to use current location and what is that current location.
Simply Weather also supports Lock Screens support, though it's less useful due it not actually showing current weather conditions as a temperature but rather instead it shows a weather background image reflecting current conditions. It's not a bad choice as it does keep our lock screen pretty, but for those accustomed to Amazing Weather HD or Weather Flow, you will find it lacking.
There are a few bugs with the initial release e.g. the time of the last update in the corner is off and refreshing of the tile can have a delay (especially if you change from Celsius to Fahrenheit) but overall, we do find Simply Weather to be quite refreshing.
It's clean, it's simple, looks great and it's free with no ads. We're not sure if it'll stay like that with future updates, but so far, we like where this is going and we think some of you will too.
You can pick up Simply Weather here in the Windows Phone Store (Windows Phone 8 only). Thanks, Aron, for the heads up!
Windows Central Newsletter
Get the best of Windows Central in in your inbox, every day!
Daniel Rubino is the Editor-in-chief of Windows Central, head reviewer, podcast co-host, and analyst. He has been covering Microsoft since 2007 when this site was called WMExperts (and later Windows Phone Central). His interests include Windows, laptops, next-gen computing, and for some reason, watches. Before all this tech stuff, he worked on a Ph.D. in linguistics, watched people sleep (for medical purposes!), and ran the projectors at movie theaters because it was fun.
Yay I get first comment!!!

Awesome.. Now you can take that out of your checklist lol..

Next on list, "make list".

You can't be a Windows Phone user, no one smart enough to make that choice would make such an idiotic story comment, but i guess that's what you were going for.





You uptight miserable person, loosen up a bit.

I'm with you there. Jupast seems to be a real jerk. At least we can conclude his life sucks, he's unhappy and probably always will be.
I liked your comment btw.

That'll look great on your Burger King resume.

Really you think I can get a job at burger king?

You can be the new "Yay, ding fries are done!" guy

Well my résumé was rejected, they said I was over qualified.

Congratulations for ur awesome accomplishment .. May God bless you

Thanks I know, years ago when I was just a little boy I said "Someday, someday I will be the first to comment on a forum news story."

I think I'm getting to carried away with this sarcasm.

No, but you did play along with it quite well.

Well thanks. Nice to know I'm not insane yet.

What would this world come to if we didn't have halfway insane people.

Finally. Now people will not be only talking about iPhone and their minimalistic apps. Windows Phone is minimalistic, so it should have more apps like this one.

Download app link on WPCentral app ??

I stil like the app "Weather" the best. Pinning your City really makes it seem like it is an actual part of the OS.

+1 I love the basic Microsoft weather ap. Now if only they would update it for WP8.

Once again, thanks for the hookup!!! :-)

It's simple, but funtion is simple too much.

King Weather Flow stays unbothered.

i keep going back to weather flow too, the backside of the live tile i think it what really gets me

It's only displaying Celsius on the live tile,...I need Fahrenheit!!! :-/

Watch the video and/or read the post as I explain that.

Why are the dots on top? :O

Who "swoons" over a weather app? Oh wait, I'm feeling dizzy... I do believe I am getting the vapors.

Are there any weather apps out there that take advantage of the quick status slots on the lockscreen? I want a quick glance at current temp, and that's it. I don't want to have to lose my entire lockscreen to weather.
Using battery level for this exact thing. Would love to see something with weather do the same.

Interesting. I might actually pay for a weather app with that feature.

Boom http://www.wpcentral.com/check-current-temperature-your-lockscreen-locktemp

Try "weather wallpaper", I use it and its great. You can even select your own photo for it to update.

Why do so many weather apps ignore the "Real Feel" stat?

Real Feel is a proprietary thing from Accuweather (I believe, or one of them) so you can't just lift that info.

Seriously?? It's just a calculation based on humidity and other factors. Ok I'll stop asking for it hahaha.

Isn't Real Feel basically just windchill?

Nice. I wish it had % chance of rain though - not that you can trust those anyway...

It's all about "Weather Flow!"

Yeah this one ignores Farenheit on the live tile, even if you make that change in the app. Also it only displays temp when pinned as an ultra huge tile. Should they enhance on those changes I'd gladly keep it on my phone. :)

Read the post/watch the video. It will update the tile with Farenheit during the periodic update.

It's a really nice approach between these loaded HTC Style/Android-isq nearly 100 mb kind of weather apps. I always appreciate apps that take advantage of gestures more than just left and right swipe! Uninstalled Microsoft Weather, will give this a spin.

This app provides temp only. No real forecast. You won't know if you are getting flurries or a blizzard. I uninstalled immediately.

Yeah this is a little too minimalist.

Would love to try it out. Hopefully future releases will support WP 7.8.
I'm still mainly using the weather app from MS and amazing weather.

Wow, this a great app. I love Microsoft's Weather app because it's so minimal but it's missing a couple things. But this app is perfect! Finally a developer that knows what they are doing (design wise).

Hope they also bring this to 7.8. Doesnt seem to difficult to port it over without the lockscreen functionality.
I really like the design. IMO Microsoft should bring Windows 8's gestures to WP8 and make the platforms more in line with each other. That means swiping from the sides for the charms and app-specific 'appbar'. This app shows that it could work. But right now its weird to have just one app that does swiping from the side. You have to remember which app does it. If it was the universal gesture then it would be easier. Now it seems a bit strange that an app that seems to support Microsoft's minimalistic approach actually doesnt follow the WP8 design principles.

I fail to see the point of opening an app just to see exactly the same info it provides on the tile. It doesn't seem thought through all that well I'm afraid.

The tile doesn't show you the 5 day forecast though.

True, but it could open to that forecast. Usability is an art of minimalism as well.

Hmmm, I must be addicted to weather because I have to try em all.

Seems like a nice, little app for those who like extreme simplicity. I'll stick with Amazing Weather (which trumps Weather Flow. Yeah, I had to get that in for those earlier posts praising Weather Flow, which I like too, just not as much as Amazing Weather.)

This app is a good start but the developer should have used spell check before releasing it. Looking forward to an update.

I'm a long time Weather Master user, its Live Tile is very accurate, but I like the looks of this one.

No love for us WP 7.8 users
Windows Central Newsletter
Thank you for signing up to Windows Central. You will receive a verification email shortly.
There was a problem. Please refresh the page and try again.