Sing your heart out, karaoke style with Singster for Windows Phone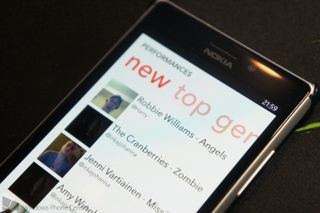 Singster is more than just a karaoke app, we're talking about a new community that enables you to tune in, sing and either rock to or ultimately destroy more than 1,300 classics. It doesn't matter if you can or can't sing. As long as you have a voice, some confidence (alcohol is said to help, adults) and the app installed on your Windows Phone, you'll be able to sing your favourite hits, recording the performance and take part in competitions.
The basic idea is to sing into your phone (selecting either cover or instrumental as your backing), recording your performance and then sharing it with the community. Sounds like a ball, right? Requiring a subscription to get access to the entire collection of songs, you can easily enjoy 10 free plays - the packages will set you back by:
$2.99 - 7 days
$9.99 - 30 days
$0.99 - 1 day
With new songs added on a weekly basis, it's quite the deal if you're rather serious about your karaoke. You can locate and follow friends in the app and meet singers from all over the world. Supporting genres including pop, rock, hip-hop, musicals, country and classics, there's bound to be a track for everyone, even if you do happen to be rather intimidated by the prospect.
There's quite the emphasis on social integration too with both providing and receiving comments and likes. If you're wanting to take your regular performances beyond the walls of Singster, you could even take sharing to Facebook, which is fully supported. Oh, and if you don't like the front-facing camera setup, simply change this in the settings to use the rear shooter and you're good to go.
What's interesting about Singster is that it has come out of the App Campus program. It's a neat idea and one we're sure many will enjoy, meaning it could well take off. You can download Singster from the Windows Phone Store for free (requires Windows Phone 8).
Windows Central Newsletter
Get the best of Windows Central in your inbox, every day!
Rich Edmonds was formerly a Senior Editor of PC hardware at Windows Central, covering everything related to PC components and NAS. He's been involved in technology for more than a decade and knows a thing or two about the magic inside a PC chassis. You can follow him on Twitter at @RichEdmonds.
Available for iDroidBerry❔

Nice, there is a finnish song! Is this app made by finnish guys and gals?
>Jenni Vartiainen Edit: Ahh, it was that big catalogue. Then it is not a surprise :D

Nice App, but needs more free songs.

This seems interesting, as I love karaoke, but $9.99 a month seems a tad steep, unless there is some way to integrate this into a larger experience (i.e., beaming it to a TV with mic compatibility or something, as a party tool with friends). I definitely used to spend more than $10 per month doing karaoke when I lived near a karaoke box, but I wouldn't want to pay that much just to sing at my phone, alone. Plus, only 1300 songs are available. Normal karaoke machines in Japan usually have a few hundred thousand.

karaokeparty(.)com also has this for free on your desktop/laptop, no thanks on 10$ a month (which is more than a netflix subscription, ??)

This does seem kind of cool, but it is a rather expensive pricing structure. I wonder if it's not the developers fault, but rather the RIAA coming down on them with really high licensing fees.

Too expensive, great concept though.

Thanks to the article title I've got Psy in my head...

Siiiing, sexy ladaayy! Ohp! Ohp-ohp! Karaoke style!

Out, damn song! OUT!

People gotta check this app out!
The singing is so bad it's like a fail compilation app.

I downloaded the app, and I try to do a couple songs, but it automatically asks me to pay for the subscription. According to the author it is supposed to let you do the first 10 songs for free. Also, here is a simple request to app makers and marketers. Please stop making us pay for monthly subscriptions. Who wants to jump on board for 10 bucks a month, which is 120 bucks a year. If I am to enjoy this product for the next 3 years, it is going to cost me 360 bucks??? How about letting me pay a buck or so for each song. This is how they do it on playstation for their similar games and this option is also available for purchasing music online as well. Subscriptions may sound great to you, but the smart shopper is not going to throw away their hard earned cash, and you will never build up a big enough fan base. Anyway, I cant even get a sample song, so sadly I may need to remove the program before I can even figure out if it is any good.