Skype Preview for Windows Phone 8 is now available! Hands on video.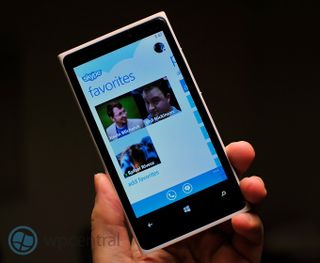 Oh what a weekend it has been. With the launch of Windows Phone 8 on AT&T and Verizon and T-Mobile expected in the next week, it has been quite exciting but now it is coming to full steam with the release of Skype for Windows Phone 8.
Yes, the app is now slipping out to the Store and we managed to get our hands on it. Heck, we're even going to give you a video demo of it after the break to see it in action.
Skype for Windows Phone 8 brings the dream to reality of mobile VOIP. By running seamlessly in the background (like on Window 8), users can sign in once and always remain online without having to worry about battery life. That trick is done through Microsoft hosting your presence in the cloud on their servers instead of you using your phone. In turn, you're always on (though you can set yourself to "invisible" should you wish to look offline).
In addition, full video chat is supported, which works much better now due to WP8's increased hardware (dual core 1.5GHz CPUs and that new GPU). Users can chat while talking, switch to speakerphone or the earpiece, minimize calls and even turn off the screen—it's all there. Calls come in like "normal" phone calls giving you the experience of Skype just being there.
From our brief experience with it, we were quite impressed with the quality and the abilities. Time will tell if there are bugs and optimizations that need to be done in order to improve things, but so far, it's pretty awesome.
You can pick up Skype for Windows Phone 8 here right now in the Store. If you're having trouble downloading it, give it some time as this link is hot of the presses.
[Note: If you are still getting the old version, you'll have to wait until the Store gets the update pushed out in your area/region. But it is working as we have confirmed the links multiple times here and in the UK. Also, use the link *on your phone* not via the web for quicker results]
Let us know in comments what you think of it!
Windows Central Newsletter
Get the best of Windows Central in in your inbox, every day!
Daniel Rubino is the Editor-in-chief of Windows Central, head reviewer, podcast co-host, and analyst. He has been covering Microsoft since 2007 when this site was called WMExperts (and later Windows Phone Central). His interests include Windows, laptops, next-gen computing, and for some reason, watches. Before all this tech stuff, he worked on a Ph.D. in linguistics, watched people sleep (for medical purposes!), and ran the projectors at movie theaters because it was fun.
App states my screen size is not supported. I'm using the L920.

Links are 100% confirmed as working. You must use our links. If you're not seeing the WP8 version, you have to give it time.

Yep, I used the Download App from the WPCentral article. Won't allow me to download.

Time, I have to give it time? j/k

And now it's working. Thanks WpCentral. You've come through again.

Still getting the old version...in the Northeast US.

I've just installed it, works like charm! Using 920.

Works fine on my L920.
Downloaded it from http://skype.com/go/windowsphone

This link points to a Skype version that only supports WVGA.

Incorrect. It's just not yet available in your Store.

Can't switch cameras (front/rear)

Yeah, only flaw so far. Would be good to be able to do. Just had a call form a friend in australia (i'm in germany), worked wonderfully. I'm on the lumia 920.

same here lumia 920 BOSTON

I can't wait to use this app with the 8X wide lens FFC! Just have to hold out until Wedndesday (T-Mobile release date).

Was that video call done over WiFi or cell?

Well from the way it sounds now, it sounds like they've installed that Windows Phone Notification system that's needed to make VOIP work. So could they bring this to WP7 now? Or at least the messaging system?
http://www.wpcentral.com/understanding-skype80%99s-limitations-windows-phone

They changed Skype's backend and added a background VoIP capability to WP8.

That's not the windows 8 version.

Give it time. It is the correct version.

Same here. Probably not yet replicated on the phone servers our phones connect to?

As we say..it's just been published so yes, give it time. It is working here in NY and the UK.

Yeah, I'm guessing it may take an hour or two....cant wait!

Wow it took them 2 whole days...lol

There isn't logout functionality, unless I'm completely blind here...

Win 8 version is the same. Set yourself to "invisible".

Right, but what if you want to switch accounts? It doesn't seem possible with this preview at least. No big deal, just wanted to point it out.

You'd have to reinstall, I'd imagine.

i had asked this question in the skype forum last week and never got an official answer other than set yourself to invisible...
But, lets say i use my WP8 device with Skype while out and about somewhere, i come home, and want to log on to a desktop/laptop skype now?
Where will my incoming calls be routed to? Will my chatr msgs be routed to both clients?
Questions that need to be answered before we use the WP8 version which keeps us always available.
I love the idea of it - but need a way to route calls etc.

From my experience, calls get routed to both clients, logs are server side. They've done a really nice job.

Messages and calls are pushed to all connected clients (instances). You simply answer as usual from whichever device you want to use.
So if you have 3 devices (2 computers 1 phone - as is commonplace for me) then they will all receive messages and calls.
You can't move a call in progress, but just re-dial in those cases (or re-join if its a group conversation).

i know this is how it works with my touchpad and its integrated chat/calls with skype.
But atleast with the touchpad i have the option to completly log out of it and dont have it chirping or ringing when i am sitting in front of my desktop or laptop.
I think an option to not allow calls/msgs would be beneficial.
I knew the answers to my questions, i wanted some feedback and open discussion about it tho! :)

Basicly like being at home with a homeline, the call goes through all your phones, but you can answer on any one of them, but unlike the home phone, you can't answer on both.

And what is with messages? I can think after few days your phone and pc gets the same message every time. That can be annoying?!

That's how it works today. My Touchpad and work iPhone will both receive a message if I'm not actively logged in with my Lumia 900 messaging with someone.

Link works on my 920. Thanks!

Worked for me and I'm on 7.5 still with the Lumia 900.

is it the old 1.3 version or the new 2.0.0.473?

Works on my 920:-) Just did a test call with my wife on her iPhone and it worked perfectly!

Still not working for me yet I keep checking every five minutes I'm so excited

Mine was not working 15 min ago but it is now downloading.

How do you switch cameras...anyone?

looks great daniel thanks.


Still not available for my L920 in MN

Says Skype for windows phone 8 would come soon

Same here not available for my L920

Installed, but login isn't working. Tried it with both my MS account and my skype name.

same here.. did you find a fix?... update.. i got in.. but how do i video chat?

I cannot log in with Skype or MS creds. Says " Oops, check your network connection," which is connected...


Ok. Had to disable my data connection to get it to allow me to log in - so no 3G or LTE for me. Now that I'm in on Wifi, I can make voice calls and send messages but all video calls fail before connecting...

I can see it.. but it won't let me download it at this time :(

Nevermind. i switched off wifi and it's now downloading via LTE.

Can you make calls over LTE as well as WiFi?

Ok. If u scan bar code it would direct u to the right Skype for the windows 8 I just downloaded on my L920

Just installed it in my Lumia 920 and it works great...from germany

This seems to totally disable Facebook "online" users - they no longer show up, even after you uninstall it. (And after I uninstalled, it seems to have been yanked from the store.)

Just installed it. Working fine on my Lumia 920 here in AZ.

Link not working for me. L920 in Hawaii. :-(

My question is, wasn't this supposed to integrate with the OS? Are contacts going to show up in People as well so I can make calls from the People Hub?

[Edit] Nevermind, was able to get to the Skype app from the people hub. But, my question is, how long does it take to update the list? I added a Skype contact in my home specifically to test this, and regardless of my efforts, I cannot get them to show up in the People Hub.

All my skype account contacts imediately showed up on the people hub. just had to link most of them to the real contacts. Only problem i see is that on the toast notifications, it shows the aliases of the contacts instead of their names. Eg "dinis.costa000" instead of "Dinis Costa" for example. A pity, since some contacts have really funky aliases which are not easy to identify

Wow. This is awesome. I wish I had wp8 device which I will surely get

Im still waiting...surface phone and 930

For me the QR code did not work. The download went through 8MB and kicked out an error and asked me to try again.

I opened the WPCentral on the IE on my phone and clicked on the link provided, then it installed properly. Thanks for sharing the link.

got the unsupported error first, however tried again after some time and now got it installed!!!


Oh man, I wish my local stores in Los Angeles would get a red 920 in stock. Questions:
• has anyone tried it on LTE?
• can you start a call in Windows 8 and pass it off to WP8?

Yes, it's working on LTE.
I'm not sure about transferring between devices. If you logged into both the devices, I think it will ring on both, but once you answer, you would stay on that.

Working fine for me. Just made a test video call. Didn't see any settings in the app other than notification toggle.

Finally let me download it on my L920. After a 15 min Skype video call the back of my phone is blazing hot!

Just dled and works fine. Was having issues earlier downloading

I thought it would have built in call capability from a contact. So you could dial via Skype instead of the phone dialer. I don't see it. :-(

Yes I was expecting more integration with the OS...maybe it is coming, still.

"In addition, full video chat is supported, which works much better now due to WP8's increased hardware". How about some statistics to back up that statement? Skype and Tango both worked fine on my Focus S and L900. It's just the WP8 coding and backend improvements that allow Skype to work in the background like Tango always did.

Reeeeaallly.... You want me to demonstrate that a 1280x763 resolution device with a dual-core 1.5Ghz CPU and advanced GPU with 2x the RAM running on an NT kernel (instead of CE) will handle video OTA better than 2010 hardware? Seriously. I need to give you "statistics" to back that up?

Hi Daniel,

One of my most visited sites, really look forward to all the news on here and appreciated the time and effort you put into reviews. Perhaps the guy above was after some specifics in the review, e.g. the frame rate was a lot smoother than on the Focus S, and the video call was in a much clearer resolution. Otherwise it can be hard to guage, as a reader, how much better this is than on the first gen handsets, if the review simply states it's better, rather than quantifying in what ways it is better. I'm not having a go, just trying to see the other point of view - hard to interpret emotion/intention from purely written words.
Anyway, I for one at least am really looking forward to upgrading my handset and trying out the new Skype version.
All the best :)

This is good news. Now we only need to have people on other platforms to use it more often and not resort to Tango or Viber :D

Off topic: What weather app are you using Daniel? The live tile looks great.

That'd be Amazing Weather by eizsoft.

Has anyone noticed if their Facebook messaging works with the messenger app after Skype is turned on? Mine no longer shows anyone as "online" even though the reality is quite different.

This does seem to be a side effect..since I don't use that though it's hard for me to test. But yes, others have reported this...

I installed it, but it wouldn't let me log in using my MSFT account (which has been linked to my Skype). So, I uninstalled, restarted the phone and tried your link again and this time it's saying incompatible. ...it can't be a regional problem since I haven't moved anywhere in the past couple hours... Hope it comes back in the morning=/

I think once I get my yellow Lumia 920 by thursday, all these apps and software bugs will be all good. :-)

Viber to Viber is free for international call. Do you have to pay with Skype?

Skype to Skype is always free.

I hate all of you for having (mostly) Lumia 920 and myself for wanting one so bad! :D Enjoy it, guys and gals, for those of us who can't because we live in ****** ***** ***** Balkan countries. Damn, I'm going to strangle that T-Mobile Croatia b***h from customer support who told me waiting for Lumia 920 to arrive in Q1 2013 "isn't that long". She probably has an iPhone 5, which arrived almost instantly on major carriers in the country, so what does she know... :S

Here's the official Skype blog entry, explaining the preview version, known bugs and workarounds. I didn't see the link in the article or maybe I'm just finally going blind!
http://blogs.skype.com/garage/2012/11/skype_preview_for_windows_phon.html


I had to disable my Cellular on my Lumia 920 to get it to show the install... Was thinking AT&T was blocking it?

Does anyone have issues with the multitask ?
If I leave the app (back arrow or windows button) I'm disconnectd from Skype, can't get call or even notification for text message.
I'm on L920 in France and skype 2.0.0.473
it seems that the issue come from my skype windows client (5.10) (that I use for professional stuff, the account on my lumia is my personal one)

The same happens here. Disconnect and going offline when you leave Skype.
I thought that was fixed in this release.
My phone is also a Lumia 920 and no other Skype client is running at the same time.

Update:
After some more testing it seems to work as intended. It only looks like the Skype App is fooling you with that connect status after opening. Actually you stay online the whole time and recieve messages. Checked with Skype on Android from another phone.

Will the old Skype be improved?

I thought Skype was integrated with WP8. What's MS doing?

I was wondering whether the chat stuff was integrated with the messaging hub? Also, how is it integrated with the people hub?
If it's not, can anybody imagine why? Would make so much sense. Wasn't that a selling point of the first WP release?

Seriously, this is ridiculous. First, the app doesnt work under the lockscreen. It doesnt even really work if I just switch to another app...when using the multitasking app switcher to get back to skype, it builds up a new connection. Im goin on- and offline everytime I do anything but use the app actively.
Next: Where's the system integration we were waiting for? Having the skype contacts in my people hub? That's all? Not even that is fully working: My contact pages don't reflect the received skype messages in contact History.
Having skype only within the skype app and not within my messages hub and in contact history is a big fail, now we are as good as any Android phone: Using separate apps for every way of communication.
Why is it that they can integrate Facebook (inlcuding chat), MSN messenger, Twitter , Linkedin, into the system, but not their own future messaging system? That makes totally no sense to me.
Correct me if I'm wrong, but a full Windows Phone Skype integration is what was to be expected, it was expected first for WP7, later "moved" to the apollo update, and finally announced only available for WP8.
Now here I am holding my new Lumia 920 and got a big disappointment.

agree! That skype is a alpha. Its not integrated at all. I want to have not even a skype-app to run or download, it has to come as an option to call them via skype instead of mobile from your contact-list.. the chats are in messages .. and so on..
this skype is (hopefully) just kind of: hey guys, sorry, we need longer, but at least you can use it).
As far as I guess, (by looking into the integration-idea) it will be a high priority @ Microsoft to get this fixed

So if this is deep integration, the video i would want to see is a freshly rebooted phone RECEIVING a skype call without having to fire up skype app.



I am a bit confused about this too... It does seem from my brief testing that Skype must be started after a reboot for incoming calls. It can be closed right away, but it must have been started. Not a huge deal, but I'd like to see clarification on it.

Now if they would just market this thing! Everytime I see a commercial its just someone holding the phone... Show the people how it works and how amazing the OS is...

WOW that looks so great! I'm a BlackBerry 10 fan but seriously Windows Phones are starting to look better every single day!
I think I'm slowly becoming a supporter of this platform as well!

Is skype free for calling from your phone internationally to another smartphone phone with skype?

Skype 2 skype is always free, no matter if its running on/from PC, Tablet or Mobile. (Dataplan may have extra costs)

Open Points so far:
- Userlist is not linked like in People (3 times the same person)
- I have bad echos while talking. Hear myself.
- My phone is screenlocked with code and i have to enter the code before I can switch from Speaker to headfone. Thats too long though, Need an immediate function before everybody hears my girlfriend ****** :)

This may be a stupid question. Is Skype video chat free? Its asking for credits.
Windows Central Newsletter
Thank you for signing up to Windows Central. You will receive a verification email shortly.
There was a problem. Please refresh the page and try again.