Skype wants to give you and a friend a Toshiba Encore Windows 8 tablet - here is how to enter (Eligible Worldwide)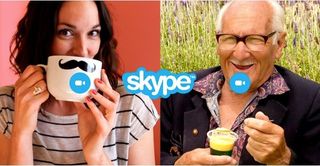 If you want a chance to score one of Toshiba's Encore tablets than you must act fast. A contest is being held on Twitter known as "Get a Smile, Share a Smile", and if you want to take part in the action then check out the contest instructions below. Be sure to do so now, as the contest closes at midnight PST tomorrow!
Skype took to the streets with their Smile Station and decided to try and put some laughs on the faces of others as they broadcasted live comedy from London. To top it all off, they gave out Toshiba Encore tablets to some of the lucky people who decided to drop by and receive a smile.
Now it is your turn to share some smiles with those you know; head to Twitter and tweet a post that shares the above Smile Station video with the hashtag "#smilestation". In your tweet, be sure to answer, "If you could win a Toshiba Encore Tablet and give another one to a friend, which friend would you choose?"
Toshiba's Encore 8 Windows tablet is an 8 inch device with an Intel Atom Processor and 2 GB of RAM. The version being given out by Skype for the contest is the variation with 32 GB of storage (Not 64 GB). The Encore makes a great little tablet to throw into your bag for on the go reading, gaming, and web surfing.
For all of the official contest entry rules you can check here. In general, you must be 18 years or older and must be following "@Skype" on Twitter. You also cannot be a resident of any of the following countries: Cuba, Iran, North Korea, Sudan, or Syria due to US export regulations.
Hurry up, as there is not much time remaining on this contest! Go out there and win a Toshiba Windows 8 tablet for you and your friend!
Source: Skype
Windows Central Newsletter
Get the best of Windows Central in your inbox, every day!
Too bad I don't use Twitter

Too bad it's so easy to sign up for the sake of a competition

Didn't say I didn't have one just i just don't use it

If you have an account, then why post that? Did you just want us to know that you don't like Twitter???

I'm 14 and made windows phone and windows 8. Apps give us youth a brake!

Wow good job! Is it up on the store? I have also made a windows phone app (on the store) and multiple apps on windows desktop (not on store)

Im 16 and have made 4 apps for windows 8. Im planning to code for windows phone soon..

yeah really thank you for all the crap shi* "apps" which flood the appstore. please stop it. n tell your friends too

True dat man, I feel you.

I'm 15, I've written one app in the store, in the process of writing another one. And unfortunately I am a perfectionist so design plays a huge role in my apps :)

They can't send it to Iran or North Korea? :'(

Sorry Kim Jong, no tablet for you

Oh well. I guess I'll use my android 2.2 tablet for now. I do have a fun basketball game on it, this "Toshiba" doesn't. HA!

Missionsparta wants Skype to get their sh|t together.

Marketing and development are very related and identical departments.

I will win it .. Remember my name

"My name", "my name", "my name", "my name"... okay, I've remembered that part

They can drop it by plane...

At least they deliver to iraq

Not a fan of twitter, but love me some smiles and windows 8 devices!

I don't understand the rules-- do I specifically have to retweet the video? Because I saw a bunch of people just retweeting the offer from the Skype page. I really fancy the idea of being able to win one of these for my girlfriend.

Confusing yes. Full rules are on the video page.

Do you think if you include hash tag #toshibasux you are still in with a chance of winning?

Perhaps someone from Toshiba will deliver it, and kick you in the nuts before they hand it over, you know, for teh lulz...

Another competition that you can only enter on Twitter some of us don't use that crap

Man, I'm in North Korea for the week and Kim Jong's restrictive internet policies block me from using the Twitter account I don't even have...oh, well...

I didn't know there were so many underage here in wpcentral -.-" im 22

Yeah, I'm 23 and I feel old now... On the other hands it maybe explains the ridiculous reactions/comments we can read here sometimes (not saying that all teens are retards though).

A worldwide contest with just two tablets to giveaway - better odds on the lottery! Skype, you miserable b*stards. Not that it hasn't stopped me entering.

The rules are sort of confusing just to enter a contest to win this tablet. Honestly, I'd rather just wait until the inevitable open box clearance sale from Best Buy, where I could likely score the same tablet for <$200. Not bagging the platform per se, but Toshiba doesn't have much cache for consumer gadgets in the U.S. these days. They're largely known for their mid range TVs, their pretty good external hard drives, and their cheesy looking laptops. I wouldn't doubt if stores are putting these tablets in the figurative bargain bins come this Summer. Heck, I see the Dell Venue Pro moving more units than the Toshiba.