Smartphone Round Robin: The Verdict on Windows Mobile and Contest Winners!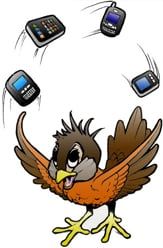 Today we're wrapping up the Smartphone Round Robin for good. Well, except for my own personal "bonus round" with the Nokia N95 ...and a later "which smartphone is right for me?" article at the main Round Robin site ...and we'll also be on the Mobile Computing Authority podcast next week. ...and we'll do it again next year with new devices. So though we ARE wrapping it up today by announcing winners(!), the truth is that the Spirit of the Round Robin will live on forever in all of us. Gag.
So here's the deal: At each of the four participating sites (WMExperts.com, PhoneDifferent.com, CrackBerry.com, and TreoCentral.com) you'll find the winners of the Smartphone Round Robin Contest announced, plus a wrap-up article about each platform with some closing thoughts from the editors.
So - after the break you'll get tasty, bite-sized verdicts on Windows Mobile from my compatriots plus my own thoughts on their thoughts - a Round Robin Roundup. And then you can post your thoughts on my thoughts on their thoughts, but I know that you know that they know that I know what we all know: Windows Mobile is still my favorite.
Winners!
A gigantic thank you to the communities of readers, members, and commenters at all of our sites. We started the Smartphone Round Robin to give back to you, but of course it was your comments and posts on our articles that were the real fun. From those comments and posts, we've randomly chosen the winners.
Congratulations to the winners of the Smartphone Round Robin Contest! Here they are:
Grand Prize Winner: RickMG
For this post, RickMG wins the grand prize: A smartphone of his choice plus $150 to spend on accessories in a Smartphone Experts online Store. So, RickMG - what's it gonna be? I'm telling you, take a long, hard look at the Motorola Q9c - it's thinner than that 755p ya got there, has a better browser (Default Opera Mobile!), and a little bird tells me that Sprint is serious about unlocking GPS features for all their Windows Mobile devices early next year. :D
Runners Up: Antoine of MMM, Bla1ze, and LFD153.
Our runners up (click on their names to see their winning posts) all win our runner up prize: $100 good at one of the Smartphone Experts Stores!
I (Dieter) will be contacting the winners later today via their registered email addresses - so heads up, folks, emails with "You Won!" often end up in junkmail. :)
...Let's move on, now, to the final verdicts on the AT&T Tilt (and Windows Mobile):
The Tilt was actually the first smartphone other than my BlackBerry I had ever experienced. I thought "withdrawal" would quickly get to me, but with Windows Mobile 6 running on the feature-packed Tilt I found myself able to do everything I could on my BlackBerry and more. The Tilt even supported BlackBerry Connect, so I was easily able to maintain the BlackBerry "Push Email" I have grown so accustomed to.
Though the Tilt offers tremendous capabilities, for me it fell short on delivering everyday usability. Part of this was the Tilt's form factor – it is about as far away from a BlackBerry as you can get. While the Berry is very much a one-handed device, the Tilt's slider form factor w/ touchscreen offered so many input methods that I never quite found a comfortable way to use it. Form factor aside, I didn't like the WM user experience. While the BlackBerry OS is designed for the way a mobile user works, WM still resembles a computer experience forced into a handheld. Everything I could do on the Tilt I could do two or three times faster on my BlackBerry and for 3x long (the Tilt's batter barely made it past 3pm). If you need WM capabilities and have the patience to tweak, a WM device is a great solution. If you want ease of use and the ability to get the job done quickly, think BlackBerry.
Windows Mobile is an incredibly powerful smartphone platform. There's over 100 different phones to choose from. The default setup isn't very intuitive so you may want to check out one of the many 3rd party apps that "fix" Microsoft's mistakes choices. Every Windows Mobile phone apparently ships with a different set of software on it so no two are alike, hardware or software.
If you've got a lot of time and energy to put into a phone, this is an excellent choice. There's almost nothing you can't do with it, and anything you don't like about it, you can change, given the time and money to do so. So if you eagerly anticipate spending a lot of time researching which phone you want, and figuring out exactly how you want to tweak it once you do have it, Windows Mobile will be great for you. If there's a form factor you like that isn't available with any of the other smartphone platforms, odds are decent that Windows Mobile has one floating around. You just have to hope that the acronym soup of the phone matches the acronym soup of your carrier. Ridiculously powerful, and an easy recommendation to anyone that is infinitely patient or very savvy technically.
Using Windows Mobile is exactly like using Windows 95. If that makes you shudder, mission accomplished. If that makes you yearn for Windows Mobile, mission accomplished. Every wart is mitigated by an upside, and there are a lot of warts to consider with Windows Mobile, I'm prone to think that all the choices and decisions are paralyzing unless you already know exactly what you want. If capability and usability really are a tradeoff, Microsoft definitely erred on capability's side. If capability and usability are on a seesaw, capability is a 300 lb gorilla and usability's feet don't ever touch the ground. For all the negative things that I say about this platform, it's still my second choice. If I weren't technically savvy, it would be my last choice.
TreoCentral.com's Jennifer Chappell on the AT&T Tilt
The Tilt is a like a mini computer on steroids. It's packed to the hilt with everything you need and then some. The Tilt has enough bells and whistles to nearly deafen you with its built-in WiFi, Bluetooth, GPS, camera, slide out and tilting keyboard, and fast 3G. Coming from the Palm OS side of the fence, I appreciate the touchscreen and of course the built-in WiFi. I also appreciate that there are numerous 3rd party apps available for the WM device. The Tilt is a great device to have, especially if you don't want to be chained to your laptop.
Unfortunately, with all its power and features, the Tilt is a little sluggish at times. I guess powerful doesn't always mean speedy. The out of the box experience of the Tilt is a little weak. Some 3rd party apps go a long way towards bettering that experience though. You can find apps that let you use a lesser amount of taps to get things done. And you can find enough apps to tweak the Tilt just about any way you want it. The battery life was also a little disappointing. The WiFi really eats the battery up. Of course you can easily swap your battery out with a fresh one. If you're looking for a tweakable powerhouse that is feature packed with a great phone, here ya go.
WMExperts.com's Dieter Bohn on the AT&T Tilt
So the verdict from the Round Robin on the AT&T Tilt looks to be this: super powerful, super hard to use.
Hmmm
Well, yes, that's true and it's pretty much what I expected. Windows Mobile is a great business OS, a wonderful tweaker's OS, but not the easiest to use OS. The Tilt runs Windows Mobile 6 Professional - i.e. the version of Windows Mobile that is designed for touchscreens, often requires a stylus, and descends from the classic PocketPCs of old.
A common theme both here and in general with WM6Pro is that it's analogous to Windows on the Desktop. I think the desktop metaphor is unfair to Windows Mobile, actually, and I wish Microsoft hadn't encouraged it. WM6Pro has its own "User Interface Philosophy" that's separate from desktop Windows - it's not ideal, but it's certainly not a carbon copy. Honestly, I wish Microsoft had more fully abandoned the desktop metaphor on WM6Pro (I'm looking at you, Start Menu and "X" button).
WM6Pro is powerful, but unless you either "get it" or "tweak it," it's bound to confuse you. I "get it" and "tweak it," so I love it. Sometimes a company "gets it" and "tweaks it" before they even sell it (hi Windows Mobile on the Palm Treo!), which is helpful. I still refuse to say that Windows Mobile as a whole is not accessible to the average user, but the Tilt, well... it's pretty much not accessible to the average user. I'm not saying, I'm just saying.
Windows Mobile 6 Standard
What I'm saying here, basically, is I think we might have been better off if we'd chosen a different Windows Mobile smartphone, one based on Windows Mobile 6 Standard - the non-touchscreen version.
Windows Mobile 6 Standard has a 'back' button (which CrackBerry Kevin would love), seems to do a better job managing memory and open programs without hassles (which Treo Jennifer would probably appreciate), and has a more consistent User Interface instead of a mix of "start menu" and "programs folder" and so on (which would please iPhone Mike). It's not quite as powerful in most cases, though, but perhaps the Round Robin has taught us that power isn't everything. Plus - hotter form factors. :)
So next year, maybe that WiFi Motorola Q9h with Windows Mobile 6.1 will be shipped across the country for the Smartphone Round Robin. I know that I myself am realizing that I prefer the Standard, non-touchscreen version of Windows Mobile lately.
Conclusion
Meanwhile, despite the usability warts pointed out above, Windows Mobile is clearly the powerhouse of the entire bunch. The Tilt especially, which can do basically anything you could ask a smartphone to do - it just might not do it with the grace and dignity of the other platforms.
The thumbnail overview seems to be this: BlackBerry for email, PalmOS for simplicity, iPhone for media, Windows Mobile for power.
Want power? Get Windows Mobile.
Congratulations again to our winners and thanks again to Mike, Jennifer, and Kevin for doing such a great job reviewing all these gadgets in such a short space. Most of all, thanks to our readers and members who participated in the Smartphone Round Robin Forums here and elsewhere!
Get the Windows Central Newsletter
All the latest news, reviews, and guides for Windows and Xbox diehards.