Exclusive Windows Phone app SNAPCAM allows you to easily create photobooks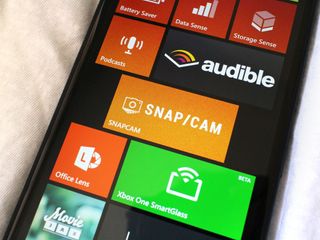 SNAPCAM is a new app in the Windows Phone Store that will help turn your digital photos into actual photos. The advent of digital technology revolutionized the photography world. No longer did you need to waste money on film, instead you could take as many shots as you'd like without breaking the bank. Our smartphones accelerated that progress even more. However, most photos we take today stay on our mobile devices. Or they might end up on Facebook and Instagram. SNAPCAM changes that.
Head into the Windows Phone Store and you'll find SNAPCAM (snapc.am). The app allows you to print your favorite Windows Phone photos and have them delivered to your door within days. You get high-quality, affordable photobooks thanks to SNAPCAM on Windows PHone. Which by the way, is an app that's exclusive to our platform.
Here are the highlights of the app and service:
Photobooks start at £4.99/$7.99
Sign up for special and offers and get 30% off the starting price
Xerox paper and high resolution machines make your books
Books delivered within days
Two book options: Softcover photobook and hardback photobook
Softcover photobook: This great value personal souvenir is perfect for printing holiday snaps. Printed on 200gsm Xerox paper, this book can hold 49 images over 12 pages.
Hardcover photobook: The long-lasting hardback book comes with a smart, durable cover to protect those precious memories forever. It also holds a maximum of 49 images.
Photobooks are designed on your Windows Phone
This is a really cool service and app. One that we can't wait to use. The Windows Phone app is how you create these photobooks. Here are highlights of the Windows Phone app:
Ability to create custom albums
Photos can be imported from Facebook or OneDrive
Free graphics available to spruce up your images
Editing tools included in app like crop, rotate, filters and more
Various ways to customize your softcover or hardcover photobook
We're going to hit up the Santa Barbara coast this weekend and hopefully get enough great images to create a photobook using SNAPCAM. But before we do that, let us know what you think of the app and service down below in the comments!
SNAPCAM delivers photobooks to the following countries: UK, Europe, US, Canada, Russia, UAE, South Africa, India, China, Thailand, Vietnam, Australia, New Zealand, Brazil and Colombia. The company also has plans to add more countries. For full info, check out their FAQ page
Windows Central Newsletter
Get the best of Windows Central in your inbox, every day!
+720 and thanks for making it exclusive

Pls fix d link, it's for speedometer

Pls check again , not fixed yet

If you're in the app it'll take a moment to refresh. Try the browser. It is fixed.

Yup working fine in browser

920 ... the gorgeous phone :))))

Adding in here with the words:
Groovy Man!

Thought it was gonna say snap chat lol

Delivers to the UK _AND_ Europe does it... Geez.

Europe is not a country by the way

Not sure if anyone else is experiencing any crashes, but anytime I try to create a snapcam album it crashes.

App is not available for your device (L925), Belgian WP Store

Only available in UK and U.S. - printers in the rest of Europe due to come online within the next few weeks.

Do you know When it will arrive india WP store???

Cant get it in uk on HTC8X?

Anything with this..."exclusive for Windows Phone" = insta-buy/download!

Unfortunately, there is not available in indonesia..

Pray tell me, where is this country "Europe" you speak of? Ich glaube...du weißt dass Deutschland den Krieg verloren haben, ja? ;) (and if you don't follow Sam on Twitter, you probably didn't get the above joke)

Not available for my 920 in India!
Weird

This will hurt my privacy, right?

Got a code for 30% off but it did not work. Said it was for first purchase only. Problem is this was my first purchase. So basically if I can't use my code then not prepared to use the service as not as advertised. If they sort out my discount then I will give it a go. Seems a nice way of making hard copies of those digital prints.

Not available on my 1020 in Australia

When I click on "Verify email address" it returns "Error validating email address: Invalid email token".

Loads of potential but FULL of bugs. So far I've hit on two issues (pretty frikkin big issues I'll add).... First, when you try to register your email address it says its invalid. So, basically you can't register. Pretty stupid. Second (and maybe I'm just doing this wrong), but when I try to create an album I go through the process of choosing my photos (normally between 12 and 20) then hit the "tick" button and get taken straight back to an empty album page..... I've emailed them twice this morning to report both problems....I guess if they want my money I'll hear back

Russia? Seriously? What about Ukraine, huh? Are they the fans of Putin?

Exclusive apps is making other platforms jealous!