Snapchat's lawyers send threatening letter to Huyn over new 6discover app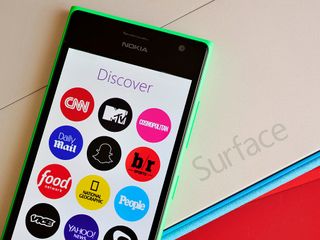 Well, that did not take long. Snapchat's legal team has sent developer Rudy Huyn a letter accusing him of "violation of federal and state law" for reproducing the Snapchat "Discover" content. The missive comes just 24-hours after the release of 6discover, a new, free app that pulls the Snapchat Discover content and bypassing Snapchat's official app feature.
The issue appears to be about money, ultimately. Discover is a way for companies to produce and distribute content through Snapchat. Companies like Comedy Central, Vice, and CNN pay Snapchat for this privilege, in essence making it an advertising platform.
The problem is, 6discover pulls the content but does not return on the analytics. Therefore, Snapchat cannot count the Windows Phone app views in their data sent back to their customers – those media conglomerates mentioned above – and charge them appropriately.
Considering Snapchat's CEO Evan Spiegel does not think Windows Phone worthy enough of a Snapchat app due to little market share it is rather ironic to point out that 6discover could hurt them in any way.
For his part, Huyn has responded on Twitter (and presumably in writing) to Snapchat noting "we can work together on Analytics to include #windowsphone users to your stats and improve Discover visibility". He also tweets that his app has no privacy or security issues, making the problem even more trivial.
However, it is doubtful Snapchat will take him up on his offer.
For now, it is unclear if the app will be removed or where things go from here. One thing is certain, Snapchat as a company, while legally correct, is taking a very aggressive attitude against Windows Phone users. A position that could be attenuated simply making an official Snapchat app for Windows Phone, something for which Huyn has offered to do in the past.
Windows Central Newsletter
Get the best of Windows Central in your inbox, every day!
Daniel Rubino is the Editor-in-chief of Windows Central, head reviewer, podcast co-host, and analyst. He has been covering Microsoft since 2007 when this site was called WMExperts (and later Windows Phone Central). His interests include Windows, laptops, next-gen computing, and for some reason, watches. Before all this tech stuff, he worked on a Ph.D. in linguistics, watched people sleep (for medical purposes!), and ran the projectors at movie theaters because it was fun.
Hey Evan, #JustMakeTheApp already.

Now can we assume the people who make snap chat are jerks to WP users? Yesterday you said they werent =)...

False. I said they were jerks for not making an official app. The no-third-party Snapchat app policy is grounded in security concerns after user data was compromised, and is not in and of itself, a reason for calling them "jerks".

Oh yes. Thats right =). My mistake on that... But can we call them super jerks now? =)

Yes.... Yes, they are being jerky... Karmas a bitch.

Nay, she's a cunt...beat my ass more than once...

We love her when we need her, hate her when we don't.

I use my galaxy note to send a video to team snap chat every day showing my Lumia 730 asking for the app

Good idea! I'll do... Every single day

You would think the Skype team would see the demand for Snapchat and start building something truly cross platform that puts Snapchat to shame. If Snapchat won't play ball with Windows then use that to your advantage. If they are going to treat Windows PCs and phones like they don't exist then take advantage of that lack of availability. Skype is already on way more devices than Snapchat so if you start building Snapchat features into Skype you can start moving people off of Snapchat. Certainly you will have millions of Windows users as evangelists to use Skype instead of Snapchat.

cool8man, you mean like Skype Qik?

No I mean build the features into the Skype app that everyone has. Don't build a new app. I don't need a second messenger app.

doesn't matter what skype wants to build if the company won't give them permission. The problem is that snapchat is not using an open messaging format, so if they include access to snapchat via Skype, then it's the same legal issue that 6snap had.

Not talking about building SnapChat access into Skype. Talking about building in SnapChat-like features that would compete with SnapChat, not run ON SnapChat. With their user base, Skype could easily take over the SnapChat market and move it into the rest of the world. It would make the multi-billion dollar SnapChat company a multi-dollar company in fairly short order. I say Microsoft should do it.

I think Skype and Snapchat appeal to different demographics. Plus, Microsoft isn't "hip". And no one will switch over from the platform where everyone is to the platform with no users. Just look at Skype Qik. How many users worldwide? 43? 76? 150? Have never met anyone who ever used that app or even know about it.


I beg your pardon... platform with no users? Like I said above your post... Skype has a user base that makes SnapChat look pitiful. We aren't talking about creating a new app like Qik. We're talking about integrating the features into Skype to expand Skype itself. I challenge you to find anyone who hasn't heard of Skype. smh

True, but from a developer's point of view, building another app's function into the main app is a bad idea. In programming we have a terminology called "high cohesion, low coupling". It means, that an element (let it be a single class, a module, or a whole app) should be cohese, serve its ONE main function - don't be overbloated - and while doing so, the coupling should be low (dependencies should be easy to resolve). What you're suggesting goes directly against this directive.

You are mistaking a unit of code's function with an entire product. By that logic Windows shouldn't include a calculator or a media player.

I don't need a second messenger app.

5th or 6th even - Messaging, snapchat, vike, kik, whatsap... *sigh*

It would be really cool if MS made a plug-in system for Skype Qik. But I would settle for them copying all of Snap Chat's features into Skype Qik just as a screw you to Snapchat's CEO.

Xim is not bad, but needs features adding.

Dude, in that picture Evan thinks he's being cute, but can I not "backhand" him with an appropriate reply? I'm trying REAL hard to keep a cool head on this issue =/

At this point we can all agree that it's just spite, right?

Daniel, I think you may be having contacts with high officials in Microsoft... Just ask them to buy snapchat! :D like fb bought WhatsApp. Offer them a good price so that they cannot resist. :P
Would be fun to tell people. Microsoft bought snapchat's arrogance. XD

Exactly what they should do!

SnapChat's CEO already turned down a $3 billion dollar offer from Facebook. The guy is crazy and not going to sell.

Yeah I read all that too yesterday... and I could agree with what was said with the security concerns brought up. But this? I personally do not use snapchat and have no desire to use it so it's no concern of mine but for others that do I can see why they are upset. Snapchat's ship will eventually flounder but its a shame windows phone users have to miss out on it because of a CEO's shortsightedness or vengence trail... have not decided which one is a fact yet.

Tight slap to windows phone and microsoft ....

Yes and they better not let me see them in these streets lol.. I'm about to follow that idiot and tell them where they can go.

They don even need to make one. Just let Rudy make the official one.

I hate this snapchat guys attitude.

Can't believe that this guy is a CEO/Internet entrepreneur. The way he replied Amine Misbah's tweet, surely Evan Fckin Spiegel is gonna fall down real hard.

#DontBeEvil fits better, you know... He's sponsored by google

I feel #dontbeadouchebag sounds better but yea lets go with that

#dontbeadouchebag = #don'tbegoogle

Developers will get this: #dontbeadouchebag == #don'tbegoogle

Can we make this the official hashtag, I will go on a tweeting storm. I just want want something official. Lol

Evans humiliating you when ever you give him a chance and you are making him and his company more popular. His shares now at top because of you.

Not to forget - IMMATURE.

Please make this trend guys! We need all the noise we can get!

Typical immature and classless attitudes I'm seeing from so called professionals.

I understand the want. But, for what it's worth, from the Dev's side (obvious dislike for the platform aside), watching the rolling news of +1 official app, -3 official apps. It's definitely a precotious time to want to say Hola Windows Phone. I can see many Devs bunkering down for the year waiting to see if this fabled Windows 10 for Phones does anything (and in doing so, still prolong the cycle of apps > users > apps).

The app stores number keeps increasing so your math is off. According to you the store would be losing a net of 66% of its apps a day.

Mmm, I was mainly being hyperbolic there if not noticed. And if it helps, I did frame it in terms of official apps (if you look at MS, they initially used to frame most of their appstore numbers in terms of top apps on other platforms, so I reffered similar here). My joking numbers aside, a glance at the general news accross a good few WP sites will illustrate NEW APP YAY! followed by REMOVED APPS, AWWW then an eventual note from the company/dev, which is some nice praphrasing of "market share is low, maybe we'll come back if it looks worthwhile... probably not, but let's see". The above is the crux of my point, in what those devs on other platforms perceive. I'm not trying to put the platform down, merely echoing issues as they are. What's more, if we group the available apps in terms of quality (as opposed to just official) then that's also all over the map (much worse when you include Windows Desktop apps *shudder*). So there are numbers, but find out how many don't look like a 4th grader made them at an App Campus meetup, or have more than is a long list or single page, or worse, just cashing in on a name and does nothing. Not saying other platforms don't have as much ... not as useful apps cluttering their space (flashlights!) but still, I'd wager (no I have no solid numbers) that the ratio is a fair bit worse on our platform...

I'm a long time windows phone faithful and am developing a game in unity for all platforms. Unfortunately I might have to drop WP from the initial release as some core features aren't easily supported by unity - facebook auth, unity ads and cloud build. I'm sad :(

Is it that it's harder to implement on WP? Or game breaking? I'd suggest, if it's insight you need, try the Architecture help from the dev resources. I've had them walk through my app and provide 1-on-1 advice before (granted, the person I met with wasn't all that great, but still...). API access and such is a major hinderance, most definitely.

Yeah you're right, but they wouldn't have to wait if they treated Windows Phone the same as every other platform because more people will be using Windows Phone then.

We actually need to spam this guys twitter and snapchats email and get a hashtag going. Don't be rude about it. Just show our numbers. If this is the hashtag we're running with. Just say the word Rubino

#SnapchatOnWP is the tag that's been running since the app was pulled last year. No need to create new ones. I 1000% agree with not being rude about it.

Unfortunately, some will be... Thus tarnishing all windows phone users in the process.

Not being rude.... Odd considering your username

" the likelihood it will get pulled is much lower"....yeah about that....

These idiot CEOs are the cause of the hyped "app gap". Screw him!

Exactly, its been pulled already.

This Evan is a piece of work. Have you ever read any of this?
http://social.techcrunch.com/2014/05/28/confirmed-snapchats-evan-spiegel...

He's a complete fucking loser.

He needs to be dropped off in the hood over night... That'll straighten hits ass up... Perhaps, literally..

He can sit on his app. Guess he will enjoy that.

I wasn't going to download this as it didn't interest me, but I have now out of spite. Everyone else should do the same unless they at least give us official alternatives.

I didnt know that snapchat team has such a shi**y attitude...

Evan is Windows Phone racist.

Added my voice to the Twitterverse :) The amount of support is amazing, just search "snapchat Windows phone" on Twitter

I don't think twitter accepts voice...

No matter how you feel about Snapchat and other companies not supporting WP, what Rudy is doing is just wrong and by now he is well aware of that

If we look at things as purely black and white, espcially in business, then you're right. The thing is it's business, growth, marketing and tatics. I mean, on the one had, if you use WP exclusively, Rudy's app is probably the first time many are hearing of this service (myself included, just like Periscope and Merkat). The problem with this tactic many have (ask forgiveness later) is primarily with larger businesses with the resources and pull to barter. Rudy and WP users have none of that. I mean, we can wait for anoter 4 years for a game made last year to come out through begging, or someone can make a clone, prove a point, raise awarenes and either push or pull away a dev from the eco system. In either case it's publicity to the originators (how many candy crush clones were there before CC was actually on the platform, shoot, Pastry Paradise made it here first). And it's awareness to the issue on the platform, again, for better or worse (Ah, see, that's why I won't use WP! OR A, see? If he can make it in like a week, why can't the offical people do it! ) stuff like that. So yea, black and white, it's "wrong" hence warnings and such, it's to force hand in an issue for yours (or, if you're not a WP user) the user's problems. Sometimes they are good and worthwhile, sometimes not, in most cases the benefit is for the user and the platform. I mean, Rudy's got skills, why doesn't he just STFU and go to iOS, or Android? Are you gonna start deving for the platform? With Quality? Anyone eelse gonna take up a mantle? Or who (which startup) really is going to say, "I'm going to start the next Instagram via Windows Phone" for those decrying him or others to be "truly original", need the users to push that... at the end of the day you'd ahve to go to the other platform. I sounded preachy near the end there, so hoping my point wasn't lost... too much.

In fact, Rudy Huyn is doing exactly what he needs to prevail in court: offer SnapChat every chance he can to curtail any economic damage to SnapChat, and, by doing so, if SnapChat moves forward with their action, Rudy will prevail based on the fair use clause of interoperability. So no, what Rudy is doing is not wrong, and he is sure as hell of that.

Isn't Rudy French...if so, he can tell these American attorneys go fuck each other..

I say we all start a campaign on Ello and Twitter (and Facebook, Secret, YikYak etc.) and point out how they are being d-bags in not just bringing it to WP, bit aggressively BLOCKING it. Let's call them on it. #BanSnapChat campaign begins today! :)

I think the best way to take #revenge would be to ignore the assho*e entirely and wait and watch as his sorry ass realises that he needs every last customer he can get.. But then its too late.. And Snapchat dies slowly.. And painfully. Then we have the last laugh. #FuckYouSpiegel.

Who dafuqq cares about snap chat I don't find it useful

I care. All my friends use it and I can't receive their snaps any more. Or send them. It's not the end of the world and I'm happy to stick with WP, but one of my friends smashed his screen and bought a new phone as it was pretty expensive to replace it and not much more for a brand new phone, he was very close to getting a 930 like me but no snapchat put him off. He got another Android.

He ignors the fans, lets leave him blissfully make love until he ******* over his app in peace though if that's the case no one wants that on any of their devices be that windows ios or Android oh how immature of me to say such a thing naa he's such a wonderful guy! lol :)

Damn that didn't take long haha

Yeah. To not be on their radar WP news gets to them quick. Hypocrisy.

Right!
They must be observing WP very much to notice!

We all need to take him to task on twitter..

I did with: "@evanspiegel considering you "didn't think anyone used those ;)" you shouldn't have a problem with the 6discover app should you!!!!"

Using douche to describe him is an absolute humiliation to douche
He is such a spugel sounds better

He and Pebble CEO are both bigotted assholes.

Snapchat's CEO is a first grade cnut.

Not a first grade.just kindergarten

LOL
Snap chat hates WP Now we know!
What we didn't know is that they HATE RUDY too.
Now we know too!

Spiegel is such jerk, how can someone like that be a CEO?

It's basically Business 101, sadly.

But is a wrong approach 102 sadly.

I know right! A CEO should consider ALL devices. Not just cut out one.

But what's the threshold? If I developed an OS right now should they offer snapchat on it? Not being a troll just curious on what the point of inclusion is.

If you get tens of millions of users, then they definitely should port it.

If there is enough of a user base to make up the money you spent to make the app is the threshold. In our case I would say it would be a positive cash flow, and if it isn't, then they are just terrible at business. They might not make millions, but they would make some, which should be worth it, if not for the PR alone.

How do they make their money?

I think from ads, but someone please correct me if I'm wrong, as I can't use snap chat to find out, since......well you know.

I checked up, turns out they have a Sony exec in there somewhere too. Bound to help! I still can't believe the idea can't be tacked in to Skype. I have tried Xim, but you don't get to alter the timing.

If you get a guy making an unofficial one in a months a cry about it because you're a c u n t and can't be assed making an official one.

@michael say this to News Republic CEO that pulled both their app Yesterday from the WINDOWS and Windows phone store!!

Diversity, both in people and platforms supported, is a competitive advantage, Microsoft is proving it, this guy is a startup CEO, not a trained one

Because he developed a successful app. All of the businesses money is made behind closed doors. Guys like this would have a hard time building a regular buisness to the same level of success. One that is built on employee relations and customer service. Maybe its not just WP's market share that is the problem, maybe it is also the demographics. Teens are not really flocking to WP. If your in your thirties or older and still using snapchat.... sad.

I guarantee more would if it had Snapchat. Same with Flappy Bird etc. Windows Phone will forever struggle unless we get some fad apps. My daughter followed me to WP, and it is the perfect phone for her aside from one thing, the popular apps are not there.

This^^ if they had the apps, people would come and fast.

Well, I'm 15 and I'm from Indonesia country that the majority of phone user is using Android. Don't get me wrong but every time I show my phone ( Lumia 925 ), my friends always interested trying my phone. So, I really hope Windows 10 for mobile will increase the market share so the CEO of snap chat might be interested making appearance of snapchat app in windows 10 ( even better, building universal snap chat across the windows 10 devices ). I hope you have a great time, greeting from Indonesia ! :-)

You need to be just the right amount of an asshole to be successful in modern day business. I know a lot of businessmen who are a totally different person than what they portray themselves. Atleast Evan being an asshole is straight up transparent unlike others.

What a bunch of arseholes, hahaha

You are a fucking shit Evan Spiegel... >_

That's an insult to shit.

Evan Spiegel, CEO of Snapchat, please reconsider, as Windows Phone users value your product.

Not me.......its a pile of donkey shit

Don't beg for it. Fuck him. We have better developers than him. His time is good. Years after no one give a fuck to him.

Why being nice? He is not worth for us bring nice.

?????? What the heck is wrong with that company?

Maturity I guess, from top to the bottom...

It's ridiculous how childish they are! It just goes to show how much more awesome Rudy is for facing all of these takedowns whenever they don't take time because they are afraid of supporting windows phone. The CEO especially is just straight up taunting us with that comment. Goodness, I honestly don't even give a crud about Snapchat but when a high end man makes that kind of a references, he becomes the most hated person to me...

Agreed. Piece of shit Spiegel.

Hahaha, shocking. Douchebags.

Doesn't surprise me at all to be honest.

Why they didn't speak about snapchat for WindowsPhone but now they speak so shut up snapshit

Don't understand why Evan Spiegel hates Windows phone. In a short while he'll be regretting every bit of it.

You know what❓ I agree.... We should just let this go for now.... Because, maybe WP market share will rise, then MS can block their apps.. Lol.

Agreed. He thinks his app is awesome and all, but one day will come in the near future when people will get bored of Snapchat and its user base will drop. Everything good has a fall and Snapchat will have one soon. F**k you Evan Spiegel. A 13-year old is more mature than you at being a CEO.

Hi5 was great till MySpace appeared.MySpace was great till facebook and so on .everything has an end.

Snap chat ceo is a prostitute

Nope.gigolo is a boy .snapshit CEO is a little girl

What a joke! Seriously? One more reason I'll NEVER use the POS snapchat app on any platform!!!

Won't be hard considering...WE AIN'T GOT IT...

Can we raise a campaign as we did requesting instagram? Let's do it!

Don't think it will be useful.. Didn't work for instagram, won't work for this also.

Yea..lets do something on a large scale...even if it doesn't help our case..it will make an impact somewhere!

Yes! At least we can try!

Yeah...wasting our fucking data plans...

The crowd that follows Microsoft and Windows is not easily herded like sheep are. We are a noisy group of individuals that doesn't just "accept", thankfully, everything Microsoft (or anyone) gives us or does.
That said, what do you propose for a campaign?

Wow. Evan Spiegel is a total fuckwit. What an ass he is. He just won't admit that there are MANY Windows Phone users so he can be mean to us.

SOB Snapchat team!! I really liked the 6discover app alot :@ all the WP users should stop using snap chat from their other devices and try to influence their friends and family to do the same!!

Ha, I barely use Snapchat on iOS anyway!

Why even barely use it? Just remove that sh1t from your iOS!!

Could do. You know what, I will.

Love you :)
Lol I just made one person to stop using snapchat XD

I made 22 of my friends stop using snapchat and suggested telegram.

What is Telegram? Is it similar to Snapchat?

Lol? Noo.. its the best messaging app like WhatsApp but with lot more options/features comparing any other available.

Its a great messaging app.

In telegram there's auto destruct feature in secret chats. By showing this I could convince my friends to switch to telegram. Most of them are on android though.

Haha... I am surprised you don't know about telegram. I suggest, rather than listening about it, you should try it once yourselves. It's a very good app. :)

#timetoswitchto #telegram spread the word!

Get them to use Skype Qik too.

Why would someone want this app anyway, the Discover or this 3rd party version? I don't fully understand what it does but from what I've read on this site it looks like media advertising. If I was using snap chat I would rather not receive adds, marketing, news from these companies...just keep sending the finite duck lips.

Explain the benefit to you of this addition to snapchat. It shows more character than making unnecessary derogatory remarks.
Edit: I read your comment further below, it appears you weren't telling me to eff off but meant so towards snapchat. Maybe? :|

The ghetto comment was about the convicted American football player, not you. Sorry if it was misconstrued.

Sorry about your brother Aaron.

Dirty Aaron. You can't take always take the ghetto out of the thug, even if he has a bright $$$ future.

I don't get it... Since no one uses windows phones, why bother sending out a legal action against developers?

To be a cunt....doesn't matter. Rudy is French...he can wipe his ass with those orders from an American company...

Am sure Evan Spiegel is using a windows phone but is just acting like a half wit;)

Never used it and have no interest in this dumbass company.

The owners of Snapchat want to take a good look at themselves, they have some vendetta in not producing a Windows Phone app, ignoring a petition that had hit over 15000 and seeing the platform as irrelevant. What a total disgrace they are. And Rudy and all his efforts in producing a Snapchat and the new discovery app gets threatened with solicitors. Get a grip Snapchat!!!

Not enough users to justify making an app but enough users to be on the radar about advertising? Can't have it both ways Evan..

That settles it... Never using snap chat ever !!! Guessing the douche of a CEO, got turned down by Microsoft at some point & just wants to get even now

Why don't we just spam his social networks telling him to make Snapchat for Windows Phone and NOT back out of it if he releases it. If he does, he will be the most hated person in the Windows community.

Actually they are so shameless that they removed the "support page" on their website

When I said "social networks", I meant Twitter, Facebook etc.

He already is the most hated person in the WP community.

I don't get the whole 'We hate this company so lets force them to make an app for us!' I'd rather companies make apps because they want to.

Anyone here from 4chan ? Lets make a "over 900000" thing.let's repeat the history

Wow they are just proving they are assholes to windows users...

They make it look like Google fully support Windows Phone.

I would say fuck off Snapchat you can keep this shitty app to yourself it's not like it's important service anyway. It's not worth having any way. When will these idiotic developers for these big corporations understand that in order for Windows Phone to get better you need to have more users and it needs to have the apps Google and Apple started somewhere, so I don't know why everybody's giving Microsoft Shit.

Fuck Evan and fuck snapchat, Rudy focus on something else besides their stupid ass apps.

Rudy if you're reading this,I don't mind if this discover app gets pulled or killed.I liked your app and we all know your dedication towards Windows phone. You are our star developer.

I never used snapchat anyway.

That's all the motivation I need to download Rudy's app :)

This is precisely why my entire family has uninstalled snapchat on every android and iPhone we own.

Considering windows 10 market share will rise in 1 year or so after its official release ,it will be foolish on part of snapchat not to make an universal app

Right, the whole "Windows 10 will save everything" battle cry...

WP8,W8 was going to turn it around and that didn't happen.

I may actually see how Windows 10 will save the OS. Once the unification starts, There's no more Windows Phone and Windows PC. Just, Windows. When the marketshare of Windows Phone and PC combines (And Windows 7 PC upgraded to 10), The device number would skyrocket, right?

At that time if the power of windows 10 is big still I wont give a fuck to snap chat.

I didn't see that one coming *couch* *couch*

Neither did I *sofa* *sofa*

Hopefully he tells them where they can stick their angry letters.

why don't we all send 1 email everyday to him, stating what we want?? like andy dufresne did on the shawshank redemption for the library!! :P

Microsoft should send their lawyers to back Rudy up!

Boycott snap chat, things are no different now for WP users. Well have a better app soon

Hopefully Microsoft would step in and help Rudy on this.

how about updating 6sec rudy? ;)

Official Vine app had a nice update recently.

LOL! Who didn't see this coming?

Damn you profit hungry corporate b*****s !!!

Sadly, many women and men would do that very thing....

Nice to see they're finally taking notice of the community though

Except the douchebag CEO said "didn't think anyone used those ;)" about WP, so it's ironic that they are taking notice of it now.

Can MS buy snapcheat??Buy that compenny like Minecraft and bury it in graveyard.Noone needs snapchat.Evan Spigirl down down.

It's going to cost a lot more than Minecraft, not really worth it for Microsoft

It pains me that someone got paid for something as trivial as snap chat. Its a nonfactor in my life, I just don't use it, don't care for it. Obviously other people make the business decisions for Frodo of snap chat.

Disgusting. As users what can we do to teach Snapchat a lesson/or whatever else?

Yeeeeeeeeeees!!!! Stop fuckin using, and/or caring about their worthless app. Get your "friends" to do the same thing. They need to see a trmendous drop in users, that is the only thing that will work!

Everyone should just stop using snap chat, start something new and let them suffer.

Wish we could convince all non-wp users to do this. :(

Evan Spiegel - pride comes before the fall :)

Two men - Rudy and Evan. Former is the "best" developer working hard for WP users by developing such great apps while later is nothing but the "worst" CEO ever known :-)

There is indeed a big difference between the two of them; one is a WP developer, and the other is CEO of a multibillion dollar company.

The first one makes his living ripping off other companies hard work and the second is the CEO of a very successful company that decided not to support the small Windows Phone user base.

Ripping off! Bullshit. He crafts their "public api" which is a source code shared by snapchat. Developing better apps require hard work and Rudy has proved it time and again that he can make better apps than official one. Respect his hard work dude!
Secondly, that CEO just owns one single app and guess what he has no sense of business strategies. He should learn from WhatsApp or Microsoft who believe in porting their apps to all ecosystem and thus increasing their user base and revenue. Also, WhatsApp never underestimated or ignored WP users besides of being such a huge organization (now owned by FB). I hope that clarifies!

This^ WhatsApp is even supporting Blackberry, Asha OS and Symbian. That is what I call multi-platform.

WhatsApp's goal was to replace SMS. Hard to do that when you're not on every phone. I guess SnapChat's goals are different

It's not a public API and last time I checked they weren't making their source code available in any way. Rudy claims he spent 7 hours on this app. Writing the actual code for the app isn't the hard part (especially with WP which is a lot easier than iOS/Android). If anything, Rudy is proving that it wouldn't really cost these companies that much to support WP as well. Yes, this CEO only owns a single app. Saying he has no business sense is silly when their success is proven (and I don't know his history prior to snapchat, if it's his first try it's even more impressive). Usually when you have one hugely successful business you stick to it.

Sad world when this happens. And is it that important... Snap chat seems to be used purely for bullying at our school!

Oh dear lord, I'm so sad to heard that because I'm a teenager too but never be a victim in bullying. Perhaps the snapchat CEO is the head of the bullying gang on your school :'(

Ok..so first they don't wanna provide services to Windows Phone users..and then they keep targeting us for trying to help them grow their business?
Bravo.

I know! I just don't see the point in them getting at us for making them better.

Its futile trying to argue with a bunch jerks that run the company..better we devote our time and resources elsewhere..

Surprised people were even willing to use the service in the first place, seeing as everyone thinks so "highly" of the snapchat CEO.

Honestly. I appreciate Rudy's efforts with WP, but he really shouldn't bother making apps like this anymore. It's ultimately a waste of time. They don't respect the platform, so don't give any attention to their bullshit apps.

Not a waste of time, just 7-8 hours of development. My cousine wanted this app, she enjoys its windows phone now so I did my job

If you reading this Rudy, have you ever considered making a music player app? Would be cool if we can have a solid music player unlike xbox music!!!

I feel sorry for you , Rudy. Snapshit got their eyes on you, like having a bulleyes painted on your forehead.

Thumbs up for responding and I think you and any other developers making these apps tells the companies that we want the apps.

I Just google his name to see him once and forever.
Looks like an underwear.

Strange... Nobody uses WP but they are worried about analytics?

Only windows phone users must beg for apps from such companies. I hope windows 10 for phones! Is not rushed and the OS fills all the boxes it didn't tick from 8.1 and show the market that windows phone is not a joke smh

MS should buy Snapchat Inc. and destroy them. Just for fun. :)

Wasteful spending isn't the solution people. Why spend money on a pos company like that

FUCK SNAPCHAT DIRTY COMPANY just like scroogle...

I downloaded the app just to increase app count for Rudy. On that note I wont be bothering in using any of Snapchats apps on ANY platform until they decide to change their attitude and treat WP users or users of any platform with respect. EDIT the app is pretty cool.

I feel windows phone users are giving way too much value to an app for teens . Spiegel must feel so good listening to the desperate cries for an official app . Eventually we will get the app but not until the snapchat fad is over and Spiegel needs a new market

Market share is why WP users are treated like dog shit by companies and Devs.Hoping one day this will change.

It will. When Windows 10 comes out, all Windows operating systems will join (Windows 8.1, Windows Phone 8.1 and Windows 7) and Windows 10 will be HUGE.

With the snails pace with W10 for PC and Phone it's going to be a uphill battle.We are looking probably at the end of the year before any W10 devices hit the shelf.Microsoft needs to show a little more urgency here with Devs and companies pulling apps or just leaving them in the WP,W8 store to die.I'm becoming more worried over the past six months.All my year's with WP I've never seen a slow down as bad is this.Even Microsoft hasn't updated some of their big apps in months.

Well keep in mind that they will allows users from W7, 8, 8.1 and even pirated versions to update to W10 for free in the first year. That's HUGE!!!! Another way to look at it WP sits in 3rd place behind android/ios so at some point those devs will probably want to look at other venues and see W10 as a huge potential if of course they have something against WP/Microsoft that could be another story but potential is there. Also Microsoft has alot on their plate now that they acquired Nokia and want to release Microsoft branded phones. In your eyes it seems like snail pace but its far from it. Maybe its the part where they are merging all their platforms together that's time consuming... Who knows but nothing happens overnight.

@snapchat......get over it. Snapchat's reasoning for discriminating against windows user's is that the money isn't there. Yet now is threatening legal action, which isn't free, because of loss revenue incurred for an app on a platform this smug little man's company feels is beneath his magnificence and glory.
...
So apparently revenue isn't the determining factor in Snapchat's decision to snub all window's phone users. And what a diminutive response from this peckerwood. As if they have trolls scouring the windows platform to ensure their precious services aren't being used on a windows phone.
...
I don't even use their service. However, I'm downloading this app just to make sure this one windows phone user whom won't be a source of revenue this elitist twit will be seeing.
...
Get bent, Snapchat!

How the hell are we supposed to get market share if we don't get essential apps? Yet, they argue that market share is a big deal even when they're ruining it for our platform.

It's a stalemate. Developers wont develop for a platform that doesn't have the market share. At the same time they forget that to increase market share they need to develop their apps. It's a standstill.

Can we contribute to a legal fund for Rudy? I love his dedication.

Seems like a waste of money that only makes lawyers rich. Would rather focus community energy and money on an alternative to Snapchat. Snapchat has not reached "too big to fail" status so why not try to make them the new MySpace. At the very least you make them start questioning their decision to not be truly cross platform and potentially force their hand through competition. Put a snapchat alternative out as a universal app on Windows, Android, iOS, Mac, the web, etc.. Ideally it would be the Skype team that could bundle the features since they already have enormous reach across all platforms.

I mean as legal defense, but I understand your point of view. How can any individual stand up against a fleet of lawyers from a multi-national company?

I am disappointed in Microsoft for pulling the app. I'd like to see them stick up for Rudy. Keep it in the Store until a court order forces you to pull it. Don't just blindly comply wtih Snapchat's unsubstantiated allegations. They don't care about you, Microsoft, or your customers. Don't care about them.

I'm downloading this to see Snapchat fall. I hope they get bankrupt, because NO one messes with us Windows Phone users.

Evan can go fuck himself. Douche bag.

Evan, while you were breastfeeding, Microsoft was teaching your dad how to properly use a MOUSE and a KEYBOARD. Show respect to your great ancestors you nitwit.

Hey everyone, We should really change the tone of our comments. Calling Evan Spiegel names will not help change his mind. Lets try and encourage the development of a Snapchat app on Windows Phone. Use Daniel's hashtag #JustMakeTheApp on Twitter and reply to Rudy's Tweet. It would be great if Evan is willing to work with Rudy directly because there hasn't been any updates on Snapchat's public API.

i agree , we should not rage against Spiegel , but being nice to him won't change his mind

Lets be honest though he is a massive cuntflap though....

I can't understand how or why a company would want to purposely limit their exposure. Apps come and go, Snapchat could easily become tomorrow's MySpace yet they are openly hostel to users of other platforms. They're as bad as Google but at least Google's reasoning is that they are in direct competition with Microsoft in many areas.

Snapchat is easily tomorrow's Myspace and Facebook. Irrelevent, will make some money for a little while, and then will be cast aside.

And once its been cast aside they will think " we need some more exposure to help SC survive" and that's when they will come begging to MS asking to make an app, to which I hope MS turn round and tells Evan speigel to go fuck himself

This. Once everyone is "over it" or there's a new alternative app, they'll change their minds

Hey Daniel Rubino, give this page to Evan Spiegel and show him the mistake he is making. If he wont agree to us, then we will see that his company falls due to his stupid actions.

If these companies were smart. And obviously that's a big if. They would get windows/phone apps out as soon as possible windows isn't going anywhere. I don't know why this is so hard for them to understand. Universal apps are going to be huge for windows ecosystem. Think about it this way. Can iOS users use the apps on their phone on their OSX machine? Not in a million years. Can we open an app or game on our phone then later go directly back to that content on another device? You bet your aspirin.

Okay so snapchat is indeed needed on this platform. Although snapchat is right in the legal form they; instead of wasting time and money on lawyers, they could've made a WP app already or just gave Hyun the API to make an unofficial.

He's is really a fucking ass

Fuck you Evan and your whole snapchat team! I hope that you will become a beggar one day cuz you didn't cared about #Windows.

I just feel like snapchat should be removed from the face of the earth.

I think it's pretty clear that Joe Belfiore banged Evan Spiegel's wife at some point.

Funniest thing I've read all day.

Get the #f@#$@#king app on W/WP platforms already.

Okay Evan i will play your game....(on twitter)

Hope after Windows 10 dominates the pc and phone arena...snapchat comes begging to release their app on our platform and MS refuses to do so..point blank!;)

Hmmm... so i'm guessing Discover Card better watch out? ;-)

I have never used snap chat and probably never will. I just mms pics if I need to or email them.

Just give up guys .shitty snapchat

F*** this Spiegel dweeb. This j-hole needs a massive wedgie.

There is something else going on here, this is showing signs of some kind of personal issue between the CEO and Microsoft. Have no idea what Snapchat is but obviously has a number of folks up in arms.

I am going to scrape Windows Central, put all the articles on my new site called 6Central........and put ads on it and/or charge for it. Good with that Daniel?

Snapchat could work with Rudy to create an official app and reap the benefits.

they could...but you can't force them which is the point.

Right. Better to just sit back, accept it, and do nothing...

Rudy should pass the 6snap and 6discover source code to some other app devs. Tweak it slightly and each of them republish to the store with a different name. The amount of legal fees they will incur fighting them all would be more than it would have cost them to develop the app in the first place ;) ​Personal note: I don't use, nor do I care to use this service, but they're clearly jaded on WP for whatever reason and want to stick it to them where it hurts. Their wallet!

Hey Rudy, thanks for everything. We're with you and we will. All Turkish windows Phone fans&followers are learned this thing and we all talking about that. We will always support you dude.I believe that they will gets deal with you end of the day. #bemansnapchat #themanrudyhuyn ​

Shitty thing, this. A question, though: Where are all the snapchat users? Because I have never ever heard of anyone using it.

Me too. But I know many people use.i just haven't met them yet.

Two problems with this notice. 1) Snapchat hardly "owns all right and title to the "Discover" name". Maybe they should take that up with Discover Card first. 2) In order to claim a violation they need to show the name use would cause confusion about the brand. Since a Snapchat app doesnt exist on Windows Phone, then how can there be confusion about which is is the official Windows Phone app?

This guy knows his shit! ^^^

It's not the name Discover...it's that the Discover tab is part of the snapchat app that has no public API.

The name has little to do with it. More importantly, Rudy is stealing their content.

Yeah #JustMakeTheApp. Don't be such an AH.

Well it was only a matter of time wasn't it, they really have something against windows phone and tbh its pathetic, Evan speigel you cuntflap!

I've been a Windows Phone user for years, but wow, the comments here are absolutely ridiculous. Shapchat has every right not to make a client for Windows Phone. It sucks, but if they don't want to, it's their service. It's their servers that keep this content hosted, they put all of the investment into the back end, etc. Sure, Rudy is talented at reverse engineering this stuff. It doesn't change the fact that every app he releases, he does so with zero legal right to the content. He doesn't pay any of the maintenance for the servers, he doesn't have to monitor the load, and he bypasses the services' paid limitations. Almost worse than the fact that he does all this is Microsoft giving him far too much credit for all this. They haven't gone more than a few months without bringing him on stage, or writing a PR blog post about him, basically calling attention to how awesome a developer he is, despite the fact that what he is doing is not legal. How about paying some more attention to the great developers that actually color within the lines of the law once in a while?

You're wrong, I've agreements/deals with almost all my "6" apps, I just can't communicate about it

Yes, go rudy. We can force them to do right. We are customers like the other platform's. And if we want the service, we can make a request even if they reject us. And we always will support you with words or downloading your apps or paying it's fee. Other developers should know: We customers, users will support you if you do your job with the right way like the man Rudy.

What an ass! In a perfect world that unfortunately won't happen, wouldn't it be poetic justice if they somehow needed WP users? Would be so nice if we could thumb our noses at them for once. But again I'm living in fantasyland....

Rudy needs to use his talents to make his own ideas as opposed to these wp copys. All his effort is now at the mercy of someone else. Snapchats ceo may be a jerk, but investing time and energy into something only to be at the mercy of a jerk is a bit of a gamble.

It's what I do. This week, I've worked 40 hours on official apps and 7-8 hours on this one

You work hard Rudy. Keep it up. We really appreciate your work.

Oh yeah, Rudy. How about a Niconico-based app for Windows Phone? From what I know Niconico's official mobile app is only on Android and iPhone but not for WP. If you can develop such a app, I'll download it until Niwango sees that their video service has a lot of WP users too and they too will develop their own app for those WP users who don't want to download your app. Oh, almost forgot. Niconico is a video service based in Japan and they have a English version of the website and mobile app, only I'm not sure if Niwango has a puiblic API for third-party mobile apps to be developed yet.

Fuck Snapchat. These companies laud how terrible Windows Phone is and see no reason to support it but, let someone try to satisfy the WP users want for apps and they immediately cry about how its hurting their business. Either we matter or we don't, it's not both. I no longer have any interest in using Snapchat if it did come to WP as an official app. Skype Quick anyone?

So they don't like us using the app because it may get people confused about the real app, I'm sorry Evan but if I recall "nobody uses windows phones" biyatch

Well nice try Rudy. You've done your due diligence with Snapchat now, if they don't want to give us an app I won't support them. "Fool me once, shame on you, fool me twice, shame on me." As far as I'm concerned, they have used up their chances to make things right.

I don't support things that don't support me... Period. AndEvan... I am someone... not anybody... Smart remarks like that for a service will I hope die off like other stupid sheep herding services... I like services that are across the board so that I can jump platforms. I am not stuck to microsoft, apple, or google... but the Microsoft crowd has to be the most middle ground of the bunch... I hate to group people by what phone they use... but that's how the other "clans" make it out to be and I would rather be the one than the many... My thing... Dont need any sympathy or members thank you... Google is the only company that still has me even though they don't support the windows mobile platform... But it is only email and youtube which there are ways around that... Both are "pre app" services that uses the best app in the world... The internet browser... No need for these silly apps... Granted some are good for specific purposes... Chase I am very upset with you... but I may drop you too. Services before this whole stupid "app" movement are good... Its the new services that are so app centric that I truly avoid... oh and the fact that they are some kind of social media privacy concerning services... Not that I have anything to hide... But you are not making money on me for using my information and supposedly I get some social stats... No thanks... BTW... Check me out on youtube... "JaimeAstin" LOL!!!!

They don't even need to make the app, just hire him to the team. The app is already done and is perfect

No Snapchat = Almost no young people interested in WP. As simple as that. It is a major drawback for the platform to not have a Snapchat client...

Take to social media people. Attack now or shut up.

I have better things to do with my time, thanks. Being a Windows Phone users shouldn't have to involve starting petitions or wars on Twitter.

It's been a year and with months,I don't think Evan Spiegel would tell his employees to build an official app of Snapshat for Windows Phone at all.

How can they feel threatened if they believe nobody "uses those" ...F'cktards

For something that they claim no one uses. They sure do have Rudy under constant watch. And he is only 1 dev for a platform they claim no one uses

Hey friends ! Evan did nothing. Just Snapchat lawyers

You sure, Rudy. They aren't pressurising you or something?

How about Rudy make his own version of snapchat that doesn't use snapchats servers but its own and name it windowschat and publish it to all three OSs that way it has the outreach. But make it tons better with a different UI that is native to the windows OS and make it available to the entire windows ecosystem including Xbox one.... Just my idea to uproot snapchat, make them the lesser by bringing an app that does the same thing but on a bigger scale.

I scrolled for a long time for this comment, thanks for the spirit, Rudy.

Rudy Huyn, you got my support. I just wish there was more we could do to fight this and have Snapchat see the error in their ways.

I'm going to set his fucking house on Fire.

Does someone require my services?!

More like set his servers on fire ;)

I'm just going to play store to rate snapchat 1

Awesome...thought WP was dead...

Lets just leave it alone Snap hat wont last its an app phase seriously.

Here's an idea! Everyone should tell Satya to buy out the snapchat company and make an official app for windows phone xD

Satya doesn't care about wp....

I think Rudy needs to buid a competitor to snapchat and make it available accross all platforms. We need to support the good guys not the likes of Evan Speigel.

i was actually thinking of something like that. Rudy can make a snapchat clone and rally all windows phone uisers first, then release it to iOS.

Snapchat will never be used by me again. Here's to 6tag and Direct Messaging in Instagram. :)

no surprise. his name rhymes with smeagel

How dare they! If they lay a finger on Rudy we'll . . . We'll . . . . We'll hack his accounts or something.

Perhaps Rudy would be best served focusing on other works. I do not mean this in a disrespectful way... I know they're is a market for these apps on the Windows Os, but they clearly aren't interested and only seem content with their current lack of representation with Windows and making his work and life hellish. Maybe he should venture into other areas we are lacking like reaching out to other companies such as banks ,etc... Jmho

The matter is populism. The people wants to see new things in their phones. They want to use more polished apps and interesting transitions or controls.buying a phone they look the body or case because they feel how it looks on the table in Starbucks! attention that they're populist and these are all about the ego. So,WhatsApp or like that chat apps is enough for communication. Why they need snap chat because some young people use it and it gets popular. Like a virus. No one think about performs a or functionality. So I never will need to use that snap chat by someone will need and Evan you re wrong. Devil+Evan= Devan ! Call him Devan

Come on, it's already positively super obvious that Snapchat WON'T ever make Windows Phone app, period. They're very hostile towards Windows Phone! The simplest solution for this Snapchat situation already there, use Android or iOS! Don't let Snapchat mock WP users any longer!

swampchat ceo should fuck himself

Rudy: Make your own 'snapchat' app and ask some funding from Microsoft. The WP community will support you then release it to other OSes.

Evan can eat a bag of dicks.

And then I will say to him: You are what you eat.

He's a Jr. Businessman for sure. Nobody is like this in today's modern niche app world. A year from now Snapchat will be forgotten for the next cool thing. Stupid not to grab all the users now while you're making money. Pettiness does not make for continued success.

In what planet is SnapChat making money?

The News Republic pull is probably in response to the new MSN app. I have News Republic installed but never use it. There's much better out there and lots of news apps so certainly no loss.

Snapchat devs are so lazy.

How about Rudy make his own version of snapchat that doesn't use snapchats servers but its own and name it windowschat and publish it to all three OSs that way it has the outreach. But make it tons better with a different UI that is native to the windows OS and make it available to the entire windows ecosystem including Xbox one.... Just my idea to uproot snapchat, make them the lesser by bringing an app that does the same thing but on a bigger scale.

Snap chat, popular today, gone tomorrow

Windows will grow big,and they will come pleading for our store .then we give them big ass kick

Wow... Found this about the ceo when searching about this app... http://valleywag.gawker.com/fuck-bitches-get-leid-the-sleazy-frat-emails... I don't think that I would want anything to do with this type of scumbag's app or even be associated with it.. Posted via the Windows Central App for Android

Like I've said numerous times in the past, fuck snapchat.

Spiegel is a horrible developer.
Just last night I snapchatted him well the Snapchat team about those emails that were leaked and his attitude towards women and how it fit in with him compromising with Saudi Arabia in that both think that women are only property and now this, breaking federal and state law my arse. I might quit Snapchat, horrible developer. Posted via the Windows Central App for Android

I wonder the douche bag CEO uses other MS services like office. If he's so anti MS, would he stop using everything MS...hmm...? Something to ponder. Wouldn't it be nice if somehow MS could flip the switch off of all of their services for that guy and his company alone.... Just got fun, ya know ;)

MS should totally do this. Block all MS services for his company wahahah

I do not undertsand, why start building an app if you already know this will happen! Is this just PR for yourself???

Don't care about snapchat.

The day Snapchat no longer is some popular waste of time, and this douche loses his shirt, will be a happy day.

I hope snapchat gets hacked (again) severely by Anonymous or such group. Can't we hire them to do so? Evan needs to know his place. In other words Evan can fuck off.

I'm tired of peoples' stuck up douchy attitude towards Windows Phone. I just opened a twitter account. I'm going to be the new boon to Evan's existence. It's going to be borderline harassment.

OMG! I wish people would stop with the "Windows 10 is gonna save the world" and "Just wait til Windows 10 comes out, everyone will want a windows phone" junk. Good lord, yes, Windows 10 will be nice but there are only three things that will ever change the direction of Windows Phone market share.
1.) We need official apps to draw people; we need people to buy WP to draw official app attention. Stalemated there. They already have these apps on other phones, so even if they do make a Win10 app, that's no guarantee they'll switch phones.
2.) Better/More Advertising! You can't swing a dead cat without seeing an Apple Or Samsung commercial. And in the stores, they tend to draw people away from WP by dissing it.
3.) Better/More features than other OSes. People aren't going to switch for a level or lower playing field. They need to be more innovative and stop playing catch up.

Where is RodneyeJ when I need him? Lol.

This is why Windows phone can't pick up its speed with apps. Companies just don't want to build for Windows phones and end up we are too dependent on 3rd party ones. And with that, we are at the mercy of the companies. We are all whining, cursing and crying out loud here while Android and iOS users laughing at us. Still think that going the universal apps way will help? Not me.

We should just make a "Discover" like service for windows phone, and give it to the companies (like MTV, CNN, etc ) and allow then to add the same content for free, in the Windows Platform. Then build the Android and iOS versions and f.... snapchat idiots. If anybody wants to work on that, I'm full for it. EDIT: I don't really care about this app, but sometimes I can be a little b....ch like this Siegel. By the way, I'm also up to build an snapchat killer app, just for pleasure.

Evan should grab this finger .|.. sit on it and go play with google and apple. GOT DAMN MOTHERFUCKER he is a Windows Racist

Hey is it posible to convert android apk to windows appx.

Also The Clash of Clans guys think the same about WP

His response to not making a WP app is pretty damn douchie I mean I rather he'd just say *$ck WP I'm not making one then that condescending bs he said.

Then bombard them with shitty tweets and hate them. Wewz.

Boycott the app and the twit behind it. It's a stupid gimmick anyways and will be irrelevant in a year or two. When Win10 starts getting bigger and popular through PC, laptops, notebooks, tablets, Xbox and mobiles, this greedy little Fk'wad will follow the money and finally jump on board like the Apple/Google money hog he is..... And by that time almost all Windows users will shut him out and his useless trinket app. You don't be such an ignorant fool when it comes to business and mock / attack a potential opportunity. You never know what will happen in the future and you don't burn bridges before they're built.

Snap chat is for douchebags.....

We should go on a media spree saying that if Windows Phone isn't worth developing an official snap chat app for, then leave 6discover alone. If not, make the God damn app, literally not that hard. Contract the work out to Rudy and stop being such twits about it.

I want to see them crumble in pieces and burn

I have to use an android phone just so I can snap. Thankfully I have 2 lines but it is really getting ridiculous because his core age group uses budget minded windows phones or the iPhone yet he refuses to make an app.

For a user base that is too small to be noticed, Snapchat really makes a big stink if it's possible for them to lose out on advertising dollars from a third party app. I thought it wouldn't be enough to notice.

Who hired this piece of shit CEO? He has seriously pissed me off. What kind of reply is that? If he thinks no one uses WP then he is the most idiotic CEO on the planet. If you are reading this Evan, here's my middle finger. F**k you!

I already knew it was coming! Anyways, lets hope that snapchat agrees to work with Rudy!

Snapchat??wtf is this new thing?? Do we Windows phone community looks we give a fcuk?? :P

Why don't you fucking develop apps for windows phone too if you can for apple and google motherfuckers..

Rudy if you read this, ever thought about a universial Soundcloud app? There are many in the store but they all suck...

Yea, hope they make a API or whatever so Rudy can do it. So Evan can sit down next to his pool and make all the money he wants

Spiegel is nothing but a young fool who only wants to put his app on whatever platform he wants, and will ignore everyone else, whether they bring him profit or not. Being a CEO of a company is about taking chances, not always playing it the way you want to go. Ignoring customers is the number one thing you should NOT do, no matter how big or small of an impact they will have on your success. Its about reputation, not how much cash you can grab. So far Spiegel and the Snapchat team have been showing a pretty rude and ignorant reputation to us Windows Phone users by not releasing an app, not even making an effort to let customers know whether or not an app is coming, denying access to third party apps instead of fixing the issue on their end that causes the security problems, etc. Spiegel and the rest of his band of minions can easily gain their respect in the Windows Phone community if they would at least be willing to communicate with the customers and at least consider making an app seeing as there is HUGE demand for an official app, but ignoring everybody that has a windows phone, and even removing online support for non supported devices is just a huge immature way of going about it. Spiegel has a long way to go before he should ever be considered a CEO if you ask me. Right now the only title he deserves is "childish arrogant jackass who only cares about money." If he's going to be the kind of person who only wants to appeal to people with money who are willing to spend it on something useless he should take over Tim Cooks job.

They have the rights to Discover name and title? I don't think so.

oh I noticed this article in the hands-on. because I read it on neowin, (i really didn't see this article) but I told you Daniel Rubino, their attitude is stupid. I mean... they think userbase is so bad that they don't want to make an app. yes it's their company, but how much money these legal team costs? (if it's true they have any ha!) People and especially lawyers don't work for free, with the money they have sent to Rudy, I am sure they would have already make 1000 WP Apps, especially if Rudy offered his app. I am sure you said i was wrong and you were right and I was talking about consipiracy theory, blabla. but as you see, their CEO and company is stupid. Why Rudy hasn't tried to make a Kik app? is it hard to make? at least kik never updated it since 2012 but they had the decency to leave it on Store. but we know is not the best app ever made. so I was wondering. At least people when they talk to me say "kik or skype??" and not snapchat (even if most are in the US who I talk to), they have asked more for instagram than snapchat. but it would be nice if Rudy tried to make a kik app and gave us something nice. I want to see if their legal team will complain too :P

As someone said any publicity is good publicity. Rudy got some and windows phone got some. Hopefully it will spark some more interest in windows phone around the world. Some one here mentioned building a similar feature into skype. That is a good idea and seeing that microsoft is generous enough to share with other platforms or give them an even better version it might also create migraion to windows phone. MS do something

That is crazy mistake from snapchat i believe.

I say we twitter span Evan until he makes apps for wp

Let us all go to his Twitter page and spam him to support windows phone. This isnt fair at all. #JustMakeTheApp

Can someone hack them already???

A CEO that says no to millions of new users all over the world, and even harasses them, is a stupid CEO.... End of discussion...

Fuck that app I cant get enough of saying this!!!!

Ill have a lotta fun when that app gets out of the trend. Teenage fucked up app

Ek to app banata hani hain aur Jo banata hain use banane b nahi deta

So is snap chat coming to windows

Is there gonna be snapchat

Dear all of you I have a very good idea if Microsoft make an app that you can add effects on videos and picture,facetime and chat. It could Be popular if they release on other phone like iPhone and Android.
All of us can say good bye snap chat
And Spielberg