Sneak peek at Twabbit Twitter for Windows Phone 8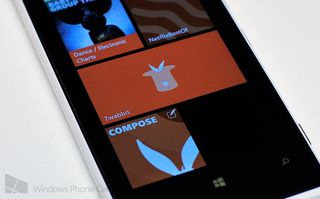 You know we love showing you folks what those crafty devs have planned for their apps. That's the case here with Twabbit, yet another solid and recommended Twitter client currently available for Windows Phone. The team is actively working on a Windows Phone 8 update for their client and we figured we would show you what they have going on.
Twabbit is a relative new comer to the Windows Phone Twitter field. It has a minimalist, Metro UI look to it but don't let that fool you as it is packed with features and options. Yes, if you like tinkering with every notification, color for the UI, streaming choices and more then Twabbit is for you. It's really amazing how many things you can manipulate with this client and hey, if you don't want to you could just leave it on the basic settings and still have a blast.
So what does the Windows Phone 8 version pack? Glad you asked:
Support for double wide, small and medium tiles with live tile notifications
Support for fast resume (currently supported only on the main time line page, other pages are in progress)
Support for lock screen notifications + billboard
Support for voice commands through TellMe
And no, the version you see in the video is not the final one as the team still wants to clean up the UI a bit more and move some things around.
As you'll see from our video below, one of the selling points for Twabbit (besides the feature set) is speed. We've found the "Compose" Tile to be one of the fastest if not thee fastest to launch for Windows Phone. That's partially do to the fact that the app doesn't load up your Twitter stream in the background and we like that—fast and to the point. You're in and you're out.
To get yourself acquainted with Twabbit for Windows Phone 8, why not go try the current version on the Store to see if you likey? You get a free trial for the app, which otherwise will fetch you the fair price of $1.49. Pick it up here and we'll let you know when that Windows Phone 8 version goes live.
Daniel Rubino is the Executive Editor of Windows Central, head reviewer, podcast co-host, and analyst. He has been covering Microsoft here since 2007, back when this site was called WMExperts (and later Windows Phone Central). His interests include Windows, Microsoft Surface, laptops, next-gen computing, and arguing with people on the internet.
I've been testing the wp8 version of this app, and right now it's my favorite twitter app by far. The only thing I would change is to have customizeable pivots. Otherwise, it's close to perfect for me.

Nice! Been using twabbit the last ~4 months, like it alot. Looks like a solid update.
I just love the counter when scrolling through the timeline, so sleek!

You make a strong argument....

Yup I do been using rowi and it's fast and no problems. I installed this new app and just didn't like it due to loading slow.... No need if rowi works fine. Now that's my argument

@ihavewp8 You haven't used this version though, which makes your opinion...uninformed.

I used Rowi (lite) for a while, but switched to Peregrine . . . I haven't tried twabbit yet though. I like peregrine because it will give me a counter of new posts in my timeline, not just dms and mentions. I'm not nearly popular enough for those to matter.

Just used it and say like I said rowi better. Used it for few hours got bored. So yes I make my own opinion.

FYI rubino also forgot mention toast notification reply is 15 min delayed so that's sucks. Rowi hardly no delayed. It's instant or minute comes in.

This is very impressive. Very clean and fast. Going to give this a shot while I wait for MehDoh to update and work on WP8.
I have used MehDoh over Rowi because its feature for feature equivalent but has smaller headers which allows more content on screen.

now I'm gonna have 4 twitter apps on my start screen...gleek, medoh, rowi and now this.....love where we're going.

How good is the Windows Phone 7.x version?

It's good and we recommend it. Ultimately though Twitter clients are like shoes--there's no "best" just what you like and what fits your needs. Use the trial, decide for yourself :)

Alright, I'll try it out. Thanks. :)

Mehdoh is great but I'm liking gleek on wp8 let's see what mehdoh does for wp8

Mehdoh indeed is very good. I'm sure their WP8 version will bring a lot.

The developer just tweeted yesterday that a WP8 version is due in at least two weeks or so.
I'm using it as usual, but also have MeTweets and Gleek (all paid) to test them and make a final decision when Mehdoh has WP8 support and keep one as I always do.
Good to see devs getting work done on WP8 early.

Off the subject but today I FIXED MY BRICKED L920, on my own! YEAHHHHHHH!!! Thanks to wpc! It works just like the first day i received it (last week). So simple! All you needed was Nokia suite 5.0. Navifirm+ not necessary as you can download rm-820 from Nokia suite. Lets see what happens couple days from now. Sorry for this. Happy that my Lumia works and don't have to fuss shipping to back and waiting to get a new one. K back to subject.

Real nice app. Baught it!! Keep em coming developers!!

So, STILL doesn't display replies under a tweet? what's the problem of all wp twitter clients? : (

I got the trial version of Twabbit and it's so much better from the official Twitter app. But what about the recently added filters on Windows Phone?

I tried Rowi, TweetCaster, Seesmic, Birdsong, glƏƏk, Cowlick, Twabbit, MeTweets and etc. Official Twitter client, Seesmic and TweetCaster sucks. Rowi is clean and fast. But glƏƏk (same with Cowlick) is very functional. Still using glƏƏk, because life is random ;)
Windows Central Newsletter
Get the best of Windows Central in in your inbox, every day!
Thank you for signing up to Windows Central. You will receive a verification email shortly.
There was a problem. Please refresh the page and try again.