Software aspects of the Nokia Lumia 900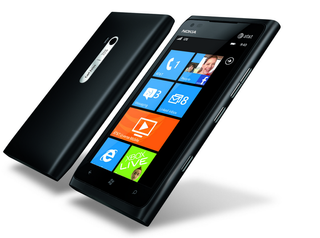 Okay... so the Nokia Lumia 900 definitely catches your eye from a hardware aspect but the software that's coming on board is likely to turn heads as well. Being an AT&T Windows Phone you will have the customary AT&T software suite that will include AT&T U-verse Mobile to let subscribers browse the U-Verse program guide, schedule manage their DVR recordings and what shows from the comfort of your Windows Phone. The Lumia 900 will also have the following apps in tow.
Nokia Drive: This is your Nokia navigation app that provides voice-guided, turn by turn directions. You also have the ability to download only the maps you need, saving storage space.
ESPN Sports Hub: This is an exclusive to Nokia Lumia Windows Phones that gives you access to ESPN scores, videos, and news items on your favorite sports.
CNN App for Windows Phone: This news app will bring you the latest news and videos from CNN and direct access to iReport, CNN's participatory news community. Launching next month, the CNN App will be an exclusive to Nokia for 90 days.
Univision App: This is an exclusive to Nokia Lumia users in the U.S. and Puerto Rico for eighteen months. The app will deliver unique Spanish language content covering sports, news, entertainment, cooking and local content.
It was also announce a partnership with EA Sports to bring over twenty of the world's most popular games to the Windows Phone Marketplace. We first heard of this partnership back at Nokia World and the Lumia line of Windows Phones will get first crack at these titles.
While the Nokia Lumia's hardware is impressive, everyone should be pleased with the software that accompanies the device. You can catch the full press release from Nokia after the break.
First Nokia smartphone designed specifically for the US features LTE, large display and exclusive applications
Las Vegas, US - Today at the 2012 International Consumer Electronics Show (CES), Nokia and AT&T announced the Nokia Lumia 900, the first of Nokia's Windows® Phone-based range to feature high-speed LTE* connectivity. With Nokia's largest display, the Nokia Lumia 900 delivers a rich content experience from a phone that still fits easily in your hand.
Coming exclusively to AT&T in the coming months in cyan and matte black, the Nokia Lumia 900 has a 4.3-inch AMOLED ClearBlack Display for rich, bright images both indoors and out, faster connection speeds based on cutting-edge 4G LTE technology, and a long-lasting 1830 mAH battery for enjoying content all day.
The primary camera includes Nokia's exclusive Carl Zeiss optics, with large aperture (F2.2) and wide angle focal length (28mm) for high-quality, uncropped images even in low-light conditions. In addition, the Nokia Lumia 900 includes a front-facing camera boasting a large aperture and a wide angle lens that ensures sharp, bright images for high-quality video calling, right out of the box
Nokia's third Lumia smartphone, the Nokia Lumia 900 builds on Lumia's head-turning design on the outside and a rich social and Internet experience on the inside. People Hub is the quickest way to connect with friends with Live Tiles for real-time updates and a fast Web browsing experience with Internet Explorer Mobile.
"The introduction of the Nokia Lumia 900 with AT&T is another significant milestone in the ongoing rollout of Nokia's global smartphone strategy," said Chris Weber, president of Nokia Americas. "The Nokia Lumia 900 is designed specifically with the US in mind and the announcement of this collaboration with AT&T, in addition to other recent announcements, signifies a new dawn for Nokia in the US."
The Nokia Lumia 900 benefits from a range of leading content experiences:
- The AT&T U-verse Mobile** app lets U-verse TV subscribers browse the U-verse TV program guide, schedule and manage their DVR recordings, and watch hit TV shows while on the go. The U-verse Mobile library includes more than 100 TV series and more than 700 TV shows from a variety of genres.
- Nokia Drive, available to download from Windows Phone Marketplace, provides free voice-guided, turn-by-turn navigation with a dedicated in-car user interface that turns the Nokia Lumia 900 into a GPS navigation device.
- The exclusive ESPN sports hub is pre-loaded on Nokia Lumia smartphones, and provides a one-stop sports application for news, videos and scores.
- The CNN App for Windows Phones provides the latest news and video from CNN's reporting around the globe and direct access to iReport, CNN's participatory news community. Launching globally for free in the next month, the CNN App will be exclusive to Nokia users for 90 days.
- The Univision App will be exclusive to Nokia Lumia users in the U.S. and Puerto Rico for 18 months, delivering unique and exclusive Spanish-language content experiences, including Univision entertainment, sports and soccer coverage, plus news, cooking and local content for different U.S. markets - all in one App.
- A partnership with EA to bring over 20 of the world's most popular games to the Windows Phone marketplace, coming first to Nokia Lumia devices.
"Nokia and AT&T worked hand in hand to bring the Nokia Lumia 900 to market. Our powerful 4G network really amplifies the benefits of the Nokia Lumia 900. Sharing high quality images and videos with its integrated social networking functions is faster than ever; content from U-verse Mobile is more enjoyable on the crisp 4.3-inch screen, and with its huge battery people can do more without worrying about recharging," said Jeff Bradley, senior vice president of devices for AT&T. "Together, we are working to supercharge the ecosystem around the Nokia Lumia 900 and the Windows Phone platform."
*Limited 4G LTE availability in select markets. 4G speeds delivered by LTE or HSPA+ with enhanced backhaul, where available. Deployment ongoing. Compatible data plan required. LTE is a trademark of ETSI. Learn more at att.com/network.
**U-Verse Mobile: Access to select content requires qualifying U-verse TV plan or monthly subscription fee, and WiFi connection and/or cellular data connection. Available content may vary by device and/or U-verse TV subscription and is subject to change. Data charges may apply.
George is the Reviews Editor at Windows Central, concentrating on Windows 10 PC and Mobile apps. He's been a supporter of the platform since the days of Windows CE and uses his current Windows 10 Mobile phone daily to keep up with life and enjoy a game during down time.
YES!!! I had the 1cent Titan for 30 days, and returned it on day 30 of AT&T's return policy.... then today they announce the Titan 2, which I would of snagged being Im sure they fixed the issues with the Titan 1, then they announce this phone , the phone I was praying the would announce... and I will be in line day 1 to buy it, hopefully at $149 for the 16gb or $199 for the 32gb... in CYAN!

800 looks better to me so much wasted space at the top...

So ill guessing cause it wasn't announced, we're not getting Nokia Music?

I think Nokia Music was Nokia's solution to those who do not have access to Zune music services. Also, on their Symbian devices, Nokia (formerly Ovi Music) is available overseas, but not in the U.S., so maybe there are licensing issues as well.

I want Windows Phone and Nokia to do well but for real as a T-Mobile customer I get a little sad everytime I see ATT on another phone now. My contract is up in August. Let's see what T-Mobile pulls out the bag...

Nokia has a winner on their hands here. The EA Sports and Univision partnerships should not be underestimated. I just hope they release a WP8 phone with a keyboard in time for my upgrade this time next year. Until then, I do enjoy my Quantum.

Microsoft needs to integrate Skype into Mango/Tango via an update the day this is released... Microsoft and WP needs a "Facetime" type of app that is glued to the system....

I am not surprised to see no mention of Nokia Music. I would be surprised to see the big content owners approve that kind of liscence with offline radio play in the US.

I really wanted a Nokia, but the Titan II specs look more attractive to me than the Lumina 900. I love the 16MP camera as well as the image stabilization. However, I am in Canada and 18 months from a new phone. So who knows what we will get in 18 months.

I'm probably one of the few Sprint users here and haven't been able to follow all the news today. Was there any mention of a CDMA WP7 handset, or a Sprint-flavored LTE?

'Fraid not.
Looks like LTE is the future, with HSPA+ holding the present as a transitional technology, and a couple of token first-gen and low-end second gen (Lumia 710) handsets going to CDMA.
I'd not imagine we're going to be seeing anything particularly exciting on the WP front from Sprint until they complete their transition from the WiMax/CDMA dead-end to LTE.

Is it known if the ESPN hub is going to be anything more than the scorecenter app that's already available? I'd love to have something baked into the phone that would give me push notifications whenever a game starts for a team I'm following or the score changes (obviously not for basketball).
Windows Central Newsletter
Get the best of Windows Central in in your inbox, every day!
Thank you for signing up to Windows Central. You will receive a verification email shortly.
There was a problem. Please refresh the page and try again.