Software Review (Windows Phone 7): Slacker Radio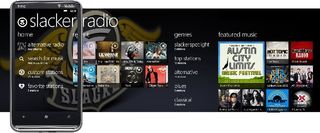 With the jump from Windows Mobile to Windows Phone 7, the access to music and video became less of an afterthought. Just the inclusion of the Zune Music and Video hub made all the difference in the world. Add to that support for Zune Pass and the efforts that Microsoft made to get developers and services interested and Windows Phone 7 is already in the top two mobile platforms for music.
Slacker Radio is one of those music services that set the standard for streaming radio. The service offers a free and a premium service for $4.99 per month (or $3.99 per month billed annually at $47.88). But how does that Slacker Radio app work? Does the app hold up its end or does it make the service worthless on Windows Phone 7? Read on to find out.
Features
At its core, Slacker is a radio service which streams audio over your data connection. The service includes over a hundred radio stations that cater to a variety of different musical genres. Comedy and News stations are also available.
Being an Internet based service, Slacker allows you to customize your listening preferences. If you hear a song that you enjoy, you can adjust the rating by using the favorite and ban buttons. You also have the option of simply skipping the current track if you choose. Free accounts are limited to 6 skips per station per hour. Other features that Slacker provides are quick access to additional information such as song lyrics (for subscribers) and biographical information about the artist.
One of the major features that the Slacker service supports is known as station caching. The idea of station caching is that content from Slacker downloads to the storage space on your device. The benefits are that you can listen to your station without a data connection, giving you better battery life and also allowing you to listen when your connection may not be stable. The only problem is that Slacker for Windows Phone 7 does not yet support station caching, though this feature could be coming in the future.
Usability
The Slacker radio interface on Windows Phone 7 uses the panoramic UI that has become so familiar. The home screen allows you to navigate between the stations and also allows you to search for a specific artist or song and build a custom station. It also integrates (to a point) into the Zune Hub, showing the current track and providing you a shortcut back to the Slacker app. The "Now Playing" portion of the app allows you to swipe to the right to skip to the next track, and in the landscape orientation gives you a slightly different view of your options.
The major downside to the Slacker app on Windows Phone 7 is the lack of multitasking support in the current version of the OS. As soon as you navigate away from Slacker, your music stops. On the flip side, you can turn the device screen off and still listen to your music; even viewing the lock screen doesn't cause any issues.
Conclusion
Slacker is a great service, and the app for Windows Phone 7 is a great start. My biggest issue isn't even Slacker's problem as much as it is the fact that Windows Phone 7 doesn't yet allow multitasking. The second issue is the current lack of caching support by the application.
The good news is that the app is free, and the service can be free as well. I can't really recommend that you pay for the service when you aren't going to get the full benefits right now, but it is fairly reasonable as pay-for-play services go.
If you're unsure, head on over to the Marketplace and get your free copy of the Slacker app. It's definitely worth a try.
I can picture loads of app updates hitting the marketplace when MS opens up some background APIs so apps like this and others can keep playing when you do something else.

Nice looking app but just like a lot of wp7 apps out there, its not ready for prime time. I can't get it to work on my Focus. I'm frustrated but I also understand the developers just need more playtime with wp7's dev kit to get their apps to perform flawlessly. I have switched from iphone4 to wp7 and I have not regretted it one bit. wp7 is like an infant with superman dna. Just wait till it grows up!

I can't seem to get slacker or last.fm to run on my focus either. slacker hangs up at "loading..." once i select a station and last.fm seems to try and load and then revert back to the station select screen. this is the only issue i've had, runs like a dream otherwise:)
Windows Central Newsletter
Thank you for signing up to Windows Central. You will receive a verification email shortly.
There was a problem. Please refresh the page and try again.