Sony's Playstation 4 announcement and what it means for Microsoft and Xbox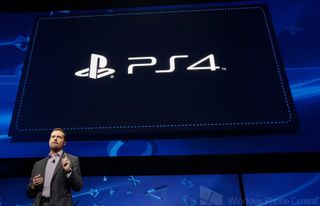 Here at Windows Phone Central, we are focused on Windows Phone and other Microsoft platforms. We also like to keep our eyes on the competition, such as the upcoming HTC One Android smartphone. To that extent, the Xbox 360 and its successor will have a new competing videogame console later this year in the form of the Playstation 4. Last night, Sony officially announced the console, which is due for a holiday 2013 release.
Read on for our impressions of the Playstation 4 and how it will affect Microsoft's next Xbox console!
Sony's new social focus
The PS4's social features are arguably its most impressive innovation. Some people just don't get social stuff – generally the same individuals who play online games without a headset and think the free Playstation Network is somehow equivalent in quality to Xbox Live, if you ask me. But most gamers like playing and sharing games and content with their friends, which is an area that PS4 could potentially have a leg up on over Microsoft's next console.
The new Share button on the PS4 controller acts as the gateway to the console's expanded social functions. One such function is enhanced friends list support. PS4 will allow users to add friends via social networks like Facebook. Those friends will appear with their real names and profile images, which should be handy for people like me who often forget just who many of the people on their Xbox Live friends lists are.
If you're a Windows Phone 8 user who finds the ability to take screenshots exciting (I sure love it), the PS4 will blow your mind. Users can share gameplay clips online and even stream videos during gameplay, which others players can then view and discuss together. Apparently friends will even be able to take control from another player and help him or her through difficult situations. That sounds a bit too farfetched to be universally supported across all games, but I certainly wouldn't mind if it ended up ubiquitous.
Some PS4 features will also be accessible from phones and tablets, such as buying games and messaging friends. Xbox Live users have enjoyed those benefits from PC for years now, but virtually all Playstation Network features have been locked to the PS3 console itself. This smartphone and tablet integration seems to borrow from Microsoft's SmartGlass concept, though the extent of in-game integration has yet to be revealed.
A next generation controller
In the current generation, each console's controller has its strengths and weaknesses. The Xbox 360's d-pad is the worst of the three consoles. The transforming controller's d-pad shows some improvement, but a design flaw makes that same d-pad snap off after extended use. As for the Playstation 3 controller, its d-pad is better but somewhat rigid on the thumbs, its trigger buttons work better for racers than shooting games, and the analog sticks are convex for no apparent reason.
The DualShock 4 sports a smoother d-pad as well as twin analog sticks with a raised outer section that should increase their grip and comfort. All four shoulder buttons have been redesigned and look downright cozy to use. Home, Start, and Select have been replaced by PS, Share, and Options buttons. Following Microsoft's lead, the controller now offers a headset jack and a more Nintendo-ish speaker so that folks without headsets will still be able to hear other players.
Most uniquely, a Touch Pad occupies the middle of the controller. The Touch Pad could well prove useful for menu navigation and web browsing. It should also allow certain smartphone games to show up on PS4 without radically altered control schemes. We'll have to see whether developers embrace the Touch Pad, but I'm sure of its potential.
Kinect competitor
The new Playstation Eye will make use of dual cameras contained within a single strip in order to better sense the position of multiple players within a room. The camera functions at 1280 x 800 at 60 FPS, and lower resolutions at increased FPS. Instead of requiring a separate Move controller, the Eye now detects the positions of standard DualShock 4 controllers via their built-in color-coded lights.
The tracking of regular controllers should make motion-control and camera support much more common than it was on the PS3. However, Sony didn't actually confirm whether the Eye will be included with all PS4 systems. Packing in the camera is the only way to ensure its long-term success – especially since the next Xbox console is rumored to include the Kinect 2.0 as a standard feature.
Specs check
The Playstation 4 specs fall in line with previous rumors:
Main Processor
Single-chip custom processor
CPU : x86-64 AMD 'Jaguar,' 8 cores
GPU : 1.84 TFLOPS, AMD next-generation Radeon based graphics engine
Memory
GDDR5 8GB (shared between system and graphics)
Hard Disk Drive
Optical Drive (read only)
I/O
Super-Speed USB (USB 3.0), AUX
Communication
Ethernet (10BASE-T, 100BASE-TX, 1000BASE-T)
IEEE 802.11 b/g/n
Bluetooth® 2.1 (EDR)
AV output
HDMI
Analog-AV out
Digital Output (optical)
Interestingly, Sony didn't list the clock speed of the CPU. Still, the hardware should be a significant leap past today's consoles in several key areas.
Consider RAM: the PS3 has 256 MB of system RAM and 256 MB of video RAM; Xbox 360 has 512 MB of shared RAM, and the Wii U has 2 GB of RAM with 1 GB dedicated to system functions. PS4 sports 16 times the RAM of the 360 and PS3 and four times as much as the Wii U (but likely more than 4x in practice thanks to that 1 GB reserved for system functions). We expect the new generation Xbox will also have 8 GBs of RAM.
Games
The bulk of PS4 games, including its launch lineup, will be announced at E3 this year. But Sony and its partners did announce several titles.
Exclusives
Drive Club (Sony and Evolution Studios)
Infamous: Second Son (Sony and Sucker Punch)
Killzone Shadowfall (Sony and Guerilla Games)
Knack (Sony Japan)
The Witness (Jonathan Blow, creator of Braid)
Non-exclusives
Destiny (Bungie, creators of Halo)
Deep Down (Capcom)
Diablo III (Activision and Blizzard)
Final Fantasy (Square-Enix's unnamed title, no new footage shown)
Watchdogs (Ubisoft)
The Witcher 3 (CD Projekt Red)
We'll learn more about what games will come to PS4 and the next Xbox in June. The bulk of both consoles' launch titles will be multiplatform, much like the Wii U's launch games last year.
Unanswered questions
The PS4 dashboard
Sony neglected to announce the PS4's release date or price – not surprising given how early in the year it is. Nor did they explainwhether the system's ability to stream PS1, PS2, and PS3 games from the cloud will require users to rebuy older games in order to play them. Plenty of time for all that down the line.
The real surprise/letdown is that the Playstation 4 console itself wasn't shown at all during the presentation. I understand the desire to focus on the new controller and system features, but refusing to reveal what the console looks like is downright unusual. Could it be the look of the hardware hasn't been finalized yet? Because we can't put an image to it, the PS4 remains nebulous and ethereal in most gamers' minds.
Microsoft's court
Xbox spokesman Major Nelson's response to the announcement
We only have rumored specs of Microsoft's next console to go by at the moment, but it will likely be on-par with the Playstation 4 in most ways. The PS4's camera and motion controls will likely lag far behind the new Kinect in the area of body tracking, but I suspect they will work much better for actual gaming than the historically imprecise Kinect. Hopefully the Kinect 2.0 allows a combination of motion control while holding a regular controller, which would greatly expand the new Xbox's motion gaming capabilities.
After Sony's announcement, the area I'm most concerned about Microsoft falling behind is social features. Yes, the Xbox 360 has always excelled over PS3 as far as communication goes, but Sony will be making some serious strides with the PS4. The DualShock 4's built-in speaker alone is a big advancement as far as enabling headset-less players to understand their teammates during gameplay (Xbox 360 chat is largely inaudible when piped through TV and surround speakers). I expect the new Xbox will allow for some form of screenshot or video sharing online, but who knows if it will allow group chat while watching gameplay?
Sony has fired the first shots in the next generation console war. Now it's Microsoft's turn to act. Will the big MS wait until E3 to announce the next Xbox and try to steal the thunder from whatever Sony has in store for the Expo? I hope not, as that would afford Sony several months to hype the Playstation 4 without competition. Perhaps Microsoft will announce its own next generation reveal event within the next month or so. As Xbox enthusiasts, we're all eager to know what's in store for us next.
Get the Windows Central Newsletter
All the latest news, reviews, and guides for Windows and Xbox diehards.
Paul Acevedo is the Games Editor at Windows Central. A lifelong gamer, he has written about videogames for over 15 years and reviewed over 350 games for our site. Follow him on Twitter @PaulRAcevedo. Don't hate. Appreciate!