Sony Ericsson Xperia Concept Running WP7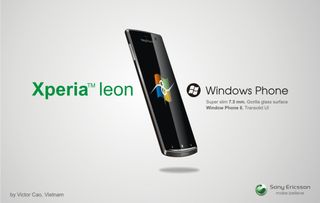 Victor Cao, an artist from Vietnam, has created some concept designs for a Sony device running what appears to be a vision of Windows Phone 8. What's eye-popping about the design? The specifications of course, unfortunately we still can't wireless synchronise with microwaves and ovens but the proposed 1080p screen with a 12MP camera coupled with HD video capturing would be pretty nice.
Only issue I have with it is the UI, it's taken the simplicity of Metro and thrown in some gradients with glass effects. While I think the device looks promising (and the specification is on par with advancements), the prediction of WP8 looking as it does in the designs isn't my cup of tea. Check out some more images after the break.
Source: Concept Phones (opens in new tab), via: WMPU (opens in new tab)
Rich Edmonds is Senior Editor of PC hardware at Windows Central, covering everything related to PC components and NAS. He's been involved in technology for more than a decade and knows a thing or two about the magic inside a PC chassis. You can follow him over on Twitter at @RichEdmonds.
That's a pretty looking phone right there. I really hate the custom UI even though I know it's fake but after using my phone for a couple of weeks the gradient look feels old.

I like the colorful icons on transparent tiles.

I do as well, the transparent tiles and colored background add a bit of personalization I think the current start screen could use. Of course using standard should be an option as well.Sony crapware is unwelcome though.

i agree that the gradient is lacking, i like the look of metro right now, and if sony ever makes a windows phone, i hope they don't mess with it too much.the hardware design does look quite **** though. **** i'd be happy with a 720p screen.

how is s e x y offensive?! :p

Because it implies that you are attracted to a machine, will paved the way for humans/robotic relations thus ending humanity. Pretty basic stuff.

Includes the word **** , I guess the filter can't tell between exact match words and terminology.

modifying the UI is not the problem.OEM's having lack of commitment to update their phones to the latest OS version is the problem.

Huh? Maybe you need to reboot your crystal ball.

"Running WP7"Thats a big 8 in the windows logo. Obviously not WP7.

Concept designs with fun specs always make me giggle. Really, it should also have a site-to-site transporter feature, tricorder feature, and the camera flash should also be a phaser (only on the stun setting to be more realistic); mobile hologram emitter to come with WP9. 8-}

500.7ppi? Good grief. The cost of that thing would be absurd.

I really like this phone but the fact it's missing cut/paste and other features is just another reason why I am refusing to buy a WP. Other reasons is the fact that you have to buy "Windows Certified" MicroSD cards, not to mention they STILL don't have front facing cams. They show a front facing cam here but let's hope follow thru on this. Lastly, they should really standardize the OS so ALL the WP get the updates as they come available rather than by each individual WP model.

Hey, I assume you're not a big WP7 follower, apologies if I'm being presumptuous. But in the interest of maybe setting straight some misconceptions, cut and paste is already available on WP7 devices for the large part, with some stragglers which should be cleared up soon. As for other features, you should really check out what the Mango update will bring to the table, it is pretty awesome. As for the SD cards, currently AFAIK only the samsung focus even supports swappable cards, which wouldn't be an issue if manufacturers put in more space though, but there are a number of 16gb models out there. Actually all updates are supposed to go through quite fast, lets hope they work out the current kinks in the delivery method and do better on Mango. And yea, currently, not WP7 phones have FFC, though I'm not sure if they're not allowed to put them in.

I would really like to a theme like that be an option for today's WP7 devices. The glass tiles and background image look pretty sharp.
Windows Central Newsletter
Thank you for signing up to Windows Central. You will receive a verification email shortly.
There was a problem. Please refresh the page and try again.