Sparkle for Windows Phone 8, an orb smashing game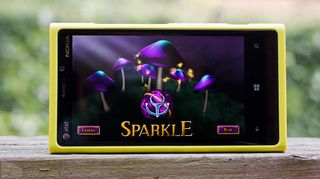 Sparkle is another enjoyable puzzle/action game from 10tons that is a great way to pass short bits of time with or longer. It has a strong resemblance to Zuma but is strong enough to stand on its own. Graphics are a lot cleaner (less cartoony) and the pace of the game seems more challenging. Zuma is a fantastic game but Sparkle ain't no light weight.
The storyline to the game has you trying to banish Orbs of Darkness and save Crowberry Woods. In doing so you discover various amulets of power that will help you in your quest. Add three game modes, nice graphics and handful of in-game powerups and Sparkle turns out to be a really nice addition to our Windows Phone gaming library.
The Main Menu for Sparkle has options to jump into the game or view the Extras Menu that includes a how to play section, your game achievements, game options and a list of other 10tons games. Options for Sparkle includes sound/music levels, a colorblind mode and developer credits. The colorblind mode adds a symbol to the colored balls to aid in identifying matches (a nice touch).
The game screen gives you the choice of three game modes. You have the Quest Mode that follows the storyline of banishing the orbs, a Challenge Mode that calls on you to finish the various levels as fast as you can, and a Survival Mode that sees how long you can survive an endless stream of orbs.
Game play is fairly universal regardless of which mode of play you choose. You have a variety of curving tracks that leads to the abyss. An Orb Slinger is positioned somewhere on the game screen and the orbs run the course of the track, headed to the abyss. Your job is to destroy the orbs by completing a string of three or more of the same colored/styled orb. You do so by launching your own orbs from the Orb Slinger. Just tap on the screen where you want your orb shot. The Orb Slinger will preview your next shot to help you plan ahead a little.
You can create chain reactions where removing one group of orbs creates another string of three or more of the same colored orb. When you do, a powerup is generated that you can activate by shooting the icon with an orb. The powerups such as the Fire Boss that shoots a flame to take out the orbs and a Frost Ray to take out large sections of the orbs.
Sparkle calls on you to eliminate waves of the Orbs of Darkness before advancing to the next level. If they reach the abyss, they are all sucked in and you loose a life or the game (depending on the Mode). Loose all your lives in the Quest Mode and you have to start over.
Speaking of which, the Quest Mode has a map that you have to navigate around, wiping out the orbs and finding amulets that can be used to help you in your banishment efforts. For example there is an amulet that generates powerups from the abyss periodically or one that speeds up your orb shots.
While you do have a set number of lives in the Quest Mode, you can earn extra lives as you complete the map. The downside of things is that if you run out of lives, the map is wiped clean and you start your quest from scratch. The good thing is that you keep any amulets you've earned from the previous attempts.
As you progress through the Quest levels, game play really picks up almost to the point of being unfair. Waves of orbs move quicker, more colors are added to the mix and the gap in between waves becomes a lot shorter. You really need to take advantage of your powerups and amulets as you advance through Sparkle.
While I have really enjoyed passing the time with Sparkle, there is room for improvement. The help section will get you rolling but needs to expand a little. You have symbols that light up around your Orb Slinger as you take out the orbs but I have no clue as to what they mean.
I also would have liked to have seen player profiles with Sparkle. 10tons uses this feature on other games and it's a really nice feature that lets you create a player profile for a friend without jeopardizing your game progress.
All in all though, Sparkle is another good Windows Phone 8 game from 10tons with really nice graphics, a nifty soundtrack and challenging, addictive game play. The game is solid enough to help you pass short bits of time with or if you're in the mood for a longer gaming session.
There is a trial version available for Sparkle with the full version running $2.99. You can find it all here in the Windows Phone Store.
Get the Windows Central Newsletter
All the latest news, reviews, and guides for Windows and Xbox diehards.
George is the Reviews Editor at Windows Central, concentrating on Windows 10 PC and Mobile apps. He's been a supporter of the platform since the days of Windows CE and uses his current Windows 10 Mobile phone daily to keep up with life and enjoy a game during down time.