Specs comparison: Playstation VR, Oculus Rift, HTC Vive, and Gear VR
All the major VR units, and all of the specs for them.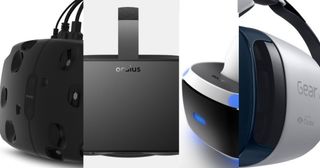 It seems like forever ago when Oculus made the first developer kit for their Rift headset. Since then we've seen announcements and models of several different VR units. Trying to decide which one is the right system for you can boggle the mind, especially when you consider the hardware you may need to purchase in order to be "VR Ready" on these sytems. And now with the official announcement of the Playstation VR, Sony has jumped into the ring to compete with the likes of the HTC Vive and the Samsung Gear VR.
So take a look and figured out which VR platform is in your future!
Swipe to scroll horizontally
Category
Samsung Gear VR
HTC Vive
Oculus Rift
Sony PlayStation VR
Display
2560x1440
1280 x 1440 per eye
Super AMOLED
2560x1200
1080 x 1200 per eye
OLED
2160 x 1200
1080 x 1200 per eye
OLED
1920 x 1080
960x1080 per eye
OLED
Refresh rate
60 Hz
90 Hz
90 Hz
120 Hz, 90 Hz
Sensors
Accelerator,
gyrometer,
geomagnetic,
proximity
Accelerometer,
gyroscope,
laser position sensor,
front-facing camera
Accelerometer,
gyroscope,
magnetometer,
360-degree positional tracking
360 degree tracking,
9 LEDs
Field of View
96 degrees
110 degrees
110 degrees
100 degrees
Controller
Bluetooth controller
Vive Controllers, SteamVR controller, any PC-compatible gamepad
Oculus Touch, Xbox One controller
Sony DUALSHOCK 4 controller or PlayStation Move
Tracking area
Fixed position
15 x 15 feet
5 x 11 feet
10 x 10 feet
Minimum hardware requirements
Samsung Galaxy Note 5, Galaxy S6 series, or Galaxy S7 series
NVIDIA GeForce GTX 970 or AMD Radeon R9 290 GPU,
Intel Core i5-4590 CPU,
4GB RAM, HDMI 1.3, USB 2.0
NVIDIA GeForce GTX 970 or AMD Radeon R9 290 GPU,
Intel Core i5-4590 CPU,
8GB RAM, HDMI 1.3, 2x USB 3.0,
Windows 7 SP1
Sony Playstation 4
Price
$99
$799
$599
$399
Consumer release date
November 27, 2015
April 15, 2016
March 28, 2016
October 2016
Get the Windows Central Newsletter
All the latest news, reviews, and guides for Windows and Xbox diehards.