Speed through Rome in the latest Subway Surfers update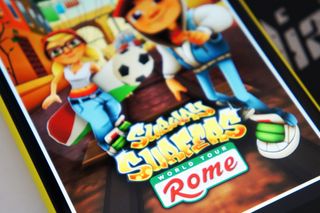 One of the more popular endless running games out there, Subway Surfers, has had a big update in time for Easter. Players can now run through the subways of Rome, and access a new local racer, Roberto. There are also weekly egg hunts with unique rewards, plus a new unlockable costume for Zoe and a new Kick-off board to earn. To top things off, there's a fresh series of Spray Can Awards for rising to particularly tricky challenges.
Subway Surfers has had a wide range of new locales added to their roster recently, with new racers to go along with each release, and it's great to get one more. For those that aren't familiar, Subway Surfers has players running from the law as some troublesome kid. Swipe left, right, up and down to avoid obstacles and collect coins along the way, but things get pretty tricky the longer you go.
Subway Surfers remains a hugely popular runner, and is worth a gander if you haven't given it a shot already. How many of you guys play it? What's your high score?
Windows Central Newsletter
Get the best of Windows Central in your inbox, every day!
No, because making games for 512 mb ram devices is too mainstream.

Kiloo shit. Nokia shit.. In ₹ 20000 budget only 1 phone have 1gb ram. 525

It's obvious now, that they'll NEVER make it available for 512mb devices. Get over it. There are far better endless runners on the app store now. I switched from a L520 to a L525 just so i could play these kinda games (namely subway surfers and temple run 2), but trust me, i played them for a week or so. Neither one of them are on my phone anymore. I don't know about you, but it was just a case of "maybe the grass is greener on the other side", for me. :)

It works fine on my friends 520 !!! No shit..

And I was just starting to lose interest as well. =D Awesome.

Not working on 512 Mb phones :D

Yup.. No use for 512mb phones :(

well you have 2 options. 1. get a better phone the next time you buy something. 2. accept that buying low to mid range devices will not run all available software

next time you comment this...buy me that better phone.... :P

I dont see why it is my responsibility to buy you a proper phone. You wouldnt complain to your Car OEM while driving on the german motorway when you max out your car and others are still overtaking, would you?

someone's BP is high LOL :P

Without low end phones WP would have less than half it's current market share so they should be catered for. After all they are greatly promoted here and on other sites practically everyday so why are they treated like second class citizens?

and? Without Low End pcs the Microsoft WIndows market would not be as high as this as well. still I need to have A nvidia or ATI Graphicscard for the same price some of the pcs costs in order to play a game. do you here me complain that they need 2gb vram and 4gig ram

Are we talking about games so graphically intensive on a phone? All that's needed is optimization not more pixel shaders.

At the higher speeds that Subway Surfers reaches, you'd be surprised.

Does it reach higher speeds than Alphalt 8???

I have two things to say. 1. Windows Phone has great capability to run great apps, despite limitations on memory. Airborne is the proof. It runs seamlessly on my Lumia 625. So my understanding is that Subway Surfers can definitely do too. It just needs to be worked on with wish and will. Time and again, clones pop up at the store and are then taken down. I managed to install one on my phone and it runs great. Buggy, yes. But not so much. When a rip-off can do so good, why can't the original developer do better? 2. I am not saying that the developer owes it to me or us, but he owes it to himself, as aforementioned we make the bigger piece of the pie. It has been tweeted once that Subway Surfers and Temple Run 2 are coming to devices with 512 MB RAM. I don't mind waiting it out. I just wanted to make you, and many others who get annoyed, understand the reasonable rush of "low end" device owners. I am open to argument. Cheers!

Kiloo is really doing a good job on WP by updating Subway Suffers often. Good job ! Imangi Studios needs to learn something from them.

i think Imangi Studios has forgot they have released games for windows phone....once they released it for WP....they never got update as far as i know....and its still same buggy shit for months.....

One thing remember that imangi is shit. It has its own limitations and the company will die one day sooner or later.

Exactly! Kiloo is awesome compared to Noobmangi :D

Wonder whether Mumbai has been added?

It came and went away.. http://subwaysurf.wikia.com/wiki/Subway_Surfers_World_Tour:_Mumbai

Sir dard he de dia isne toh

I think MS could easily open an exception for some kind of big tiles to use a little more memory and run in the 512mb devices. If at least Unity Engine was more optimized in WP8.1

If it will be then ppl wont buy big phones then. That's how even android do the same. Though most of their apps are compatible but still are very buggy and the operating system of android never gets updated on time as compared to a wp device. For them rooting a device means upgrading the operating system.

Wasn't memory limitations removed in WP 8.1?

ya i thought they said something about dynamic memory in WP8.1......well we have seen Subway Surfers run without issue in 512MB devices.....still why Kiloo is not making available for 512Mb device...

512 mb ram owners. Dp u still want this kiddish game? We have railrush, minion rush and also other endless runner games and we also have hexic and frozen free fall instead of candy crush saga

We don't need alternatives, We need the damn thing it's what other people are playing we can't compare scores between two different games for instance (Minion rush is too popular though, love it.)

My phone crashed two times while operating. Im just saying not whinning

On an unrelated note, did anyone else's Games app cease to function after the update today?

For me under "Collection" it says "Couldn't open that. Try again later" then it has the store link, I have to use the app list to play my games, very odd.

Same here.. Its annoying! :/

Naah this runs well on my 520

Whpoolunjfukdjdjfhdhz be tj hg then

Crashes on my 925 8.1 developer preview after 1-2 min

add games like temple 2/oz/gta

Not available for 512 Mb ram , but still Nokia is making phone of 512 Mb rams

What the f***? Y u people not making for 512 Mb phone???????????

If you really want to play the game, just get a developer account and sideload the game.

Can you explain that in a simple way?

I am playing it on my 520 wp8.1 without problems

downloaded the game on lumia 720 ...not official game but works fine.....but now not showing on store as compatible with 512 mb ram......developer is praveen11091.....country india.....do check after some days if it gets compatible again......

http://www.windowsphone.com/en-in/store/app/subway-surfers/debb2f8e-7b9a.... check this link if u don't believe.....

Yes, you are correct. Why I dnt get such games befr Microsoft takes them down :(

It seems that update does not support 512 mb ram.......do check after some time if they make it compatible again.......

Where do updates for apps appear in 8.1? I have had two notifications saying "9 apps have been udated" but when I tap it it just takes me to all my installed apps with the newest updates at the top - no sign of an update button. I see SS there updated yesterday too.

Going back to android..atleast we can play games!!!

If u have an unlocked phone, u can install on ur 512 MB RAM device from www.windowsphonehub.in

No need to go back to android!