Spotify begins rolling out real-time lyrics
It announced the feature last year and has been testing it since.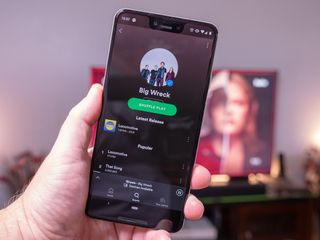 (Image credit: Windows Central)
What you need to know
Spotify has started to roll out its real-time song lyrics.
It announced the feature last year.
The feature has started showing up in the most recent Beta, and even on desktop.
Spotify has finally started to roll out its real-time song lyrics feature after it announced the feature last November.
As reported by Android Police:
According to the report, the feature has been spotted on the Spotify's beta version 8.5.46.848, and by several users on Twitter. As not everyone is seeing the updated feature, it seems as though the update is server-side, which means you shouldn't need to download an app update to start using it. The feature has reportedly been spotted on Spotify's desktop app as well.
Spotify began testing the feature last November for a small number of users.
Lyrics aren't available on all songs, but the ones that are have been provided by Musicxmatch. They can be found by swiping up inside the app, where the 'Behind the Lyrics' feature used to be.
Apple Music has had a similar feature for some months now, and perhaps more interestingly, a team of people dedicated to manually transcribing songs to ensure that the lyrics are accurate.
Nice, thanks for the tip! I never know what's new in the Spotify app because they don't post release notes in the app store. They need to do a better job at communicating what's new and changed or these things go unnoticed.

Finally, long overdue feature...

Deezer has had this for ages.

Oh god, please don't tell my wife.

Now only music video missing and I will get it again.
Windows Central Newsletter
Thank you for signing up to Windows Central. You will receive a verification email shortly.
There was a problem. Please refresh the page and try again.