The wait is over, Spotify finally launches in Canada!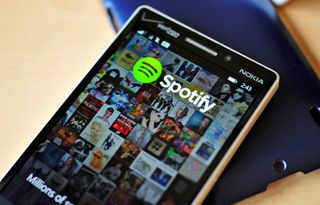 After providing access to those who were interested in testing things out back in July, Spotify has today announced the popular music streaming service is now available in Canada! The patient wait for Spotify to arrive is now over and music fans across the country are now able to sit back and chill out to those ol' classic playlists.
It's super easy to get started too. Simply download the app (available on most mobile platforms today) and create an account. It's possible to enjoy countless tracks on the free membership, so long as you're able to put up with advertisements. But if you'd rather opt for the premium upgrade, it's $10 CAD a month to gain access to unlimited music. Canada is the fifty-eighth member to join the Spotify family.
Spotify has also created a playlist to celebrate the launch.
Source: Spotify
Rich Edmonds is Senior Editor of PC hardware at Windows Central, covering everything related to PC components and NAS. He's been involved in technology for more than a decade and knows a thing or two about the magic inside a PC chassis. You can follow him over on Twitter at @RichEdmonds.
So many legal issues in launching the service in India as the censor board we have here is fairly stringent. Might be a long wait.

Or you could say highly corrupt ;-)

well, nokia and apple manage get their music service in india, i am sure spotify and other services like netfilx will come, maybe in 3-5 year

in India no one pays for music. the only time ppl used to pay were for cassettes and cds. now no one cares about better quality here.

Cool. Though I wont be using it lol

Can't wait for some updates. Approximately 5 months from now.

Wtf dude there was an update 1 month ago

And what did it bring? Two bug fixes?
Wow great! :D /s

It brings free streaming!

Free streaming, UI tweaks like that fancy shuffle button, AND bug fixes

The only music service that I can use in middle east is mixradio and its awesome I don't know about other ones

It still says its not free

I've had no problems with Spotify's free streaming in the UK. Perhaps you should delete the app and re-install?

it's Php 129 per month here :) around $3 a month hehe!

Haha, came to Denmark before Canada!

Yeah well Spotify is Swedish so it would make sense to launch it in the other Nordic countries before going to other continents. :P

Oh, didn't know it was Svensk :)

Oh, well, it is, and WiMP (wimp.dk) is Norwegian. It's time for you danes to deliver a streaming service too soon :D

How can wimp.dk be Norwegian when ".dk" is Danish!?!

& cdn copyright reform has been a little slow to satisfy services like this I was surprised we got zune music(just as it was losing some of the good benefits zune pass had)

No, it does't make sense to launch it in the other nordic countries, not unless the other continents are paying way more money than other nordic countries

It does make sense, as it is easier to get popular in smaller, local markets

Please release on Windows RT

The web version works quite well on rt, as does the spotlite app. However depending on where in the world you are you might wanna check out WiMP instead, it has an rt app, and the Windows phone app is better than Spotify's app, plus it has last.fm support!

First time user and I see that it has way more songs than Xbox Music. Love it, nice app.

Xbox Music for me. Best music service ever. Forever. And ever.

Too bad the current team are incapable of developing a working app.

Love the service and the so continues to improve but I will always miss Zune

That moment when an awesome service launches first in Brazil then in Canada. :|

hopefully it'll help you recover from the grief due to your team shitting the bed big time on home soil

Too soon, mate... Too soon...

Lack of XBox music, Spotify and lack of other music streaming in India is sad.

I'm late to the Spotify party but I've found I like Spotify more than I do Pandora. That took some doing to make that happen but Spotify seriously ain't half bad.

I use Deezer anymore cause Sptifapp still full of bugs but Deezer app is just like the same with other platforms. and in my country it is cheeper :D

Nice, i'm using Spotify for three months now, no regret yet!

anyone know the library sizes of Spotify vs Xbox?

I didn't even know this wasn't available in Canada, then again why should I pay a monthly fee to access music? I should just buy the damn CD or digital version and that's it. My music tastes are too picky anyway :P

You can explore different types of music without having to shell out cash for the CD. Sign up for a trial, and take it for a spin.

When the internet in most metropolitan areas is available anywhere, ownership of content is irrelevant and out dated. The ability to just play music(any music) any time...

I saw the wait is over and I read ahead thinking it would say Cyan released on Verizon. It was a happy thought though....

Any good alternatives of music services in India for spotify?

(semi off-topic) How in the hell do you clear your queue via the app? FF through all the tracks? Delete one at a time? Is there not a "clear all" or can I just not find it?

Oh that's one of the issues I had with it. See this is one of my problems too.

How on earth has it taken so many years for Spotify to be released in Canada?!! That's absolutely crazy.

We all had to make other arrangements... so I don't see to many WP users jumping on.

Yep Spotify is a great service. Happy for my Canadian cousins. The app on WP is shockingly shit though. Really buggy and just shoddy all round. It's one of those apps that I use all the time as well. I tweeted them a while back grumbling about it and they promised they will be showing WP a whole lot more love coming soon. Can't bloody wait..

how about releasing it on every country

How do you download albums (Yes it's premium)

You need to add it to a playlist, and then make the playlist available offline.

Great! I can breathe now. Seriously, though, Spotify is a great service. It's my favorite streaming music service on my desktop. The mobile app is okay, but very limited compared to the desktop app.

Spotify already free for worldwide. http://windowsphone-9.blogspot.com/2014/08/how-to-sign-up-spotify-for-wo...

Congrats Canada! It's an excellent service. Can't believe it wasn't already available there, better late than never I guess.
I honestly don't understand the fuzz about Xbox music. I tried it out but instantly went back Spotify. The Spotify WP-app might still need some work (although it was vastly improved not long ago), but their catalogue is superior to that of Xbox music, and that's really what matters when it comes to a music service.

Well I guess I will finally give it a shot.

Congrats. Now the Canadians can experience the most confusing music streaming app, too.

Score on for Canada. Already subscribed. Now to check to make sure the mobile app is available in the Canadian store. It wasn't last week.
Windows Central Newsletter
Thank you for signing up to Windows Central. You will receive a verification email shortly.
There was a problem. Please refresh the page and try again.