Google Stadia head Phil Harrison believes ISPs will lift data caps for game streaming
Let's see if companies like Comcast agree.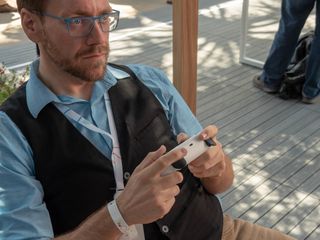 (Image credit: Windows Central)
What you need to know
Google Stadia is an upcoming game streaming service.
You pay $10 a month for "Stadia Pro" to stream at 4K resolution and 60 frames per second.
Google believes that internet service providers will raise data caps for game streaming.
The launch of 5G wireless technology may also remove data caps.
Google Stadia is an upcoming game streaming service. You can stream games from the company's servers to your television or mobile device. As with any streaming service, consumers have to be aware of internet restrictions and data caps imposed by their internet service providers (ISPs) like Comcast.
In the United States, many regions have 2 TB limits after which you may have to pay more. Stadia chief Phil Harrison believes that ISPs will raise data caps for game streaming services in the future. He said the following when speaking with GameSpot.
It seems quite naive to assume that ISPs will raise data caps. Companies could simply charge consumers more for game streaming because it's a burden on their networks. It's unclear what possible incentive they have for backing Stadia. Affordable internet is another area of concern.
According to Harrison, 5G wireless technology may fix the data cap problem, but it's going to be expensive. He believes that spending $50 a month on faster internet is worth it. Unfortunately, there are tens of millions of Americans who can't afford spending that much on such a service. This is why federal programs like "Lifeline" exist for those who can't even afford basic packages because they're too expensive. You can read Harrison's comments below.
Stadia wants to bring gaming to the masses, but right now it seems like it caters to those who can afford expensive routers, aren't worried about going over their data caps, and have the ability to pay $50 or more each month for internet. Why would these consumers choose Stadia over the next-generation Xbox or PlayStation which will offer lower input lag and 120 frames per second (FPS) gameplay?
Google is currently selling a Stadia Founder's Edition for $130 on its website. It gives you a controller, Chromecast Ultra, and three months of "Stadia Pro" which lets you play games at 4K resolution and 60 FPS. The free version, "Stadia Base," is expected to launch sometime in 2020, possibly around the same time as next-generation consoles hit retailers. Stadia Pro comes with free content and discounts on select titles. It's a lot like Xbox Live Gold or PlayStation Plus. You can buy additional games through Stadia, and with Stadia Pro, you have access to content on the platform, including Destiny 2, which is the first free title.
All-in-one
Google Stadia Founder's Edition
Game streaming for the masses

The Founder's Edition of Google Stadia offers three months of Stadia Pro and includes a Google Chromecast Ultra and Stadia controller. Whether it can live up to its potential is yet to be seen, but features like State Play and Crowd Share are intriguing.
Xbox accessories you'll love
Every one of these quality accessories is guaranteed to enhance your Xbox experience.
PowerA Enhanced Wired Controller for Xbox One (opens in new tab) ($20 at Amazon)
PowerA's take on the Xbox One controller is an attractive pickup for budget-conscious gamers that nails all the basics.
Talon PDP Xbox media remote (opens in new tab) ($20 at Amazon)
The Talon PDP Xbox media remote is great for watching shows on your console.
Xbox One S vertical stand (opens in new tab) ($10 at Amazon)
Stand your console upright with this accessory.
Windows Central Newsletter
Get the best of Windows Central in your inbox, every day!
Asher Madan handles gaming news for Windows Central. Before joining Windows Central in 2017, Asher worked for a number of different gaming outlets. He has a background in medical science and is passionate about all forms of entertainment, cooking, and antiquing.
Yeah, Comcast/Xfinity has no interest in "leaving money on the table" just so Google Stadia can succeed. Here in the Silicon Valley(a small market I am sure) we have a 1TB cap on 250MB service...and also on the 1Gb service LOL!

Good grief, really? I knew US internet provision was restrictive, but that's awful. So glad it isn't like that here in the UK (good prices, no limits). I hope 5G brings some competition or something else gets done by the politicos to get you folks some 21st century internet choices. I feel for you.

I wish I was that delusional. Must make life so easy. He's thinking of the same ISPs and carriers that I am right? The ones with monopolies in their geographic markets and who aren't giving up a cent on anything?

Yeah this is a dumb thing for Google to go on record saying.

Well, there are no data caps in most other markets they are targeting with Stadia. And he is not wrong either, some providers like T-Mobile already have exceptions for streaming traffic. I don't see why they wouldn't do the same in the US.

Because game streaming uses WAY more bandwidth than audio or video streaming. That is just one of the many reasons.

@ SaschaDR as Avatar of Apathy has said Game streaming is far more bandwidth intensive as there has to be a constant stream of data. Whereas with Audio and Video, it just needs to cache the file (buffering) and be done with it.

I think Google should take the first step by competing with other ISP to get unlimited across all provider

I thought 5G and always connected was the future? Now Google is showing their technology that takes advantage of 5G/always connected and suddenly 5G is garbage?

I've come to believe that game streaming has very little to do with mobile, and more to do with selling "casual gamers" a service they can play at home on their TVs, over high speed DSL/Cable/Fiber lines, without them having to purchase a dedicated console. It's actually pretty smart. There are millions of folks who would like to play a game "now and then" without the overhead of a dedicated gaming console. That's the real prize, not so much core gamers that want to play a miniaturized AAA title docked to a Bluetooth controller while taking the tube to work.

"high speed DSL", that's funny.

5G will be more expensive than 4G that's for sure. Faster internet will break your cap faster too.
If you want to go on the go, go with native solutions e.g. XPA on a Windows Classic or WCOS or win32 for WinClassic. Like jp144 said. Stadia has nothing to do with game on the go, it's for home use.

The ISPs will keep up with technology. That is all he is saying. They will, or else someone else will come along and leap frog them. They don't have a choice.

AHAHAHAAHAHAHAHAAHAHAHAHA. Google are clueless.

Sorry Google but that ain't happening.

Phil Harrison and Phil Spencer lol what a copy

Haha, Phil Spencer ain't this naive though.... I think Google's cloning process must have failed at some point for Phil Harrison hahaahahahahaha. Because there is no way someone can be this utterly clueless and naive whilst leading a team at this level.

As an exec trying to sell a new product, he has to be optimistic.
Like those who hyped 3d TV and current gen VR techs.

There is a difference between optimism and naivety.

I believe that cell phone companies will increase the data cap limit, but not on 5G's arrival, that will take much longer. However, I would never EXPECT and PLAN for it to happen like it seems Google is doing with ISPs o.o

LOL!
The North American ISPs aren't lifting any data cap. You guys pay silly amounts for your internet connections, elsewhere like the UK we can get unlimited internet + landline phone with anytime calls for £35 a month.

I suppose UK is population denser than US right? And you have several ISP competing in the same area / market.

The ISPs in the UK are classed as utilities therefore they cannot get away by charging excessive prices. Whereas in the US they are not classed as utilities; furthermore if the infrastructure was very expensive to maintain due to the size of the country then why are US ISPs making vast levels of increase in profit YoY? Surely, you'd expect some increase of profits YoY after they had offset cost of maintainance of the infrastructure. It's simple, any savings the ISPs make they do not pass onto the consumers thus as the cost of infrastructure decreases - thus their profit's increase as prices either remain the same or go up. Additionally, the government is also putting pressure on BT (Openreach) to constant improve their broadband infrastructure at affordable prices. Which means in order to comply with fair market policies as BT now own EE which is merged entity of T Mobile and Orange. They have to open up their infrastructure to the competition. Therefore they occassionally have offers at the wholesale level for the competition. Here is one such example: https://www.openreach.co.uk/orpg/home/updates/briefings/generalbriefings... The US on the otherhand does not have any such regulations at the federal level for fair market and competition. Along with any sort of meaningful consumer protections, let alone any sort of worker protections - which is why some states are a classed as no fault states - where you can get fired for no reason. So yeah, the US maybe developed but when comes to any sort of consumer rights or basic rights such as paternity leave, maternity leave, paid sick leave etc it has a hell of a long way to go.

> furthermore if the infrastructure was very expensive to maintain
> due to the size of the country then why are US ISPs making vast
> levels of increase in profit YoY?
Cause building more infras will kill their profits? But I think it's mainly due to no competitions. Some region and states only have 1 ISP (so I heard from my US friends) Population density != country size. Taiwan and Korea is small. Japan is bigger but people tend to gather in bigger cities. Australia... has the same population as Taiwan... draws 1 cable across the street serves far lesser families.

The UK has an ISP that owns all the network infrastructure, which is BT. Open reach is an offshoot of BT, almost all other providers use BT equipment. Plus BT is also the biggest provider by acquisition of EE and biggest holder of mobile spectrum also via acquisition of EE and via an offshoot that participated in the 4G auction. The other main provider that does not use BT equipment is Virgin. Therefore the UK effectively has 2 ISPs and the rest are MVNOs. Even then due to fair market regulations BT cannot undercut the competition or over charge the competition for infrastructure use. Lastly, due to regulations other companies can also install their own equipment into BT owned exchanges such as HyperOptic. Who have a 1 Gig fibre package on offer. BT does not have such a consumer service and cannot prevent them from using their exchanges. Personally, I think it boils down to three things in the US - 1)not seeing the difference between over reach and protective regulations case on point - health care. As many in the US want less government involvement in state affairs. 2)false promises and sound bites. 3) misinformation and lobbyists.

From someone in the Telco industry who has up until very recently managed the pricing for a larger access provider in asia, there is no way the ISPs will (or can) absorb those increased costs. Either consumers will pay more, or get a lower quality of service. Bandwidth is not free.

I actually see the opposite happening. They will look at this as a huge money making opportunity and implement the caps in the markets that currently don't have them to take advantage of this.

As Comcast/Xfinity has done in the past 5-10 years.

Phil lay off the fairy dust

I almost fell off my chair laughing, how can Phil Harrison be so naive? Good God man... if North American ISPs threw a hissy fit over Netflix subscribers use of bandwidth so why on earth would they be so lenient on Google's Stadia???

Sure they will not like it, but what happened with Netflix? Are there any issues today? If they want to keep selling their services, they will have to keep up with the technology that uses them. There might be growth issues, but they will be worked out.

It is indeed naive to believe that companies will willingly forgoe potential profits just to support a niche gaming product.

Netflix streaming was also niche when it started. Game streaming is the future. Imagine our connections 10 years ago an what they will be in 10 more years. It is only a matter of time.

I sticking with Xbox. But, in Virginia where I live as long as fios is offered nobody seems to have a data cap. I have Cox, in other areas they do have caps. But I have the option to have fios at my home (no cap) I have Cox 300 down 50 up no cap. I use 3-4 Tb a month. For $64.99. Competition is awesome.

In Australia we have a very small amount of the population with access to 5G, however we also have unlimited 5G mobile plans (which obviously drop to 4 or 3G where applicable), and almost every broadband provider has unlimited plans as well. Just because America is slow to pick up new technology, doesn't mean the rest of the World is.