Star Wars: Tiny Death Star, building your own Galactic Empire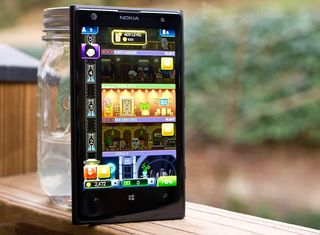 Star Wars: Tiny Death Star hit both the Windows Phone and Windows Store last week and is the result of a partnership between LucasArts and Nimblebit games.
The game, available for Windows Phone 8, plays much like Nimblebit's Tiny Tower (opens in new tab) just with a Star Wars twist. You're tasked with building a Death Star level by level, while maintaining economic stability, keeping your population happy and thwart the Rebel Alliance.
The retro styled graphics does have a certain level of appeal but the pace of the game may put some to sleep. However, if you like business simulation styled games Star Wars: Tiny Death Star is an attractive choice to consider.
When you first launch Star Wars: Tiny Death Star you'll be guided through a tutorial on the basic gaming strategy. The game will call on you to build various levels on the Death Star that includes residential, commercial, service and Imperial (used to defeat the Rebels) levels. You'll need to build these levels while maintaining a certain level of economic stability.
As you build these levels, various Galactic Bitizens will be attracted to the Death Star where they will populate the residential levels and take up jobs in the commercial levels.
Tiny Death Star's Main View, Imperial Sub-levels, and Level Types
Day to day management includes producing and selling products, finding jobs for the Bitizens, and carting Bitizens around on the elevator. As Bitizens take up residence in the Residential Levels you can assign them to jobs, change their appearance or evict them. When working on the job, the Bitizens are tasked with placing orders for goods, stocking them and selling them to other Bitizens. As you do these tasks you earn credits that in turn can be used to build additional levels.
As you advance through the game you will be called upon to build Imperial Levels that are used to interrogate Rebel Scum and orchestrate efforts to defeat the Rebel Alliance.
All the activity within Star Wars: Tiny Death Star takes time. If you're the impatient type you can use Imperial Bux to speed along the process. You'll earn a few Bux as you play the game or you can get a jump on things and buy Bux via in-app purchases.
Tiny Death Star's Emperor's Missions, Resident's Listing and Bitizen Screens
Along with the day to day management and expansion of the Death Star, every now and then you'll be summoned by the Emperor to carry out missions. Missions can be as simple as producing/selling a certain amount of goods or building additional levels.
Game play makes you feel as though you're being bounced all over the place going from level to level, manning the elevator and visiting the Emperor at times. It is more of a busy feel than a "fast pace". To help you keep track of your tasks, icons will appear at the bottom of the screen and on the various levels to alert you that attention is needed.
Tiny Death Star will save your progress should you need to leave the game. When you return, you'll be welcomed back by the Emperor who lets you know how much credits were earned while you were away from Bitizen activity.
Tiny Death Star's Menu, Bitizen List and Settings
Star Wars: Tiny Death Star does have a menu screen that is accessible from the main gaming screen (the little green MENU button). The menu will offer access to:
The game's settings that covers sound/music/tips/reminders on or off. You can also view the credits/about screens for the game. There is a help section but it is more for technical support than game play help.
A listing of all your Bitizens that details their current job as well as their dream job. In tapping an individual Bitizen you can edit their appearance, job or evict them from the Death Star.
A listing of all your Death Star levels along with the ability to purchase new levels with Imperial Bux.
The Album menu option lists all the types of Bitizens you've unlocked, a listing of your Death Star levels and any scenes you've unlocked.
The Store option on the menu allows you to purchase upgrades to your elevator, exchange Bux for credits, buy Bitizens characters, buy levels and unlock special Bitizen VIPs.
Additional Menu options include buying Bux in-app, viewing your gaming inventory, view the current mission the Emperor has you tackling and view Holonet messages from Bitizens where they tell you what's on their mind.
Star Wars: Tiny Death Star isn't an action packed game where you blast things to smithereens or battle foes with your trusty light saber. Which may hurt the appeal of the game. Instead you have a multi-faceted business simulation where you have to not only manage the various commercial and residential levels but also keep your Bitizens happy, do the bidding of the Emperor, defeat the Rebel Alliance and all while not going broke.
Unless your willing to buy plenty of Imperial Bux to speed things up, game play with Star Wars: Tiny Death Star is more like a marathon where you have to pace yourself.
I really can't find much to complain about with Star Wars: Tiny Death Star but it could use a help section that deals with game play. While you will have tips pop-up from time to time during game play and the opening tutorial covers the basics rather nicely, a help section would come in handy for those moments you can remember what the tutorial or tips mentioned.
There is a Windows 8 version of Star Wars: Tiny Death Star but it is independent from the Windows Phone 8 version. It would be really nice if the two versions could be linked so you can leave one version and pick things up where you left off with the other version.
Taking everything into consideration, Star Wars: Tiny Death Star is a fun game for your Windows Phone but may have a narrowly focused appeal. I can see the game appealing to the fans of this gaming genre or the die-hard Star Wars fans who have patience with game play. It's not going to be a fast paced, action packed game full of Jedi moves, blasters and Wookies (look to Angry Birds Star Wars for that). Then again, Star Wars: Tiny Death Star is a free game so you don't have much to lose in giving it a try.
Star Wars: Tiny Death Star is available for Windows Phone 8 that you can pick up here (opens in new tab) in the Windows Phone Store. You can find the free Windows 8 version here in the Windows Store (opens in new tab).
George is the Reviews Editor at Windows Central, concentrating on Windows 10 PC and Mobile apps. He's been a supporter of the platform since the days of Windows CE and uses his current Windows 10 Mobile phone daily to keep up with life and enjoy a game during down time.
When is temple run 2 for windows phone going to arrive ?? :/

Me too waiting for it dude

I'd rather have Subway Surfers, game is more polished and better looking

I'd go for Subway Surfers, too. Temple Run 2 isn't quite so fun as before, from where I stand.

Wow, we practically *just* got temple run after the masses were incessantly whining about it for weeks straight. Just play that damn game or one of the clones. Besides, how different could a sequel to such a simplistic game actually be? I'll field that one- not enough for anyone to care.

Would you rather play halo instead while Halo 2 is out?

Terrible rebuttal. A) Halo 1 > 2
B) Temple run is too simple a game, comparison is not valid.

Not at all. Halo 2 is far superior..

We might get temple run 2 when temple run 3 gets released on other platforms -_-;;

It's enough for me to care.

+1520 I've beaten pvz 3x now we need 2 asap

Ugh I hate those temple run games, too plane and simple.

There needs to be an update to this game, in my phone I ended up with -50 imperial bucks, which I starts out at 10. But the wp8 version will bring it down to negative no. I'm still at -15 bucks I need to earn 15 more just so that I can buy anything. I am at 18-19 floors tho

The w8 version is fine. No deductions on that one

Im at -340. Really pisses me off.

An update was made available today. Not sure if it solves anything but you might want to check it ;)

I just saw that! Installing now. Edit: well im still -340 imperial bux :/

Game is aweful after update. Stutters and lags constantly.

I too was -50, didn't know wtf happened. At -37 now but still this is v.annoying.

I was in the negative as well, after buying something that said it costed 1 bux. The way I got out the negative was finding out when it was a bitizens birthday and then making date and time setting go to that day, then I would go back to the game collect a bux, and go back to setting and move it up a year, then repeat.

I got down to -156 imperial bux :( I raised the bug with them here: http://disneyinteractivestudios.custhelp.com/

This game is one of those oddball ones that I dislike but keep coming back for more. Maybe because its star wars....

Love the retro graphics. Dislike the fact that you're pretty much forced to buy more imperial bux to make any real headway. Fed up of apps with so many in-app purchase options. Really bad to pressurise kids like that.

2 things I would like to have: - Your save is in sync between your windows devices - Fix that negative bux bug

I uninstall it after two days.

Really like the game. I agree it could use a help section.

Wish it was a LIVE game. This is the first game in ages I've really enjoyed on WP8.

Agreed. If this was an Xbox game and synced saves with the Windows 8/RT version I would definitely check it out. Without it, though, I'll stick to Xbox-enabled Kingdoms & Lords for my simulation needs.

Started the first day it launched on WP, check back about every 2 hours, I have 27 levels now and 75% done to my 2nd elevator upgrade.
Slow progress and decrease in bux given out compared to original TT.

Holy crap. I have 16 levels and it was a pain in the ass until I finally got the elevator upgrade. I'm starting to lose interest now though. Looks like I have done all there is to be done now, its all about getting faster elevators now and they cost loads of bux.

Installed and was like WTF, uninstalled after 10 minutes.

Does anyone else find the scrolling in the game to be very laggy?

Yeah the scrolling can be choppy, it's not too bad, though. There is also an annoying bug where, after you disable all sounds, the elevator still makes noise.

The higher the levels get, the choppier it is, though better after the update. I am at level 65 with the fastest elevator. Gets choppy around floor 40 or so.

working fine for me and enjoying the game. L920. No bugs so far and i`ve been playing quite a lot. The tutorial is a bit boring but once you get past it the game becomes very fun.

This game makes it very hard not to spend money, kind of deceiving in my eyes.

The free to play model is a complete mess. Sell the game for a reasonable fee.

I'm glad that WP8 has it, but I really just don't understand the appeal here. It's not that it's not action-packed that is the issue. It's that you literally are tapping buttons, waiting for sometimes up to a couple hours, and then tapping more buttons. There's plenty of good simulation games, and plenty of good games that are slower. (One of my favorites that vanished from the WP8 store is the very slow paced Zombies board game, for example). This one though, just doesn't do anything for me. As for what is being simulated, I have no idea, since you can't adjust prices, change quantities that you're purchasing, or any of that sort of thing. But I'm still glad to see it on WP8 like I said. And for the people who DO enjoy this, they need to make the WP8 and W8 versions sync.

It entertained me for a while but i uninstalled after about 5 days and a I am a serious star wars fan but the business style gameplay was a huge turnoff. If they make sim city star wars I'm 100% in though :)

Just needs sync like was mentioned. I go between my phone, my tablet and my laptop/desktop. Stuck playing it on my tablet though, don't want to maintain several towers.

Was the update pulled? It shows I have an update and when I hit update all, it just disappears.

Same for me on a Lumia 521.

It's simply boring. I tried it for two days and waited for something to really happen. It's just about waiting and clicking buttons - no big strategy or actions needed. Already wasted too much time on it and desintalled it today. I don't understand why this game gets so much attention (other than that "star wars" one).

Its one of those games that occupy the OCD that lurks in some of us.

Got bored.......... Not a bad sim but still, not that good either.

i wonder if the patch fixed purchasing too. I played tiny tower to death without paying (before they rebalanced the game, it was much easier to gain tower bux), so I thought, perhaps a 4.99 tip for 100 imperial bux and 1000 credits would be nice. after going into the wallet and clicking purchase, it switched back to the game and just crashed. upon loading the game, it was loading all the splash screens, so clearly it was no longer tombstoned, but exited completely. Microsoft billing charged the 4.99, but no 100 bux / 1000 credits in the game. I've tried contacting Lucas Arts/Disney Games/Nimblebit and there have been no replies whatsoever. There's also an open ticket with Disney Games that hasn't been answered. I ended up contacting microsoft windows phone support, and they quickly refunded me. I had once respected nimblebit in putting out some quality stuff, but they (or disney games) really half assed the windows phone version.

I was tasked by the Emperor with a mission to "Have 30 bitizen(s) move in". I now have 35 bitizens and still I do not clear that mission..

Im currently on that mission. I read it as "i need to move in 30 since starting this mission" not in total since starting game.

Hmm, it have been 5 days since starting this mission and throughout the process, I've evicted more or less 30 bitizens. Will continue doing it for the next few days and if it still doesn't clear, will pay some Imperial Bux to skip the mission.

Love this game. I was playing tiny towers on iphone and had over 150 floors before i switched to WP8. Was pleasantly surprised to see it released as a star wars version. Just about to buy my 28th floor :-)

Awesome game for sure, love the star wars theme. Has bugs and could use some performance tweaks but one of my most kept up with games for sure.

Sim Tower clone! Loved that game. I like this one, but honestly I'd rather the elevator be automatic. Moving people around is pointless busywork- clearly you're going for a time quota put-down-the-phone-and-do-something-else style game, and having the elevator be manual is just sucking/wasting time and battery life.

Is the phone leaning up against a jar of moonshine?

Played tiny towers on a Galaxy ace and it run like crap, but still it was fun. Have a windows phone 8 now, and this just runs a tiny little bit better than the slow galaxy ace. Nothing goes smoothly. It always crashes with dress up. Sound lags, menus hang for a second every time I open or close one. It is just a blatant rip off, Tiny towers with a few new skins and aLOT of options to spend money but apparently no effort done to make it work. I wish to slap whoever created this in the face.

I can't be the only one experiencing hangs and losing 30,000 coins after I re-open the game. I believe it brings me back to the state before I earned the 30,000. But that's just a waste of effort on my side.....
Update keeps popping up but does nth.
Scrolling lags so im not ready to purchase an elevator either.
Windows Central Newsletter
Thank you for signing up to Windows Central. You will receive a verification email shortly.
There was a problem. Please refresh the page and try again.