Status Tiles helps you easily manage your Windows Phone connectivity and settings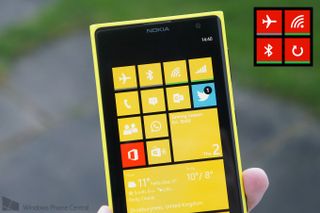 Since Windows Phone 7 launched, there have been numerous attempts by developers to create the perfect settings and connectivity shortcut solution, but many have either fallen short and/or ceased development. So which app should you look at if you're wanting such a download? Cue Status Tiles.
The app itself has been available since November, but we've somehow missed it and the developer has just pushed out a small update.
As the name suggests, Status Tiles helps you conveniently pin settings to your Start screen in the form of Live Tiles - and by Live Tiles, we mean live and kicking tiles of wonder. Notice the green and grey bar at the bottom of each tile? This represents the current status of the setting that tile represents. Really neat.
Once you've got the app installed, Status tiles presents you with a simple menu for you to tap and hold which settings you wish to have pinned to the Start Screen. When you have these tiles arranged as desired (choosing between medium and small sizes), you can then tap each one to be taken to that specific settings area, be it Wi-Fi, Bluetooth, Flight Mode, etc.
Once you've configured the setting and wish to return to the Start screen, you hit back to see the network status reported by the app (to ensure it's all accurate and good to go) and then back once again to see the Live Tiles update to reflect the new status.
It's worth noting that for both Wi-Fi and Flight Mode, you're to wait until both have finished enabling (or disabling) before backing out or the tiles won't be updated. That said, you can always quickly hop back into the settings and then exit again to force the tile update. Simple stuff.
But which settings does Status Tiles cover? You'll be able to pin the following to your Start screen:
Flight Mode
Wi-Fi
Bluetooth
Screen Rotation
Location
Data Connection
Since this is actually an update (still on version 1.0), we can only assume that bug fixes and minor improvements have been implemented. Still, it's a worthy app to download and a must-have if you're coming across from Android and are used to the easily accessible options.
You can download Status Tiles from the Windows Phone Store for free - yeah, we love free stuff too! via: WPCentral Forum
Windows Central Newsletter
Get the best of Windows Central in in your inbox, every day!
Rich Edmonds was formerly a Senior Editor of PC hardware at Windows Central, covering everything related to PC components and NAS. He's been involved in technology for more than a decade and knows a thing or two about the magic inside a PC chassis. You can follow him on Twitter at @RichEdmonds.
Hmm...we want interactive tiles that don't take us to settings

Nothing special, there are many apps like this..

I'm using "Insider Pro" and IT covers all my needs ;)

me too.. I downloaded the pro version when it was free :D

wow! i downloaded it and it's amazing! :o

Me too. It's just amazing and has complete function.

Am I the only one who doesn't like the design of the tiles? Kinda too "Androidish" and doesn't fit with WP's design. Not that I have a better design in mind, well just my 2 cents.

Yeah I'm inclined to agree. Why cant the tile icon just change colour, perhaps greyscale?

The app "bateria" ( battery) works like you said, grayscale indicates when it's on or off and it had a few more features.

Insider pro is the best but check out this app you can also pin a restart tile.
http://www.windowsphone.com/s?appid=4197e14b-c34e-4cd0-b762-c9091f0f5598

Thanks for the tip, but I think I will stay with Insider Pro, anyway it is good to have alternatives :)

Thanks for the heads up. I always wanted the option to restart the windows phone.

Really nice app loved it hey there wpc this is one app worth noting ;)

I sent the link to wpc a week ago, I guess they don't like unknown developers.

The RESTART feature... i was searching for this app since i buy my WP phone!!! now i dont have to touch my power key button never (i broke my nokia n9 power button )

BTW restarts takes A LOT of time.

Connectivity tiles is way better looking Than this

Not much special, but it uses official icons, and they're clean and nice looking. I like it.

Quick Settings - one tile to rule them all...

System tiles does the job

+820 insider pro is immense

Don't like the lack of customisation, ie colouring tiles and hate the nag info screen when you back out of each one. Better options available.

Do any of these shortcut-n-status apps work with WiFi calling or tethering/internet sharing?

Nope.. I need that one and battery saver.

Battery saver is available to those that have Update 3. At least my app provides it.

I downloaded update 3 just now.. Haven't installed it yet. Hope it doesn't get stuck mid way. I need battery saver badly cos I only get 6 hours on my 920.

It is merely a shortcut to the Settings, saves a few taps, nothing else.

No they don't because MS don't provide an API for it.

I want "new calendar" also in there.

I've been using an app called "bateria" (Portuguese for battery) which has several shortcuts like these, when they're on the live tile shows the icon in white and when it's off the icon turns grey.

is internet sharing shortcut available in any of the shortcut apps?

No, because MS don't provide an API for it.

I'm still waiting for a tile that will let me switch from SILENT -> RING -> RING+VIBE -> VIBE -> SILENT. It shouldn't be all THAT hard! Except it must be, because I haven't yet seen an ap that deals with ringtones at all.

Its because MS don't provide an API for it.

I like this app, especially the use of the green/gray bar. I uninstalled connectivityshortcuts.

I use Dashboard and am quite happy with that. The only thing I wish it did differently (and I've emailed the dev) is that I would like the storage Live Tile to actually show the current amount available on the Live Tile instead of having to launch the Live Tile. Anybody know an app that tracks storage real time as a Live Tile without having to actually launch it?

I prefer Connectivity Tiles. It has a cool neon color option. Really makes your screen pop.

I prefer Settings To-Go, er, because I made it. :-)

Nobody seem to care about share wifi...which I use a ton.

Thats because MS don't provide an API for it.

It seems that there are lot of features missing API from Microsoft. Just wondering why.

Try Status Tile from Windows Phone Store (http://www.windowsphone.com/en-us/store/app/status-tile/1cf66256-932f-4b...). My app has been available on Store since January 2013.

So so app. Needs battery status and lockscreen support. Other apps have flashlight tile too.

But what does the flashlight have to do with phone settings?

Hate having different apps for such small things.

Anybody knows an app where a Bluetooth live tile actually indicates whether it's switched on or off? Have tried a few but found none...

Insider Pro does that http://img827.imageshack.us/img827/719/ihxs.png

Thanks everybody! I chose quick settings as it's free.

Tile master is cool also, i use that one
Windows Central Newsletter
Thank you for signing up to Windows Central. You will receive a verification email shortly.
There was a problem. Please refresh the page and try again.