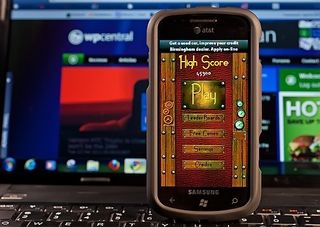 The developers who brought Impossible Shoota and Traffic Cop to Windows Phone 7 are now offering Steam Castle. The Windows Phone game is a tower defense game where you defend your castle and surrounding forest from a barrage of missiles.
The story line of the game goes that you are the last fortress of hope for humanity. You are fighting a losing war against the Mechanitrons and must fall back to Steam Castle to use the advanced steam compression technology to fend off the Mechanitrons as best as possible.
To see if all hope is lost and whether or not Steam Castle is worth the download, blast on past the break.
Game Layout
The screen of Steam Castle is simple and straight forward. From the Main Menu you have a few settings to choose from (sound effects and music) and you can view an online Leaderboard. When your ready to defend your castle, just tap "Play".
Before you enter battle, instructions on how to play the game will appear. Tap the the screen when done reading the directions and you'll enter the game.
Steam Castle is a free game that is ad driven. A banner ad appears at the top of the screen. It doesn't get in the way and you concentrate so much on the incoming missiles you will forget it's there.
At the bottom center of the screen is your castle surrounded by a forest. Just below the castle is a gauge that will display your ammunition count. Because the three canons on your castle are steam powered, your main ammunition count will eventually replenish. However, as you lose trees in your forest, you lose fuel to generate steam, so your replenish rates slow.
Missiles are launched from balloons that drift across the screen and from long range distances (these drop straight down from the top of the screen). To defend your realm, tap the screen where you want your canons to fire. Your steam ammunition will expand when it reaches your tap point, taking out the missiles and balloons nearby.
Along with the steam ammunition, you can also earn bonus rounds by taking out the balloons carrying, what appears to be, a picnic basket. There are two bonus rounds; a scatter shot that fills the screen with bullets and a vortex shot that creates a vortex that sucks anything nearby into oblivion.
As the game progresses, the intensity of the bombardment increases as well. As missiles make their way to your castle, you lose a canon with each strike. The game ends when all three canons are taken out, destroying your castle.
Overall Impression
My first impression of Steam Castle was that it reminded me a lot of the classic arcade game Missile Command. The game was enjoyable to play and it was graphically well presented. Steam Castle ran smoothly with no glitches, bugs or crashes experienced.
The game does have an addictive quality to it. It challenges you to plot out strategies to better defend your castle and prolong the inevitable. Do you target the missiles or balloons? Do you wait until the missiles are closer together to take out multiple targets or just fire at will?
I found Steam Castle to be a fun game and a nice addition to the Windows Phone game library. It is a free game and you can download it here (opens in new tab) (opens Zune) at the Marketplace.
Windows Central Newsletter
Get the best of Windows Central in in your inbox, every day!
George is the Reviews Editor at Windows Central, concentrating on Windows 10 PC and Mobile apps. He's been a supporter of the platform since the days of Windows CE and uses his current Windows 10 Mobile phone daily to keep up with life and enjoy a game during down time.
This game is really good for a free game.More generally I feel so disappointed with games on WP7, including Xbox Live games (except Ilomilo).Most of the time, even if the graphics are Ok, the gameplay is so boring. No story, no surprise, always the same boring challenge.See, Fable Coin Golf. Graphics are nice, but how boring.What about Blob Revolution... It's even worser. So boring...And all other games are similar.Is it all Microsoft can do?

Do you really think that Microsoft developed the gameplay and story of all the WP7 games? The GAME DEVELOPER comes up with that, and that's not necessarily Microsoft (In most cases it's not). It's the game developer's responsibility to make an entertaining game. Microsoft just gives them the tools to make that (XNA and Silverlight).Also, the "boring" comment is completely opinion based. I find Fable Coin Golf and de Blob to be not boring at all. I also really enjoy Krashlander, PES 2011, ilomilo, FullHouse Poker, Burn It All, Flight Control, Deer Hunter, Fruit Ninja, glow artisan, Glyder, iBlast Moki, Oregon Trail, Rise of Glory, Rocket Riot, Star Wars Hoth, Tiki Towers, Cascade, SpellIt, Unite, and I could keep going and going. Microsoft has done an excellent job making great tools that many developers have taken advantage of to make great games.
Windows Central Newsletter
Thank you for signing up to Windows Central. You will receive a verification email shortly.
There was a problem. Please refresh the page and try again.