Report: Steve Ballmer heads to China for meetings with Nokia's Stephen Elop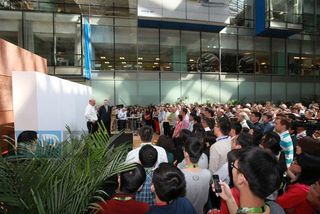 Microsoft is looking to buy Nokia (or at least its devices and services division), that has already been covered numerous times. Now, Steve Ballmer is reported to have been in Beijing to visit Stephen Elop and Nokia. Now, the actual deal between the two companies is still yet to be finalised and approved, but these are clear signs that the two parties are already preparing discussions and more.
China is an important market for Microsoft and Nokia, not just because of the competitive consumer market, but because Nokia has its regional office, factories and R&D centres in the country. Ballmer and co. will look at plans to integrate all the teams and departments into Microsoft, as well as assets, buildings and more.
WPDang reports that Ballmer's Beijing visit is to discuss future plans with Nokia, should the deal has been gone through. Sources have revealed that Nokia may retain their production plant in China, while losing R&D centres. This is all rumour and speculation, so be sure to take with a grain of salt. It's not clear what Microsoft would do with Nokia.
The plant would help Microsoft with its own branded Windows Phones. Since the teams have already worked with high-quality Nokia hardware in the past, consumers would be able to expect the same level of standards. It'll be interesting to see how Microsoft would use Nokia's established factories to build its own products with tighter controls around manufacturing.
We'll be sure to remain tuned to all feeds and have our eyes peeled for any details to emerge following Ballmer's visit to China. One thing's for sure: the Nokia acquisition would provide a large beast for integration. Luckily, Microsoft has already begun restructuring and simplifying its own divisions. There's still a long way to go.
Source: WPDang; thanks, answer1626, for the tip!
Rich Edmonds is Senior Editor of PC hardware at Windows Central, covering everything related to PC components and NAS. He's been involved in technology for more than a decade and knows a thing or two about the magic inside a PC chassis. You can follow him over on Twitter at @RichEdmonds.
Adding fuel to the fire? Usually that phrase comes with a negative connotation.

Heh, fair play. Altered for you ;-)

Nothing surprising really.

..in the butttttttttttttt.....

Nothing to see here guys move along....Two guys talking having coffee talk in China.

The headline doesn't make much sense.. Steve Elop isn't a Nokia employee or CEO anymore. He moved to MS when the Nokia/Microsoft deal was annouced . I don't quite see his connection with Nokia 's offices/plants in China because he is no longer with them

Elop is still a Nokia employee. The deal has not gone through yet and wont be finalized until 2014. He stepped down as CEO and is now an executive vice president of the Nokia Devices & Services division. Once the purchase has been finalized, he will become a Microsoft employee (Executive Vice President).

No he is not, here is a press release from Nokia when the deal was annouced

Nokia Board of Directors
To avoid the perception of any potential conflict of interest between now and the pending closure of the transaction, Stephen Elop will resign from the Nokia Board of Directors effective today.

here is another from MS

1. Stephen Elop will be coming back to Microsoft, and he will lead an expanded Devices team, which includes all of our current Devices and Studios work and most of the teams coming over from Nokia, reporting to me.

Elop is now a Microsoft employee and will head the newly acquired division when the deal is approaved . Well it's all confusing .. according to Ballmer also According to Microsoft's CEO Steve Ballmer, Stephen Elop will now go from an external candidate to internal candidate for the position of CEO. Microsoft's board will continue to look at all candidates equally he added.

...but i reckon there is some form of handover - and if nothing else, elop will have knowledge of this that will be of benefit to ms

Un, no he's not. Yes Elop did resign from the Board of Directors, but he is STILL a Nokia employee. The EVP of Micorosoft deal is only contiengent when the deal does get approved. NOT before. Taken from Nokias website: http://www.nokia.com/global/about-nokia/governance/leadership/nokia-leadership-team/
As of September 3, 2013, Risto Siilasmaa assumed an interim CEO role for Nokia while continuing to serve in his role as Chairman of the Nokia Board of Directors. As part of his interim CEO role, Mr. Siilasmaa will, among other tasks, oversee strategy and have four direct reports: Michael Halbherr, Executive Vice President, HERE; Stephen Elop, Executive Vice President, Devices & Services; Timo Ihamuotila, Nokia CFO an

Correct. Being a Director or a Member of the Board of Directors doesn't mean being an employee. Elop is still a Nokia employee and will stay there until the Microsoft acquisition is concluded in 2014.
FYI: Nokia is no longer a Finnish company. They're now a Chinese company and have moved most of their people to Beijing.

I've heard the weather is nice in China this time of year.

If you consider brown sky full of carcinogenic particulates as nice. It's a fake country stolen from Taiwan by communists that its citizens treat as a giant dumping ground for pollution and disease. You can stare directly at the sun there, the pollution is that thick.

Nokia and Microsoft need to exit China as soon as possible. At least they are closing their "R&D" (should be called C&P)branch, and firing all their staff, this is great news.


FYI: The Chinese word for "bull" is "gongniu" (公牛). You should remember this as a lot of people will be using it in discussing your comment. Another Chinese word you might like to learn is "shazi" (傻子).

Fake country stolen from Taiwan? I don't even know where to start...

Haha, China's not real! I made it up!

(Just in case it's not too obvious, I was being sarcastic)

Anyone ever think he is also giving Elop the heads up to being the CEO?? Its a possibility...

Can anyone enlighten me as to what the name "wpdang" means to the Chinese? The WP is obvious, but it's such a prominent site with great Intel that I wonder what it means?
And I wonder if they know it sounds like a Southern US Good Okd Boy just watched me using my Lumia while struggling with their cheap Android phone: "WP? Dang!:

Dang in Chinese is a romance spelling of "党", which means political party, WPDang in here refers to a group of people who's on the side of Windows Phone, as you call it, the WPER

Thanks! I've been wondering about that. I guess I'm a WPDang'er :D

People wishing bad luck.....tha deal is going tu happen soon

They could take the chance and just...jump from the top of the Great Wall. Nokia and the World would be thankful...

Wow. Pretty damn low to be urging and wishing that they would commit suicide. Overreact much?

Well, one can wish whatever one wants. Besides...I didn't said I wanted them to commit suicide. I said jump from the Great Wall. There are zones where they wouldn't die...
Ok. Balmer may not actually deserve it. But Elop, yes. I wish he was gone from this World. Let him go ruin companies to Hell.

DJCBS you asshole, stop wishing death to others like a terrorist. Your delusion and hatred won't stop the Nokia-Microsoft deal.

Steve is going over there to give Stephen the keys

Hey will the people from Nokia who talk to developers and convince them to make a WP app stay after the Microsoft deal?

I hope all Nokia personal get to stay. There obviously doing all the right things in current form so MSFT need all of em to keep up the Nokia quality and development. But what do i know, soundslogical at least.
Windows Central Newsletter
Thank you for signing up to Windows Central. You will receive a verification email shortly.
There was a problem. Please refresh the page and try again.