Stress Scale Calculator, a Windows Phone app that measures your potential for illness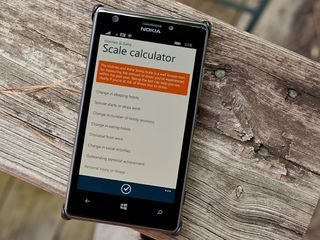 Stress Scale Calculator is a Windows Phone app designed to measure your potential for illness based on several stress factors in your life. Stress affects our health, moods, and general fitness.
The app is extremely simple and is based on the Holmes and Rahe stress scale (more on this in a second) that presents you with a series of stress factors. The more stress, the more risk of illness.
While the Stress Scale Calculator may not be your typical Windows Phone app to be highlighted during Fitness Month, identifying areas of stress may help your overall health and welfare.
Psychiatry meets Windows Phone
Psychiatrists Thomas Holmes and Richard Rahe examined the medical records of over 50,000 patients in an attempt to determine whether stressful events could have caused illnesses. Patients were asked to identify from a list of forty-three life events that they had experienced. Each event was scored with a positive correlation of .118 was discovered between their life events and their illnesses. The Holmes and Rahe Stress Scale was born and has been supported through additional studies over the years.
The Stress Scale Calculator delivers the Holmes and Rahe Stress Scale to your Windows Phone in uncomplicated fashion. You are presented with the forty-three stressful events that include marriage, retirement, death of a close friend, foreclosure, child leaving home, divorce and more. All you need to do is tap on the event you have experienced and tap the calculate button at the bottom of the screen.
Each response carries a life change points score that ranges from 11 to 100 with your cumulative score determining your potential or risk of illness. A score of 300+ points is considered a high risk of illness while anything below 150 points is considered a slight risk of illness. As you might expect, scores between 299 and 150 points is considered a moderate risk.
Overall Impression
The interface with Stress Scale Calculator is simple and while the concept may seem a little far-fetched, the test is scientifically backed by research. Just keep in mind that the test will show your risk and not a guarantee that you will fall to illness.
Whether or not the risk of illness comes to fruition, the Stress Scale Calculator may also help you identify areas of stress that could be eliminated to improve your overall health and reduce the risk of illness. Again, this may not be your traditional fitness app but could help you identify stressor that may be hindering your fitness quest.
Stress Scale Calculator - Windows Phone 8 and 7.x - Free - Store Link
Windows Central Newsletter
Get the best of Windows Central in in your inbox, every day!
George is the Reviews Editor at Windows Central, concentrating on Windows 10 PC and Mobile apps. He's been a supporter of the platform since the days of Windows CE and uses his current Windows 10 Mobile phone daily to keep up with life and enjoy a game during down time.
My score is probably through the roof, so much school stuff to finish I'm going crazy...

The same :/ I'm in depresssion half a year and I would like to end it up

I've suffered with depression so I know how you feel, it's not a good thing and stops you from doing the things most normal people do.

Dont be so hard on yourself, okay?

Woohoo I've got only medium to high risk of getting ill 250+ points :P

I don't feel it. The options are very limited and this should tell me whether I'll get sick or not? A lady reading hands is just as good at that. Hell, I'm just as good at that by simply asking how stressed somebody feels. And this will even consider that not every person respondes the same to stress.

I did not get admissions to any of the grad schoold I applied. 6 out of 6 denied. I don't need any stress calculator.

That happened to me the first time I applied to PhD programs after completing my Master's degree (turns out that my proposed project had already been completed, which apparently was too much for the four people I asked to review my proposal to mention). The upside of the forced year off was that it made me reflect on my life choices and helped me realize how much I wanted to do a PhD in my field. In retrospect, being denied admission was one of the best things to happen to me.

Stress, everybody has in today's fast paced life. How we cope up with it, is up to us.

Most of this article is about the underlying science, so I think some comments about "what does this test really mean" are in order. Firstly, the sentence "Each event was scored with a positive correlation of .118 was discovered between their life events and their illnesses" does not really make much sense. What was discovered is a linear relationship between the cumulative score and the number of illnesses. It's important to point out that 0.12 is a fairly marginal correlation coefficient; a plot would at first sight look very random. Secondly, the screen shot states that "you have a high to very high risk of becoming ill in the near future". Hell, no! You may have an elevated risk (again, very marginally) of illness at a higher score compared to a lower score, but what you care about is the absolute chance of illness (i.e. "how likely am I to become ill?") That absolute chance is not determined by this test but rather by completely different factors - fitness, genetic predisposititon, and so forth.

This app is stressing me out.

Is Engineering an option there or not on this app!That alone is enough!

How does someone manage to get a low score? I've taken this four years in a row and got above 300 every time.
Windows Central Newsletter
Thank you for signing up to Windows Central. You will receive a verification email shortly.
There was a problem. Please refresh the page and try again.