Strike Wing: Raptor Rising – Deep Space adventure on your Windows Phone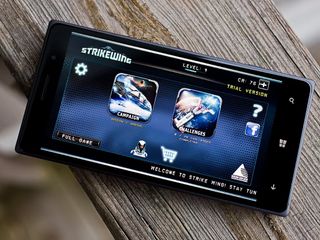 Strike Wing: Raptor Rising is an action packed, feature rich space combat game for Windows Phone. The game puts you in the cockpit of a wide range of space ships where you'll do battle with the enemy.
Available for low-memory Windows Phones, Strike Wing features two gaming modes, plenty of upgrades, user-friendly controls and eye pleasing graphics. Strike Wing: Raptor Rising is an appealing Sci-Fi game to add to your Windows Phone library.
Your main menu with Strike Wing offers up options to access the game's settings, jump into game play, view your gaming profile and your current gaming level and game credits will be displayed across the top of the main menu. Settings for Strike Wing include sound/music levels and choosing your steering control options, which includes either an on-screen joystick or using your Windows Phone tilts sensors. Your results may differ but I found the tilt controls work the best. It gives the game a more natural and realistic feel by tilting your Windows Phone to control the ship. The on-screen joystick works but having a thumb constantly on the screen to steer the ship takes away from the graphic quality of the game.
The two gaming options include a story based Campaign Mode and a Challenge Mode that includes 28 missions. With slight deviations, game play with both gaming modes is the same. You do have dialog boxes with both modes of play, just more chatter with the Campaign Mode to tell the story.
While game mechanics isn't overly complicated, the first mission in the Challenge Mode is a flight training mission. This challenge will walk you through the basics of flight and offer weapons orientation.
Game Screen
The gaming screen for Strike Wing has a collection of on-screen controls for your weapons and engine turbo. Your shield and damage meters sit at the bottom center of the screen and red arrows appear around your targeting circle to note the direction enemy spaceships are.
Mission objectives will appear occasionally in the center of the screen and friendly ships are indicated by a blue arrow that will rotate around your targeting circle. If your mission includes a way point, it will be indicated by a purple triangle on your gaming screen.
Missions vary from destroying all enemy space ships to destroying enemy base ships to capturing enemy transports. Some missions will have a pre-selected ship for you to pilot while others will allow you to choose your ship. Should the missions in the Challenge Mode seem too easy, you can always flip the switch before entering game play to set the difficulty to hard mode.
Power-ups will become available for purchase with the gaming credits you earn during game play. These power-ups can be equipped prior to missions that will quicken repairs, give your shields a boost and other bonuses that will increase your chances of survival.
Game Play
Game play was fun. Again, the more enjoyable flight experience was with using your Windows Phone tilt sensors. The developer did a nice job with the animations and graphics to give the game a nice in-flight experience. Don't be surprised if you find yourself leaning into turns as your spaceship zips through an asteroid belt or dodges enemy fire.
I would have liked to have seen haptic feedback when the weapons fire or when you are hit by enemy lasers but the sound effects help make up for things. Speaking of weapons, there appears to be a bug that kicks in from time to time where your weapons fire repeatedly. At first, this doesn't seem to be too bad of a bug until you see the "low energy" warning appear and you realize you are about out of ammo.
As you complete missions and challenges, you will earn gaming experience and credits. Seeing your gaming experience grow will make ships that are more powerful available. Credits can be used to buy power-ups and those additional spaceships.
Overall Impression
Strike Wing: Raptor Rising is an entertaining space combat game. Graphics and animations are well done, gaming controls are user-friendly and responsive while game play is challenging enough to keep things interesting.
I do like having the ability to boost the difficulty of the challenges to give the game a little more bite. As a bonus for Windows Phone gamers, Strike Wing has three fighters and five challenge missions that are exclusive to the platform.
Other than my fire button sticking from time to time, I didn't experience any glitches or bugs with the game. And while the stuck weapons button can be annoying, it is not a critical issue.
Strike Wing doesn't have many reviews in the Windows Phone Store but they do average out to a 4.5 Star rating. The game does have a trial version that will let you play the first few missions in either the Campaign or Challenge Modes. Just enough gaming to get you hooked.
George is the Reviews Editor at Windows Central, concentrating on Windows 10 PC and Mobile apps. He's been a supporter of the platform since the days of Windows CE and uses his current Windows 10 Mobile phone daily to keep up with life and enjoy a game during down time.
Size? It seems to weight only 54MB, so it's not much. Moreover, you have a trial to see if it fits your taste or not.

The price of a decent cup of coffee. c'mon

Raining games these days :')

Good game, but small text size hard to read :(

Feels like Homeworld....but it's not

Thanks for the heads up, this looks good.

I have this game and like it. I got it on sale on black Friday. Edit: Did someone's comment get erased?

Yes, at least 2 messages: one of a guy complaining that the game was out on the 12-02-2014 and Windows Central was late to announce it, the other one was mine, in which I wrote that the game was clearly on par with Wing Commander, XWing and other FreeSpace (and I have clearly no idea why my message was deleted).

Beautifull paid game without IAP.. I must be dreaming.. DOWNLOADING RIGHT NOW !

I might buy this merely because it's not F2P.

Reminds me of starwing on the snes... Might download that on my phone or the N64 version on the laptop. Both great games

I'll try it.. And will probably buy it. Heck for 3 bucks, its worth it just to show support for the developers!

Hey guys. I'm one of the devs behind the game. First, many thanks for the review :) Second, we're keeping an eye for any potential issues and suggestions that may appear, so feel free to contact us via twitter or the links that you can find in the game. Enjoy!

Just downloading trial now, and if meets expectations I'll defo buy. Any chance you'll develop this for W8? Really could do with a great Space Sim that will work with Joy Stick. I think you could make a killing with this ;)

Well... for Windows you already have Elite and Star Citizen incoming :) As for controller support, the game has that built in.. so if Microsoft ever decides that gamepads are a good idea for Windows Phone, it should be trivial to implement :)

For next version, just change the spaceships to XWing and TIE Fighters and you could propose your game to Disney/LucasFilms :D But well done!

Universal app with onedrive backup please. Oh, and love the game.

Looks nice, but we need Galaxy on Fire!

I agree with you it would be nice to have also Galaxy on Fire.

The game looks good. I'm going to have to download it to see how it plays. The only thing it's really missing is Xbox live integration. Hopefully, Microsoft will put more of a focus on that and exclusives in the near future.

Technically Xbox Live integration requires a certain type of configuration that we didn't get access to when we signed on with Microsoft. It was in the plan, but it was really out of our hands.

Well its easy to pay 3 bucks there in usa but in India it costs us rs260 ...damn

Thank you for signaling this. We'll try to adjust it on the next update.

If you read up there a bit it sounds like the developer wanted it, but weren't able to implement due to restrictions in the signing process. Can't very well penalise a developer for Microsoft's misstep.

Can't download on my L925

Any error message? For my 925, everything was smooth.

Chapter 1 is over now, where's chapter 2? Seems too small a campaign as I finished it in two days if so much. Or am I doing something wrong?
Windows Central Newsletter
Thank you for signing up to Windows Central. You will receive a verification email shortly.
There was a problem. Please refresh the page and try again.