Surface Duo and Surface Neo may not support 5G when initially launched
5G support might not be included with the first generation of Surface Neo and Surface Duo devices.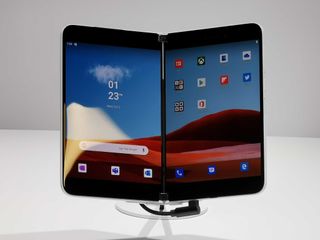 (Image credit: Windows Central)
What you need to know
The Surface Neo and Surface Duo may not have 5G support when initially launched.
Microsoft is working on bringing 5G support to the devices in the future.
Panos Panay also states that the first generation of the devices will have good cameras.
Panos Panay spoke about the upcoming Surface Neo and Surface Duo at an event in Berlin yesterday (via WinFuture). At the event, Panay spoke on bringing 5G to the upcoming Surface Neo and Surface Duo and mentioned that the first generation of the Surface Duo will have a good camera.
Based on the report from WinFuture, the first-gen of Surface Duo and Surface Neo will likely support LTE advanced, but 5G support likely won't come until future devices. Panay explained at a panel discussion that there is an ambitious roadmap to introduce 5G devices. He would not comment on any specifics, including on if the first generation of the Surface Neo and Surface Duo will support 5G.
There's a chance that the Surface Neo and Surface Duo could initially ship while supporting 4G LTE, and then a version that supports 5G could be released later. Microsoft has released versions of Surface devices in the past without 4G LTE support and then later released versions with support for 4G LTE, so it wouldn't be an unprecedented move. That is, however, only speculation at this point.
What do you think - do the Surface Neo and Duo need 5G to be successful?
News Writer and apps editor
Sean Endicott brings nearly a decade of experience covering Microsoft and Windows news to Windows Central. He joined our team in 2017 as an app reviewer and now heads up our day-to-day news coverage. If you have a news tip or an app to review, hit him up at sean.endicott@futurenet.com (opens in new tab).
If the hardware supports 5G, and it should, then Microsoft should be able to provide a software update if 5G isn't initially implemented.

I'm ok with it not supporting 5G when they come out this time next year, because I doubt 5G will be widely available, and that saves around $200-300 USD.

I think it depends on which carriers buy in. Odds are AT&T will, as they will sell anything, and they are promising to have 5G nationwide by the time the Duo launches. Verizon will have nationwide 5G at the same time. So, unless Microsoft intends to launch on a smaller carrier, 5G is a must for a device that launches in late 2020 with an expected three year lifespan. As for the Neo, that's neither here nor there. As with most laptops, not sure how many people need 5G on it.

Even the most aggressive estimates for the US have 5G covering less than 10% of the population 3 years from now. The primary benefit of 5G for high density events is offset by wifi6, so it's kind of a wash.

Goldman Sachs recently upped their estimate of 5G device sales in 2020 to 120 million. Seems like way more than the 10% you're claiming, can you cite any sources? https://www.rcrwireless.com/20191001/devices/2020-sales-5g-devices-120m

Sales of devices have little to do with coverage area, especially when that becomes the standard of device. Sure, number of users drive the push for coverage, but this is based on sheer umber of users in an area period. 5G coverage is purely driven by carrier investment of new towers. These will be in the major metropolitan areas first. Rural areas may not get it for a decade.

Considering there will be virtually no practical use for a device's 5G support in the foreseeable future...hot air from carriers notwithstanding...I think the surface devices are gonna be fine in that department.

Uh, game streaming? Actually having usable internet in any kind of crowded environment?

Game streaming would kill your data cap fast. Wifi will be the best option for some time to come and even that will kill 1tb limits too quickly

Game streaming to where, exactly, the most expensive seats at football game? 5G can't even cover a stadium reliably, let alone any other crowded event or your own home. No phone supporting 5G is going to get any viable practical use out of 5G for years yet.

5G is such a weird technology advancement right now because it requires way more infrastructure to get coverage. They have been popping up 5G antennas all over downtown by my work, and it's almost like they need one every couple of blocks. That's a huge undertaking to get 5G adoption. It will probably be 3-5 years before we see useful 5G services.

I still feel that 5G on a mobile device like a phone isn't essential or, in most cases, beneficial. I'm already able to stream 1080p video on my phone. There's not a task today that I do on my phone where I'm like "I need more speed!" Until there's an obvious use case, I'm totally fine with 1st gen passing on 5G.

No big problem with that, especially for a Gen 1 product.

Considering it's a year out, I can't say if I'll be interested in 5G at that time. I honestly don't think I'll need it for quite some time, but will hold out judgement as time goes by.

I care way more about the camera than 5G

Me too, and I care more if it will be available at all major carriers as well. Marketing, and availability, are the most important things to be considered about here.

I think people are forgetting tech blogs. It is not a matter of whether it is viable (coverage) or necessary (do you really need more speed/throughput). The reviews will highlight the critical deficiency of not including 5G. Same as not having TB on USB C on your laptop.

The Surface Duo's marketing would profit from 5G because XCould could run easier.

Data caps say nope. Wifi ftw

This is a shame, just because America is slow at adopting 5G doesn't mean the rest of the World is, Plus these are devices that should last a minimum of two years, so are they trying to tell us that 5G still isn't going to be viable in 2022? I find that hard to believe, especially in the major cities. And given that xCloud would GREATLY benefit from those increased speeds it seems illogical for Microsoft to ignore it. It's still a year out though, so who knows, maybe they'll add it in.

Not an issue with that if the device is to ride from October 2020 until October 2021.. But, when October 2021 comes around the second generation better have it. News about the Camera is good.. Hopefully it's better than just good, though.

Big yes, neo and duo will have a giant leap if it is in 5G.

5G isn't a deal breaker for me, and I don't think it's a necessity at launch. However one thing that is a deal breaker for me personally is a fm tuner. The FM tuner is a must have for my mobile device.

Terrestrial radio is unlistenable. Every hour is 40 minutes of commercials and 20 minutes of bad content.

Not in Britain, we have the BBC, living in California most of the time, you learn to appreciate what you've lost, thank goodness for TuneIn.

Surface Duo will not be sucessfull in any way, it´s just another android device, like many others, with all of these limitations and bad usability. Neo for sure can prevail, except if the genious in MS abandon the OS in favor of android, Linux etc.

To be honest, 5G needs to mature first and secondly... there are quite of few legal hoo haas going on about installation of 5G on lamp posts so that will delay the roll out a fair bit. Additionally, it has to solution that is both economically viable and not damaging to people's health. There were 26,740 signatories around 2018 against the ubiqitious plan of 5G.

"What do you think - do the Surface Neo and Duo need 5G to be successful?"
The Duo thing needs to have Windows 10 or W10M on it before I will even consider nearing it. I want Windows 10 Mobile phones to be shipped again and then I want to see a more aggressive and solid take on making apps for Windows 10 phones. I wish to see a much more brave and aggressive Microsoft that actually believe in their own technology. A Microsoft that wish to make their own Mobile ecosystem and believes in it.
Windows Central Newsletter
Thank you for signing up to Windows Central. You will receive a verification email shortly.
There was a problem. Please refresh the page and try again.