Surface Hub used during Ferrari's 2016 Formula 1 press conference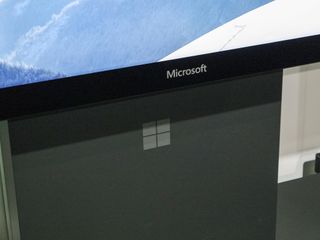 Microsoft's big Surface Hub touchscreen PC is once again being shown off to the public. While Microsoft has still not officially announced that it has begun shipping the Surface Hub, one of them was used today as part of Ferrari's 2016 Formula 1 press conference.
The press event was designed to introduce the 2016 F1 racing team for Ferrari and its new SF16-H. The Surface Hub is seen throughout the press event, and is actually used starting at the 5:20 minute mark in the video to point out several aspects of the new car by drawing on an image of the racing vehicle. At the end of the video, the members of the Ferrari F1 team sign their names on the Surface Hub.
Microsoft's latest PC was shown in action earlier this week as part of the revamped news studio for the KING TV station in Seattle. Microsft started taking pre-orders for the Surface Hub in mid-2015. Originally the 55-inch version was priced at $6,999 while the 84-inch version cost $19,999. However, in late December Microsoft boosted the prices for both models, with the 55-inch Hub now priced at $8,999, while the 84-inch version getting a price tag of $21,999.
Thanks to Federico for the tip!
Source: ATAHD (YouTube)
Microsft started taking pre-orders for the Surface Hub in mid-2016 -> 2015. :) Good to see some people finally getting it though.

BTW the SF16-H is damn cool. GG Ferrari & Microsoft

It's Hammer time again. Looking forward to March 18th.

Damn right it is ; #TeamLH Posted via the Windows Central App for Android

Best not be- Hamilton is a bit of moaner unfortunately. I'd rather see Jenson winning, but very unlikely with the Honda engine.. If not Button then hope Vettel or Rosberg get the title. Anyone but Hamilton!

Hamilton is a moaner, what are u talking about Lemon? bet you wished you had a fraction his talent.

I'm talking the truth number 2. He moans like a sore loser when Rosberg beats him, which is every time they are on equal terms. Everyone knows Hamilton is favoured far more than anyone before him, it's an open secret. So quit your moaning (like your idol should) and just get on with it.

Wrong board have this discussing you Lemon...

Team Merc will rule again this year!

Not really sure. Ferrari can do it, this year. IMO, we're going enjoy a nice season.

There'll be no stopping the Windows 10 juggernaut folks! And there'll be no stopping the Mercs this year either :D

I was wondering if it was a surface hub or a bigger 'skypad' because James Allen was doing the anchor

Every sports association should have such big smart boards.

The problem is, people won't even realise it is a surface hub! It just look like any large monitor. Microsoft does not have an irritatingly large, conspicuous and glowing logo to scream in people 's face telling them it is Microsoft. The Surface needs a better marketing!

glowing squares on the bottom would be nice! however, its possible that it's some kind of a prototype :)

Glowing square Microsoft logo at the bottom bezel would be great, or even just a Microsoft text glowing is good enough (since it doesn't require the bezel to be bigger). I think what they should at least do is give some guidelines while presenting with Surface Hub to the presenters to always call that hardware "Surface Hub". Even with just that, it helps alot with repetition, it will ingrained to viewers mind subconsiously. Just like how people nowadays associate tablet calling them iPad. Microsoft have a good oppurnity to make Surface Hub a household brand for digitial whiteboard even though its not yet for consumers. So far the Surface brand is actually at least improved that I occasionally hear Surface from radio, TV ads and even some computer shops where they categorize Surface seperately from other tablets. Some sites sort it like Tablets, iPads and Surface.

Why should people need to know its from Microsoft, that just doesn't make sense, its made for presenting withe Windows 10 as its signature not Surface. I'm really sick of everyone saying MS marketing is the worst. P.s they know what they are doing. Microsoft is ran by multiple skilled professionals not just one team. Does Sony, Samsung, Sharp, or even Apple have glowing distractive logos on the front of their screens/tv? No.

I watched the live stream of that conference and I thought that I spotted the MSFT badge on the monitor. Now know why

That translator needs to move the mic away from his mouth a little. My eardrums are popping.


That reminds me about how Surface it is being seen as a brand and I am just saying that Surface phone should take advantage here

Well when your Ferrari you too can get a Surface Hub.
Windows Central Newsletter
Get the best of Windows Central in in your inbox, every day!
Thank you for signing up to Windows Central. You will receive a verification email shortly.
There was a problem. Please refresh the page and try again.