New third-party mobile banking app for Swedbank is now available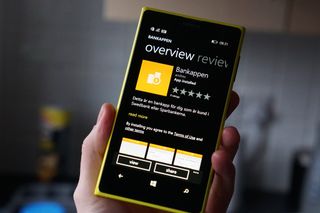 A new third-party Windows Phone app has been released for Swedbank. The approved app, developed by André Claesson, is for those who have an account with the Nordic-Baltic banking group Swedbank. Bankappen enables account holders to manage their finances while on the move, opening up access to balances, transfers and more.
Here are some app highlights, according to the Store listing:
Review finances
View account history
Transfer funds between accounts
Pay invoices on the go
Manage recipients for transfers and payments
It's positive to see yet another bank add support for Microsoft's mobile ecosystem, albeit in the form of approval for a platform developer. Just like similar apps from other banks around the world, expect to see basic functionality available after installing to help you get connected when not in front of a PC.
Thanks, Robert, for the tip!
Windows Central Newsletter
Get the best of Windows Central in your inbox, every day!
Rich Edmonds was formerly a Senior Editor of PC hardware at Windows Central, covering everything related to PC components and NAS. He's been involved in technology for more than a decade and knows a thing or two about the magic inside a PC chassis. You can follow him on Twitter at @RichEdmonds.
Thank god (swedbank)! This is the first bank app for windows phone in Lithuania

*Thank God Developers..!!

Hopefully.. The first of many to come.

Nope, Siauliu Bankas have their own apps about month

You do not have SEB app in Lithuania?

This app is only for scandinavia :(

Looks like it only supports the Swedish Swedbank and none of the Baltic branches. In Estonia, Swedbank has a very decent mobile website though, pretty much identical to the apps.

Approved or not, I don't think I would use a third party banking app.

Waiting for banks apps here in Saudi Arabia.
Actually we have some, but they're just a copy of Android's apps

Lets not wait. Lets ask them directly.
http://forums.windowscentral.com/windows-phone-8-1/331993-requested-app-...

Everytime wincentral its my toast notifications, m. Bison yells YES!

Sannnnntannnnnnnndeerrrrrrrrrrr.

Yes Santander, its f****** 2015, have a bloody heart and give us an app ffs. I think we have enough market share to earn one.

This is a BIG move from Swedbank.. I'm personally with Nordea but they pulled their app last year due to low demand.. Many, including me, have been complaining on Facebook about it. Last time, they said they have a solution for WP in the works for sometime this year.. I don't know if I believe this enough to be excited but having your bank's app in Sweden really makes things easier and better.

Lol, här i Finland funkar Nordea appen klanderfritt. En av de bättre

Visst. Nordeas app i Finland är utmärkt. Jag har berättat för dem att de bör kopiera den appen för Sveriges Nordea!

Det lustiga med "low deamnd" kommentaren är att dom kan inte ha läst recensionerna på sin egna app. Var nästan 1000 kommentarer och alla sa typ "skit app, gör en bättre". Så om det var lågt användande av appen kaaaaanske vi har nått på spåren.

This is not a big move from Swedbank, they have nothing to do with it. It's a 3rd party app... If you like the app, you can thank the developer, not Swedbank...

Finally! I tested it a bit and it seems to be working adequately. Works nice with the mobile ID app here in Sweden also.

SEB, Swedens most modern and futuristic bank hasnt released an app yet. And they are moving away from physical offices and towards mobile solutions. That's crap!

I also have SEB. I contacted them a long time ago and they said they were going to release an app very soon...this was in 2012 :-( CRAP!

SEB stated on their facebook page recently that they have abandoned any plans for a WP app. The had to re-prioritize...........

The app is not developed by swedbank, but approved and uses their official API. It's developed by a windows phone fan. But a nice move by swedbank to let it be published.

I was happy for a second, cause at first sight I thought it was an article about Snapchat coming to WP =(

"It's positive to see yet another bank add support for Microsoft's platform"
As far as i can see this is not a official app, its made by a third party. And I gotta say I have a hard time allowing those access to my bank..

Thank ypu Swedbank! I love you!

Nice now where's the one for hsbc

Great app, but please update this news post to credit the creator: Swedish user and developer André Claesson. Swedbank has nothing to do with this, other than making the API available. Fact of the matter is that Swedbank recently shut down their mobile web, totally abandoning their WP user base. This is purely enthusiast work, which imho makes it way more newsworthy! Edit: Sorry, saw that the post is updated now. :)

Exactly! All credits to Andre Claesson.

App certainly works fine. Problem is, it is not official Swedbank app, unsupported by bank. By use of it, user decides oneself to give access to own account to third party developer and possible security breach.
I would gladly see official apps, if about banking, financials and access to personal data.

Wow. The only app I was missing from my iPhone days

Just a heads up from Swedbank Swedens Facebook account: Vi står inte bakom denna app utan avråder som alltid att lämna ut sina inloggingsuppgifter till någon tredjepart. Det beror på vi inte kan garantera säkerheten i några andra appar än våra egna. Translated:
We are not behind this app, and we are, as usual, recommending our customers not to disclose any login information to a third party. This is because we cannot guarantee the security of any other apps than our own.

Update More from Swedbank support on Facebook (translated version below) "Hej igen! Nu har jag kollat upp detta lite mer och det är precis som jag skrev tidigare att vi inte godkänt den här appen. Vi avråder starkt att man använder andra appar än Swedbanks egna appar då säkerheten inte kan garanteras annars. Det beror på att du ger ut din kod till någon utomstående som då i sin tur går in i din Internetbank och hämtar information som bara du ska ha tillgång till. Appar som du gett tillåtelse att gå in i din Internetbank kan även störa din egen möjlighet att logga in i Internetbanken. Jag hoppas du och andra Windows Phone ägare har tålamod tills vår plattformsoberoende lösning kommer nu under 2015. Ha en bra dag! " English translation: "Hello again! I have now looked into this a bit more and it's just as I wrote earlier that we have not approved this app. We strongly advise against using other apps than Swedbank's own apps as safety cannot be guaranteed otherwise. This is because you give your PIN to a third party who in turn gets access to your online banking and retrieves information that only you have access to. Apps that you have given permission to access your online banking can also interfere with your ability to log into the Internet Bank. I hope you and other Windows Phone owners have patience until our cross-platform solution is released in 2015. Have a great day!"

Third-party and banking are two words that should never be used together

Sure, it's a third party app, but I assume it's using a web API, so it's basically a customized web browser. Funny thing is that Swedbank says they're going to a platform independent solution. Sounds like mobile web to me and as long as Swedbank doesn't provide the browser that means that ALL clients will be third party.

well they have giving him approvall to use there API so i dont think its unsecure and you dont have to use a pin code anymore if you use mobil bank-id that swedbank wants you to use.. Or you can maybe use that security code that you can only use to transfer money between your own accounts on..

I will give my lesser half a heads up, she's been waiting for this. Thanks!

@Rockartisten:
Does she really deserve the heads-up, if she's only your LESSER half?
Does Sweden allow polygamy by the way?

If she's only your LESSER half, she might deserve a head-butt instead.
I'll show myself out...
[Disclaimer: I don't endorse any form of violence. My previous comments where only about wordplay.]

Maybe she needs all the help she can get?

@Rockartisten:
You can certainly decide better than me... ;-)

Only a moron would use a third party app for banking and if they got conned it should be all on them for being so stupid.

Then there are lots of morons out there, since almost everyone uses third party browsers for internet banking. The app uses official API:s, there's nothing it could do that couldn't be done by a common browser with malicious addons.

Where was it conceived?
In a swed-shop?

Ok, so the app has been on the market for a day (?) and it already has 42 ratings with an average of 4.9. And all the other banks in Sweden sais none uses banking apps on Windows Phone.... In any way, I would never trust a third party banking app. Just hope this gives the banks some fuel to make something better of their own.

Thrid party banking app?? And windows central is actually promoting it? Have you lost your mind?

I published on for TD bank and after few weeks their lawyers contacted me to remove it. I offered them the code and ownership and they refused and demanded it be removed from the store. Wonder if this bank going to do the same?