Swedish Meteorological and Hydrological Institute releases Windows Phone app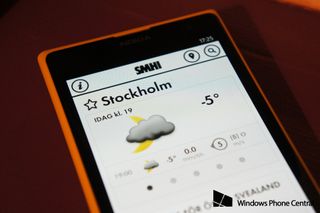 The Swedish Meteorological and Hydrological Institute (www.smhi.se) has launched an official app for Windows Phone. Due to levels of demand displayed in Sweden, the SMHI app is now available in the region (the only supported language is Swedish). While the app itself appears to be rather limited in advanced functionality, it's an official offering and a beta at that.
The SMHI app provides weather data and information for locations you're currently at, but not only at local areas supported, you can also search for locations worldwide. Weather warnings published for Sweden can be accessed from within the app, with alerts shown for any searched area (support for Sweden only).
While weather reports are available for the current day, data for how the weather has been in the past can be loaded in the form of calculated values. Differences observed between dates can also be displayed for a closer look at how the general weather has advanced.
If you're after information regarding the rainfall, radar images are available for the Nordic region covering the last six hours. These images can be viewed as animations to monitor exactly how the rain and any lightning is advancing across the region. Utilising the SMHI forecast database, you can be sure the data is accurate and trustworthy.
Unfortunately, as noted above, this is a beta and as such there's some functionality missing, including live tile support. For an initial version, it's a solid app worth checking out should you wish to check out the latest weather reports in the Nordic region. That said, there are numerous weather apps available for Windows Phone (seriously, we've covered many apps on-site).
You can download SMHI from the Windows Phone Store for free. Let us know what you think of the app in the comments below. Thanks, Zaki, for the tip!
Rich Edmonds is a word conjurer at Windows Central, covering everything related to Windows, gaming, and hardware. He's been involved in technology for more than a decade and knows a thing or two about the magic inside a device chassis. You can follow him over on Twitter at @RichEdmonds.
I'm tired of these Swedish exclusives.
News flash Microsoft, there is a world outside of Sweden!

What's funny is that people outside the US have been saying that about Microsoft Products for years.

What are you talking about? This is an app by a Swedish entity. If you're looking for a particular app then contact that company instead of bitching about MS all the time.

Probably just a dumb troll.

+1 Why would you want a Swedish weather app outside of Sweden anyway.

Swoosh... That's the sound of a joke passing you by.

Bahahaha, I think people are missing your point.

Or they've taken his point and are running with it. ;) (Probably not)

People should just chill out and enjoy a joke every now and then.

Chill? People on this forum? That's hoping...

Good one, some have fallen for it.

Good functionality but the way the back button works is a disaster.

This is a must have for Swedish people like myself. Thank god they actually released an app! I hope they make a double-wide tile soon. The gaps in the app market continues to fill up. :)

Yes and it can't be run in the background either, but this is only the beta.

YES! Finally! Great for a beta.

Surely no competition for Weather To-Go, especially with your new and improved Swedish texts? ;-)

Indeed. I hope more people get to use and love it now. Some great work there. :)

Thanks to you. I got the changes in the last update the other day. Very pleased.

Shake My Head...Immediately?

Grattis til naboene, kommer nok neppe her. Tviler sterkt på at meteorologisk institutt vet hva en mobiltelefon er... ;)

Looks a lot like an iPhone app

Moved to Sweden months ago, seen countless iPhones on the streets but to hear there's demand for Windows Phone apps makes me happy. Will download and appreciate this.

I think it depends on where you live. I live in Eskilstuna, and there's actually a lot of Lumias running around here. And more they get, cause I'm trying to convert everyone I know. So far my fiancee, her cousin, and a couple of guys at my old job :P

I'm far south from your location, near Hässleholm. iPhones all over the place.. I don't have any Swedish friends I can convert yet. :/

I have seen many here in Uppsala, but many have got them by MS as developers. I have finally convinced 75% of my family to get one. But it is a little bit hard when people ask for apps like the UL app (Upplands lokaltrafik) which is only avalible for iOS and Android, but then I showed them Here Transit. My advice is to convince people is to show the Nokia apps, the people hub and the metro style and tell them that +is always add/new in most of the apps for wp.

Well said, good sir! I too like the Here family. Here transit worked wonders in London for example. I had an app for the subway alone, but deleted it after trying Here transit. You can also see most of the trains in Here maps!

That's all fine and dandy but honestly I couldn't care less about SMHI notoriously inaccurate weather forecasts. Now for something completely different, it would be nice if Sweden's largest bank, Swedbank, could get their thumbs out of their asses and developed a Windows Phone app. Drives me fucking nuts to use their webpage all the time...

Haha keep on dreaming. Swedbank doesn't care. When WP7.5 was released with Swedish support I demanded one, and about a year ago they said "Coming soon", and just the other day I got that its not even considered. So yeah. Might I suggest Bankhubben for easy balance checking? :P

Yes the overall experiance is that most banks, companies and agencies don't care. But I think it would be harder for Swedbank when this list decreases http://www.idg.se/2.1085/1.444346/tunga-aktorer-nobbar-windows-phone

Arla Appen disappeared and should have returned 3 months ago. They must have given up. :(

The reason why this is interesting is because the wp users here in Sweden must "fight against" the swedish agencies to get apps for our phones. Many agencies says that the marketshare is to little so they don't want to devlop apps for wp. They devlop and advertise their apps for Android and iOS alot. But after a long dicussion with SMHI did the users convince them to finally devlop an app. Hopefully more agencies and companies will follow we started with the swedish television and now SMHI.

Check out the app from Finnish meteorological institute. English, Swedish. Way better data and not only limited to Finnish boundaries.

SMHI app actually seems to work worldwide at least for forecasts, I am using it in California. Precipitation screen is geographically fixed though.

Frost gjør jo jobben vel. MET ser ingen grunn til å kaste bort penger på en offisiell app da.

I woúld recommend the norwegian meteoroloical institute (www.yr.no). It's even more accurate than our finnish institute. There is even an (swedish) app Weather View that uses their data and presents it quite nicely. with live tile, of course. Use it all the time instead of thermometer, it's that accurate! even outside the nordic region
Windows Central Newsletter
Get the best of Windows Central in in your inbox, every day!
Thank you for signing up to Windows Central. You will receive a verification email shortly.
There was a problem. Please refresh the page and try again.