T-Mobile updates Galaxy Note II for LTE but doesn't mention one for Nokia Lumia 810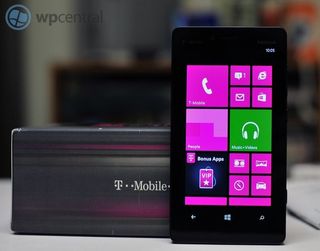 It was reported a few weeks back and evidently re-validated by Windows Phone Daily that the Nokia Lumia 810, a T-Mobile "exclusive" phone, would receive an over-the-air firmware update at some point to enable 4G LTE speeds.
What's more, it's been said that the 810 and not the HTC 8X would be getting this feature, a claim somewhat confirmed by a recent FCC filing for Nokia's device. When the original report came out, it stated that the Galaxy Note II would also get such an update.
Today, T-Mobile held a press conference in New York City where they announced the BlackBerry Z10 pricing and availability, as well as their future plans for new devices (iPhone 5, Galaxy S4, HTC One) and their LTE rollout. Interestingly, T-Mobile highlighted numerous 4G LTE devices including the aforementioned but also the Galaxy Note II and its firmware update to enable higher data speeds. That update is now live (opens in new tab), meaning users can go ahead and grab LTE in Baltimore, Houston, Kansas City, Las Vegas, Phoenix, San Jose, and Washington, D.C.
But there was no mention of Nokia, Lumia 810 or Windows Phone in the press release, nor anything about other current phones getting speed improvements via future firmware updates.
At this point we're still leaning on the original claim that this will happen, as Nokia does tend to deliver. However, it's a big disconcerting to not have this information corroborated by T-Mobile in a press release. Surely that news could push a few more Lumia 810s to be sold?
See the full press release below.
*********************************************************************************
T-Mobile Makes Bold "Un-carrier" Moves
Announces radically simple unlimited plan; axes contracts, unbundles cost of plan and device with lowest upfront costs, lights up 4G LTE network
NEW YORK — March 26, 2013 — T-Mobile has been talking the talk; now it's walking the walk. The company, known for its "Un-carrier" attitude, today announced a series of moves to address consumer frustration with the unnecessary cost and complexity of wireless.
The moves include radically simplifying its lineup of consumer rate plans to one incredibly affordable plan for unlimited talk, text and Web; ensuring that customers never have to sign another annual service contract through T-Mobile retail outlets; and enabling customers to get the most popular smartphones whenever they want for the lowest upfront cost. T-Mobile also debuted its blazing fast 4G LTE network service in seven major metropolitan areas.
"These bold moves serve notice that T-Mobile is canceling its membership in the out-of-touch wireless club," said John Legere, president and CEO of T-Mobile USA, Inc. "This is an industry filled with ridiculously confusing contracts, limits on how much data you can use or when you can upgrade, and monthly bills that make little sense. As America's Un-carrier, we are changing all of that and bringing common sense to wireless."
Un-Restricted, Un-Limited
Central to today's announcement is a radically simple approach to consumer rate plans — the Simple Choice Plan. A break from industry norms, the Simple Choice Plan eliminates restrictive annual contracts, taking pain and confusion out of the wireless experience.
What could be simpler than one consumer rate plan?
Simple Choice asks customers two basic questions: How many lines do you need, and how much high-speed data would you like? Customers start with one line at $50 per month for unlimited talk, text and Web with 500MB of high-speed data. Customers can add a second phone line for $30 per month, and each additional line is just $10 per month. They can also add 2 GB of high-speed data for $10 per month more per line. Unlimited 4G data is only $20 more per month per line. No caps. No overages. Just simple value.
Also, because T-Mobile is the only major U.S. wireless company to stop requiring consumers to sign annual service contracts, customers have far more flexibility with how they buy and use wireless devices. Traditionally, getting a good deal on a new phone has meant agreeing to an expensive service for two years. Upgrades typically weren't allowed (without significant upfront costs) until contracts expired, and it was often difficult to ascertain the true value of a device offer because it was tied to a long-term annual contract.
With T-Mobile's un-restricted approach, customers can purchase great devices, pay for them in affordable, interest-free monthly installments, and upgrade anytime they like — not just when their carrier says it's okay. Customers can even use their own unlocked device. Monthly statements are easy to understand since the price stays constant from month to month, and the device cost is clear and unmistakable.
Customers can find more information about T-Mobile's Simple Choice Plan at nationwide T-Mobile retail stores, on http://www.t-mobile.com/" target="_blank">www.T-Mobile.com, and through select dealers and national retail stores.
Un-Beatable Prices on LTE Devices
In tandem with the debut of its 4G LTE network service, T-Mobile also announced today that it will have several 4G LTE-capable devices available, including Samsung Galaxy S 4, BlackBerry Z10, HTC One, T-Mobile Sonic 2.0 Mobile HotSpot LTE and Samsung Galaxy Note II.
· Samsung Galaxy S® 4 is the next generation of Samsung's popular Galaxy line of smartphones. Exact pricing and timing of availability have not been announced, but the Galaxy S 4 (opens in new tab) will be available in the second quarter of this year.
· BlackBerry® Z10 is T-Mobile's first 4G LTE touchscreen smartphone featuring the redesigned, re-engineered BlackBerry® 10 platform, which continuously adapts to users' needs. Starting today, the fastest and most advanced BlackBerry smartphone yet is available for qualifying customers for $99.99 down with 24 equal monthly payments of $18 for well-qualified buyers OAC. The BlackBerry Z10 is available through all T-Mobile channels. For more information about T-Mobile's Z10, please visit Media Kit (opens in new tab).
· HTC One® is the first T-Mobile 4G LTE smartphone featuring new HTC Sense™ innovations, including HTC BlinkFeed,™ HTC Zoe™ and HTC BoomSound™. Wrapped in a sleek full metal body, the HTC One will be available later this spring in all T-Mobile channels. For more information about HTC One, please visit Media Kit (opens in new tab).
· Samsung Galaxy Note® II. Current users of the popular Samsung Galaxy Note II can now take advantage of T-Mobile's 4G LTE network via an over-the-air software update. For more information about this update and for complete download instructions, customers can visit T-Mobile's support page athttp://support.t-mobile.com/docs/DOC-4962 (opens in new tab). For more information about the Samsung Galaxy Note II, please visit Media Kit (opens in new tab).
· T-Mobile Sonic 2.0 Mobile HotSpot LTE is the first 4G LTE mobile hotspot from T-Mobile, providing simple and affordable on-the-go access to the Internet for up to eight devices. The T-Mobile Sonic 2.0 Mobile HotSpot LTE is available for $29.99 down with 24 equal monthly payments of $5 for well-qualified buyers OAC beginning today. It will be sold through all T-Mobile channels. For more information about the mobile hotspot, please visit Media Kit (opens in new tab).
Un-Congested 4G Network
T-Mobile is moving at breakneck speed to expand the capabilities of its network.
Today, T-Mobile launched its state-of-the-art 4G LTE network in seven major metropolitan areas, including Baltimore; Houston; Kansas City; Las Vegas; Phoenix; San Jose, Calif.; and Washington, D.C. The advanced 4G LTE network is expected to reach 100 million Americans by midyear and 200 million by the end of 2013.
T-Mobile is deploying the latest LTE technology, paving the way to LTE Advanced. T-Mobile's 4G LTE deployment will complement its existing nationwide 4G network — which third-party tests show rivals or beats existing LTE networks — creating what T-Mobile expects to be the fastest 4G combination in the United States. T-Mobile 4G LTE devices will automatically and seamlessly transition to T-Mobile's nationwide 4G where LTE has not yet launched.
T-Mobile Launches Un-carrier with Wild West Commercial
To underscore its Un-carrier attitude, T-Mobile today unveiled a new tagline, "T-Mobile un-leash." In tandem, the company will roll out a new nationwide advertising campaign, beginning with a television commercial tomorrow that plays off the Western film genre. The new commercial features a group of four cowboys in black hats riding into a dusty town to the terror of its residents. As three of the cowboys tell town folk they're going to have to "do what we say," the fourth, representing T-Mobile, switches to a magenta-colored hat and rides in another direction, saying he "just doesn't want to do this anymore." The 60-second ad spot closes with one cowboy musing "I'm gonna miss the guy" while our hero simply states "Oh, I'll be around."
About T-Mobile USA:
Based in Bellevue, Wash., T-Mobile USA, Inc. is the U.S. wireless operation of Deutsche Telekom AG (OTCQX: DTEGY). By the end of the fourth quarter of 2012, approximately 132.3 million mobile customers were served by the mobile communication segments of the Deutsche Telekom group — 33.4 million by T-Mobile USA — all via a common technology platform based on GSM, HSPA+ and LTE. T-Mobile USA's innovative wireless products and services help empower people to connect to those who matter most. For more information, please visit http://www.T-Mobile.com (opens in new tab). T-Mobile is a federally registered trademark of Deutsche Telekom AG. For further information on Deutsche Telekom, please visit http://www.telekom.de/investor-relations (opens in new tab).
Windows Central Newsletter
Get the best of Windows Central in in your inbox, every day!
Daniel Rubino is the Editor-in-chief of Windows Central, head reviewer, podcast co-host, and analyst. He has been covering Microsoft since 2007 when this site was called WMExperts (and later Windows Phone Central). His interests include Windows, laptops, next-gen computing, and for some reason, watches. Before all this tech stuff, he worked on a Ph.D. in linguistics, watched people sleep (for medical purposes!), and ran the projectors at movie theaters because it was fun.
This may be the last HTC phone I buy. Why are these phones always lacking key features?

That's okay only like 3% of the country is covered by mobile LTE. And of those 3%, only 0.05% of those people living there have a Lumia 810. So basically we are talking about an update that would help out 35 people.

Yeah, screw growing our platform, it's totally not even worth it. Might as well stop updating the OS too since no one uses them.

Daniel? I sense a bit of sarcasm.

The announcement seemed centered around a group of flagship devices. The Nokia 810 is not a flagship device. No matter how much you like it or how awesome it is. Tmo should try to carry a Lumia920 variant on their portfolio.

They will later this year

Oh, you mean after it's considered an antiquated device. Smart...

This was not meant to insult WP in general, but Tmobile. They are on the downward trend to doom anyway, maybe even faster than sprint. But seriously, only like 2 readers would live in an area with Tmobile LTE! No sarcasm

That's what you think. Nice pathetic attempt at bashing T-mobile

Doesnt take much to bash Tmobile. Switch carriers you narb. Get with real cell service.

Well now they will be selling the almighty iphone they probably dont care whether they sell any 810's or not. Par for the course for cellphone carriers and WP. I dont think there is any carrier in the world that truly cares about and wants WP to succeed, even though that is always what they seem to be reported as saying.

I'm inclined to agree notice the HTC ONE SG4 and the Iphone5 but where is the Lumia 920? O wait they got the 510 I forgot lol.... Thank God im on att

Same here, 920 on att with lte and I've been in heaven ever since!!

T-Mo has never offered an iPhone. You can find put one on, but they don't offer them

They will start offering it from April 12, that was part of their announcement today and strongly rumoured beforehand.

So tired of the iSheep. Yes. I said it.

Right!!! People say they're a budget carrier but they can get the iPhone and the FLAGSHIP HTC one? NOT the Lumia 920???? T-mobile can go straight to hell for I care.

There is a back door to get a Nokia 920 on Tmobile. Go to eBay and buy a Rogers branded Nokia 920. It's pentaband and works great on Tmo 3G/4G. They run from $450 to $550.
Still personally I think this is Killing W8 OS. I got the Nokia not because I liked it but because it has a lot of exclusive apps/games. There is no way I'd buy anything else now. I think Samsung and HTC see this and that's why they don't invest much in W8. Especially since Microsoft pays Nokia and not them. With this strategy I'm not sure W8 can survive with just 1 OEM (Nokia). Since they don't even have a official flagship on every carrier.

There is more than one OEM for WP

Yeah, that was basically the method I used to get a cyan Lumia 920 on T-Mobile. Found it amusing how the cashier seemed hesistant at giving me my SIMcard. The only catch is that T-Mobile OBVIOUSLY doesn't support the device, so I had to send it to Nokia when the dust-in-ffc and proximity sensor problem started.

Anyway, there ARE more carriers than Nokia, but one can be safe to assume that Nokia is the one OEM that ACTUALLY cares about Windows Phone.

T-Mobile sold plenty of Lumias 710 and Radar's. They did a decent job of updating them too. I guess they didn't approve the 7.8 update but I think it was due to 7.8 having a number of bugs which I am kind of glad they skipped it now reading the issues some are having with 7.8.

I flashed the latest 7.8 build to my hd7 (8862) and don't have any problems.

I hope T Mobile announces a new update for their 810 users soon, because if I was one of their customers I would be disappointed.

I think they will. They did an update with the 710 which allowed it to do internet sharing/tethering a bit later after it was released... I think we will see a similar pattern with the 810...

All I know is I LOVE my T-Mo!!! Unlimited data really means unlimited data. I'm around 40gb this month!! All at 4G speed. I'm getting between 2mbps & 10mpbs here in Colorado. I'm also glad that they're moving away from "contracts". The rest of the world has done this already. A lot of people are considering the move to pre-paid because they don't want to deal. Now they can get the good service when they want. The next round of Windows Phones should have LTE enabled. Will consider moving up from my off-contract 8X when they come out..

I'm with you in Colorado with 4g on my 8x and love t-mo unlimited plan!

That's funny. I had unlimited data on TMo, the actual unlimited plan before they started tiering data. They still cap 4g after 5 GB and throttle down your data to 2g after the 5 GB mark.

They stopped throttling in September

They still do that if you have an active tethering plan. I call a CSR and turn it on/off as needed. But, I haven't had to do this in a while.. I figured out how to do downloads to my phone, then upload to my PC all wirelessly though. Even flash movies.....
Love my WP!!!!!

Stopped throttling 4g or 4g and 3g? I ask because I have an hd7 and got throttled after 2gb maybe 1-2 months ago. I had unlimited, but apparently that's only unlimited until I hit 5gb according to fine print.

What about my 'Build' Lumia 920? Does it need an update to enable LTE on T-Mobile?

This isn't good. I'm using the 810 and keeping it for the LTE

So glad I went with att... Also imho the 810 looks like a brick.

I love the look of the 810 to each their own I guess.

Also, unless you have the 8X the Lumia 920 is also a bit of a brick...

My Ativ S is compatible with T-mobile's 1700mhz 3g and their LTE! but I cannot confirm it works on LTE yet since I don't live in Los Angeles and they didn't release it here :(

Daniel why do you think there is a new Nokia phone coming to t mobile so fast the Nokia flame because of Lte. I bet 810 get updated to lte but not before a lot of people go buy the new windows phone.

F#$% T-Mobile I only wanted the 810 because it has expandable memory and wireless charging and now I learn this year that not only can I no longer unlock my phone but the more than likely won't be any support for lte and probably won't in the future.

I doubt it. The 710 got an update about a year after it came out to do internet tethering. I think the firmware is still in development. Plus Nokia doesn't simply abandon their customers....

I don't understand why they won't push an update to the 8x as well, its chipset is capable of LTE. I confirmed my serial number corresponds to the LTE capable devices.
Tmobile is not selling a lot of WP8 and when my wife and I were shopping, their retail stores were literally shoving Galaxies in our hands. I'm happy with their speeds and price, and I like my 8x, but now that they have LTE I want it.
Still can't tell what the update they pushed last week to my 8x did.

I just got the Lumia 810 and I really like it. Some people need to reread the article. I think they will eventually release an update to activate LTE with a later update just like they did with with the Lumia 710 and was later able to do internet sharing/tethering. That's the only reason (at the time) I went with the HTC Radar. Then I got the 710 for my sister and she received that update....

To be honest... I've had no issues with TMO's current "4G" setup. I haven't been hurting for speed at all.

Generally between 2mbps & 10mbps. Depending on what room in in..

Same here. I get great reception in areas where AT&T and Verizon users would complain about having to use 2G/EDGE data.

I'm getting 11-12 Mbps on 4G here. It's actually faster than the LTE on my 920 on AT&T.

I don't recall the HTC 8X ever being capable of the 4G LTE update

I've never heard mention of the 8X being LTE capable either. It's entirely possible, but I've never heard anyone say that it was. Has an announcement been made somewhere along the line that I missed?

so what t-mobile and sprint are the same boat.. this companies sucks

Exactly, but they do blow it sometimes... =/

You would think with the double awesomeness of the new plans (which are great prices) and lte rolling out simultaneously with the launch of the Z10 that T-Mobile would at least advertise the z10 on their home page, but just like someone said on CB, you have to practically dig or do a search for it....this is not good for BB and just proves the fact that relying on carriers for advertising is not wise for any platform.

None of their announcements were impressive. Been on Tmo for 5 years. Still have my Gen 1 wp7 that I had to manually update to 7.8 since they don't support it anymore. New customers get better prices than I get for my upgrade, which I've been able to get for about 5 months now previous to this "no waiting for end of contract" publicity.

it's logical that T-mobile start with the galaxy note 2, unfortunately, Androphones are always the first
Windows Central Newsletter
Thank you for signing up to Windows Central. You will receive a verification email shortly.
There was a problem. Please refresh the page and try again.