T-Mobile hands out free phones to existing Verizon customers to test-drive its network
T-Mobile is going on the offensive against Verizon by launching a "Never Settle" campaign that allows existing Verizon customers to try out T-Mobile's services for free.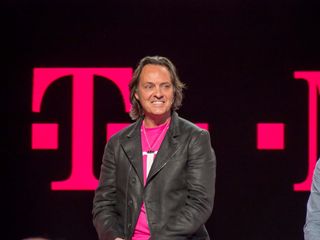 The carrier is giving Verizon customers the ability to port their numbers to a new T-Mobile smartphone (while retaining their existing Verizon phone), which they can use free of charge for up to 14 days. After the trial, if the customers wish to stay with T-Mobile, the carrier will cover Verizon's Early Termination Fees:
If a customer doesn't want to switch over, T-Mobile will refund any fees incurred during the trial, and even cover any activation charges Verizon may impose:
T-Mobile's outspoken CEO John Legere made his feelings known about Verizon:
The carrier launched a slew of ads for the campaign, and if you're interested in checking them out, head here. Existing Verizon customers can avail the trial by heading to a T-Mobile outlet or the carrier's website (opens in new tab) between May 13 and May 31.
Source: T-Mobile (opens in new tab)
Windows Central Newsletter
Get the best of Windows Central in your inbox, every day!
Harish Jonnalagadda is a Senior Editor overseeing Asia for Android Central, Windows Central's sister site. When not reviewing phones, he's testing PC hardware, including video cards, motherboards, gaming accessories, and keyboards.
Lol. T-Mobiles network is nowhere near ready to take on Verizon. They shouldn't be soliciting such attention just yet.

Thats correct. All this doesnt make sense without a good network.

They'll get want they can take... There's a lot of happy TM customers, and there's gonna be more if they keep doing what they are doing...
..........
You can say that MS is not ready to take on Samsung, Apple, and Google, but that's not the way to do business... Both MS, and TM's eyes have to be bigger than their stomachs... They have to think big.... Apple did, Google did, and Samsung did,, now look at them.... Who would suggest to think small❓❓

Good point Rodney but I just moved to St.Louis and my 1520 on T-Mo rarely gets any signal. In my home my phone is useless, no signal at all...not even 1 bar. I have all this data that I cannot use. What really sucks is since TMo only cares crappy WP devices I can switch from my 1520 so no WiFi calling at home either.

Port your number over to Cricket, its just AT&T (in fact my Nexus 6 recognizes it as AT&T and not Cricket). $35 a month for 2.5gb LTE and unlimited talk and text is hard to beat

@rodneyej You are correct!
I am both a Happy TMo and Msft (WP8.1) customer. I moved my wife, sister and myself from three different service providers with a total monthly bill of $230 all with metered data and no additional services now on TMo with every service useful to my family uncapped and unlimited 4glte + 5gb of Wi-Fi sharing per phone for $150.
The network is awesome, spotty in areas by not nearly as bad as naysayers try and make it out to be. Very comparable to att blows away sprint and annihilates cricket.
I use to be an avid android power user heavily into modding and ever since I've made the move to WP first with the 920 I never looked back, I was somehow able so see what Msft had envisioned and here we are soon rolling into Win10.
So yes They should both Think BIG because they are both attacking their respective markets hard and with great vision and worth while product and services.

That's nice. I however, have my Sprint unlimited, contract capable line for $50 (and when I use a contract it doesn't change the price). But combined with my folks (5 total lines) I pay $205 total. And luckily, that includes the contracted phones for free...now, if coverage is the question...where I live, Downey, CA, both Sprint and VZW have killer coverage. ATT is okay, but TMo sucks horribly. Results may vary but I'm the happiest kid around.

I lied, the Sprint line was unlimited 4glte with 5gb wifi sharing and it was extremely slow, spotty (and throttled) in both Houston and Chicago. TMo on the other hand is speedy and reliable much more often not to mention their network is just faster and better allowing you to simultaneously talk and surf web which is extremely useful in my family the wifi sharing is leaps and bounds ahead on TMo which holds a solid connection and is comparable to the average home network in most places, as far as Windows Phones go I'm using an Factory. Unlocked Lumia 830 and enjoy TMo 4glet with 0 hitches.
Also failed to mention that I have no contract fees at all and can walk away at anytime with no issues which I don't see happening anytime soon.
To each their own, I for one am very happy with TMo.

They do have a faster network, but it might not cover as much area.

I agree I just left T-Mobile for Verizon due to the network having to many dead spots. Where they have service it's great but the point is bring able to use your phone when it counts. I have a baby and when my wife would go to get cousins to visit it was a complete dead zone. To save $20 bucks a month i am but excluding my family to be stuck in the middle of nowhere.

It really depends on your area, Verizon has dead zones too.

You disbelievers should take T-Mobile up on the offer. Now u have nothing to lose. I've been on T-Mobile for a few years now and it works great. I noticed one area that had one bar, now has 5.

I did. Hence, why I appreciate Sprint :/

No attack against ATT?
Wonder what phones they were handing out..

AT&T's rates are too competitive.

Stop that nonsense. AT&T costs just as much as Verizon if not more. I left AT&T for Verizon then Sprint, then Cricket before settling for Tmo. All within 2 months time.

If the Dish /T-Mobile talks of merger are true and it goes through, then I could see T-Mobile standing a chance outside the cities. But until then, they need to make this a city only promo until then.

TM is gonna mess around and get bigger than Verizon or att.....
.......
It's that bold attitude towards marketing that I wish MS would follow.... It works❗

They should let other users test drive a windows phone for free for 15 days and if they like it, MS will buy back their old phone for some fair value that goes toward the windows phone.

I think the issue with support from a windows phone user is the availability of a flagship WP... There really isn't one. If u think Verizon will support wp10 you're wrong, they wont. The only carrier to support WP to begin with is att and that means by supporting more phone variations like the 1520,1020, 920, 925, and so on that are considered flagships. Att always gets them cuz they want them. Verizon had like one with Nokia and one with htc and one with Samsung, the Nokia one didn't last long and neither did Samsung. Don't get me started on the updates, that was a nut in itself. For me, when wp10 comes out im switching to att.

VZW supports WP but not to many consumers chose them, maybe because it was too late. TMo actually started with better WP devices (HD7, DVP) than ATT. Unfortunately AT&T dominated once Nokia joined the party.

Instead of switching carriers do what I did: Order from Amazon Germany and here are the benefits: Unlocked phones, No taxes (if you ship outside of EU), updates don't go through a Carrier hence you get them as they come out. :)

The problem with unlocked phones is the insurance repairs: There's basically none. I'm spoiled by my CDMA carriers, I notice.

You can get Insurance on any phone I found this company one day on the internet I wanted to Insure my unlocked Nexus 5 and it's only $54.00 a year with a $50.00 deductible the company is called Worth Ave Group just wanted to pass it on I have been using Android devices for many years but I'm can't until the Lumina 640xl comes out it will be my first Window phone

I really hope T-mobile picks up the new windows flagships coming out later this year, they already plan on supporting the LTE Surface 3

Yes... Our only hope is that they show us with the launch of W10 that they have learned...
......
W10 better be on the news...

And then all those peeps who got the chance to test T-Mobile's network won't go for T-Mobile for their entire life. Seriously tho, T-Mobile really has the worst network in the U.S.

Times can change though...

It's not that bad in the city. In some buildings, yes. Outside, nope

And if they didn't have good coverage, then T-Mobile wasn't ready and it can be a learning experience for them. I'm sure they're ask anyone who opts out on why they aren't sticking with T-Mobile and document that. T-Mo can then specific target high areas of interest and make sure their network is better in those areas. Legere seems to seriously stand by his words, so hopefully they'll get it right.

I've been on T-mobile for eleven years and wouldn't consider moving to another carrier. Yes, if you live in some podunk town it might not work for you, but in a major city it's fantastic. BTW, I've travelled all around the country and found very few places where I get no signal at all (sometimes it's a signal from a company that T-mobile has a deal with, but I don't care as long as I have coverage), and those are extremely rural areas where it's doubtful about coverage from any carrier

Is Orlando or St.Louis major enough for you? TMo sucks in both, especially St.Louis where I can't receive a signal, not even 1 bar. On the chance I do receive a signal the call drops soon after.

You need a Tmobile branded phone so it has Tmobile bands. I have ATT 1520 as well and in the heart of DFW metroplex I do not get goof TMobile coverage. My wife on her tmo branded galaxy gets full coverage at the same time. I understand not having a WP flagship with TMo but TMo uses these stupid 1700 AWS brands only works if your phone has these brands. I have been TMo customer since 2001( they were called voicestream back then)

I live in St. Cloud, next to Kissimmee, which is next to Disney World, all essentially a suburb of South Orlando. ATT is spotty here.

One issue with Tmobile and Sprint is the laughable roaming limits on data and minutes. So you might have had roaming data but 50 meg or some plans 100 meg then throttled. Sprint just fires you they have 300 meg data limit.

But then there is WiFi calling...I just wish TMobile was getting the 640 XL. Then I'd be trying out their network, even though I have a pretty good college discount with AT&T.

I went from Indianapolis to new Orleans, and I had LTE most of the time.

I love T-Mobile, but I've now switched to Cricket Wireless (L830). My bill is $35. It's truly no BS. You don't need to haggle over random charges or prices - you get your package and you pay a standard rate. I love it. Running on ATT's network for that price is hard to beat.

Customer service is horrible. Charged twice, never received a refund. Apparently they sold me two sims and the only way to receive assistance was to activate both our they could not see the account. Ironically once you activate, per the TOS, you are no longer eligible for a refund. Remember you get what you pay for, and sometimes not even that. You better run while you can.

I agree with you HayNation. I love T-Mobile too. I was a happy MetroPCS customer with my cyan Lumia 920 paying $40 a month. That is until Cricket offered a $100 bill credit for T-Mobile customers to switch to them. After signing up for auto pay, that translates into $5 short of three months of free service! Even when I was thinking of switching back they decided to up the data from 1 gigabyte to 2.5. I want to be a T-Mobile customer, but I need more data and a high-end phone with native WiFi calling. I've since bought a green Lumia 1520 and am living it a bunch.

This sounds like a very personal "f-you" to Verizon. lol.

Carry a worthy WP and I might in the future. Just might.

I love this guy. he has more balls than the other CEOs.

Does he have three or the other CEOs have only one? O_O

Why don't u go unzip him and tell us.

I thought you would know better. ;-)

Why not? Verizon doesn't give a rat's ass about it's WP users.

They actually care more then TMo.

This writers writing... words like BS are not suitable for 9yr old kids like me :/

Why not? Saying BS is more PC than actually spelling it

It's all about consistency though. Att had htc devices later too and tmo dropped off as far as wp went.

please fix the windows central phone app, cant sign in, hence we can't comment, using the pc version now

Reinstall the app. It might work. They didn't update it for months now :(

Philippine telecommunications here in PH are no such good as those in US.

You guys and your carriers.. Glad that the carriers we have here do not act like total jerks and let you pay for everything.

In all fairness I live in a fairly d densely populated area and Verizon isn't THAT good here. Sometimes I have a very hard time maintaining an lte signal. Not occasionally either, it's noticeable.

Yep terrible network. That guy w the bad haircut can keep his phones.

Did regulations change? I thought when a number gets ported it wasn't eligable to be ported again for a few months. Something to do with the process being subsidized by some govt fee on all phone bills so limits set to prevent more ports than the program can pay for. Anyway, if true, I don't understand how the number can be ported back to Verizon within 14 days. Am I wrong about how often they can be ported or can it be done anytime if the parties involved want to kick in to cover the govt subsidy?

I think you can port as long as the initial port is 100% completed which can take up to 72 hours.

Two thoughts... 1) Kudos for T-Mobile for atticking Verizon. They suck. You can claim they have better coverage but honestly, how often does the average american leave their home area and is without service. Such a stupid argument. 2) The commercial is awful. I get what the point of it is, but the words scroll too fast in the beginning to even read and as it increases, it just because impossibile. If I had to rewind the commercial online 5 times to read the first few statements, then people watching it on TV are never going to see it.

I like T-Mobile and signal has improved a great deal but it's nowhere near Verizon.

John Legere is the best CEO that T-Mobile/has even had I have been with T-Mobile for Fifteen years what a difference from now and then keep up the awesome job T-Mobile

I was just gonna try it for shits and giggles. My sis in law is on tmo but sometimes she has crap reception in her house which isn't that far from us. Anyone else gonna try it? I'm on Verizon by the way with the Icon.