T-Mobile is now the largest provider of prepaid phone service in the U.S.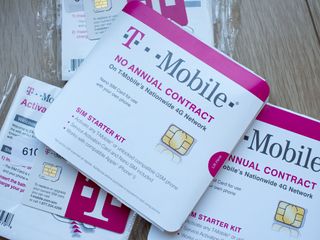 T-Mobile has announced today that it has overtaken Sprint to be the largest prepaid service provider in the U.S., with a total of 15.64 million prepaid subscribers on the network. That's dramatically past the other big rivals AT&T and Verizon also, who have 11.34 and 6.04 million prepaid customers, respectively — and T-Mobile shows no signs of slowing down.
While prepaid offerings are often pared-down and limited on other carriers, T-Mobile's pretty directly mirror its postpaid options, simply offering fewer extra "features" of the postpaid side like device financing and international roaming. Add in the wide availability of its prepaid SIM cards and phones in retailers and through its website, and you can see why so many people use T-Mobile prepaid.
Doubling up on its prepaid customer numbers, T-Mobile's recently-acquired prepaid brand MetroPCS has also surpassed the 10 million subscriber mark, adding 1.2 million customers in the last year — a rate of one customer every 27 seconds. T-Mobile CEO John Legere had this to say on the news:
Legere is known for his bold statements, but this doesn't seem all that lofty. At the rate T-Mobile is moving, there's indeed a good chance it passes Sprint in terms of total subscribers as it continues to leave the others in the dust in terms of prepaid subs as well.
Source: T-Mobile (opens in new tab)
Windows Central Newsletter
Get the best of Windows Central in your inbox, every day!
Their CEO is kicking butt and taking names

Shame they have such crappy coverage in my neck of the woods

Thank God their coverage is great where I live.

Living in the woods could be the problem.

Verizon works in the woods.

Woods, mountains, plains, urban jungles, poor coverage from T-Mobile is common.

This. I would love to get onboard with T-Mobile, but their coverage sucks where I live. I'll stick with AT&T for now. Other than being a bit pricey, I've not had any major quarrel with them.

What ever you do, don't choose Verizon. Only Verizon has bloatware on their WP devices that can't be removed. Also, Verizon gives visual voicemail to iPhone and Android users free but charges Windows phone users $2.99 a month!

I'm well aware. Verizon sucks, I will never ever do any business of any kind with them ever if I can avoid it. Such a shame they have a monopoly on the Lumia Icon and the upcoming HTC One W8.

Verizon is the Devil. Most greedy bastages on the planet! I wouldn't go back to them if they were the only cell phone company on the planet! Rather use smoke signals.

Verizon bloatware can be removed

Care to explain? It's not in the app list it appears in settings called Verizon Backup Assistant.

It's a backup service available to any carrier who chooses to enable it. It's not specific to Verizon, it's part of the OS, not bloatware. Might be a tradeoff with MS (vs bloatware) to let Verizon put their name on it and since the carrier is storing the backup.

Dang i didn't even known that. Thanks for the warning.

I get free visual voicemail on att

Would never go near Verizon but am curious if someone could get rid of the bloatware if they take the time and trouble to flash to the CV for their country.

Now that T-Mobile is rolling out 700MHz, they'll be covering more area, getting better building penetration, etc. And since they now support Voice-over-LTE, that'll be fantastic for people with compatible devices.

I'm not familiar with the bands but I hope that doesn't mean I paid extra to get a 1520.3 for nothing.

Why not switch to cricket? Same network but lots cheaper

I left Sprint for Tmob and have never looked back. Sprint was charing too many fees and CDMA sucks for a person who likes to change phones on the way out of the door.

Wasn't there something going on between Verizon and Microsoft about that whole bloatware thing, that Microsoft wasn't giving any phones to Verizon unless they agreed that anything extra should be easily uninstalled by the consumer and no backdoor software?

FYI changing the year to 2115 or something high actually works to remove Verizon backup assistant!

Considering that Sprint lost about the same number of customers in the past two business quarters as T-Mobile has gained, I will NOT be surprised if his words come true.

I've been pretty happy since switching to T-Mobile prepaid. This is after having been on contracts with Verizon and Sprint.

Patrick Swayze from Ghost, is that you?

No, it's Whoopie Goldberg.

T-Mobiles not bad, I've been with them a few months. Some towns around me only has 2G coverage, but when you get out in the country it jumps to LTE, weird. Now if they'd just send out the Cyan update.....

And new flagship Windows Phones...

That's odd. Normally when you get out in the country you have no T-Mobile service at all.

In the country I never have issues in the Andover's Metro Boston forget it bad service

Where's the 1525 & 2520 bundles. I've been anticipating this for 6 weeks now. My 920 is cracked and dvp8 need more memory. How the hell can I gain more memory for apps on Dvp8. For the record windows 8.1 and only 32gbs does not work good together

Have you updated to 8.1 already? Because then you know you can put apps on the SD card

920 doesn't take SD cards

My bad, what exactly is the reason for that?

Seems most of the high-end Lumias dont have SD cards. Hell, THE phone you would imagine would be prime for an SD card slot, the 1020, doesn't have one either.

It just seems counter productive....

Yup the entire 900 and 1000 series a.k.a the High-End series have no sd card slots. The only high-end lumia with an sd card slot is the 1520 phablet, but it's way too large...
I really hate Nokia for this.... I fear if 935 or 1030 doesn't come with a slot I'll have to jump ship to Samsung.

Yeah, also the lumia 1320 has an sd card slot, but that's a phablet too.

I think he means his Dell.

Lol. And others talk about his 920.

Yea i'm moving out of T-mobile as fast as I can and going to Cricket. Then again I'm still on their old post paid plan, (I have to pay 100 dollars for each line if i want to move to their new plans) which is expensive as fuck for 186 for four lines and I hate the quality of service i get (almost none at work where i spend 40-50 hours a week) and spotty service at home. If you get 4g/LTE at all times where you are there's no reason to not keep them, but I can't say they're a good decision for most people (PS I live and work in Boston and I expected better being in a large city)

They should call it "T-Paid"......

Yeah, he's jealous he didn't think of it....

Where the F### have you been???

Giving your mama some lovin.

Did you at least tell her I said hi❓

Actually made me chuckle. GJ!

I jumped on T-Mobile with the 521, and I've been pretty satisfied with the service, been on the service for about 7 months rocking a 925 on t-mo and still loving this service!

But they have a race car.

And still offer the contract options :D and have better overall coverage. I can testify to that! :D

AT&T has better coverage, better phones, and better speeds.

Yes, it's been proven for many years now that Sprint is the slowest of all four carriers.

they have a whole series, not just a car....Sprint Cup Series

They need that series to distract people from the slow ass service lol

True, sprint is devastatingly slow.

How many subscribers does tmobile have ? Hehehehe...

50+ Million and counting. I have sweet 4G LTE at home and work in Fort Lauderdale, FL. No regrets jumping that stinking ship SPRINT early last year.

Still no 8.1 on my 925 :(

Nor on mine . But I rather see a 1525

Keep shaking things up T-Mobile, happy customer here!

Same here! I switched from Sprint. Now, I'm on postpaid, but I'm saving almost $25 a month over Sprint, and that includes the cost of the new phone, and includes the 18% discount at Sprint. The service isn't quite as good, but for that much in savings, it's plenty good.

In Vegas yesterday. Corner of Tropicana and LVB was 2G for T-Mobile. I will never understand how so many millions are rushing to put up with coverage like that.

I was paying $189 with Sprint for 3gigs of data. My total with Tmob for unlimited LTE is $112...that's why I left and love it!

Well if you're coming from Sprint...

I call B.S. on your comment. You've gone on and on at length about how you use an AT&T MNVO as your service provider. How would you know "yesterday" that there is only 2G TMO coverage in Las Vegas (which is a ridiculous statement in and of itself). Vegas has Wideband LTE coverage, by the way, not 2G. Are you being paid to post comments here?

You can call it all you want, but you would be wrong. I am not such a loser that I go to Vegas alone.
Parts of Vegas have T-Mobile LTE I am sure, but not that part.

The good news if they have a flagship windows phone.... That's the real good news.

My friend lives in a town with 2g only but LTE is around the corner for him.

I really like what tmobile is doing, they caused ATT to drop my bill by $100 a month while still under contract. That allowed me to buy the unicorn 1520 from B&H and still show savings. Never buying another phone on contract. I tried tmo for two years and just didn't have the coverage when I travelled or at work. I would switch back if their coverage in the area was even close to ATT.

True. Their 3g coverage generally stinks, sadly.

TMO coverage is not good in my area.

I first got on WalMart Family Mobile to test the waters, then when I found it was good I went T-Mobile postpaid and haven't been disappointed. Only disappointment was buying the Prism II which was a huge mistake. Glad I grabbed a Lumia 521 after the prism II died! Got my sights set on a Lumia 635, only thing I don't like is camera options and memory but that's not a big deal.

The timing of the announcment looks deliberate lol as it is right on the heels of the failed merger / acquisition by Sprint, I bet the board members are hitting themselves with their own shoes :P.

Good News for T-Mobile! Hope they up their network so I can be one of their customers someday. On a side Note: Where is the WP "Person" that is ah...awesome? I haven't seen him/her in a while. Smart guy/gal, but always an ass.

They need to thank Nokia and MS for the help with that sweet 521 ;)

If only tmobile will pick up a high end 8.1 device

Now if only they would pull their own thumbs out of their rear ends and release Cyan to their Lumias, it would jump even faster. But noooooo they have to force their impatient and angry customers to go on DP and void their warranties. e.e" "Later This Year" What a load.

Love my $30 prepaid plan. 60mbps speeds in town, still EDGE in spots but that's quickly changing. Never going back to post paid or buying a locked phone.

AT&T MVNOs are the way to go. Straight Talk, Airvoice or H2O. GoPhones like the L520 will work. Pay as little as $10/3 months. Sims are $1 on eBay.

I love how tmobile continues to grow and hope they stay independent

If illiad doesn't buy half their company anyway

I'm on the T-Mobile network via Metro PCS and I love my service. I get LTE 90% of the time. The other 10% is 4G. All for $40 a month. I'm in the Los Angeles area.

CNET did a new test in SF on LTE connection. AT&T was best with DL speed of about 20gb, TM was about same, Verizon about 11gb but Sprint was 2-3gb!

Here in India. airtel has the most number of prepaid subscribers so i don't use their services. I simply ignore anything majority. Hey that's why i chose Windows phone

Would anyone care to explain why prepaid is so popular in the states? Here in Europe it's much more expensive than having a (sim-only) contract.

Yes, I keep asking myself the same. Folks mentioning triple digit monthly rates... That's ridiculously high...

They need to put the 635 on store shelves, right now they only have 521's in their prepaid section

Im not a t-mo customer but i would agree if its on the shelves its more likely to sell. The 635 is a great device. I'm using one now and have no desire to go back to my 520. The only thing that takes a little getting use to is the absence of an ambient light sensor. Over all fantastic device!

Good to see the competition picking up. Tmo doesn't work for my needs, but I know a lot of people that Tmo is their prefered carrier, its all what works best for you.

And to think that T-Mobile was on the verge of a merger with AT&T just a couple of years ago. Their CEO keeps changing the game.