Verizon confirms adding support for LTE phones to ALLSET prepaid plans July 17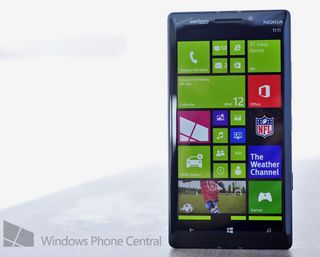 Verizon Wireless has confirmed that its prepaid ALLSET plans will add support for 4G LTE smartphones starting on Thursday, July 17.
The announcement means that smartphones that support Verizon's 4G LTE network, such as the Lumia Icon, can be used by ALLSET customers, which offers unlimited voice and text, along with 500 MB of data, for $45 a month. People who pay their bills via the Auto Pay method get an additional 500 MB of data per month. Users can also add 1 GB of extra data for $10 or 3 GB for $20, both with a 90-day expiration date.
The new ALLSET plan also extends to mobile hotspot features, which means that phones with that hardware can share their prepaid data connection with others via WiFi. Verizon finally joins with T-Mobile and AT&T in offering access to its fastest network for its prepaid customers. What do you think of Verizon finally allowing ALLSET customers a way to get the fastest network speeds on their smartphone?
Source: Verizon (opens in new tab)
Windows Central Newsletter
Get the best of Windows Central in your inbox, every day!
So basically I will be able to use Lumia Icon (essentially 930) on a no-contract service! Time to give L920 to kids and sell the L1020 I have been using on AT&T GoPhone!

I'm pretty sure I use a gigabyte of data per day. This is why I don't do data plans.

What do you all do to use that kind of data?! I rarely use more than 1GB/month.

Lol 1GB a Month? Wish I could do that. I go through over 15 GB per month.

haha, I used 180MB last month, and about 200MB this month...

Same here. I have to keep on WiFi to prevent myself from using more then 10GB. I use around 20GB on WiFi

1 gb is a lot if you're not downloading/tethering. You really need to be using your device a lot.

Nah, my kid brother was watching a lot of movies, streaming music, and I'm guessing pr0n. He did so off Wi-Fi because it was broken or something according to my mother. I had to put him on notice when 10 days into billing period he had consumed 13gb of my 15gb plan.

Dam, A gb per day is a lot....I will use 8-15gb per month on my phone and I thought THAT was a lot... Verizon drops their unlimited data, I will drop them as a carrier...

They will have to pry my unlimited data from my cold dead hands

And go where? At least in my area vzw is the only carrier that u can get a decent connection. Any unlimited providers take me 3mins to update email.

Does this have any relationship to Verizon mvno PagePlus?

God that pricing is horrible.

$45 for unlimited talk and text with 500MB, double if you auto-pay? Dude....that's a steal! Just three years ago, unlimited on ANY carrier was $100 a month for one line in the states. This is a steal to me!

I am guessing you do not know what "a steal" means.

Im using this plan since Sunday July 13,2014( it hink i was first to get this). Plan itself is not so bad in my opinion. $45 for unlimited talk and text and 500 MB data + $20 for another 3GB i have total 3.5 Gb per month, and when i used this i can add onother 3GB. "You can renew your prepaid phone plan for another 30 days by paying the monthly plan fee prior to your monthly renewal date. If you need additional data in your 30–day month period, you can purchase additional BRIDGE DATA".

I cant say id pay that if I was visiting US id rather pickup a T-Mobile sim instead for data

You can't compare the coverage of VZW and Tmobile though

I dont stay long enough for a plan like that to bother me but I guess if I had no choice in the area I visited then I would. Just like in Canada its not worth it to gone with wind as they still have a small footprint & roam on Rogers

Besides the T-Mobile that is actually making some changes, the US carriers are the worst. I pay $19 for 6gb of data, unlimited sms/mms, and calling here in Israel. No charge for creating a hotspot.

For the U.S. that's not a horrible plan (if you're not grandfathered into unlimited data) but you can do better on a decent network. I'm on Cricket (former Aio) and paying $60 for 5 GB a month -- and that $60 includes all taxes and fees. That runs on AT&T's network and yes I have LTE.

SERIOUSLY VERIZON!? NOW you bring LTE to prepaid? My grandmother was on Virgin before and needed a phone upgrade. I thought the Allset plan was perfect for her and I went in to activate my old Z10 for her, and we found out there was no LTE. I thought that was complete bogus. She ended up getting an LG Volt and stayed with Virgin. It's a very good phone and she's not really complaining, but this just kind of burns my @ss

You must not be doing much updating. My wife and I have 4 smart phones, two tablets , two desktops and one laptop. The computers use 8.1, the tablets are Kindle Fires and the smartphones WP8. They are updating the OS's or the apps all the time. We have a wifi hotspot with a limit of 10 gb on it and have to watch it some months to not go over. Hell forget about streaming movies as they run 2 to 4 gb each. Finally cable is comming so I can change to something more afordable. The hot spot is nice but way to expensive to be your only wifi source. oh yea thats on AT&T.

I seriously can't see how this is a bad deal. I'm used to paying about $150 a month for cell service (three lines, two data, mind you- put your pitchforks away); this is a STEAL!! If I wasn't in contract, I'd do prepaid. $45 is amazing

This is a step in the right direction. If I read this correctly it is $55 for 2GB of data. This is cheaper that ATTs plan for $65 ($40 for 2GB + $25 smartphone charge ) for prepay. I am currently using a Nokia 820 with Net10 on ATTs network and it is $45 for 2.5 GB on autopay. The service has been pretty good and I get LTE service all over Chicago. The downside is you can't tether with Net10. I would consider switching to ATT if they match the Verizon price to get tethering. And before someone says to use Tether X I have tried it. It only works for the browser on the tablet or laptop. Outlook and other client apps won't work. It is also a kluge to set up. It's not TetherX's fault. I'm sure there are restrictions on what MS allows the OS to do to appease the carriers. Correction: I just checked ATTs GoPhone plans and they are $60 for 2.5 GB.

Use Cricket. Same price, most phones can tether. ( my 1020 tethers fine.)

Maybe this will mean cheaper WP 8.1 phones will soon be available on Verizon. Nice to see a Verizon 635.

Why in the heck won't they declare the Cyan update??? That's what they need to do!

May as well call it AllDroid.

Finally! When my contract ends next October I will be all over their prepaid. More everything can kiss my butt.