T-Mobile retiring its app for Window phones on August 25
If you use the T-Mobile app for Windows phone, you'll have to bid farewell soon.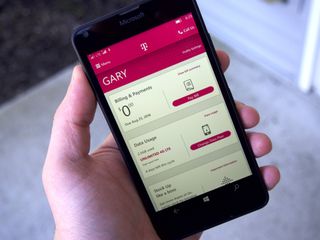 T-Mobile has started alerting customers that it will retire its app for Windows phones soon. In a message in the app itself, T-Mobile says it will no longer be supported starting on August 25. Instead, the company points users toward its website for managing their accounts going forward.
From the message:
The move is curious, given that the T-Mobile app received a complete visual overhaul for Windows phones only around 10 months ago. Given the state of Microsoft's mobile efforts, however, it's not too surprising to see another company decide to retire its app. T-Mobile itself stopped selling the Alcatel Idol 4S in April, which was the last remaining Windows phone on sale at the carrier.
In any case, if you still happen to be using a Windows phone device on T-Mobile, you'll be stuck with using the carrier's mobile website as of August 25.
Thanks to Peter M. for the tip!
Windows Central Newsletter
Get the best of Windows Central in your inbox, every day!
Dan Thorp-Lancaster is the former Editor-in-Chief of Windows Central. He began working with Windows Central, Android Central, and iMore as a news writer in 2014 and is obsessed with tech of all sorts. You can follow Dan on Twitter @DthorpL and Instagram @heyitsdtl.
Hahahah I love that it starts with "We're always finding new ways to provide you with the best experience possible..." not "We regret to inform you" as would be more appropriate here.

Among the most transparent ironies of all time.

Don't you see? We are going to change over to an internet based communication system. Why have many companies on many frequencies? TV,radio, phones..... can all be one. One phone, one frequency, one computer, one person, one vote, one OS, in one place. Why write apps for one OS when you can write it once for every OS? I think it's the old idea of telephone companies and how we think of phone calling and messaging will change with the development of 5G. There won't be a need for WiFi. I can't understand why I will need a wire when with 4G LTE even I forget to turn the WiFi on. If we can just beam it through the air. One channel, always on. Websites, Cloud, OS, phone.

Signs of death to the platform, so sad 😢

If Microsoft doesnt care, why T-Mobile should?

I guess I messed it all up being one of the 10 WP using T-Mobile customers in the US and not using the app. =P

I dont get why they can't just leave the app on the store until it breaks from updating their APIs. Why must everyone just keep pulling their apps, lol.

it costs to even keep an app that doesn't work especially when there is login info within the app.

Security liability.. The app has access to account information, which is personal information. Behind the scenes, apps like this are constantly monitored, and updated, to make sure they are secure. You can't just abandon an app like this.. A game? Yes. This? No.... You have to pull it for the safety of your customers.. What's even worse is when hackers know an app like this is left unsupported, but still accessible. What do you think they are gonna try and do?

Telegram for Windows 10 Mobile updated today.

What is your phone? It still does not install on L950 and L640!

Yay retrenchment!!! But dont worry, the savior WoA will soon be here! /s

liking the website push... companies finally seeing better value in platform/form factor agnostic web design to browse the web... save the apps for when more control is needed.

Wow, that is telling. Even Cricket still has their own Windows app.

Actually, no. It still comes installed on the phones but it doesn't work anymore.

Whoa, I had no idea. That's a disappointment.

WHA WAH.....sad Trombone! Another dead app. another nail in the W10M coffin. time to move on fangirls.

It's kind of worrying. I'm really dreading the day if (or more likely when) Tencent cancels their Wechat app for Windows phone. I'm gonna have to get my parents iPhones or Android phones and reteach them how to use a new OS. God, really hope it doesn't happen.

No need to move on. It still does everything I need. But what's a day on WC without you insulting and hating on people that doen't march in lockstep with you.

Waiting for iPhone 8. Finally going to make the switch. Have been a loyal user since the L920. Now with my 650, no WeMo, TiVo, Logitech, Nest... Time for a change.

It never once worked for me anyway. Their website frequently has problems, too. I'm happy with the service itself, though.

I suspect att will pull their app for my 950 soon... Then🙄🙄🙄.

Sigh. Use the app regularly. This hurts me

Funny how they say it's their "Windows app" and not "Windows phone/Mobile app." Apparently they didn't get the memo that there's an "ultimate mobile device" with cell capabilities on the way...?

Man, and i was drunk when i sent you guys this screenshot. That reminds me, i didn't pay my bill yet 😫

at least t mobile had a app, Vodaphone only had a windows app for Egypt and not the uk.

Wow a carrier is dropping windows app its gotta be a sign that windows is done!

This app hasn't worked for me in a,while anyway.

It's all over now the end of the road

Not the end of the road..... but the pavement stopped a few miles ago.

Never used it. Never saw a need. But, I need and use very few apps.

Well the good news here is they'll also "Update" the App to remove it sometime after August 25.

Microsoft need to come out something for thw mobile market, as there's more and more people lost hope on WM...but actually MS still working on it.