T-Mobile Shadow Gets ROM Update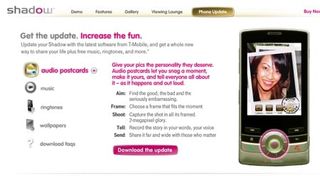 Dear carriers: This is how you roll out a ROM update. You make a nice website for it. You clearly lay out the benefits of the update. And you throw in some freebies like ringtones so that the average Joe--who would ignore a "bugfix update" like he ignores his aunt Betty's ranting--will go and download it. Kudos all around.
If you have a Shadow, go on and get the update here (opens in new tab). You'll get yourself "Audio postcards" (aka MMS with Audio), some music control enhancements, and the aforementioned bugfixes -- like improved typing on that suretype keyboard of yours. Oh, and that persistent multiple alarm issue will finally be fixed.
Very good!Very good! [url=http://www.lxwltg.com/][size=5][color=black]网站排名软件[/color][/size][/url][url=http://www.138009818.com/][size=5][color=black]网站优化软件[/color][/size][/url]
Windows Central Newsletter
Get the best of Windows Central in in your inbox, every day!
Thank you for signing up to Windows Central. You will receive a verification email shortly.
There was a problem. Please refresh the page and try again.