Take a look at VLC for Windows Phone in this video preview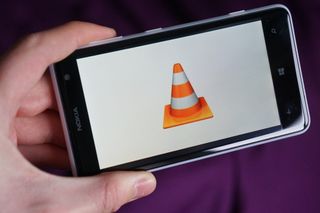 While those looking for a beta invite to VLC for Windows Phone might be out of luck, thus of us on the outside can now get a bit of a look at the app. Developer Thomas Nigro has posted a four-minute video preview showing how the app works on Windows Phone. Nigro points out that there are still some bugs left to fix.
While VideoLAN is no longer looking for beta testers for VLC on Windows Phone, they noted earlier this week that the beta for the app on Windows RT devices would be available in "a week or two".
How excited are you for VLC for Windows Phone? Leave your thoughts with us in the comments.
Source: Thomas Nigro on Twitter
Windows Central Newsletter
Get the best of Windows Central in your inbox, every day!
Is it free? I just want to confirm if it is.

Your nick a play on Sam Sabri;

Think it's the VLC beta. Just for chosen ones (damn, wished I were in it).

Only concentrated in music, Vlc is a video player. So put more features to playing videos. One touch pause/resume, zoom, subtitles time adjustments etc..

The desktop version is I don't see why it wouldn't be

What's so cool about this app, why so many people want it?

The short of it is its for people who download pirated content

I rip my content from my own DVDs and blu-rays... mkv is the only format that can store everything together, and Windows doesn't currently play it. The bigger question is, will Windows 10 mkv support be good enough to kill demand for this?

Yes an article on WC earlier this month mentioned W10 having built in .mkv support

It will have a native support.

Moliplayer for windows phone plays everything including mkv videos so vlc will just be an additional player except it is released free

@FarStrider2011 I'm sorry but that statement is just plain dumb. I don't pirate anything but like VLC on my desktop to stream. It's nice and lightweight (not a invasive resource hog like iTunes) and does the job with a minimum of fuss. I'll check it out on my phone when it's in general release.

farstrider, You say that like its a bad thing

And if it's not free? By all means take my money!

It is free, it's a non profit organization ;)

It always has been. Isnt that cool?

It should be free. The development of the VLC windows and windows phone apps are crowdfunded.

Unfortunately i didn't registered for beta testing :\

I registered but haven't received anything yet.

Same here. I'm not tapping my fingers in excitement though. Sometimes it's better to patiently wait.

I think they will send the store link to registered users once the app pases Store certification. It's been rejected twice already.

I registered but haven't received anything
yet.

Same here, Lucklily there is moliplayer
I don't trust anymore on theese ppl
I'm sorry, i really hope to be wrong, but they are just fooling us and ms
I repeat i hope to be wrong

Your mistrust was misplaced because what you taught of them may not be what they are or used to be. Give you mind a chance.

Moliplayer? I uninstalled it because Xbox video is now better than that .moliplayer takes long time to open and crashes when I pause the video

also there is no way you can play videos from the video folder. As the app is still in 8.0 API.

Is Moliplayer similar to MX player for Android?
As we don't have MX player here in windows store!

Me too, and I was always on the lookout every since :(

Why are you getting sad, you get a better version of VLC when it is released. I don't love to sign up for getting those laggy beta apps.

The App hasn't passed certification ! It got rejected twice ..they have submitted for the third time now ..finger crossed

Seems fas.. SHUT UP BRAIN !

This is cool but won't be fully usable until windows phone lets us change our default programs.

But it does have something like that, right? It lets me choose what program to use to open a PDF for example, when I click on a downloaded filed. It could probably let us do that with this as well.

Same pattern happens when you have more than two torrent or book reading apps installed.

If any app tells the OS, "Hey, I can open and handle *blank* file type/link," the OS will use that app to open the app (And, this is very handy, it'll offer to search the store for an app that can open an extension if none are currently installed). If two or more apps can open the same extension, the OS will always give users the choice to choose which program to carry out the function. This is great and all, but can be annoying if you have a favorite app to open the link that you always use. It also doesn't offer up the ability to chose a default app for say an HTML link, it will always default to IE. Windows (RT) 8/8.1 offers users to choice to pick a default app for almost any and every file type and extensions imaginable, including a default browser. I'd personally like to see this carry over to Windows 10 for phones, as they're supposed to converge, after all.

Yeah, its be cool to have that, right now I just uninstalled the one I didn't want haha, but it can become troublesome. I hope Windows 10 doesn't let our collective hopes down!

AFAIK, you can't select a default browser for Metro mode in RT. Its possible only in x86/64 version.

I am already loving it :)

and the artist in the background . . just wow . . Suck it xboc music lol

VLC has the capability to replace both Xbox music & Xbox video app. Its a complete package :)


Promise so much and wait too long... F*ck you VLC !!!!!!!!!!!!!!!

I hate it when people use that argument... The whole point of consumer seeking out someone to provide them with a good or service is so they don't have to do it them self. I don't care how difficult it is, that's why I'm using someone else's product, so I don't have to go and build it. That's why I feel free to critique companies when I feel their products and/or services aren't up too snuff. I understand this stuff is complicated and difficult that's why I want them to make it so I can buy/use it. So no, that's a crappy argument that people need to stop making.

Your counter argument only works when people are making their products to sell for profit. In cases like VLC where the software is free AND open source, the argument of "if you are so good why don't you do it" in fact does work.

They're still putting something out there and, I soul think, want people to download and use it. As such: We are still free to critique them without the expectation of having to do it ourselves. Most of people who need something like VLC wouldn't even know where to begin for making their own. That's why they need this to work, and they're free to point out where the VLC app could improve to better suite their needs.

You're right, saying that is so stupid, is even worst when they say "you can't say anything, criticizes when you do something better" And I'm like what? So I have to be god for criticize something? LOL, of course not!

The preview looked great man. Why you so angry? Do you need a vacation?

Wow. Some people are so undeserving. Thank you VLC team for all your efforts. It's looking really good.

If you used Twitter, you'd know that the app has been submitted to the store three times and rejected three times...

But why is it being rejected?

Because the app is using some APIs that are supposed to be allowed but the store doesn't allow them (the store is using an older version of WAC than what VLC needs). Check @ThomasNigro and @beauzef for more details.

UI is cool, features appear to be rich. You can't ask for more in first Beta release. Just waiting for the day when it actually gets released for Beta testers.

Looking pretty cool so far. Some UI elements need a lot of work (eg dropdowns and popups). And they need an English speaker to fix the language throughout the app, as it all sounds really awkward and some is just really bad ("We didn't found any items" is terrible English).

UI needs some polishing, hope they release a dark theme those bright orange and white background. but those can wait.

This! But definitely +920 for this Beta though. The only thing needed are regular updates unlike its x86 Metro version which is having a lot of bugs.

Yes. I had to uninstall Metro version on my Dell Venue 8 Pro. Was just too buggy to use. Hopefully it will get cleaned up eventually.

Eager to get it on my phone

Does anyone knows if it would let you scrobble the songs you play on it? I see some Last.fm picture as an album cover in the video but I'm not sure.

That's what I was going to ask. It would be great if that feature is packed up. Also you can see the info and similar bands when he oped Coldplay, so I guess that's Last.fm integration.

I they ms store is not accepting it because its gonna blow away the f***** xbox music and video app... Omg!! I love it. Can't wait to have it. Give me the beta app.. Already regeistered

LOL. That would be foolhardy. MS have helped the VLC devs a lot to get this far.

Ms helped vlc for what..?o.O

http://www.geek.com/news/vlc-for-windows-8-gets-a-technical-assist-from-microsoft-1532080/ They gave technical assistance to VideoLAN when they wanted to develop for Windows RT and started raising Kickstarter funds.

So then why ms rejected it twice..!

Probably some function authentication issue. Thomas Negro would be best suited to answer that.

Ready for more features on WP... Hasn't changed in a while :/ 8.1 took so long to roll out. Ready for another GDR

But sadly their still rolling out 8.1(with the exception of Samsung releasing it and 8.1.1 @ same time) to other OEMs

It's definitely easier for me to deal with it being on Dev Prev, getting updates sooner. 8.1.1 didn't add anything significant. As 8.1(.1) ultimately means its insignificant. Which I agree. I don't want to wait till mid 2015 for new features!

As long as their beta doesn't last the lifespan of a small star (or instagram) then I have no problem waiting.

He would come up with 6lc

Then get sued for using "lc" coz its too similar to vlc lol

Too many features, I think they just should have it released long time ago, with less feature (more with time to come)!

Hmmm. Seems to good to be true. This seems to be the only media app one might need.

It looks great. I cant wait to have this on my phone. I hope i wont have problems playing my videos on this app like i do with moliplayer.

You can look but you can't touch.

Seems awesome. Will it be free?

Looks really great. Nice job devs!! Looking forward to seeing what video support this brings.

Shouldn't it be "might be out of luck, those of us" not "might be out of luck, thus of us"

Loos a lot like ZUNE than the sorry Xbox Music messy app

Pretty good design. Good use of Wp animations. This app already seems "native" because of that. Hopefully the app utilizes the theme aspect of WP.

I hope one of those bugs & fixes mentioned include fixing "We did not found...". Otherwise looks great... hope to see it released soon

Thank you. Came to the comments looking for this.

Like the Zune-reminiscences.
Expected a good player technically, but taken into regard where VLC started (the full Windows application one, that is), I didn't expect such a sophisticated UI/design.

On a side note, MS appears dedicated to the media experience on w10 being much better, so if they support the different formats AND codecs as well we may not need vlc. I love vlc and would get it anyway but that kind of dedication on MS's part would be encouraging.

Does anyone have a link for this? I signed up for the beta and would at least like to see if the store will let me download it.

No. The app has been rejected from the store three times. Check @ThomasNigro and @beauzef for more details.

So, this is what Xbox Music+Video should have done

Guess I'll be able to use my hdhomerun with this?

They promised to make this app available in August 2014, I think good developer could do it 10 type of this app available for this time in to the Windows Store, im just wondering is it sooo difficult to make this or waiting until Natively Support Windows 10??? and that time I don't need this App

Why don't you try it yourself and then you will see?

can you imagine one app never it takes 8 month to develop, it's not a Game 3D like Gameloft u know. If I have good knowledge XML or c# I would sure try it and never take so long, even if it takes I will never promise 8 month before to say that Im doing bla bla bla and will be ready in several month and again postpone it.

Apparently, the problem is in porting their in built codecs which have been in traditional x86 to ARM not necessarily in writing the app.

Cheated us again, as usual

First off, I'm not impressed by the UI design. But Atleast something is better than nothing

Not sure what you're expecting...but the UI to me looks excellent..design looks really nice...tons better than the xbox apps...and its jst the first iteration of the app..

I love the UI. It's very dynamic, and is definitely sticking with the Modern UI aesthetic - my only wish would be queuing support and goodbye XBM!!!

Moliplayer is doing fine ..why d vlc hype

Watch the video...you'll know why ;)

Now that's a nice WP app! But I'm sticking to MoliPlayer since I'm on 8.0

When are we gonna see it 2053?

Gross... apps like this should be banned forever from ANY windows store. or I mean developers? whatever, both... everything from these guys should be banned. ^_________^

I love VLC on my laptop. But seriously, who the F watches a movie on their 4,5"-6" smartphone? You know you can stream the pr0n, right?

I do, when i go to sleep but my eyes dont ;) :)))) or in the bus, on a plane... waiting someone on the bus stop for 55minutes... :))))

Watching a movie on your smartphone? That ruins the whole movie imo.

Finally after an eternity.

Well done...! The player looks better than anything I've seen on WP...! Hope its coming soon to the public...excited! :D

Vlc for windows phone! The app looks awesome!

Actually looks nice. Would love to see how it handles movies and tv shows as far as organization and aesthetics. Hope it fetches info like Movie Premier and uMedia on Windows 8.

One thing I don't understand; what's taking so long for this app? In the time they have taken to do this you could finish an OS from ground up, I think!

LMAO... Thank you for making my day. That's some funny shit.

I guess that's why instagram its taking so long to deliver an update... they're redesigning the wheel!!

You do realise that the app has been rejected from the store three times? It really depends on Microsoft now. Check @ThomasNigro and @beauzef for more details.

It's still funny as all ba-Jesus.

Woah now thats what I call beatiful!

Looks great. Hope it supports 512 MB ram, and even windows 7.x phone. if not, oh well.

But will it play files across a network? Moliplayer can.

i hope it works, the vlc app for windows 8 does not work at all...

Yeah... They have any plans to fix that lemon?

For every single app we have to wait for years..... Pffft

There is ccplayer...... Good app which loads subtitles also

Songs are already there, or it choose from music which we store on phone.

When it will be available for beta testers???

Depends on Microsoft. The app has been rejected from the store three times. Check @ThomasNigro and @beauzef for more details.

It's ok, I think I can wait for the final release, one thing you learn from WP, is patience

Will this app be available in India or like always they are going to reserve it only for the states????

Funny question... anyway its going be released to beta testers for now.... Irrespective of countries and states you reside in......

Damn I was not able to signup for beta can someone please help me.

I like the design! Modern design, clean and fluid!

Guys make it a public beta at least. Many people missed the opportunity to apply for it. Be a sport Mann....

No, public beta isn't being a sport. Look at the other public beta, the people tend to forget that it is a beta and go around bad mouthing about the app and thus bad name. And, also public beta isn't definitely a good option, it doesn't actually justify the 'beta' thing, given that lot of WP users are just interested in getting their work done and not in app development and support. So come on dude, you be a sport.

Mkv with subtitle support ill be good

Cool UI, I might use it for playing music too

Man, I hope this lives up to people's expectation. Just don't like the hype it has garnered... ref Flipboard...

I registered for beta but I cant download the app. Do they to select some people or does everyone who register becomes a beta tester

Me too registered for beta but unable to download. I think they select only limited persons

they haven't released yet.
It may take another week or month or years and everything is in MS hands to update store WACK to 3.4 from 3.3....

IMHO, the devs have done a very good job. It seems to follow the Modern design language well. It's come a bit late but as they say, better late than never. I'm sure the porting could have been really tough. Kudos to Thomas and Hugo. Hoping all the certification problems are overcome soon and looking forward to continuous updates and performance optimizations.

ETA for public release? 'A week or two' was mentioned in the last article too, so I'm bit confused.

Read the comment below. It depends on Microsoft.

The problem for the delay is VLC team were using WACK 3.3 and Microsoft store was using WACK 3.4... So in order to get hands on this app for beta users MS needs to update the store WACK..A similar problem was faced by a developer who informed MS about the issue in September.. And till now the problem is not solved as he stated...It may take a while (a week ,a month ,a year at most) for the us to test unless they release a local .appx bundle...

Correction- MS is currently using older v3.3 not VLC.

When will be the VLC available for Windows phone..

Read the above comment. It depends on Microsoft.

Does it support MKV file format??

I hope it will be a good app for wp.

This puts Xbox music and video to shame. One app for media. Now that's revolutionary. I hope the people at Microsoft are taken notes. Get your shit straight and stop messing with what works.

Release it fast I can't wait

Nasa could have built a spaceship in the time thomas nigro is taking for this app! Meanwhile MS released two firmware upgrades! If it is not coming by the end of this year then you should kill yourself thomas! Don't test people's patience! What bad it will do if you release it as a beta? WP users are more familiar with beta's though!

I don't use any app other than xbox video to play videos.I used ccplayer once but it didn't live upto it's functions. Now if I want to run other formats videos on my windows phone I simply convert them to formats that it supports using a certain software on my PC.

The app seems amazing. Open source can produce quality after all! Bravo to the WP dev.

Open Source has always produced quality software, most of them for free. If its the aesthetics you are referring to, then yes its a step in the right direction. Credit must be given to MS actually for making the Modern interface guidelines.

Wonder if Microsoft would include in windows phone 10 mkv support also

they would as now it will run one os. mkv support is coming for phones too.

I'm wondering if Microsoft will buy vlc...

It's a never ending wait :D

Hope vlc gonna launch the first version with the "crashing bug".

I heared,VLC beta for WP is coming on this monday.Is it true?

Depends on Microsoft. The app has been rejected from the store three times. Check @ThomasNigro and @beauzef for more details.

Gonna release in 2017 for sure... Yawn , waiting

This is amazing. I can surely wait one week for this(but not more than that)

They still need to fix the app for Windows 8.1.

"We did not found videos in your camera roll." Ok...

Hope this will be able to support embedded lyrics (ID3 tags) like its desktop varient. Stuff downloaded from internet whilst playing is a pain and often not available or just the wrong lyric.

This thing for VLC stinks... What is the drama?

Wow. VLC has stepped up for Windows Phone. I personally appreciate them taking time with development for WP. I never expected all this. Its a full on Windows Phone app. Well done Thomas Nigro. Free or Paid, I'm getting it. I missed out on the beta but it really does looks good in the video.

Any news when will it be available

Thomas nigro is die hard fan of windows and he makes perfect app for windows

Now that Windows 10 is confirmed to support FLAC AND MKVs... I'm no longer as hyped as I used to be. Still nice they've finally gotten around to it.

Lol... Good bye Windows..

Does it have chromecast support???

Anybody knows the exact date for when its gonna come out ?

Does it support the file format for filmon

Anyone know if VLC can scrobble songs to lastFM?

i love vlc. they are this generations winamp