Tapped comes to Windows Phone, instantly becomes the best Untappd app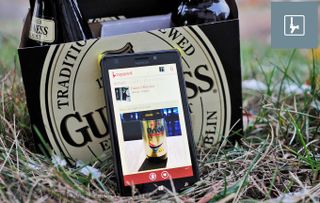 Update 2, 6 PM ET: And just like that, Untappd (company) has pulled the API keys, disabling this app (and their own). More below.
Does this sound like you? Beer drinker, somewhat into social networks, and rocking a Windows Phone? Then you're going to want to get Tapped for Windows Phone 8. It's a third-party app for the popular social network built around beer – Untappd. There's an official app on Windows Phone already, but Tapped fills some gaps and performance issues that the official app suffers from. Let's check it out.
We first covered Tapped back in late August. The app developer was looking for some beta testers and we put a post out to attract a few of you. About 1,300 of you signed up to be beta testers and help make this app a reality and you can now finally download it for Windows Phone 8. Here are the features you get with Tapped for Windows Phone:
Search for beers and check-in to them
Add a comment, location, rating, and photo to your check-in
Share your beers to Facebook, Twitter, and Foursquare (optional)
View your friends' timeline
View a list of global check-ins
View all local check-ins
View check-in details, toasts, and comments
Get profile information with stats, check-ins, wish list, friends, and badges.
Find, add, approve, and remove friends
Get beer information with stats, similar beers, and photos
Add beers to your wish list
View brewery information with stats, beer list, and photos
See venue details, popular beers, recent check-ins, and photos
So why use Tapped over the official Untappd app on Windows Phone? Well the official app comes to us as a PhoneGap port. Which wasn't bad when it first came out, but the performance takes a pretty big hit when you compare it Tapped.
That said, we just loaded up the release version of Tapped on our devices and are pretty impressed with speed and performance. Feature wise it has everything you'd want in an Untappd client. The app will help you discover new beers, breweries and places to find a good beer.
You can then post your check-in with a comment on the beer, location, your rating for the beer, and more to the Untappd network. From there share it out to Twitter, Foursquare, and Facebook. Just try not to make it look like you need to be attending Alcoholics Anonymous.
Want to get Tapped for Windows Phone 8? Grab it in the Windows Phone Store, use the QR code, or swipe to the right in our app.
Update 5:40 PM ET: From a Tweet from the developer, he notes: "Untappd revoked their own API keys. Temporarily disabling their app, but permanently for Tapped." That is effect, killing the Tapped app. We're trying to learn more, but for now, it looks like it's DOA.
Update 6 PM ET: Co-Founder and CTO of Untappd, Greg Avola, has responded:
That sounds like Tapped may yet still be saved, if the developer can grab those correct API keys. We'll follow up more, later.
Windows Central Newsletter
Get the best of Windows Central in in your inbox, every day!
I've been beta testing this app since your article... Tapped is so much snappier than untappd... Big improvement.

Such a well done app. Much better than Untappd.

Why if untapped has a WP app already, and this persons app is so much better, why don't they team up for an amazing official app?

WP is now a platform where 3rd party devs make better apps than original devs.

This! 6tag is a BIG example!

If we keep relying on 3rd party devs it'll just take even longer to get official offerings..

The official offering is already here. This 3rd party dev is usuing the official API to build a native app that functions better and smoother.

I know. I'm talking in general.

Meh. Its the ugliest, that's for sure.

If this is so much better than untapped as everyone comments, I cant even imagine how bad untapped is!

Never even heard of untapped until I just read this. Social networking and beer?!?! Getting this right away

Can't login, keeps crashing...:'(

Doesn't work for me. Just says "something went wrong". I'll log out and try again.

Untappd has revoked the keys that are used to access their service. It even temporarily took down their own app. Until further notice, Tapped will not work.

Untappd must of been "embarrassed" that a third party was way better and like a child with a tantrum pulled the plug. Google must have a stake in Untappd. Shame

Yeah seemed odd they would get pulled like that, since the dev was using legit APIs supplied from Untappd. Sounds like from the last tweet that things will get resolved.

The thing is, the official 3rd party APIs do not allow photo uploads. Which is super lame.

Will the dev keep the beta on? I mean... When all this API thing get fixed...

Hello. I'm the dev of the app. Yes, Untappd gave me API keys (many months ago, in fact). The trouble is that those keys do not allow photo uploading. No photo uploads, no real reason to have an app. No one wants to run two apps just to post a photo to a service. Period. I previously reached out to them about getting photo uploads while offering many concessions, but they politely declined. Hence the route I went... the 6Tag, Instance route. I hoped for good will based on the quality of the app. Apparently, still no go. Untappd is storing their photos on a service called S3, which costs them money. Having another app increases their exposure, increases their costs, etc. Especially if people like the app. Until further notice, which honestly may be never, I have removed the app from the store. I don't have the energy to try and help build a great service with my apps if they don't want me to. If you didn't get to use the beta and want to see what all the fuss is about, you can head here: http://tapped.millr.org

If it's all about the picture uploads, are they that important? I use the Untappd app and have never uploaded a pic, nor do I plan on it. I must be one of the few who don't look at that as an important feature. I'm more concerned about the beer info and checking my beer in. That being said, thanks for putting forth the effort building the app and I hope to use it in the future!

Same, I uploaded a few just caue I could. I would rather have this app back, and not able to upload photos, then not have it. Besides, your not charging for it so no one has a right to complain about no upload support.

I've been using Tapped since Daniel post about beta. I use the untappd only to post photos and use Tapped to do all other things. User experience on Tapped is far way better.

I have not tried tapped yet, but actually like the Untappd app. Works pretty good for me. Hope both sides resolve this soon!!

I`ve never heard of untapped and for the looks of things i will never install it on my phone. i get really pissed of when an "official" offers a crap app and then when a private dev makes a better (sometimes way better) version the act like a child who saw a better toy than his. For all i care untapped can drop dead.
Windows Central Newsletter
Thank you for signing up to Windows Central. You will receive a verification email shortly.
There was a problem. Please refresh the page and try again.