Tapped comes to Windows Phone, instantly becomes the best Untappd app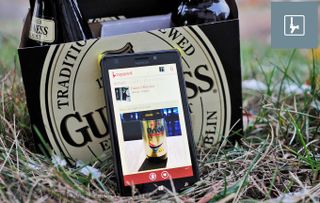 Update 2, 6 PM ET: And just like that, Untappd (company) has pulled the API keys, disabling this app (and their own). More below.
Does this sound like you? Beer drinker, somewhat into social networks, and rocking a Windows Phone? Then you're going to want to get Tapped for Windows Phone 8. It's a third-party app for the popular social network built around beer – Untappd. There's an official app on Windows Phone already, but Tapped fills some gaps and performance issues that the official app suffers from. Let's check it out.
We first covered Tapped back in late August. The app developer was looking for some beta testers and we put a post out to attract a few of you. About 1,300 of you signed up to be beta testers and help make this app a reality and you can now finally download it for Windows Phone 8. Here are the features you get with Tapped for Windows Phone:
Search for beers and check-in to them
Add a comment, location, rating, and photo to your check-in
Share your beers to Facebook, Twitter, and Foursquare (optional)
View your friends' timeline
View a list of global check-ins
View all local check-ins
View check-in details, toasts, and comments
Get profile information with stats, check-ins, wish list, friends, and badges.
Find, add, approve, and remove friends
Get beer information with stats, similar beers, and photos
Add beers to your wish list
View brewery information with stats, beer list, and photos
See venue details, popular beers, recent check-ins, and photos
So why use Tapped over the official Untappd app on Windows Phone? Well the official app comes to us as a PhoneGap port. Which wasn't bad when it first came out, but the performance takes a pretty big hit when you compare it Tapped.
That said, we just loaded up the release version of Tapped on our devices and are pretty impressed with speed and performance. Feature wise it has everything you'd want in an Untappd client. The app will help you discover new beers, breweries and places to find a good beer.
You can then post your check-in with a comment on the beer, location, your rating for the beer, and more to the Untappd network. From there share it out to Twitter, Foursquare, and Facebook. Just try not to make it look like you need to be attending Alcoholics Anonymous.
Want to get Tapped for Windows Phone 8? Grab it in the Windows Phone Store, use the QR code, or swipe to the right in our app.
Update 5:40 PM ET: From a Tweet from the developer, he notes: "Untappd revoked their own API keys. Temporarily disabling their app, but permanently for Tapped." That is effect, killing the Tapped app. We're trying to learn more, but for now, it looks like it's DOA.
Update 6 PM ET: Co-Founder and CTO of Untappd, Greg Avola, has responded:
That sounds like Tapped may yet still be saved, if the developer can grab those correct API keys. We'll follow up more, later.
Get the Windows Central Newsletter
All the latest news, reviews, and guides for Windows and Xbox diehards.