Love beer? Join the beta for Tapped, an Untappd client crafted for Windows Phone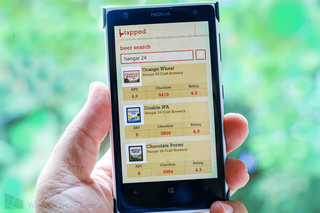 Sometimes official isn't always better in the app world. Remember the first Foursquare app on Windows Phone back in the day? It was pretty bad, which is why Jeff Wilcox created 4th & Mayor, a Foursquare app that many consider to be one of the best apps of its kind. Well, the same situation is shaping up with Untappd, the social beer network that put an official app in the Store back in April. Like the idea behind Untappd, but can't really get on board with their mediocre app? Join the beta for Tapped.
The current Untappd app in the Windows Phone Store comes to us from PhoneGap. Remember PhoneGap? It's the service that lets you easily target and build apps for multiple platforms (like iOS, Android, Windows Phone and BlackBerry) by using web-technologies like HTML, CSS, and JavaScript. It's a fine service if you want to get your app on as many platforms as possible, but you're missing out on features available to native apps. In fact, look at the current Untappd app on Windows Phone and you'll notice it looks and behaves just like the Android and iOS versions. We deserve better.
Enter Tapped.
Developer Chris Millar was fed up with the official app from Untappd and decided to make his own. He figured Windows Phone users deserved an app that catered to the platform is was being used on. That's an idea we can always get behind.
But he's just one man and needs your help. Chris is taking submissions to join the beta, which he hopes to have ready by next weekend. Together, you and Chris can shape an Untappd app for Windows Phone users. So go join the beta and give him feedback on the app. Find bugs, offer tips, and more.
Interested in joining? Go sign up.
Here is what he hopes to accomplish with Tapped for Windows Phone.
Current features:
View friend feed
View global pub feed
Search for beer / brewery
Post checkin with comments and rating
View friend checkins
Toast checkins
Comment on checkins
Not too much ugly stick
Native Metro / No PhoneGap
Unread Notification Count
Planned for Beta
Profile / Detail Notification View
Brewery View
Local Pub View
Post to social networks
Planned for Launch
Post photo with checkin
Better method to quickly toast / comment
More fleshed out look and feel.
Settings
If you're a designer, developer or user feel free to join the beta and help craft an app you'd want to use. We're always excited to help back projects that help push Windows Phone forward. Now go join that beta and we'll hopefully get a better look at it next week.
Source: Tapped Beta
Windows Central Newsletter
Get the best of Windows Central in in your inbox, every day!
This is what I love about WP Devs.

Agreed. If an official app doesn't exist or it sucks....they step up to the plate. With the community helping a lot of these apps can be home runs. Hopefully we get a good beta going for Tapped and can help make a good app :)

This is one of the reasons I bought a Windows Phone. I came from having an iPhone, and needed something else. Something better. Sometimes it's frustrating to not have a good app, be it official or third-party, but good Windows Phone developers always make sure their users are happy and step up. I love Beta testing and helping the developers with their hard work.

Great app for the holiday!

PS: Avid homebrewer here, I always wanted a system where you can trade brews with other people. Unfortunately, its probably illegal where I live.

RDWHAHB!

Time constraints have forced me to cut back on teh homebrewing to almost 0.
But we have a citywide homebrew club that does just this. You sign up, show up to meetings, taste each other's beer.
Perhaps look into that.

Signed up. If this guy can do for untappd what Daniel or Rudy did for Instagram, that will be awesome.

Untappd does need competition. I'll be giving this a go. I love the third party apps on WP.

I wish someone would make a Vivino app for Windows Phone: www.vivino.com/

It exists. I have it on my phone now. Apparently they pulled the app. Just looked in the store and no joy. However, there is an app named Winetag. I'll check it out.

+920. I still have it on my phone, but it seems to have been pulled from the store. Don't know why, as it still works. Not nearly as good as the one on my iPad.
Try looking for "vivino windows phone" on google and do a manual install. (haven't tried, but have saved the xap file on my hard drive just in case)

windows phone + beer! Think I'll give it a go.
Hell, when you think about it, it should be law :-)

BTW, Hangar 24 in Redlands rocks. Drinking beers midday while watching the planes come and go makes for a good time. They had another Porter before the Chocolate one that was insanely good. Alt-bier and Orange Wheat are good as well. Yeah, I know it's slightly off topic, but I saw it in the 'beer search' and had to give a shout out.

Never off topic. Hangar 24 is just a few miles away from me. Great place!

Foursqure, 4th and Mayer... Sorry pet peeve.

Nice! I was hoping that the official app would have been updated by now, but this is great news!
Now if the "delectable" wine app can be developed for WP I'll be a happy drunk!

Wp7 Or 8?????? Signed up anyway!

For now I'm only targeting 8. There are just too many performance penalties trying to build both at the same time.

these kind of apps are same or worse than fart apps... I would rather instagram being released, you know, stupid apps but with importance.

I actually like the Untappd app so far. Could use a few improvements but not too bad. Used it tonight to check in my beer. Lol. I didn't think the posting to Facebook was working but it is. It's just very slow to update the check in and photo back to Facebook.

But I might have to check this app out.

How 'bout a quality app for Cocktails! I'd rather that then just beer, or maybe a combination of both! I've found a couple that are more cocktails, but they aren't all that great :/

Cocktail Flow is one of the best apps in the entire market.

Wait a minute❕❕ I just remembered that that 521 was released on MPCS.. I haven't seen any news about "this" at all, except for the original story.. Does anyone have a clue how the 521 is doing on MPCS❔❔❔❔❔

Beer ? Drink ? Haram for me

I'd be more interested to see a RateBeer.com app for Windows Phone. Untappd is a beer app for college-age kids while RateBeer.com is geared towards the more serious and knowledgeable beer drinker. Any news on a RateBeer app for WP?

http://www.windowsphone.com/en-us/store/app/beer-me/70de2508-b8a2-e011-9...

Good app, but could use some additional features.

I have to disagree with you on the college kids comment. Most college kids are drinking Coors/Miller/Bud, not the really good stuff my Untappd friends and I drink. I have bottle shares with some friends I met from Untappd - it's always about Bourbon barrel-aged stouts and sours. I don't know many college kids drinking that kind of stuff. Most of my Untappd friends are older than college age and also frequent ratebeer or beeradvocate.

There is a new Game on the store called zombie smasher. It is a pretty good Game. It Will cost You a dollar there is no trial version.

That has nothing to do with this article. SPAM!

Chlejem panowie... Kurrrrrrwa

That's what I was just about to post.. Lol❕.... Like we aren't..

Signed up for the beta seeing as I drink a lot anyway :P!!!!

I dont know how to tip! So what i can do other than posting it on the latest article? Bullshit!

Uh, if you have the app there's a tip button under "browse". If you're on the web, there's a tip link at the top.

Whats happening with tapped? It always says: something went wrong, then nothing!
Windows Central Newsletter
Thank you for signing up to Windows Central. You will receive a verification email shortly.
There was a problem. Please refresh the page and try again.