TeamViewer 11 beta is up to 15 times faster, adds SOS button, overhauled toolbar and more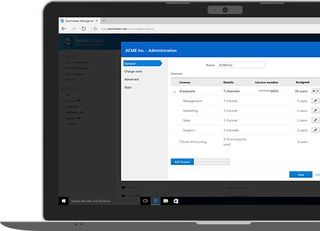 TeamViewer, a way to remotely control another computer, has increased its performance by up to 15 times, added an SOS button for customers, and more in the new TeamViewer 11 beta. One of the big features here is related to performance, with a speed boost of 15% for file transfers, and a data savings of nearly 30%. In addition, TeamViewer 11 brings an overhauled toolbar, making it easier to find the things you are looking for, where you expect them to be.
Another new feature is an SOS button that makes it easier to support your customers. With this, an icon with your company's name and simple action can be placed right on a customers desktop, so that with just a single click they can request help. If you are a TeamViewer user, or want to give the new beta a shot, you can do so at the link below.
Thanks, Nicholas, for the tip!
Get the Windows Central Newsletter
All the latest news, reviews, and guides for Windows and Xbox diehards.
Jared started off writing about mobile phones back when BlackBerry ruled the market, and Windows Mobile was kinda cool. Now, with a family, mortgage and other responsibilities he has no choice but to look for the best deals, and he's here to share them with you.
Sounds pretty neat, I've a long-time TeamViewer user, and this is exciting!

Yeah I have all my family members install this so I can remote in and troubleshoot as needed.

Nice. LogMeIn needs to wake up.

I've used TeamViewer for a long time for personal use - It's great if you are stuck behind CGNAT on one of your computers and can't simply port forward and RDP. We use gotoAssist for our commercial remote support product over TeamViewer due to cost

One of my favorite pieces of software. Especially because of their love for WP!

thats why we use it over LogMeIn. and the upgrade cost is cheap.

They recently added the TeamViewer app back into the store for Windows 10 Mobile - For a while it only showed up for WP 8 devices. When I tweeted them about it they couldn't say when it would go back in the store but did say they were working on a Windows 10 app

The current windows phone app does not work with team viewer 11 beta

Nope. I just did the update remotely on my oc, and now I cannot connect :/

Well...it's in beta stage for a reason. Just report it and it will probably get fixed. :)

Yeah I know and I did report it :)

can confirm It's much faster, [seems faster] , using it daily and i can say that the connection speed is almost perfect. even from mobile to pc.

They need to make it a Universal App, or at a minimum, Microsoft needs to make Remote Desktop a Universal App.

Last time we checked Remote Desktop was on phone and desktop - at least with W8

they were separate apps on Windows 8 but they're Universal Windows App on Windows 10

remote desktop windows 10 app sucks compared to the windows 8.1 phone one... very jerky mouse movements, no shift lock on keyboard!

Actually nvm that, I just tried the W10 mobile remote desktop and it's way better that W10 tablet Mode remote desktop

They could make Teamviewer HOST a universal app, but I doubt they could make the full client a windows store app, due to the sandboxing and APIs available.

yup I wish the remote deskop to have the same functionalties and a modern UI

I was playing with the 950XL in Continuum desktop mode at the MS store in NYC, the apps that are not universal are grayed out and you can't even show them on a big screen. I know it's still in Beta, but they should at a minimum scale up to display on screen. I want to be able to play a phone game and use the phone as a controller.........back to the subject, Remote Desktop was grayed out, couldn't even launch it full screen, had to switch it back to the phone. That's a problem, and if they don't fi it before release, it's not going to be successful.

It's not gonna be successful anyway. Posted via the Windows Central App for Android

Was it Remote Desktop or the Remote Desktop Preview app that was on the 950XL?

How is this any better than Remote Desktop that comes with Windows?

Remote desktop only works on windows 10/8/7 pro or enterprise or higher. TeamViewer can be installed on any recent windows so, even windows 10 home. How does it work better than the remote desktop app? You can connect to pcs which aren't on your WiFi network

Last I checked, I can RDP into my desktop in my office from home, or anywhere in the world.

I was referring to the remote desktop app from MS. Although I may be completely wrong about that but that's how it worked for me last time I downloaded it on my wp. It only saw pc names which were connected to my WiFi.

Oh the app. Then you're prolly right. I'm used to IPv4 addressing

No you can not. If you do not have access gateway at work, firewall ports opened etc, from home without a proper VPN, you are not connecting to your office pc from home with just RDP.

If you work in IT and have control of all of those items like I did, then yes I can. EDIT: I ran the telecomm network.

No need for special rules to allow connection. If pc can get to internet, can use this. Same can't be said for remote desktop in corporate world.

Last time I checked, when using MS remote you login to the PC your connecting to, and also login out current user. With TeamViewer this isn't a problem. Also, MS remote only works with Windows Pro versions.

Not true. The updated versions on the newer builds allow you to connect to xp non pro versions.

You can connect to non pro versions. But you cannot remote from non pro versions

You see the same screen the person at the other end is seeing with Teamviewer. It's harder to do that with Remote Desktop. Teamviewer has File Transfer feature that is useful sometimes.

MSTSC support copy and paste as well. But yes Teamviewer can control a desktop session which MSTSC doesnt

Remote desktop forces the remote end to log off. This let's the remote end stay logged in.

TeamViewer and others provide an easy way to get around Carrier Grade NAT, which is becoming more common in the UK as time goes on IMO (If companies would embrace IPv6 we could avoid this)

15x or 15%? If you can make an app 15x faster, something was very wrong with the first one! Still, glad to have improvements and continued platform support.

I use this quite often just to access my desktop while I'm not home. Was perfect when I forgot to get a CD onto my phone before leaving for vacation in Florida, and it's good for leveraging my better hardware than the school stuff when I have to run software in-class.

Is it as fast as remote desktop yet?

and the windows phone app was removed from the market -_-

On windows phone 8 or 10?? I've never seen the app in the new store but it was available from the old store when i downgraded to wp8.

make sure you are spelling it right. I see it in the W10M store.

Not true, app is on the store (wp 8.1)

https://www.windowscentral.com/e?link=https2F%2Fclick.linksynergy.co...

But with that i can`t connect to my PC that has 11 beta .. it tells me to press OK to update to a newer version. And that`s it, i can`t connect.

It was removed from the Windows 10 Mobile store (I confirmed at the time via some tweets back and forth to TeamViewer) but it's recently been made available again in the W10M store which I was chuffed about

They need to make a Windows 10 Mobile client!

maybe check the store before posting?

At one point they had removed it for W10M devices, but you're right it's back again now. It was always there for WP8.1 - They also confirmed to me a while back on Twitter they apparently have plans for a UWP app rather than separate mobile and PC apps

That was a while back and it was for two days ....

I can only go off my own experience but I couldn't get the app for quite a while. After checking it every so often for a few weeks I tweeted to TeamViewer and their reply suggested it was intentionally removed. Of course that could just be the support team getting it wrong and not understanding that an 8.1 app should run perfectly on Windows 10 Mobile. Either way I'm really glad to have it back now, it works really well.

I'm requesting this for a long time. I've call and send a lot of emails requesting this.

LOL why not download it now. I've been using it on WP for over a year.

Very good, but teamviewer price is still very high

I'm sure they're referring to the commercial pricing

How about Microsoft updates remote desktop to work with NAT.

I used to be a heavy user of VNC...do they still exist???

and in some cases,especially linux hardware,servers.only vnc exists still :)

I'd like to give TeamViewer some money but dang they are insanely expensive.

commercial fees apply, personal use or non-commecial is free.

How safe is it? I mean. I used it some time ago, and got some trouble on one computer so I gave it up.

I've sworn by it for years. It's perfectly safe I've found.

I`ve put 11 beta on PC and can`t access from the phone because it tells me the PC has a newer version .. on the phone i have version 10 .. is the 11 beta out for phone ?

Waiting for the windows phone 10 version