Over WhatsApp? Try these Telegram apps for Windows Phone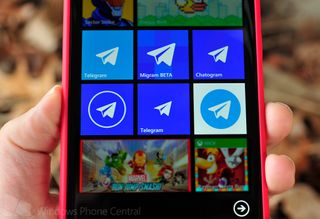 Last week Facebook bought messaging app WhatsApp for a whopping $19 billion. That's a huge win for the team at WhatsApp, but it's also left a lot of loyal WhatsApps users feeling a little burned by the move. The fact that no major technology company controlled WhatsApp was appealing to some of its 400+ million users. Those wanting an experience similar to WhatsApp, but arguably better, have recently been flocking to Telegram.
Last Saturday when WhatsApp experienced downtime, Telegram picked up 4.9 million new users. It's slowly been creeping up the most popular download lists on both Android and iOS, but the recent WhatsApp news have helped propel it even higher. We're still waiting for an official Telegram app to hit Windows Phone. While we wait, let's check out some unofficial apps available right now in the Windows Phone Store.
Telegram?
Telegram (https://telegram.org) is a new messaging service from Nikolai and Pavel Durov. These are two Russian brothers who founded VK, an extremely popular social network that's seen a lot of success in Russian speaking countries like Russia, Ukraine, Azerbaijan and others. VK launched in 2006 and now has over 228 million users. The Durov brothers built Telegram as a means to communicate that the Russian security agencies couldn't access. Nikolai Durov created a new protocol, MTProto, for Telegram, while Pavel provided financial support.
Keep in mind that Telegram was created so that spy agencies couldn't intercept messages and that the app is financially backed by the Durov brothers. Those two pieces of information are very important for the question a few of you are wondering….
Telegram vs. WhatsApp
WhatsApp is serviceable and popular. WhatsApp is so popular with its 400 million users that Facebook paid more than the GDP of Jamaica to acquire the app. Then why do we need another messaging app? Mostly because Telegram is building on the foundation created by apps like WhatsApp, Kik, BBM and others to create a better product.
Here's what Telegram has to say about itself compared to WhatsApp:
Here are all the features you get with Telegram:
Private – Telegram messages are heavily encrypted and can self-destruct
Cloud-based –Telegram lets you access your messages from multiple devices
Fast –Telegram delivers messages faster than any other applications
Distributed – Telegram servers are spread worldwide for security and speed
Open – Telegram has an open API and protocol free for everyone
Free – Telegram is free forever. No ads. No subscription fees.
Secure –Telegram keeps your messages safe from hackers
Powerful – Telegram has no limits on the size of media or chats
Those are some pretty great features, especially for a messaging client for today. Compared to WhatsApp its better in a few ways right off the bat.
We're big fans that Telegram has an open API and anyone can build apps using it. That's something you can't do with WhatsApp. Not happy with the official WhatsApp offering for Windows Phone? Too bad, you're stuck with it. Once the official Telegram app comes out we can always go to third party apps if we aren't happy with it.
Another huge limitation of WhatsApp is that you can only use it on a single device. Want to use it on multiple phones? Nope. Want to use it on your PC or tablet? Nope. WhatsApp lives purely on a single device and that's a huge limitation for a message app. Telegram can be signed not just into multiple devices at once, but multiple apps on a single device. We're testing out all the various Telegram apps on Windows Phone and don't need to worry about logging out of them while switching back and forth. There are also some web based apps for Telegram being made right now be developers. Messaging wherever and however you want.
Did we mention that Telegram is free? The app is financially supported by the Durov brothers and will be free for its entire life. No ads. No subscription fees. You'll never need to pay to use the app. They won't sell your information to advertisers or governments. They'll never take venture capitalist money or sell off Telegram. Of course you have to take that at face value, but it's a solid promise from the creators.
Of course not everyone is convinced that Telegram is that secure. While the team at Telegram plans on open-sourcing all the code in the future, they haven't done so yet. Which means it's only as secure as they claim. There is some concern in the crypto-community that Telegram's protocol isn't up to par with what it could be.
The apps available on Windows Phone right now
The official Telegram app for Windows Phone isn't out yet, but once it does go live we'll be sure to let you know. In the meantime, these are some of the third-party Telegram apps available in the Windows Phone Store using the Telegram API. Keep in mind most of these apps are very similar in functionality so we won't spend too much time with them. We'll list them, share screenshots and make it easy to download. At the end we'll share our favorites.
Migram BETA­ – Windows Phone Store
Ngram – Windows Phone Store
Fluorogram – Windows Phone Store
Chatogram – Windows Phone Store
Akragram – Windows Phone Store
Want Telegram? Get these apps
Off the bat we just might prefer Telegram as a service over WhatApp, not just for the features listed up above, but also because the video quality you can send is a lot higher. There a few solid Telegram apps to pick from, but you're probably wondering which ones we're liking the most. We just spent the better part of a day playing with the various apps. Right now we're liking Migram for features (different background images) and Ngram for reliability. Both apps feature the following:
Push notifications
Live tile counter
Lock screen notifications
Select different notification sounds for different users
Setting to automatically save incoming photos
Group chats supported
The last time we reported on Telegram we noted that various beta apps would be out soon for Windows Phone. You're looking at those beta apps above and one of them will become the official app for Windows Phone. Be sure to try them out and leave your feedback on which one you like best and would like to see become official.
Get the Windows Central Newsletter
All the latest news, reviews, and guides for Windows and Xbox diehards.