Tell Nokia what you think of the Lumia 900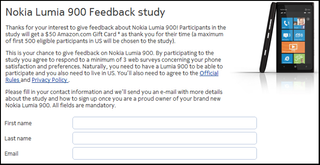 Nokia is looking for feedback on the Lumia 900 Windows Phone and the first 500 eligible participants will receive a $50 Amazon.com Gift Card as a thank you.
If you've purchased a Lumia 900 over the past few days, just follow this link and sign up for the survey. A confirmation email will then be sent your way with links on how to register.
You'll need your Lumia 900's IMEI number (on the box label) and agree to the terms. You'll also agree to respond to a minimum of three web surveys about your Lumia 900. Once you fill in all the blanks and check all the boxes, you will then receive another email confirming your registration and let you know the survey links will be emailed out in a few days.
It's really nice that Nokia is reaching out to customers to see what works with the Lumia 900 and what could stand a little improvement (camera..cough..camera).
Thanks, Arun3, for the tip!
Windows Central Newsletter
Get the best of Windows Central in in your inbox, every day!
George is the Reviews Editor at Windows Central, concentrating on Windows 10 PC and Mobile apps. He's been a supporter of the platform since the days of Windows CE and uses his current Windows 10 Mobile phone daily to keep up with life and enjoy a game during down time.
I signed up this morning. Hope I get in :)

This does not look legit to me.

It's absolutely legit. Was on an AT&T email this morning.


What's going on with Nokia not having the camera optimized for there Window Phones????? Sucks having to wait for an update to fix the problem when it should've been correct from the beginning!

Nokia didn't have time, considering it took only 8 months for this phone to be released, compared to the 18-24 month development cycles for phones. Probably took a lot of reference Qualcomm designs instead of their own designs which didn't help matters much.
Apollo though, there's no excuse. They need to get it right.

Here's to hoping ATT allows them to release an update. Not to get that business started again. Hopefully Nokia has more pull than the others.

I would tell you my opinion but all AT&T stores are closed today.
What an ideal launch day, Nokia. Well done.

I actually think that AT&T pushed the launch back to allow the new iPad its time to shine.

Perhaps you should have pre ordered. I've had mine for 2 days and love it.

me too. preordered blk and blue, really like them. tried out the Nokia Drive today, it really rocks. so nice, smooth, and great detail. even better than my Garmin 650 GPS! the speed reminder works perfect.
this real function App can single handedly beat all half million iPhone apps. (half of them are duplication of websites in mobile format, whcih a decent site should offer anyway, and the other half are little games for kids to kill time, and some even claim how much they need draw something)

I would point the finger more toward att. They release handsets on specific Sundays. Not sure what the exact policy is but they did the same thing with the focus s and titan. Just plain stupidity they picked Easter Sunday. That person should be fired. At least recognize the screw up and launch a day earlier.

Well with the store being closed on Sunday gives them time to give at&t a windows/nokia makeover I talked to at&t about it

Anyone get the Lumia 900? How do you like the scrolling response on the home screen? I compared the response, speed, and in my left hand, and the phone scrolled slower. When I zipped my finger up and down quickly I even was able to not even make the screen move. While with my Samsung Focus, the scrolling was fast and responsive. Perhaps it is the size of the screen that causes this. How do you like it?

Some idiot at Nokia though it was a good idea and changed the setting. I hope many people will same the same thing in survey
This is what you get when you allow manufacturers to mess with the OS,

Yeah the scrolling is a lil laggy, especially compared to my Radar, but not much. The camera is also worse than my Radar's camera. Only other complaint is the haptic buttons also are a lil unresponsive. Other than that this phone is AWESOME! Those things aren't deal breakers on my end, just 3 minor things I'd like to see fixed. Still the best damn all around phone I've ever owned.

I got a 900 and it scrolls just as fast as my Focus S when it's not plugged in. Not experiencing this slowness. It is surprisingly heavy and thick. I definitely prefer the light and thin design of the Focus S. I never bought into the "build quality" argument. The chrome buttons are loose and rattle quite a bit when the phone vibrates. If you shake the phone you can hear them rattling. The camera is poor in low light conditions (more so than the Focus S) and shutter speed is pretty slow (same as Focus S) but otherwise it's fine. LTE is pretty fast at 12 Mbps down and 5 up here in North Oakland. The cellular radio seems to get a little better reception than then Focus S. Screen looks great - not sure which I prefer. Small text still looks bad at this res - though better than the larger screen of the Titan. Hopefully, the the Titan II will improve on this, though I don't see how it could. Nice phone, though, I'm not sure if I'm going to keep it.

I tested a Lumia 900 at AT&T and it felt pretty solid; I didn't find any loose buttons on their demo unit, but maybe you've got a defective one. If you can shake the phone and hear them rattling, that's just unacceptable. I'd take it back ASAP.

If the vibrate mode causes the buttons to rattle, then maybe that's why some of the reviews have said that it's annoyingly loud and "bone-jarring" when it vibrates.

As for the screen res, I've tested both phones and agree that the 900's screen looks just a little sharper (but somewhat dimmer) than the Titan 2. And the Titan 2's screen res isn't bad, really; unless you're holding the screen right up to your eyeball, you're probably not going to notice it. It's only really noticeable with small text, as you described. And then you could just zoom in, I guess.

Screen resolution in WP isn't really going to improve, tho, until WP8 comes out, with support for a wider range of resolutions. We'll just have to wait and see on that...

I think the scroll speed is just fine. My wife's got a Samsung, and I didn't ever feel, 'man this is slow' when I got my Nokia.

Does anybody else see the irony with this and their "Smartphone beta test" campaign??? It's a great thing that they're asking customers what they think, but in this case, it almost turns them into testers. Anyway the phone is great so I guess customers won't have much to complain about, except for that camera, I hope Nokia pushes an update soon to fix some of the issues.


I don't understand how Lumia 900 is the "hero" phone?
I am seeing a flood of blackberry ads during the Knicks vs Bulls game. There was a single Lumia 900 ad but basically AT&T is pushing Note and the iPhone during the game. Also, the automated message to the corporate stores is on iPhone 4S. The only feedback the NOKIA needs is to keep a close eye on AT&T.


I think nokia need to bring the amazing everyday commercial here to the states with the 900

Just saw a lumia 900 ad :)

Ironically, I couldn't sign up for the survey from my Lumia. It wouldn't recognize my email address. I finally signed up from my iPad.

I hope the Marketing team at Nokia and Microsoft is reading this:
http://bits.blogs.nytimes.com/2012/04/08/nokia-lumia-900-easter-sunday/?partner=yahoofinance

Change the annoying scrolling to default and it will be set

STOP COMPLAINING.. GUYS!!...Before the Lumia 900 was released, the complaint was "whyaren't they releasing sooner?". Now that it's released, "Why did they release on a Sunday?" "Why are there no stores open on the day it's released?"" Why did Nokia chose Nicki Minaj for the show in Times square?"...etc...etc....Why this, why that!! Come on! Stop complaining and enjoy your WP device whatever you have, be it Lumia, Focus or the Titan...Let's keep the discussion civil....

I'm chilling and waiting for the release of Windows Phone 8 it will have all the trimmings. :-)

Yea I really don't know what's wrong with these people

As long as anyone isn't attacking other posters, calling people names or telling them to "shut the f'up," I don't see what's uncivil about voicing your opinion

so based on some of the comments the phone has flaws and i shouldnt get one? was waiting for the white one but it sounds like the consensus is to wait for 8 later this year.

There's definitely more good than bad with this phone. It really is beautiful. It's a great high-end Windows Phone and a great mid-grade smartphone hadware-wise. Overall user experience-wise, however, it's up there with the best of any type of smartphone.

I'd check out the Titan II, also. If you can be happy with a screen that big with that low of a res, then, that may be your phone. I would definitely recomend LTE if you're in a market that's covered.

Exactly. I went to my local AT&T today to finally meet the Lumia 900 and the Titan 2 so I could test them and learn more about them firsthand, and even tho I didn't buy either one of them, I did learn a lot about them and I will say that you can't really go wrong with either one. Here's my mini-review:

Both the Titan 2 and the 900's build quality and overall fit & finish are superb; easily rivaling the iPhone 4 & 4S IMHO (and I say this as a long-term iPhone user). Actually I find it even better in some ways (e.g. bigger screen and no glass back, for starters). Both are fairly large devices, but not too large; altho if you have small hands, I highly recommend testing them out first to see if they'll fit you.

The software is very quick and responsive, with no discernible lag as far as I could tell. The Titan 2 was the same way; I pitted them against each other and raced them, doing various tasks, loading up various websites, and trying to see if there might be any noticeable speed difference between them, and there wasn't any, really. Both operate pretty much the same way and both are extremely fast in most functions.

Their cameras are a bit different; I took a few shots with both, and found the Titan 2's camera performance to be pretty impressive; better than I expected. I was able to zoom in and not lose too much resolution due to the 16 MP camera. The 900's 8MP camera was good too; just not quite as good as I had hoped, with the Carl Zeiss optics and all. I found that you generally have to shoot in a well-lit area to get good shots with the 900 (tho admittedly this is usually the case with smartphone cameras anyway).

I also found the screens to be different in brightness and color; the 900's screen was just slightly sharper due to the slightly pixel density (smaller screen at the same resolution), but the Titan 2's pixelation really isn't that noticeable, unless you're holding the phone right up to your face. The 900's screen wasn't as bright as the Titan 2's, even with both screens turned up to full brightness. But I could still read it in fairly bright light, so it wasn't a huge deal. The 900's colors were just slightly too bright and oversaturated for me, and I found the Titan 2's color rendering to be generally more accurate and true to life. But of course not everyone's as nitpicky as I am when it comes to phones, so YMMV...

The sound quality was excellent and well-balanced on both devices; just as good (if not better) than my iPhone 4. I plugged in my headphones and listened to both. The Titan 2 is a little louder and has just a little bit more satisfying bass than the 900. HTC's sound enhancer/equalizer was also nice to have on the Titan 2, but not really necessary. I turned it off for testing purposes. Again, YMMV...

Another thing: The button placement is quite different on both devices; all the 900's buttons are on the right side of the device (which I felt was a little awkward in some ways), while the Titan 2 has its power button on top (which I prefer), with the volume rocker on the right side. Once again, it's a matter of preference and YMMV.

If I personally had to choose one over the other, I'm leaning just a little more toward the Titan 2 (tho I do like the look of the 900 more). Both devices are very close and comparable in quality and performance and I would not hesitate to recommend either one, esp. for first-time smartphone buyers or those upgrading from earlier WP7 devices. I hope this helps someone make the choice that's right for them.

Think about what you're looking for in a phone, and check whether it meets your needs. That whole 'wait for the better phone down the road' is very possibly irrelevant to you, depending on your needs. The Nokia meets my needs just great.
I'd love for Office 365 on the phone to allow me to look at shared calendars (which I can do on the web app if needs be), but that's not something Nokia will be fixing for me.

Thanks for the review. Great and detailed

I just got mine and the scrolling is way too slow. There's a slight lag compared to my focus s. Im really disappointed with the scrolling

Lost data connectivity twice.

First time, I called Tech Support and he took me off the network and reactivated me and it restored the data.

Second time I called and nothing worked. Hard reset didn't work. Support said that this was happenning quite a bit with the 900 and that after several hard resets it should restore. It did after two resets. She could not say why it happened or if it would again - only that it often does. She recomended I return it and try my luck with another 900 or another phone.

Both times I was using Garmin Street Pilot - if you're thinking of saying that I should be using Nokia Drive, please, spare us...

Got my email, answered the first survey.
Windows Central Newsletter
Thank you for signing up to Windows Central. You will receive a verification email shortly.
There was a problem. Please refresh the page and try again.