Temple Run gets rapid "light theme" fix for Windows Phone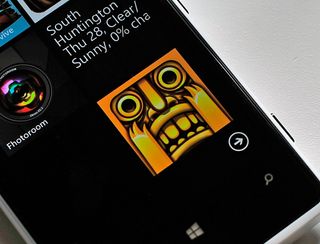 Ah, Temple Run. We've waited so long for you, even after the your superior sequel hit iOS and Android (seriously, part 2 is waaay more interesting), yet when you finally hit you were plagued with glitches.
The initial bug had a wonky Live Tile (by wonky we mean missing) and then it was discovered that if you used the Light Theme for the OS, the sky was rendered in white as opposed to the blue-night sky that should be in the game.
Luckily the first bug was fixed within a day, and now the Light Theme glitch has also been patched in version 1.5.1. Hey, you have to give Imangi (and probably Microsoft) some credit for rapidly patching this high profile game. Granted, we (and many others) think the "swipes" could still use some sensitivity tweaking and you can't actually disable the Tutorial (despite the option for it) but hey, baby steps.
You can pick up v1.5.1 of Temple Run here in the Store. Windows Phone 8 only and yes, still only for devices with 1GB of RAM—that too hasn't been fixed yet.
Thanks to the bazillion of you for the tip and Jonathan D., for the glitch image!
Windows Central Newsletter
Get the best of Windows Central in your inbox, every day!
Daniel Rubino is the Editor-in-chief of Windows Central, head reviewer, podcast co-host, and analyst. He has been covering Microsoft since 2007 when this site was called WMExperts (and later Windows Phone Central). His interests include Windows, laptops, next-gen computing, and for some reason, watches. Before all this tech stuff, he worked on a Ph.D. in linguistics, watched people sleep (for medical purposes!), and ran the projectors at movie theaters because it was fun.
Temple is still the most pointless game I ever enjoyed playing.

Puzzle Craft is way too addictive!

I've decimated many a battery with Puzzle Craft.

Puzzle Craft randomly broke on my 820. Loads to the splash screen with no continue option or any sound. No way I can see to fix it and I'm not prepared to start again after the hours invested. Hoping an update or something will give it a kick.

Temple run I tried it for 5mins don't see the big deal with it. Gravity guy 2 is much better. I would rather see gunstringer port.

i don't complain about there are temple run 2 in ios and android platform while many wpers are still excited about temple run, but this game in wp8 is lag as a sh*t, the developers have no sincerity on wp8 deleted immediately.

Instagram trolls in 3, 2, 1...

Nice! Was absolutely thinking this LOL. Well played.

When will Instagram arrive?! LOL

They need to fix the swipes... It's unplayable as it is now. Lumia 920 here.

What problem? Works perfectly on my 920

The game don't register some swipes...

Everytime my meter fills and dings if I swipe at that moment it doesn't register it.

This. I can't play it without getting ticked off with the lazy touch response. 920.

Same problem here on L920.

Try turning up the sensitive in the game. It helped with mine.

+1 The unresponsive controls completely ruins the game as it is.

Yep I'm getting this too.

same here. The swipes are definitely very hard to register currently compared to iOS and Android version. Having sensitive touch on helps a bit but not much. I'm glad to see how often the dev is updating this app though. We could get TR2 sooner than we think.

I've been trying to solve this as a user, turning off super sensitive touch in the phone's settings feels like it made an improvement...

It still randomly freezes and some swipes don't register. (on the vzw 8x)

I liked wasting time with puzzle craft as much as I like wasting time with temple run :) or whatever else I waste time with...

Lovly, im in a white theme paradise. Now the same patch to Drift Mania C2 and I be a happy camper.

how can i contact the developers of temple run? they need to do a 512MB version!

yeah its irritating when every1 else is playing temple run 2 in 512 mb on android


I'm waiting for the touch input to be fixed as well, after about 3 missed swipes I'm done (for a few hours).. LOL

Again, as soon as I click update, it says 'no downloads in progress'. On tapping back, it again shows 'update'. What's the matter with this game!! I can't afford to lose my progress by uninstalling/installing again. Last time it was one day progress, but now...nooooo!!!

Try rebooting your phone, I had the same problem but after rebooting I was able to download the update.

Yeah, had the same problem and tried this and now updating the game!

can anyone tell me how to unlock wallpapers within the game...i am on 42x multiplier..i see unlocks for characters but not wallpapers

I don't know if it's just my imagination, but it also seems that the graphics are sharper

You said it Daniel! Temple run 2 is waayyyyy more interesting. You think it'll be coming soon to WP8 though? It's rlly rlly fun, and this is my impression from only a few minutes on my friends S3.

In the meantime, look up Temple Run remixes on Spotify. :3

When temple run comes to wp7x users.....

Not downloading until they fix the swipe lag issues.

Seriously, it doesn't happen all the time, but at crucial moments it can suddenly lag and wham! you hit a tree or miss a jump :/. Also when you slide, you continue hearing the slide sound well after you're standing, something is off.

Swipes don't have lag. I've tested many swipes on a straight path and many of them are completely missed.

A news come out Temple Run 2 also comimg next month

Bastards!
Its soo annoying when swipes dont register.

Crank up the sensitivity almost the whole way...

Still no update for mango huh? Yup, can't wait to switch to Android.

So rather than get a WP 8 (which MS is supporting) you'd rather get an android? I personally wouldn't want android on my phone again, perfectly happy with WP 8, despite what happened to my WP 7 device.

There's a saying, the only way is up. Looks like you are going the other way round. I feel sorry for you.

Raising the 'Sensitivity' option doesn't do anything for swipes. It raises the sensitivity of the motion sensor! To test this turn it right down and have fun trying to dodge anything lol. Swipes failing to register keep killing me on my 920. My bro however hasn't had it happen once on his 920 so idk.

7,x VERSION PLEASE!!!!!!!!!!!!!!!!!!!

Just uninstalled it. Garbage. Maybe number 2 will be better.

It's the same with slightly beefed up graphics, if you don't like this you won't like TR2. It's a simple game, but addictive, hard to explain why anyone would play it, but you find yourself wanting to do better.

Temple run why not available in 7.8 or 512 Mb ram

Im sure this is a battery killer! Anyone else notice this?

Honestly I can't believe we clamored for this game because my first impression was this game is such shit. We have so many better games then this. I hope your right about #2. I should try it on my Nexus S.

As ever people clamour without even knowing what it is they are shouting for!
Sure nearly every game is better, but there's something about it's simplicity and beating your previous best score that makes it addictive.
But TR2 is just the same, but with slightly beefed up graphics. They haven't done much to make the gameplay more involving. It's a simple game, but very successful and they've not risked any changes to ruin that successful formula.
It really needs some social aspects, player vs player, leaderboards, basically an Xbox version would really make this a much more addictive game.

Since we are talking games , what about Jetback Joyride ?

You got the point. Windows 8 has it so why not wp 7&8?

Having more fun with mirrors edge

Got an update yesterday which im,guessing is the white cloud issue...but just 5 mins ago, i received another update which could be the one that sorted out swipe-lag...while i didnt experience any lag after this second update, I rarely had lag issues prior to this update.

How do you put the light theme

settings->theme->background->light

Your windows phone settings, not the actual game settings.

ok i guess you got confused. it's not there in the game setting, it's in the system settings.
i'll correct the procedure i gave.
press start key, flick left, open settings, tap theme, tap background and select light.

Still wondering why they didn't make this live enabled

Wait, so you want to give MS and Imangi credit for fixing these problems? On a game that is over a year old? It's sad that most developers don't give a @#*! about windows phone. Then again MS needs to make their own set of improvements too.

It's a shame the update didn't optimise the game for devices with 512 MB of RAM...

To give Temple Run som credit, im enjoying it immensely. Happy its here.

yea I'm not entirely sure why the complaints... it's definitely one of the funner ones and just as pointless as most. Each to his/her own taste but we should be glad we're finally gettings these "big" apps...once the list of apps grow, the userbase grows and then we'll surely be getting apps at launch.

I think a lot of Devs just don't think about how the game appears on a white-themed phone, its not like its an issue on iOS is it?
When I get updates there are about 1in 4 who's time just is blank on the update screen. At first I thought my phone was wonky!

If you're developing for WP the light and dark theme's are a complete pita to work with.

LOL! not at all. You set the background of the page and boom. Problem solved. If you want your app to look different based on the theme, that's different.

It seems that I can't download this game :\ ..
Everytime I try to download it, it gives me an error and I need to redownload it to get the same error again

I am waiting for temple run and subway surfers for my lumia 710

Wish I could run on my L620. :(

The sensitivity after long runs still drives me insane

Daniel, why do you say TR2 "is waaay more interesting", it's just the same with better graphics.

There's no timed-mode, no tournaments, no Xbox integration (which would instantly make it better than the iOS and Android versions). It's still the same incredibly simple (but addictive) running game, there's so much more they could do to make it more fun, mostly building in social aspects so you can see how you fare against your friends and the world. I want a 5-minute coin run mode, the ability to run the same board and compare my score, etc.
Actually, I don't want any of that, I waste enough time as it is...

Thanks Microsoft from 7x user........
Temple run is working well in my WP 7.8....